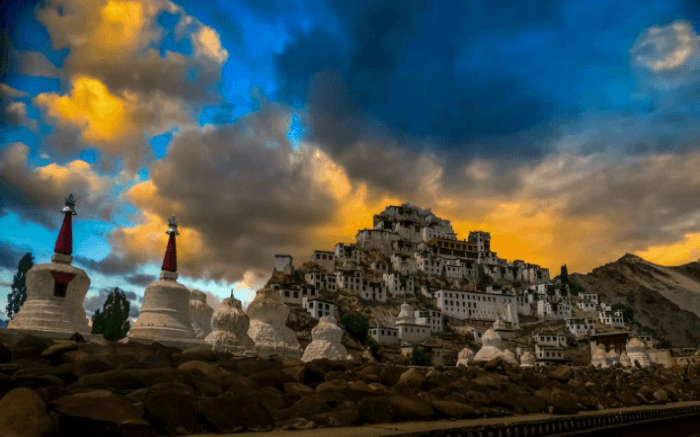 Those seeking a peaceful experience in beautiful destinations will enjoy exploring these top Buddhist monasteries in India. Right from Leh and Ladakh up north till the southernmost points of India in Mysore, Buddhist culture and ethos can be found all around the country.
Partake in spiritual retreats, reflect on meditative chants, engage in riveting discussions with the monks and pick up some Tibetan knickknacks at these Buddhist monasteries. You will surely have a peaceful and harmonizing experience at these breathtaking monasteries.
Buddhist Monastries In India
For those who seek mental peace and want to connect to their spiritual side must visit these Buddhist monasteries in India and rediscover the meaning of life.
1. Tawang Monastery, Arunachal Pradesh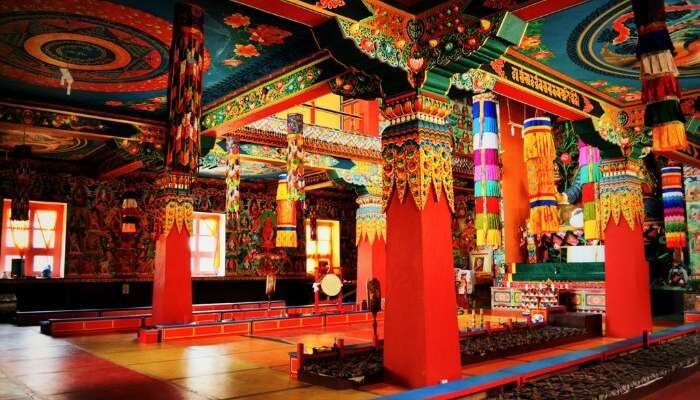 Pay your reverence at India's largest monastery. Picturesque Himalayan ranges form the backdrop of the Tawang Monastery in Arunachal Pradesh that stands at a height of 10,000 feet above sea level. This is, in fact, the largest Buddhist monastery in India and the second largest in Asia and is the birthplace of the sixth Dalai Lama.
View the inner walls of the monastery that are full of statues and paintings and there are also altars dedicated to Mahayana Buddhism creating a peaceful ambience. At dawn, you will also be able to catch the morning prayers of the Buddhist monks here.
Key attractions at Tawang Monastery: The Losar festival celebrated to mark the Tibetan New Year and runs for 15 days. The Torgya Festival in January is also a fun cultural event where famed masked dances take place.
Best time to visit Tawang Monastery: June to October
How to reach Tawang Monastery: You can travel by air to Tezpur Airport. There are connecting flights via Kolkata and Guwahati. By train, you can travel to Tezpur railway station. There are also regular buses and taxis between Tezpur (Assam) and Bomdila, and Tawang.
---
Looking To Book A Holiday Package?
Book memorable holidays on TravelTriangle with 650+ verified travel agents for 65+ domestic and international destinations.
---
2. Phuktal Monastery, Zanskar, Jammu & Kashmir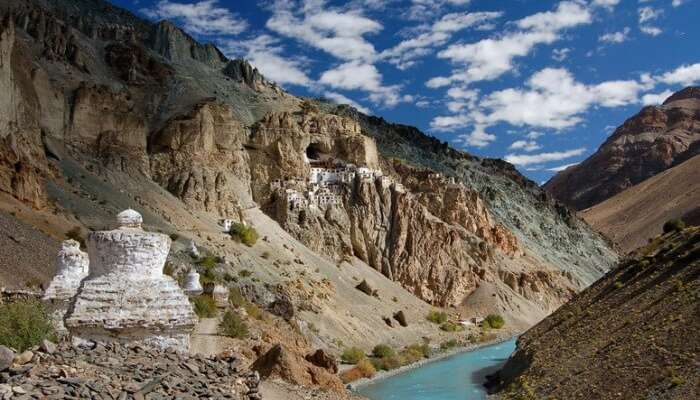 Trek your way to the mouth of a cave! The best part about the Phuktal Monastery is the fact that it is located at the mouth of a cave and at the side of a cliff. This is the perfect monastery for all those who love trekking as the route to get here is via a suspension bridge.
You will be mesmerized by the monastery that looks like a honeycomb made up of a cluster of huts. Over 70 monks stay here and offer their daily prayers. In the monsoons, this is truly a picturesque location as water flows out from the mouth of the cave.
Key attractions at Phuktal Monastery: Sacred spring, frescoes reflecting Buddhist art and culture
Best time to visit Phuktal Monastery: Mid July to September
How to reach Phuktal Monastery: Flight to Padum and then from Padum, it is a 2.5 days trek from Padum – Rera – Pepula – Purne – Phuktal.
3. Mindrolling Monastery, Dehradun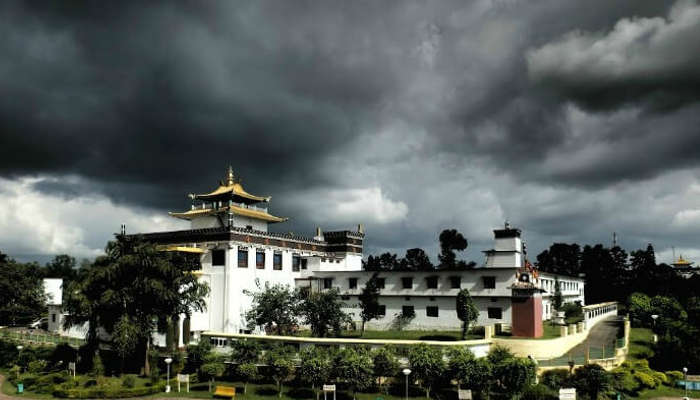 Visit the place of perfect emancipation. The Mindrolling Monastery is one of the most famous Buddhist monasteries in India as it has the largest Stupa in the world that is 185 feet. The largest Buddha statue is also present in this architectural marvel. The colorful landscaped gardens, the relics, and the elaborate murals provide the perfect harmonizing experience. There is also a shopping complex that has artifacts, clothes, and handicrafts made by the Buddhist monks.
As soon as you step into the Mindrolling Monastery in Dehradun, you will be transported to a land filled with Buddhist ethos and culture. Belonging to the Nyingma school in Tibet, this is a great center for learning Buddhist scriptures and traditional Tibetan medicine.
Key highlights at Mindrolling Monastery: Great Stupa, Buddha Temple, and Rajaji National Park
How to reach Mindrolling Monastery: The Jolly Grant Airport is the nearest airport here and the Dehradun Railway Station is the nearest railway station. Buses and autos run regularly from the airport and railway station.
Suggested Read: Top 12 Religious Places In India: Redefining Spirituality For Gen Y
4. Tsuglagkhang Complex, Dharamshala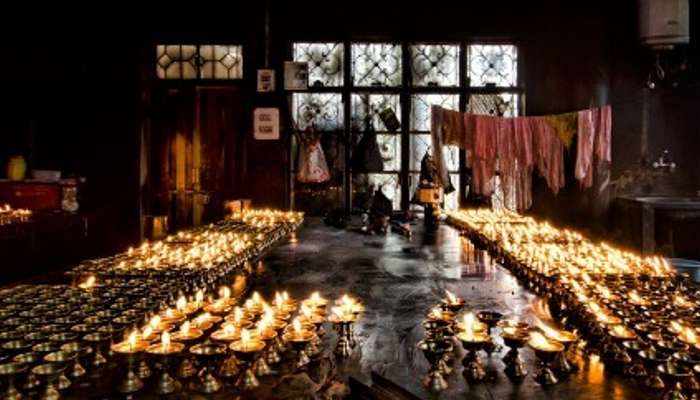 Observe how the Dalai Lama lives. Nestled among pine forests, the Tsuglagkhang Complex is a Buddhist monastery in Dharamsala that also serves as the official residence of the Dalai Lama. Explore the simplistic way in which the Buddha lives at this monastery by taking a ritual walk around the complex.
Prayer flags flutter all around the complex and make you feel completely at ease. The three-meter high gilded statue of Sakyamuni Buddha inside the temple is also a must see. Enjoy a cup of coffee at the cafe in the complex while reading a book from the bookstore here.
If you're visiting the spiritual destination, don't forget to give these places to visit in Dharamshala a miss!
Key highlights at Tsuglagkhang Complex: Buddhist murals, Tibet Museum, Namgyal Gompa, Kalachakra temple, sacred paintings
Best time to visit Tsuglagkhang Complex: November to March
How to reach Tsuglagkhang Complex: You can reach Dharamshala via airport, train, or bus. Once you get there, you can take a bus or taxi to Mcleodganj and travel to Tsuglagkhang Monastery.
Timings at Tsuglagkhang Complex: 10 am to 6 pm
---
Planning your holiday but confused about where to go? These travel stories help you find your best trip ever!
Real travel stories. Real stays. Handy tips to help you make the right choice.
---
5. Rumtek Monastery, Sikkim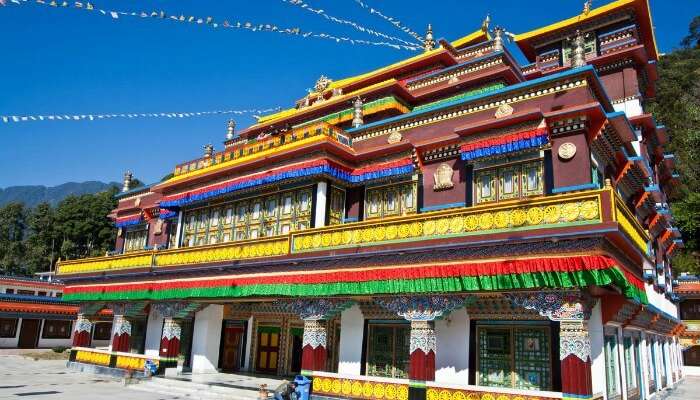 Explore the ancient ambience of this grand old monastery. Rumtek Monastery was first established in Tibet in the 9th century and then reestablished in India in the early 1960s. Counted as one of the most colorful, grandest Buddhist monasteries in India, this is also one of the most controversial structures and is a must-visit on your trip to Sikkim. There have been violent altercations and invasions by monks here claiming lineage and that's why you will always find heavy security here.
The chantings, rituals, masked dances and the echoes of the prayer wheels at this monastery will transport you to another land. Make sure you visit during the annual group meditation and the Tibetan New Year when masked dances performed.
Key highlights at Rumtek Monastery: Rumtek Gompa and Lingdum Gompa
Best time to visit Rumtek Monastery: May to June
How to reach Rumtek Monastery: You can take a shared vehicle (10 am to 2 pm) from Gangtok Taxi Jeep Service Stand that is situated near the Hungry Jack hotel on NH31A. There are also regular buses and taxis from Gangtok to the monastery.
6. Thiksey Monastery, Ladakh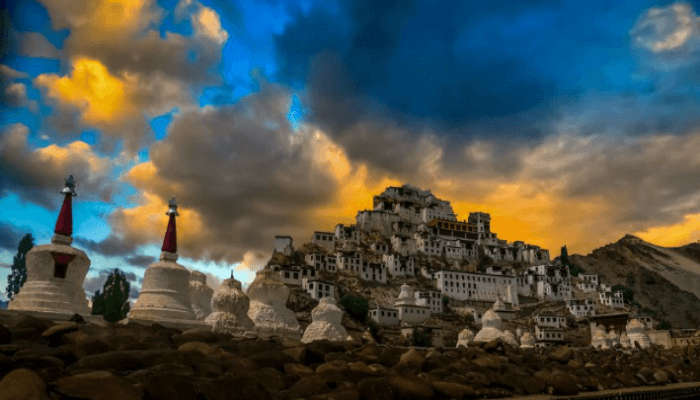 Enjoy the fairytale charm of this whitewashed monastery. The picturesque surroundings and ancient relics of the Thiksey Monastery make this Buddhist monastery in Ladakh a sight to behold. According to ancient legend, two crows carried the ceremonial plates from a prayer ritual to stone steps at Thiksey. The disciple of Palden Sangpo is believed to have found it in a particular order and then constructed the monastery in a similar manner.
The 49 feet statue of Maitreya Buddha that covers two storeys is the key attraction of this monastery. Besides this, the Buddhist statues, stupas, scripts, and paintings are also worth viewing.
Key highlights at Thiksey Monastery: Maitreya Buddha statue, souvenir shop, cafe
Best time to visit Thiksey Monastery: The annual festival and a fair are being held from 17th October to 19th November
How to reach Thiksey Monastery: The closest airport to Thiksey Monastery is the Leh airport. Jet Airways and Alliance flights operate connecting flights to Leh from destinations like Delhi, Chandigarh, Srinagar and Jammu. If you are travelling by rail, the closest railhead lies at Jammu Tawi.
Must Read: 7 Secrets Of Ladakh That Only The Hills Whisper
7. Hemis Monastery, Ladakh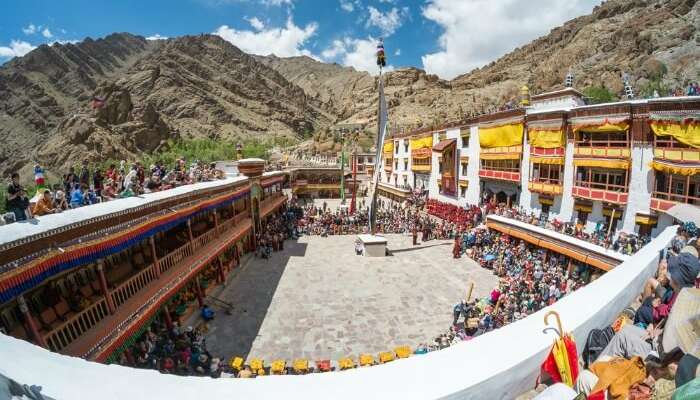 Experience spiritual retreats and masked dances. Immerse yourself in the spiritual grandeur of the masked dance festivals and ancient Buddhist artefacts and relics at the Hemis Monastery. This is the largest Buddhist monastery in Ladakh where the ancient pupil Naropa achieved enlightenment.
Stay at the monastery and participate in the Hemis Spiritual Retreat with the monks. Try visiting this monastery during the Hemis festival in June-July where masked dances and ancient rituals take place. The entire Buddhist population, in fact, dresses up in ethnic clothes and welcomes the tourists during this festival.
This ornately crafted monastery deserves to be on your list when you're booking customizable Ladakh tour packages!
Key highlights at Hemis Monastery: Sacred thangkas, ancient statues, Hemis Spiritual Retreat, Hemis festival
Best time to visit Hemis Monastery: June to July
How to reach Hemis Monastery: The closest airport to this monastery is the Leh airport and the Kushok Bakula Rimpochee Airport. If you are traveling by rail, the closest railway station is the Jammu Tawi Railway Station.
8. Diskit Monastery, Leh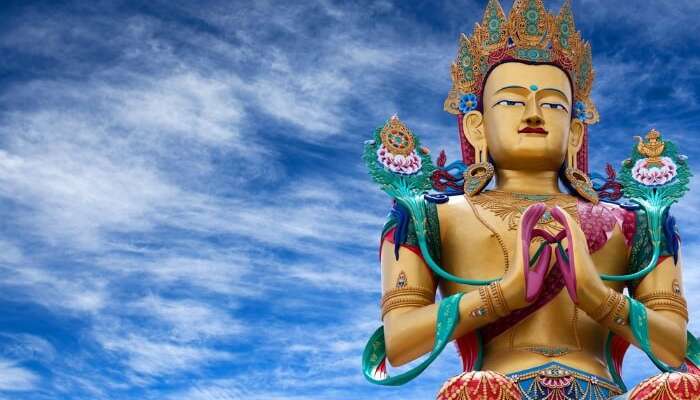 Immerse yourself in the spiritual charm of the 'Yellow Hat' sect. Belonging to the Gelugpa (Yellow Hat) sect, the Diskit Monastery is one of the popular Buddhist monasteries in India as it has a Jampa Buddha statue. It was inaugurated by the Dalai Lama and measures 32 meters. The scenic views of the Naruba Valley from this monastery will make you feel calm and at peace.
View the ceilings and paintings that depict the Tashilhunpo Gompa of Tibet and also enjoy the religious fervor at the shrines here. This shrine is inspired by the Mongol mythology of an evil monk who was killed several times but kept attacking the monastery. The head and the hand of this evil monk is kept in the temple inside the monastery, according to local legend.
Key highlights at Diskit Monastery: 'Festival of Scapegoat', Masked dances, Jampa Buddha statue
Best time to visit Diskit Monastery: February
How to reach Diskit Monastery: There are buses to/from Leh that connect Diskit but you can also take shared taxis to/from Leh.
9. Namdroling Monastery, Mysore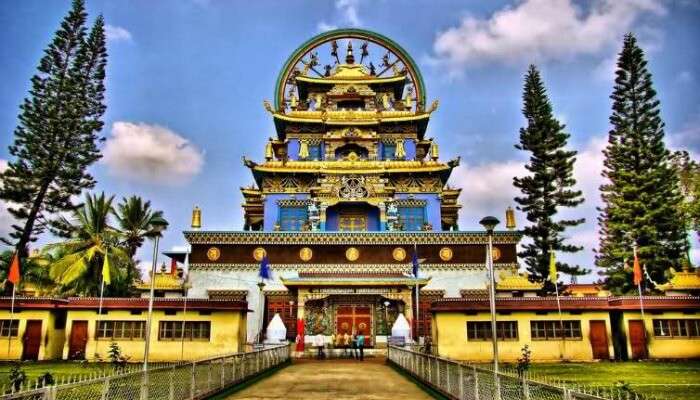 If you are visiting South India and want to go to a Buddhist monastery, head to the Namdroling Monastery in Mysore. This 'Little Tibet' in South India is one of the popular monasteries in India that has a number of gold statues of Buddha as well as several domes all around the complex.
The prayer hall will give you a sense of relaxation and harmony and will make you feel like you are actually in Tibet. In fact, this is the second largest Tibetan settlement in India. The golden deer on the rooftop and the work on the pagoda of the monastery will mesmerize you.
Key highlights at Namdroling Monastery: Prayer hall, gold statues of Buddha, Tibetan knickknacks at the nearby mall, Dubare Elephant camp nearby
How to reach Namdroling Monastery: If you are traveling by rail, the nearest railway station is Mysore. This monastery is just 6 km from the town of Kushalnagar and 35 km from Madikeri. From here you can get an auto-rickshaw or cab.
Suggested Read: An Off The Charts Honeymoon To Bangalore, Mysore, And Coorg
10. Palpung Sherabling Monastic Seat, Kangra Valley, Himachal Pradesh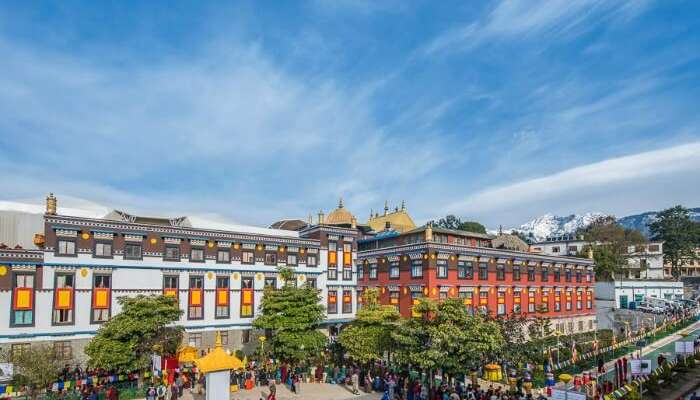 Chant away with Grammy award winning monks here! Nestled among snow-capped mountains and pine forests, Palpung Sherabling Monastic Seat is a captivating sight. The towering golden statue of the Buddha in the prayer hall and the stupas at the front of the monastery will enchant you. There are libraries, retreat centers and shrines on the different storeys and there is also a special guest house for tourists here.
The monks here even have a Grammy award to their credit for their chanting CD. View the majestic artwork all around the monastery and take part in the spiritualistic retreats. This is one of the few monasteries in India that teaches wood carving, metal work, Thangka art, sculpting, and tailoring to the students here.
Key highlights at Palpung Sherabling Monastic Seat: Golden Buddha statue, Visitors' Retreat Center, Hay House, Thangka art murals
How to reach Palpung Sherabling Monastic Seat: There are overnight buses that will take you to Dharamshala, which is the closest point to this monastery. From here, you can take a private cab or a bus till the monastery.
Tip: While on your way to the monastery, stop at the Four Tables Cafe & Gallery in Bir and enjoy a delicious meal.
11. Key Monastery, Lahaul-Spiti – An enchanting fort-like monastery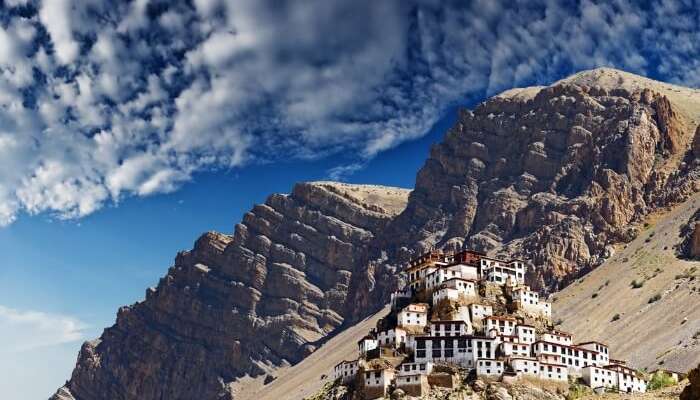 The resplendent views of the Spiti Valley all around this monastery just enhance its charm and create an aura of peace around it. The Key (Ki) Monastery is one of the oldest Buddhist monasteries in India and dates back to 1000 AD.
Snow-capped Himalayan peaks and the Spiti river valley all around the monastery make this one of the best trekking spots in northern India. Pictures of Buddha, ancient murals, shrines, a prayer room where the Dalai Lama stayed and the enchanting prayer wheels will greet you here. The golden glow from the earthen lamps at this monastery will put you into a meditative trance.
Key highlights at Key Monastery: Pasada style architecture, beautifully decorated Assembly Hall, Tengyur room, ancient Buddhist murals
Interesting fact of Key Monastery: Some scenes of the Bollywood movie 'Paap' were shot here
Best time to visit Key Monastery: May to October
Tip: There are no accommodation options or eateries at the monastery so book a hotel in Kaza and carry food along with you.
How to reach Key Monastery: The nearest town to Key Monastery is Kaza. You can travel to Kaza via Manali across the Rohtang Pass and via Shimla. The closest airport is Jubbarhatti Airport in Shimla.
12. Tabo , Spiti valley – Contemplate in solitude at the meditation caves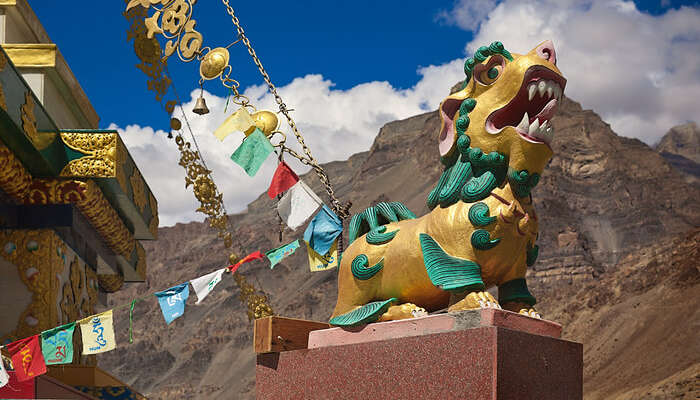 Take a walk along the sprawling complex of the Tabo monastery that has 9 temples, 23 chortens, a monk's chamber, and a nun's chamber. But the major attraction of this monastery are the meditation caves that have been dug by hand into the side of the mountain. These were believed to be the abode of the Buddhist monks during the frigid Himalayan winters. Spend some peaceful moments at these caves before you explore the various temples within the complex.
Dimly lit rooms, mystical shrines and ancient murals and Tibetan art forms make this one of the most popular Buddhist monasteries in India. There are a few accommodation options at Tabo village itself for your convenience.
Key highlights at Tabo: Meditation caves, The Golden Temple, The Temple of the Enlightened Gods (gTug-Lha-khang), The Chamber of Picture Treasures
Best time to visit Tabo: May to October
How to reach Tabo: If you are travelling by air, the closest airport is the Jubbarhatti Airport in Shimla. By rail, the closest railways station lies at Kalka.
Immerse yourself in the peaceful atmosphere at the top 12 Buddhist monasteries in India that showcase Buddhist aesthetics and exemplify architectural prowess. But most importantly, they are absolutely scenic spiritual retreats.
Further Read: Test Your Grit, Take The Spiti Valley Trek
Frequently Asked Questions About Buddhist Monasteries In India
Q. What are Buddhist monasteries?
A. A Buddhist monastery is a community of people who have withdrawn from society and have chosen to dedicate their lives in devotion to Buddhism. They are called monks, which comes from the Greek word 'monos', meaning 'alone'.
Q. How many monasteries are there in India's Sikkim?
A. The North Eastern state of India, Sikkim has around 200 Buddhist monasteries. Rumtek Monastery, also known as Dharmachakra Centre is the largest monastery in Sikkim.
Q. Can you stay in a Buddhist monastery in India?
A. Yes, many monasteries in India have facilities for tourists to stay. They also organise spiritual retreat at different times of the year in which the tourists can participate.
Q. Which is the famous Buddhist monastery?
A. Some of the most famous monasteries in India are:
1. Hemis Monastery – Ladakh
2. Tabo Monastery – Spiti Valley
3. Ghoom Monastery – West Bengal
4. Rumtek Monastery – Sikkim
5. Tawan Monastery – Arunachal Pradesh
Q. Which is the largest monastery in India?
A. Tawang Monastery in Tawang city of Arunachal Pradesh is the largest monastery in India. It is a mansion-like building enclosed by 925 feet long compound wall. It is a 4-storey building.
Q. Can a woman become a monk in India?
A. Yes, female ascetics are called nuns Buddhism allows ordination of female too. They take vows that are similar to monks. There are Buddhist monasteries in India that have Buddhist nun.
Q. Which is the oldest Buddha statue?
A. Some of the places with the oldest Buddha statues are:
1. Buddha Shrine (550 B.C.) – Lumbini, Nepal
2. Buddhas of Bamiyan (554 A.D.) – Bamiyan Valley, Afghanistan
3. Asuka Daibutsu (7th Century) – Japan
Q. How did Buddhism spread in India?
A. The Emperor Ashoka was responsible for the spread of Buddhism in India. He promoted Buddhism by sending monks to various territories to preach the teachings of Buddha. It resulted in conversion of many people throughout India and outside.
Looking To Book An International Holiday?
Book memorable holidays on TravelTriangle with 650+ verified travel agents for 65+ domestic and international destinations.
---
Comments
comments