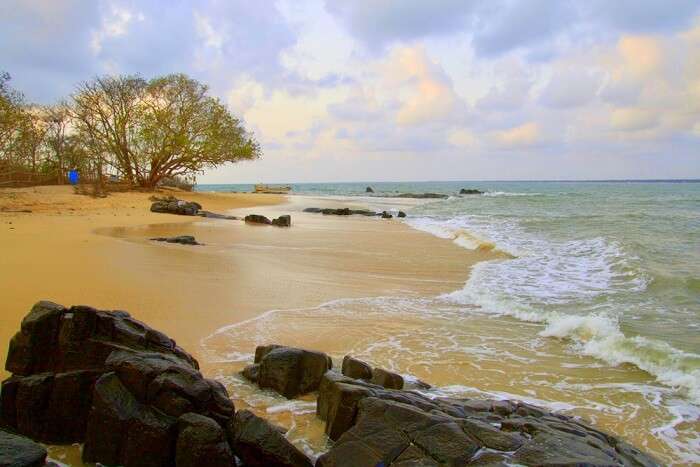 While most know Mangalore as a relaxed coastal town by the Arabian Sea, it's also a major commercial center which sometimes turns it into a chaotic hub for its residents and tourists. It is only befitting that people then start looking for various places near Mangalore to get away from the hustle and bustle of this otherwise charming city in Karnataka. The city is essentially surrounded by some relaxing avenues that are sure to engulf you in their beauty. And the best part – we have brought a long list of some of these weekend getaways right here, so that you can easily browse and pick the ones you like.
15 Best Places Near Mangalore, Karnataka
Pick from these peaceful and rejuvenating short trips near the noisy city of Mangalore. From destinations located within a couple of kilometers to those ideal for a weekend getaway altogether, we have brought you a variety of options that are sure to spoil you for choice.
1. Kadri Manjunath Temple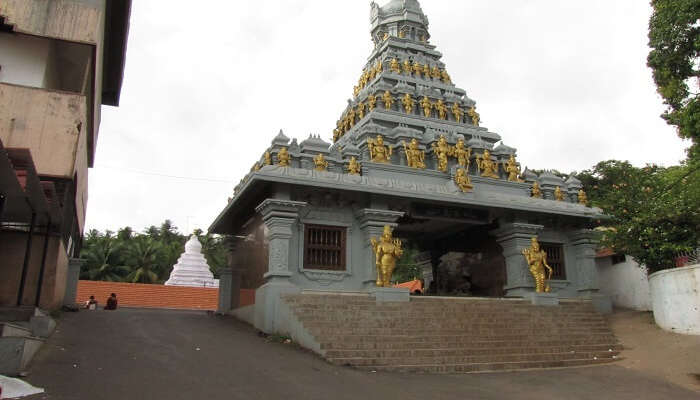 Image Source
The famous Kadri Manjunath Temple situated in Vasant Vihar district of Managaluru was built during the 10th or 11th century. It is among the most popular temples Southern India owing to its beauty and the masonic history attached with it. This temple also draws its fame from the fact that it holds one of the oldest and most beautiful statues of Lord Manjunatha Swamy, a glory awarded to a select few temples in India, making this sanctum one of the best places near Mangalore for a short trip.
The temple exhibits an excellent example of some brilliant architecture and artwork which reflects an ideal amalgamation of Indian architecture blended beautifully with Buddhist effects. Other than the temple premises, pilgrims and travelers also like to check out the surrounding landscapes and ponds which give a rather refreshing and peaceful look to the temple.
Location: Kadri Temple Rd, Vasanth Vihar, Kadri, Mangaluru, Karnataka
Distance from Mangalore: 5.3 km
Travel time: 10 minutes
Must Read: 10 Best Romantic Places In Mangalore For A Perfectly Rejuvenating Vacation
---
Looking To Book A Holiday Package?
Book memorable holidays on TravelTriangle with 650+ verified travel agents for 65+ domestic and international destinations.
---
2. St. Aloysius Chapel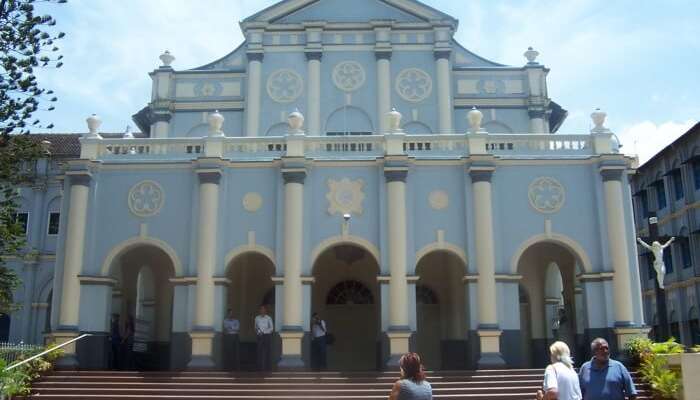 Image Source
The eye-catching cathedral was built way back in 1885. Located on top of the lush green Light House Hill-Garden, St. Aloysius Chapel is a beautiful sanctum that draws travelers from near and far owing to its striking architecture and mind blowing frescoes which remind visitors of Rome's Sistine Chapel. Some of the most intriguing features of this chapel include the paintings of Crowing of the Cock and various other noble people at Chantry. One must also not miss the oil canvas compositions and artwork on the roof which is surely going to take your breath away. There's no wonder as to why it is one of the most important places near Mangalore to visit for locals and tourists alike.
Location: St Aloysius College Rd, Light House Hill-Garden, Mangalore
Distance from Mangalore: 6.9 km
Travel time: 14 minutes
3. Panambur Beach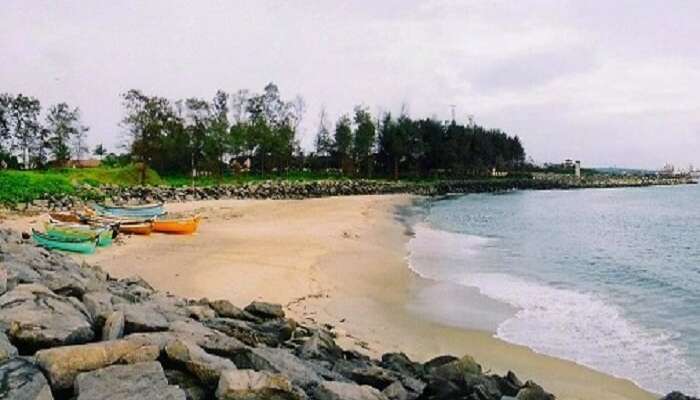 Image Source
This magnificent beach has been credited as one of the cleanest and safest beaches in India, making it one of the most essential places near Mangalore airport that you can visit for some much-needed beach time! Known for its charming sunsets and picturesque ports, this beach serves as a lovely picnic spot. Set against the backdrop of the setting sun, the vintage-looking ships anchored in the sea here look stunning, luring artists and photographers to this place. There are also various activities that one can enjoy on this beach, including boating, jet skiing, horseback riding, camel riding, and even chariot rides. There are several cheap shacks and food stalls selling local delicacies and street food items that you should not miss out on.
Location: NH-66, Near New Mangalore Port Trust Panambur, Mangalore, Karnataka
Distance from Mangalore: 8.6 km
Travel time: 16 minutes
Suggested Read: 6 Magnificent Waterfalls In Mangalore Which Are The Hidden Treasures Of South!
4. Tannirbhavi Beach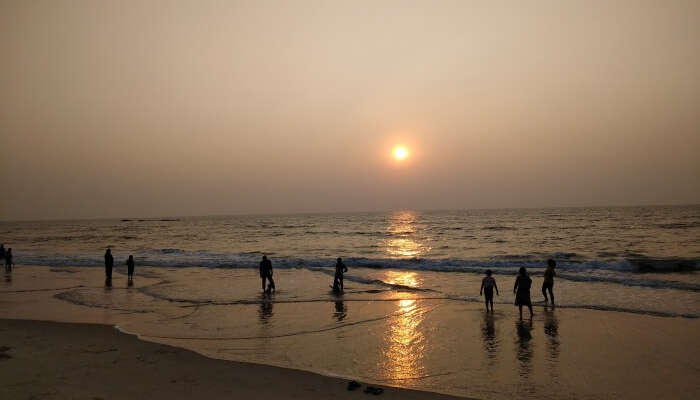 Image Source
The perfect paradise for a serene and peaceful getaway near Mangalore, the gorgeous Tannirbhavi Beach offers sheer bliss to visitors mainly owing to the fact that it lies outside the city's chaotic and noisy avenues and isn't crowded at all. The tranquil blue-green water of the beach makes it a delightful spot for romantic couples and honeymooners. What add to this beautiful package is the surrounding lush greenery lining the coastline of the Arabian Sea and the pretty sunsets that light up the golden sand in mesmerizing colors every evening.
You can also indulge in various waters activities here like surfing, boating, and jet skiing. It's the perfect place to relax and forget about all the worries of work. Getting to this beach is super easy via a ferry ride over the Gurupura river. It can also be reached by land through the Kuloor Bridge.
Location: Near Fathima Church, Mangalore
Distance from Mangalore: 10.2 km
Travel time: 18 minutes
Suggested Read: 10 Mesmerising Places To Visit In Mangalore For A Peaceful Sojourn
5. Surathkal Beach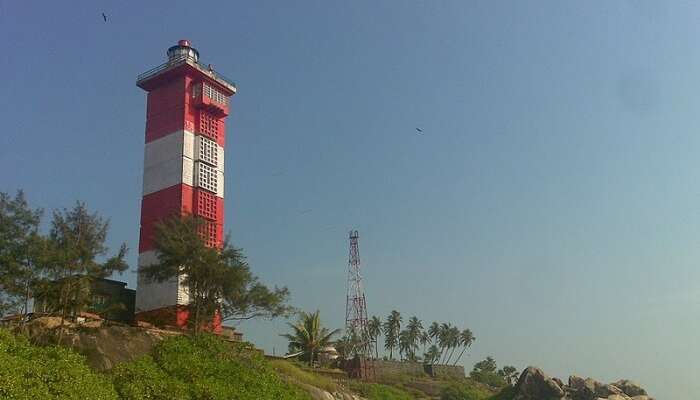 Image Source
Considered one of the most beautiful beaches near Mangalore, the Surathkal Beach is located at a strategic location and boasts of tremendous scenic beauty and clear waters. The highlight of this beach is its lighthouse set amidst big rocks making it a must-see attraction. The view of the beach and the sea from the top of the lighthouse is breathtaking, and the massive height of the tower only makes it that much more grand. The peaceful sounds of the waves, the cool breeze ruffling your hair and tingling your senses, and the soft sand together make this beach one of the best places near Mangalore and an ideal spot for your romantic walk.
Location: Surathkal, Karnataka
Distance from Mangalore: 17.1 km
Travel time: 25 minutes
Suggested Read: 5 Museums In Mangalore That Are A Must-Visit For Witnessing Mind-Boggling Curios
---
Planning your holiday but confused about where to go? These travel stories help you find your best trip ever!
Real travel stories. Real stays. Handy tips to help you make the right choice.
---
6. Ullal Beach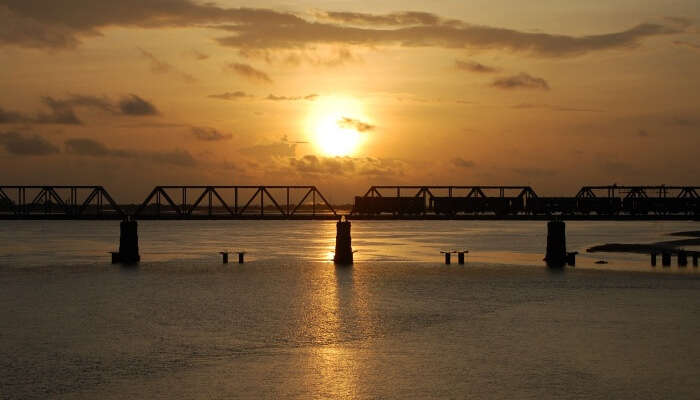 Image Source
The Ullal Beach is one of the most maintained beaches in Southern India owing to the Karnataka government's attachment to this beach. Bewitching its visitors with mesmerizing panoramic views of the coastline and the azure sea beyond it, this beach can only be defined as "stunning" and "surreal". The entire coastline is flanked by thick palm trees and tall swanky casuarinas turn this entire shore into what looks like a beautiful painting, taking people's breath away. It's also among the best places near Mangalore to visit for adventure seekers since it offers scope for various water sports like boat rides, water skiing, and more, making it perfect for a little family outing.
Location: Ullal, Karnataka 575020
Distance from Mangalore: 16.3 km
Travel time: 29 minutes
Suggested Read: 12 Stunning Places To Visit In Summer In Karnataka For A Relaxing Retreat In 2019
7. Someshwara Beach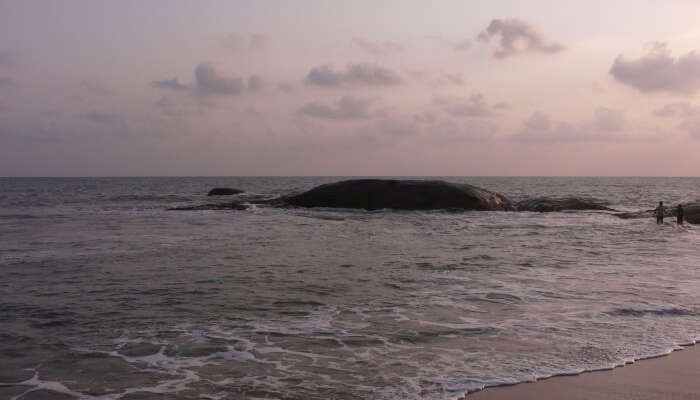 Image Source
Unspoilt and pristine, the Someshwara Beach is among the prettiest beaches in Karnataka. What adds to the beauty of this coastline are the endless big boulders as well as the lush green patches and rolling hills surrounding it. The beach also draws its fame from the revered Lord Shiva Temple located here. This temple, called the Someshwara Temple, has given the huge boulders of this beach the name 'Rudra Shile', meaning the Rocks of Lord Shiva. If you're looking for a calm and peaceful avenue to spend some "me-time" or to just get away from the hustle and bustle of city life, this is the perfect place for you to head off to. A stroll at the beach amidst its beautiful hills and dramatically swaying palm trees will definitely soothe your mind, body, and soul, giving you that much needed relaxation.
Location: Ullal in Mangalore, Karnataka
Distance from Mangalore: 17.3 km
Travel time: 31 minutes
Suggested Read: 5 Awesome Resorts In Mangalore To Experience The Coasts And The Forests
8. Udupi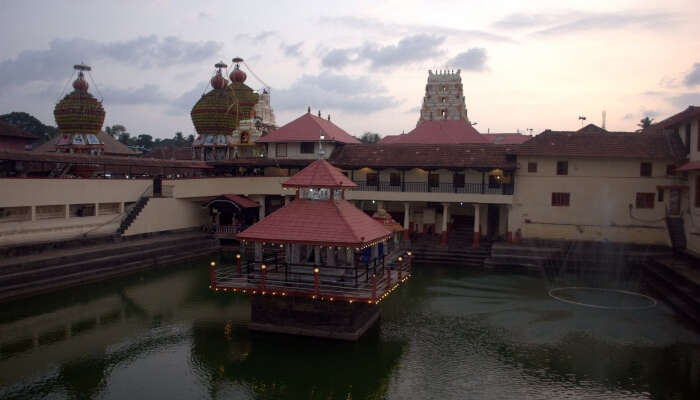 Image Source
The small yet sweet town of Udupi founded by the Vaishnava saint Sri Madhvacharya in the 13th century is famous for the local Udupi cuisine as well as the renowned Udupi temple. It's among the most significant places to visit near Mangalore for these two prime reasons, the third being its historical and rich local architecture. The local Udupi cuisine which is now famous the world over and found in many places across the globe has turned Krishna Mutt in Udupi into its most recognized hotspots, since this famous cuisine is said to have originated here. This was the very same dish that was offered to Lord Krishna here every day. Nowadays, this same Udupi food is served free of cost to everyone at Krishna Mutt every single day.
Location: Udupi District, Karnataka
Distance from Mangalore: 54.9 km
Travel time: 1 hour 3 minutes
Suggested Read: 12 Hill Stations In Karnataka In 2019 To Rejuvenate Yourself
9. Sammilan Shetty's Butterfly Park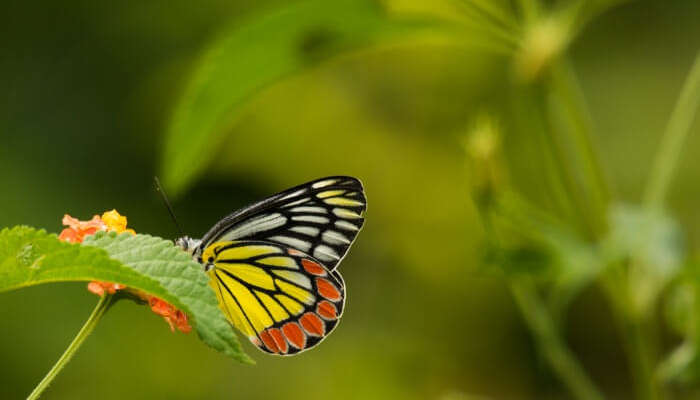 Image Source
The Sammilan Shetty's Butterfly Park is nothing short of a heaven for nature lovers and photographers. It shelters over a whopping 118 species of the most gorgeous butterflies you will ever have seen, and is the favourite place of all butterfly-crazy people who find peace and utter joy in watching this winged beauties fluttering about gleefully. Though the place was born out of a manmade initiative to conserve various rare and endangered butterfly species and give them a home, it has now transformed into an all-natural avenue to these gentle beings who wander without any kind of constraints or cages, making it a must-visit place near Mangalore for sheer beauty and peace.
Location: 13, Butterfly Park Road, Belvai, Karnataka
Distance from Mangalore: 43.1 km
Travel time: 1 hour 4 minutes
Suggested Read: Top 10 Things To Do In Mangalore That Lets You Soak The Goodness Of This Port City!
10. Malpe Beach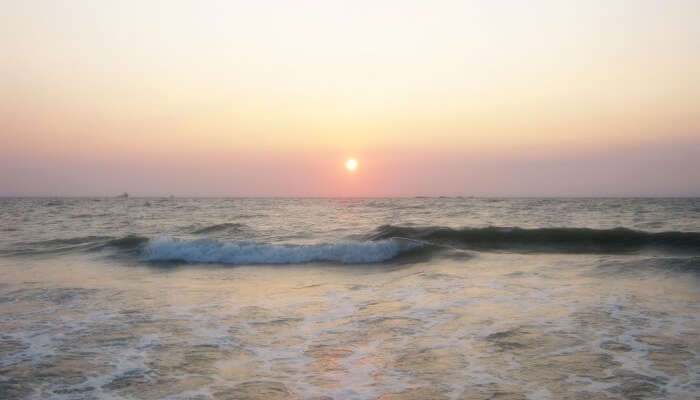 Image Source
If you're looking for a delightful beach getaway near Mangalore, then you should get to Malpe, a surreal combination of the dose of sun, surf, and sand you need. It's every tourist and local's favourite tourist spot near Mangalore owing to all the excitement it offers. Set over the curvy shores of the beautiful fishing village and natural port of Malpe, the Malpe Beach is amongst the finest picnic spots for families and couples owing to its gorgeous panoramas of the quiet sea before it, and the cool sand and water.
Another charming attraction off the coast of Malpe are its unique and beautiful volcanic rock islands called the St Mary's islands. Formed hundreds of years ago as a result of volcanic eruptions, these oddly shaped sheer rock islands made of columnar basaltic lava are just a ferry ride away the port town of Malpe.
Location: 6 km West of Udupi, Karnataka
Distance from Mangalore: 59.3 km
Travel time: 1 hour 11 minutes
11. Hanuman Gundi Falls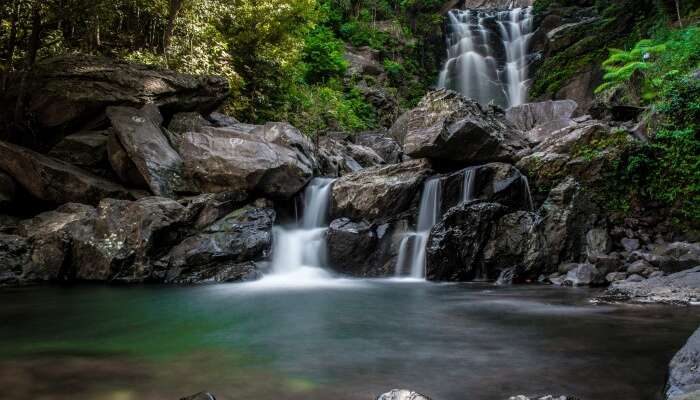 Image Source
Also called Suthanabbe Falls, the popular Hanuman Gundi Falls are a treat to the eyes and soul! This beautiful waterfall vaunts of exceptional natural beauty and cascades down a height of a whopping 22 metres forming a mystical pool at the base. In fact, the mist is so far-fetched that it covers the surrounding lush greenery in a soothing and dreamy blanket of haze, making this place a must-visit spot for couples and photographers. Named after Lord Hanuman, this waterfall can be reached after climbing the 400 steps leading to this surreal spot through a verdant jungle. You might find the climb to be a bit tiring if you're not an avid trekker, but a single glance at this unbelievably beautiful waterfall will melt away all your fatigue and the water will rejuvenate your senses!
Location: Located near Kudremukh National Park in Chikkamagaluru district, Karnataka
Distance from Mangalore: 81.4 km
Travel time: 1 hour 50 minutes
Suggested Read: 8 Hill Stations Near Mangalore That Are Too Good To Miss
12. Jamalabad Fort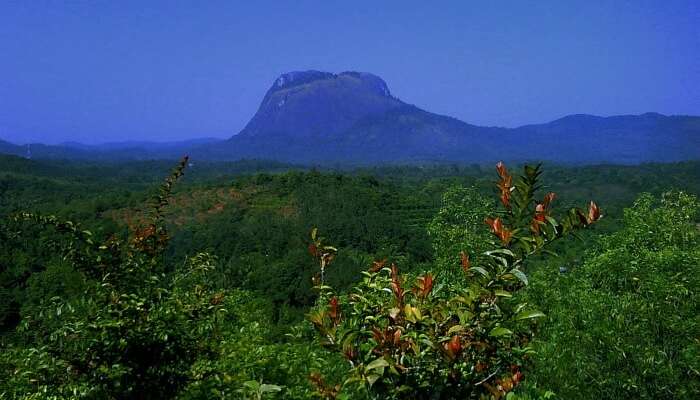 Image Source
Gaining immense popularity in recent years, the Jamalabad Fort is a stunning hilltop fortification and a great destination for trekkers looking for a mix of adventure, history, and mystery. It's among the best places for a weekend getaway near Mangalore for those who wish to get away from the chaos and clutter of the busy city life. Offering the thrill of a medium difficulty level trek to visitors, this trekking trail leading up to the fort offers spectacular views of the surrounding hills and valleys. Other than being a mysterious avenue for history geeks and architecture lovers, this fort is a great place for those who wish to spend quality time amidst nature's bounty.
Location: Killoor Road, Belthangady, Dakshina Kannada District, Karnataka
Distance from Mangalore: 65 km
Travel time: 2 hours
13. Kudremukh National Park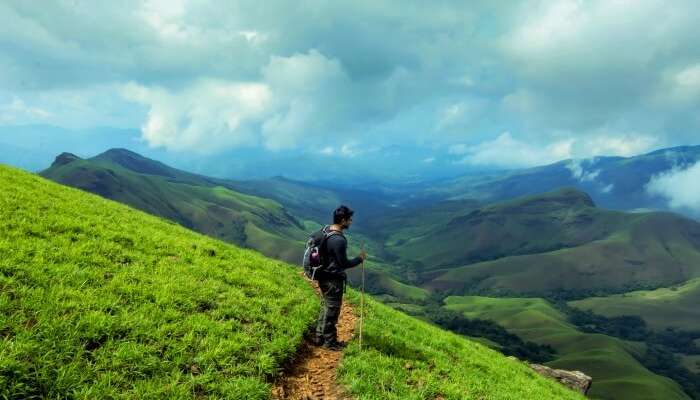 Image Source
The second largest national park in the Western Ghats and among the most important sites in Karnataka for the conservation and shelter of flora and fauna, Kudremukh National Park makes up for one of the best places around Mangalore for a 3 day trip. Other than being a blissful forest reserve and trekking destination for national as well as international tourists owing to the surrounding hills, this park is home to a wide range of animals, birds, and plant species. The natural biodiversity of this park is made of a whopping 600 km of grasslands and evergreen forests dotted here and there with lush green vegetation, coffee and tea estates, as well as perennial streams like the Tunga, Bhadra, and Netravati meandering by.
The moist climate and rich vegetation also helps support a huge variety of fauna, including Gaurs, Chital, Barking Deer, Sambar, Malabar Giant Squirrels, Flying Squirrels, Langurs, Macaques, Porcupines, Wild Boars, Mongoose, and even Tigers, Leopards, Jackals, and Wild Dogs in the surrounding forest cover. The park is also home to some endangered and rare species of birds like the Malabar Whistling Thrush, Imperial Pigeon, Malabar Trogon, and the Great Pied Hornbill.
Location: Mudigere Taluk Chikmagalur district, Karnataka
Distance from Mangalore: 100.3 km
Travel time: 2 hours 19 minutes
Suggested Read: Karnataka Cuisine: 15 Popular Karnataka Dishes For A Flavorful Culinary Journey
14. Agumbe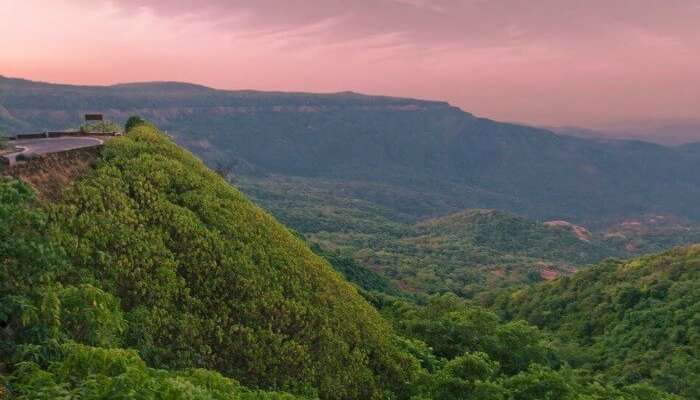 Tucked away in the lush Shimoga district of Karnataka, Agumbe makes up for one of the best hill stations near Mangalore boasting rich rainforests and scenic views of the Western Ghats. This lovely hill retreat is known to receive the highest rainfall in South India, owing to which it is often called the 'Cherrapunji of South India'. The hill town is home to the rare and endangered medicinal flora of Garcinia, Ficus, and Holigarna that flank the verdant forest trails here, making your short treks and hikes through these photogenic valleys of Agumbe immensely enjoyable, aromatic, and scenic. Other than hiking, you can also explore the various natural attractions like the beautiful Jogigundi, Barkana, and Theertha waterfalls, or the mesmerizing views of the sunset from the Sunset Point.
Location: Shimoga District, Thirthahalli taluk, Malnad, Karnataka
Distance from Mangalore: 133.2 km
Travel time: 3 hours 3 minutes
Suggested Read: This Private Island Homestay In Karnataka Is A Treasure & You Won't Doubt It!
15. Sultan Battery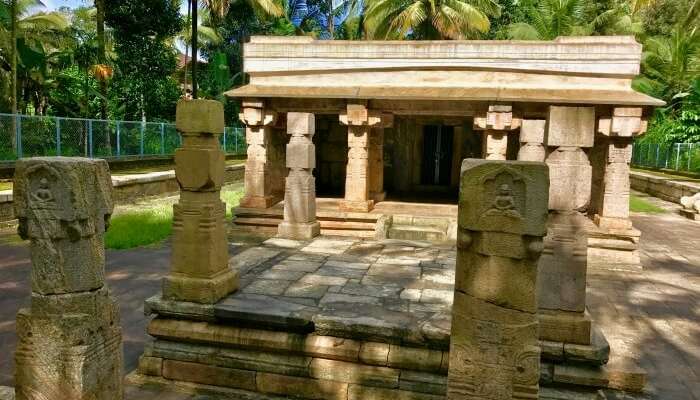 Image Source
The Sultan Battery was essentially the watchtower of Tipu Sultan that he had built back in 1784 to keep an eye on his enemies and fire cannons upon them. Now, it serves as a popular tourist destination owing to the rich history attached with it and the stunning views of the Arabian Sea and the surrounding greenery it offers from the top. Located near the beautiful city of Wayanad in Kerala, this historical avenue is among the best places near Mangalore for a 3 day trip. Just a short boat ride away from the main town, this place is the perfect avenue to step back in history as well as enjoy the sea, sun, and sand.
Location: Wayanad, Kerala
Timings: 9 AM – 7:30 PM
Distance from Mangalore: 269.4 km
Travel time: 6 hours 34 minutes
Further Read: 8 Fascinating Temples In Karnataka That Are All About Architectural Grandeur!
We bet you're super excited to check out these phenomenal and exciting places near Mangalore, most of which you didn't even know about! Well, why wait? Plan your Karnataka holiday with TravelTriangle's wide range of customised packages and enjoy benefits like great discounts and expert guided tours. Happy Tripping!
Frequently Asked QUestionsAbout places near Mangalore
Q. What is the best season to visit Mangalore?
A. The best season to explore the astounding beauty of Mangalore is winter. If you plan a visit to Mangalore between October to February then you will surely be witnessing the best of this city. However, winter is the best time to visit here, the hotels and other stays are generally occupied during this period and you need to make prior bookings.
Q. How many days are required to visit Mangalore?
A. If you are planning to go for a sightseeing tour to Mangalore then a trip for 3-4 days would be ideal. You can also indulge in adventurous water sports activities while staying here.
Q. What is the budget required to visit Mangalore?
A. If you want to travel to Mangalore then your budget will depend on your preference. However, the trips to Mangalore starts with INR 15,000 for 2 nights and 3 days.
Q. What are some must visit places in Mangalore?
A. There are many must visit places to explore in Mangalore such as Tannirbhavi Beach, Kadri Manjunath Temple, Mangladevi Temple, Panambur Beach, Pilikula Nisargadhama, Sultan Battery, St. Aloysius Chapel, Shree Gokarnanath Temple, etc. 
Q. What are the best things to do while visiting Mangalore?
A. The most amazing things to do in Mangalore are visiting mesmerising beaches such as Panambur Beach, explore the Kadri Hill Park, Sultan's Battery, Bejai Museum, Mangaladevi Temple, Kudroli Gokarnath Temple, Sammilan Shetty's Butterfly Park, Mangalore Port, Pilikula Nisargadhama, etc.
Q. What are the top beaches near Mangalore?
A. There are numerous beautiful beaches near Mangalore such as Panambur Beach, Tannirbhavi Beach, Someshwar Beach, Ullal Beach, Suratkal Beach, Kaup Beach, Tannir Bavi Beach, etc. 
Q. Is Mangalore safe for women?
A. Yes, Mangalore is completely safe for women. The locals here ensure safe and comfortable environment for visitors in Mangalore.
---
Looking To Book An International Holiday?
Book memorable holidays on TravelTriangle with 650+ verified travel agents for 65+ domestic and international destinations.
---
People Also Read
Places To Visit In Karnataka Places Near Mumbai Places To Visit Near Munnar
Comments
comments