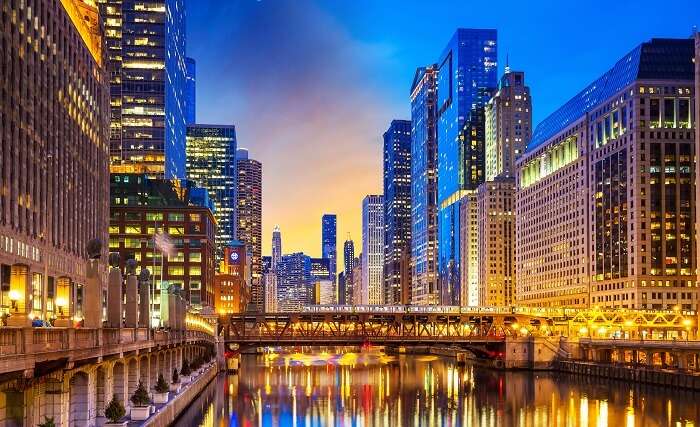 The beautiful city of Chicago has some of the best attractions like museums, skyscrapers and local spots that are worth a visit whether you are a local or a traveler. Being one of the top cities of USA, Chicago has some of most spectacular attractions to be witnessed once in a lifetime. While there are a number of places to see in Chicago, these 15 attractions are must-visit on your next trip.
15 Fascinating Places To Visit In Chicago
1. Millenium Park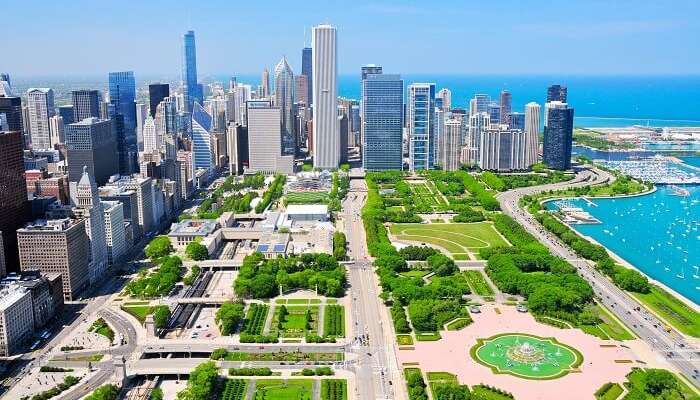 Suggested Read: Chicago Nightlife: 11 Exciting And Lively Places To Party All Night!
Known for hosting the concerts and festivals, this is one of the most popular Chicago attractions which is all about the city's weekend vibe. You'll find interesting sculptures and contemporary installations all over this 25-acre park while taking an evening stroll. The Millenium Park is definitely one of the best places to visit in Chicago for all kinds of tourists.
Location: 201 E Randolph St, Chicago
Timings: 6 AM to 11 PM
Suggested Read: Ring In The New Year In Brazil & Start Your 2019 With A Relaxing Vacation
2. Art Institute of Chicago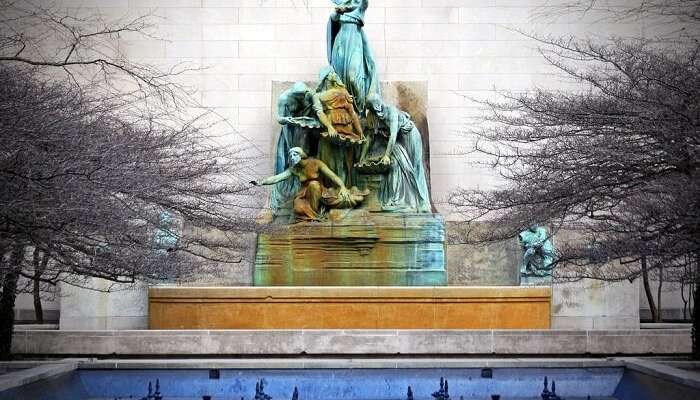 When talking about the most exquisite places to see in Chicago, the Art Institute has to be on the list as it houses a collection of more than 300,000 pieces of artwork. Even if you're not an art connoisseur, the gorgeous Greek sculptures, Japanese prints, and stained glass installations will make you an admirer in no time. Other than that, one can also dine at the Art Institute's restaurant – Terzo Piano that offers spectacular views of the Millenium Park.
Location: 111 S Michigan Ave, Chicago
Timings: 10 AM to 5 PM
3. Riverwalk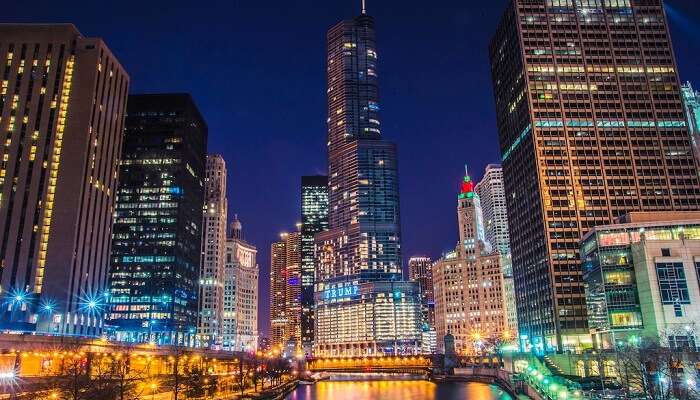 When it comes to Chicago sightseeing, taking a stroll along the Riverwalk is totally mandatory. One can adore the city lights next to the Chicago river while choosing your dinner menu from a range of bars, pubs and restaurants. The Riverwalk has some of the best restaurants in Chicago and the other amazing places to go in Chicago can easily be explored via Water Taxi.
Location: Chicago Riverwalk, Chicago
Timings: 6 AM to 11 PM
4. Navy Pier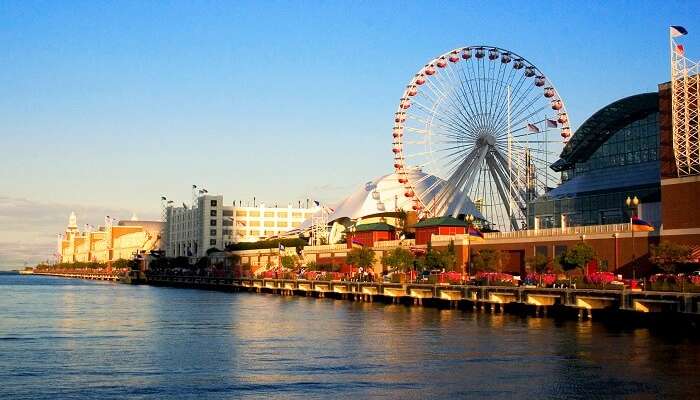 Suggested Read: 15 Most Haunted Places In America: One Of A Kind & Each One With A Disturbing History!
For a relaxed evening, drop by the Navy Pier which boasts of a Giant Ferris Wheel, a beer garden, and live entertainment. If you're thinking about what to see in Chicago, you can listen to live music by the pier or attend one of the classic plays at the renowned Chicago Shakespeare Theatre. A number of restaurants and take-out places at the Navy Pier makes it one of the best places to visit in Chicago.
Location: 600 E Grand Ave, Chicago
Timings: 10 AM to 7 PM
5. John Hancock Observatory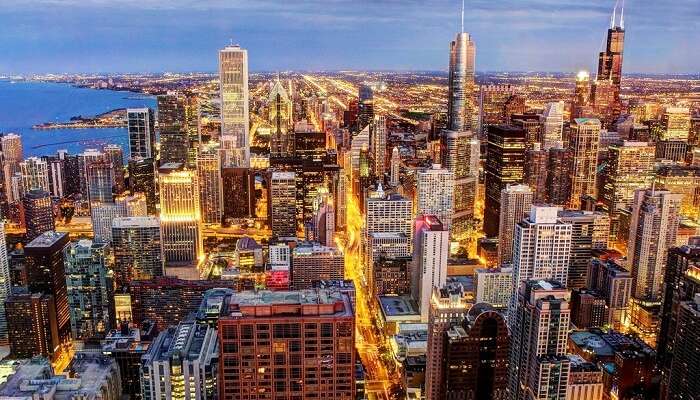 The most iconic structure and also known as 360 Chicago, the John Hancock Observatory gives you a complete view of the city from 1000 ft. above which is a sight not to be missed. Hop onto TILT that will 'tilt' you from the 94th floor and indulge in an experience you will not forget in a lifetime. Being the only place from where you can see upto five states as well as the infamous Lake Michigan, this is one of everyone's favourite places in Chicago.
Location: 875 Michigan Avenue, Chicago
Timings: 9 AM to 11 PM
6. Cloud Gate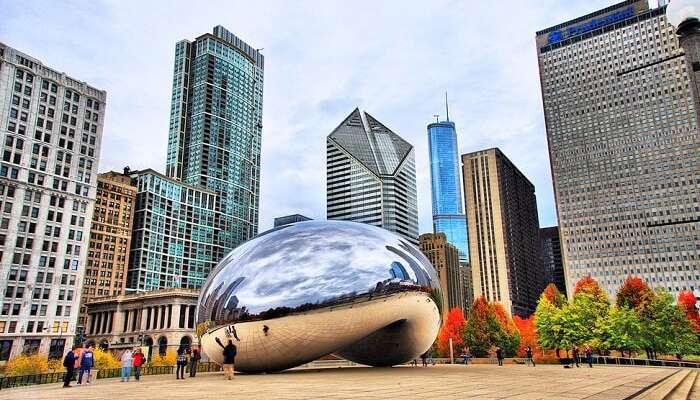 The infamous Cloud Gate is a spectacular piece of art which undoubtedly is one of the places to visit in Chicago. It's the perfect spot for a selfie and since it's inception, it has been an Instagram-favourite for all tourists around the world. Sometimes known as the beanbag, this fun installation works as a house of mirrors and is a must-see place for all visiting the Millenium Park.
Location: AT&T Plaza at Millennium Park
Timings: 6 AM to 11 PM
7. The Magnificent Mile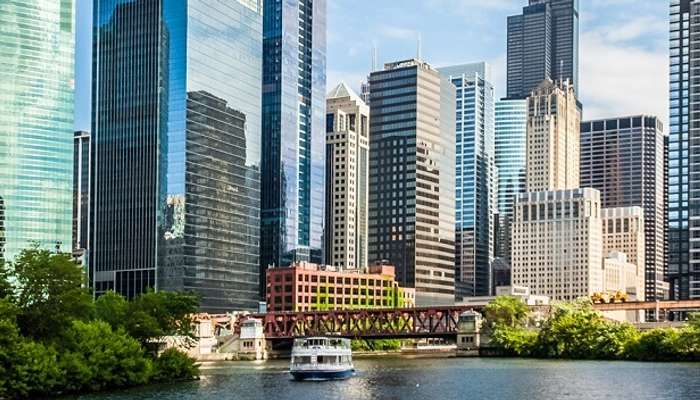 Suggested Read: Top 10 Things To Do In Los Angeles, The Home Of Hollywood
You are never done with Chicago till the time you visit its commercial district known as the Magnificent Mile. Find the best selection of fashion outlets and topnotch stores at this vibrant location where one can also be a part of the Magnificent Mile Shopping festival that is held each summer. Also, the Magnificent Mile Lights Festival is also a must-attend event when in the city. Dedicate an entire day and indulge in the cosmopolitan experience at one of the best places to visit in Chicago.
8. Lincoln Park Zoo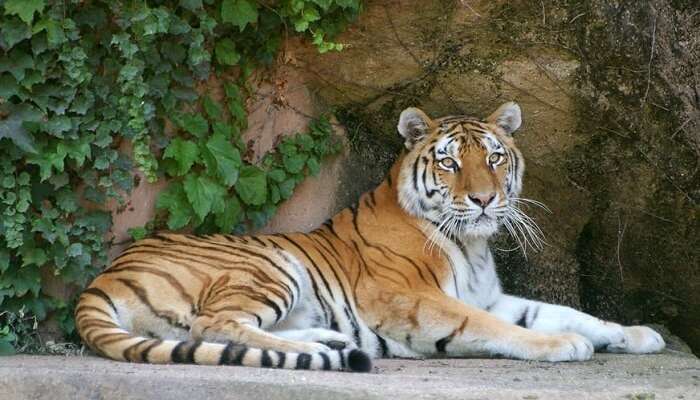 In Chicago, places to visit are so many that it won't disappoint you. Bring back your childhood memories with a trip to the infamous Lincoln Park Zoo, especially if you're a nature and an animal lover. Located in the middle of the city and surrounded by skyscrapers and buildings, this prime location happens to be one of everyone's favourite places to visit in Chicago.
Location: 2001 N Clark St, Chicago
Timings: 7 AM to 4:30 PM
9. Chicago History Museum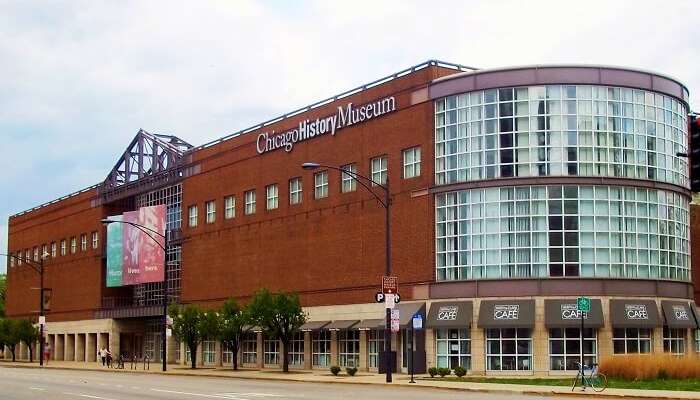 Suggested Read: Shopping In Chicago: 7 Famous Places In The City To Splurge & Shop Till You Drop!
With over 20 million artifacts, this museum is an important part of Chicago's tourist destinations. Needless to say, if you appreciate history, you will find an abundance of sites to visit within this museum. Be it the hands-on model of the Hancock Building or the real story behind the Great Chicago Fire, there's a lot more to this museum being one of the best Chicago's places to visit than what meets the eye.
Location: 1601 N Clark St, Chicago
Timings: 9:30 AM to 4:30 PM
10. Glessner House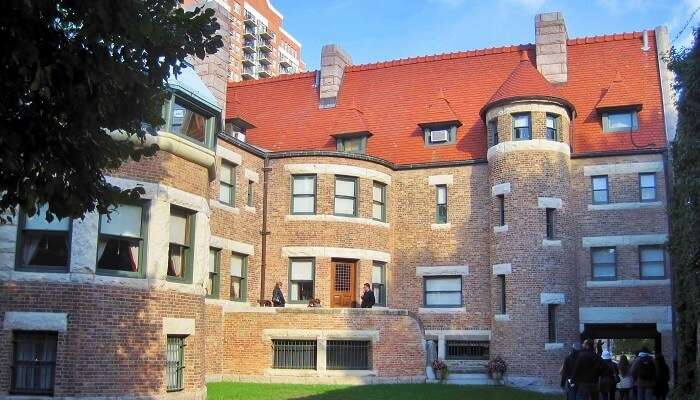 Suggested Read: Here Are The World's 29 Richest Countries As Per The IMF's Latest Report
One of the top architectural places to visit in Chicago, the Glessner House is a popular landmark in the State of Illinois. There are different tales associated with this timeless monument while the museum inside contains unbelievable collections of 19th Century life. An inspiration to domestic architecture, the Glessner House is a fortress waiting to be explored by tourists.
Location: 1800 S. Prairie Ave.
Timings: 11 AM to 4 PM
11. Crown Fountain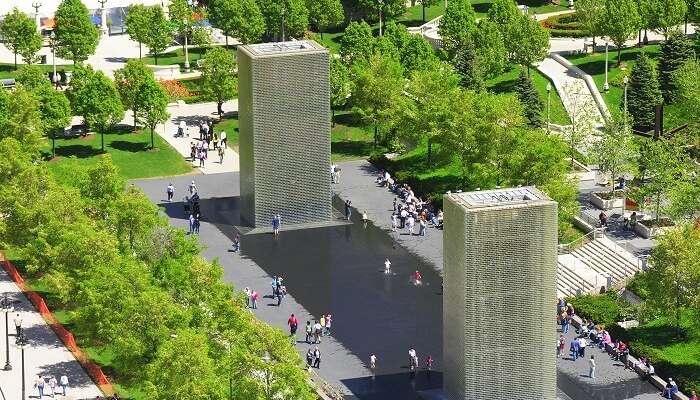 Being one-of-a-kind installations in the city, this fountain is a 50-foot glass block which projects the images of the locals while the water flows through an outlet strategically placed at the mouth of the installation. This 21st century art is clearly one of the spectacular places to visit in Chicago that is located in the Millenium Park. Make sure you capture both the screen during middle of Spring and Fall, as the water effects are operational only then.
Location: 201 E Randolph St, Chicago
Timings: 6 AM to 11 PM
12. Shedd Aquarium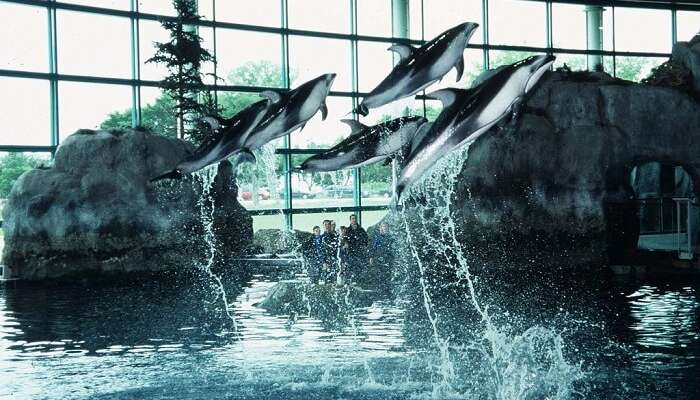 Closer to the Lake Michigan, resides a very popular tourist attraction of Chicago – the Shedd Aquarium. As one of the largest aquariums in the world, this indoor setup is the place to spend a lazy afternoon with your family, especially children. From Beluga whales to white-sided dolphins, you can witness over 1500 mammals and fishes here, which makes it one of the most exciting places to visit in Chicago.
Location: 1200 S Lake Shore Dr, Chicago
Timings: 8.30 AM to 6 PM
13. Buckingham Fountain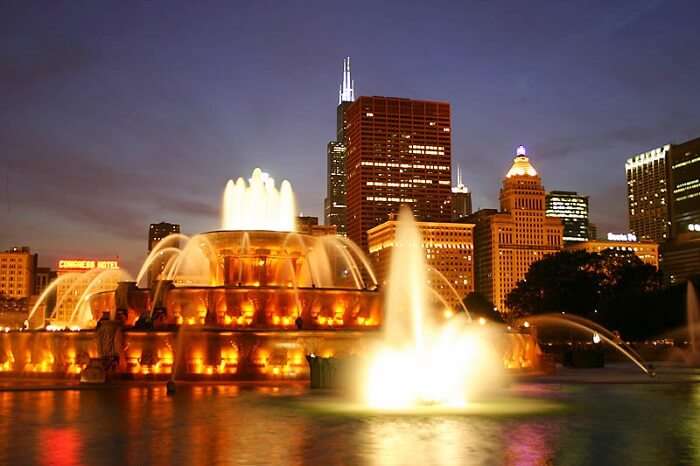 Suggested Read: 8 Resorts In Orlando Hosting The Best Stay In The Disney World Backyard
Inspired by the Art Deco movement, this extraordinary fountain is located at the centre of Grant Park. It is operational during the peak hours of the day while it shows its magic with lights in the evening. As 15,000 gallons of water move around to make beautiful designs, this fountain becomes a must-visit spot for all tourists who are looking for iconic places to visit in Chicago.
Location: 301 S Columbus Dr, Chicago
14. Garfield Park Conservatory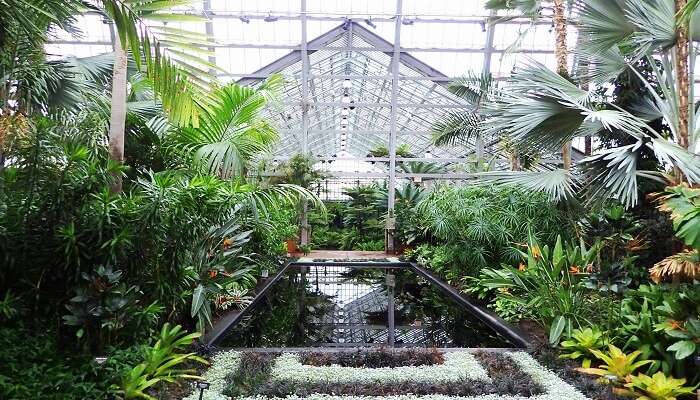 The 'landscape art under glass' consists of rare and exotic plant species that are displayed on the indoors as well as on the outdoors in the garden. There are regular art exhibitions, flowers shows, and even lectures that one must visit if their interest lies in horticulture. As a matter of fact, one will not find a better place to visit in Chicago, and relax away amidst the gorgeous flora.
Location: 300, North Central Park Avenue, Chicago
Timings: Thursday to Tuesday – 9 AM to 5 PM; Wednesdays – 9 AM to 8 PM
Suggested Read: Make Your Christmas In Brazil A Sweet One With Assortment Of These Lip-Smacking Desserts
15. Promontory Point at Burnham Park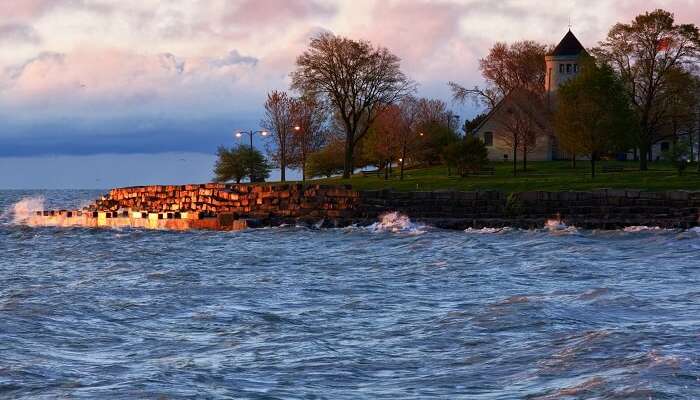 Enjoy a lovely picnic in the summer sun at the Chicago Promontory Point, which is a relaxing spot for everyone in search of a calm and a quiet place. Named as one of the best summer places to visit in Chicago, simply unwind in the evenings, ride a bike, go running along the greenery, enjoy a swim by the shore, or have a barbeque with friends and family, and much more.
Further Read: 10 Best Things To Do In Chicago: The City With A Magnetic Charm
Still confused about Chicago's tourist attractions? This list of top 15 places to visit in Chicago should be your go-to guide for your next vacation. Having said that, plan your US trip with TravelTriangle and make sure you visit each of these places to get the real taste of city life.
Frequently Asked Questions About Places To Visit In Chicago
Q. Is Chicago a good city to visit?
A. Yes, Chicago is among the most amazing places to visit in the world. The city is home to two major airports and welcomes flight from almost all the major cities of the USA.
Q. Where can I go for free in Chicago?
A. There are numerous interesting free places to explore in Chicago. Check out the following free places in Chicago:
1. Millennium Park
2. Lincoln Park Zoo And Conservatory
3. Chicago Cultural Center
4. Buckingham Fountain
5. Garfield Park Conservatory
6. National Museum of Mexican Art
7. Oriental Institute, Smart Museum & Renaissance Society
8. Museum of Contemporary Photography
Q. Which is the most popular tourist destinations in Chicago?
A. The most popular tourist destination in Chicago is Millennium Park, followed by Willis Tower, Navy Pier, and Cloud Gate.
Q. Is Chicago dangerous for tourists?
A. Though, Chicago is believed to be the crime capital, the place is completely safe for tourists. The crime affected areas here are primarily the South and West Sides of Chicago. The mentioned area is quite far from the tourist places.  
Q. Are museums free in Chicago?
A. Alike other places to visit in the USA, the museums in Chicago are free for members of the US Armed Services, Chicago Fire Department, Chicago Police Department, and Illinois teachers.
Q. Is the Skydeck free?
A. The Skydeck in Chicago is not free. You need to pay INR 2,348.08 for adults whereas the same for kids above the age of 3 years will be charged INR 996.24. However, kids below the age of 3 are absolutely free to enter the Skydeck.  
Q. Where are the bad areas of Chicago?
A. If you are looking for the most dangerous areas or neighborhood in Chicago, then you must know that the following are the places you must surely avoid while holidaying in Chicago:
1. West Englewood
2. Riverdale
3. Auburn Gresham
4. Fuller Park
5. Gage Park
6. Chicago Lawn
7. West Garfield Park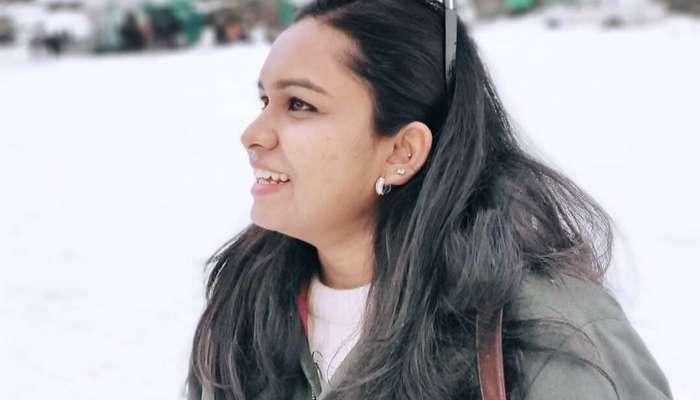 Comments
comments