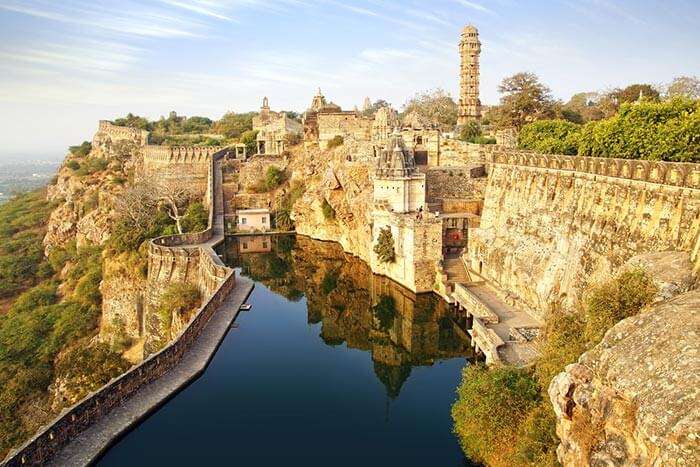 Situated at the southeastern corners of Rajasthan, Chittorgarh is a repository of ancient buildings, rich heritage and evergreen folklore boasting of its royal glory. The capital of the erstwhile kingdom of Mewar is remembered for the glorious battles especially the siege of Allah-ud-din-Khilji which is marked in the pages of history. The quaint old town has stories in every wall of its classical establishment. Have you crossed all the places to visit in Chittorgarh on your list? If not, go ahead and do it.
Best time to visit Chittorgarh: September to March. Rajasthan in January is a great time to visit the desert state and excape the harsh summer sun.
How to reach Chittorgarh:
By Air– Jaipur is the closest airport at a distance of 137 km.
By Train– Ajmer junction railway station is well connected to almost all cities.
By Road– Chittorgarh is connected by National Highway No. 76 and 79.
14 Places To Visit In Chittorgarh
Chittorgarh is a highly important town in Rajasthan because of its rich history and culture. You can see the glimpses of various eras of rulers hwho have ruled over Chittor in the architecture. There are numerous temples as well that hold great importance for Jain community. Let's walk you through some places to visit in Chittorgarh for a princely jaunt. You should ideally tick these 14 places to visit in Chittorgarh off your list in a single trip:
Chittorgarh Fort
Rana Kumbha Palace
Fateh Prakash Palace
Padmini Palace
Meera Temple
Kali Mata Temple
Gaumukh Reservoir
Bassi Wildlife Sanctuary
Padmavati Palace
Vijay Stambh
Sathis Deori Temple
Kirti Stambh
Shyama Temple
Sanwariyaji Temple
1. Chittorgarh Fort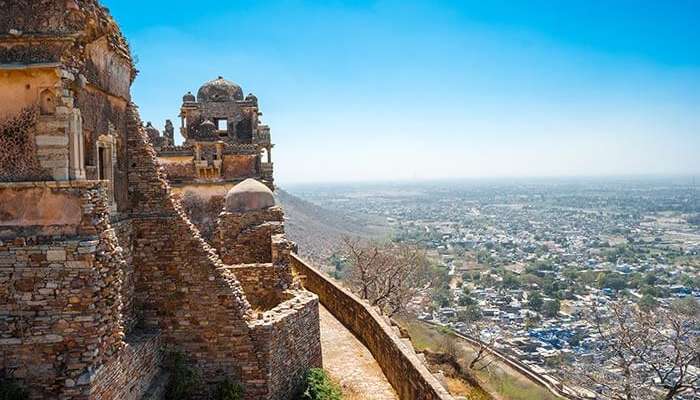 Chittorgarh Fort, also known as Water Fort, comprises of 22 water bodies, palaces, towers, and temples spread over 700 acres. Whenever we talk about the places to visit in Chittorgarh, this fort tops the list because of its fascinating history and the Jauhar performed by the queens during the time of war. The main attractions of the fort are the two memorial towers, Kirti Stambh and Vijay Stambh.
Entry fee: INR 10 per person and INR 5 per child
Stay options: Chetak Hotel, Bhagwati Hotel, and Castle Bijaipur Hotel
Suggested Read: Top 10 Hotels In Chittorgarh Offering A Royal Stay In The Land Of Ranas
---
Rajasthan Holiday Packages On TravelTriangle
Explore Rajasthan, the land of Maharajas. Experience its royal cultural heritage, luxurious hotels, camel safaris, pristine lakes, and magnificent forts and palaces. Cover the best of Jaipur, Udaipur, Jodhpur, Jaisalmer, Pushkar and Ranthambhore at best prices with TravelTriangle.
---
2. Rana Kumbha Palace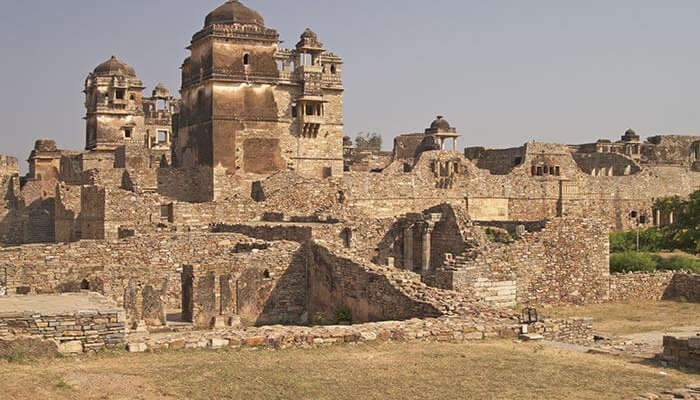 Rana Kumbha Palace is the oldest palace within the fort and tales claim that it is one of the most haunted places in Rajasthan. The series of canopied balconies, stables of horses and elephants of the palace are a must on your Chittorgarh sightseeing list. They say that after the valiant defeat of Rana Kumbha, his queen, Rani Padmini committed Jauhar and their spirit still haunts the palace. It is one of the must places to see in Chittorgarh.
Entry fee: INR 10 per adult and INR 5 per child
3. Fateh Prakash Palace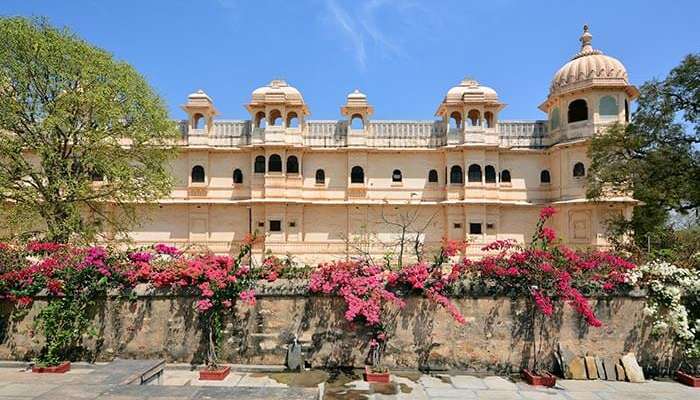 Fateh Prakash Palace is an epitome of modern architecture, named after Maharana Fateh Singh. It is the house of an idol of Lord Ganesha beautifully placed in one of the most frequently visited places of Chittorgarh. There is an array of beautiful wall paintings and murals because of which it is now a popular museum. Sculptures, historical artifacts are found in abundance in the museum, and it is quite an attraction of tourists. Out of all Chittorgarh places to visit, it is one of the most regal and elegant.
Entry fee: INR 0
Stay options: Hotel Pratap Palace, Hotel President and WelcomHeritage Bassi Fort
Must Read: 7 Haunted Places In Rajasthan: Real Stories Of Regal Period
4. Padmini Palace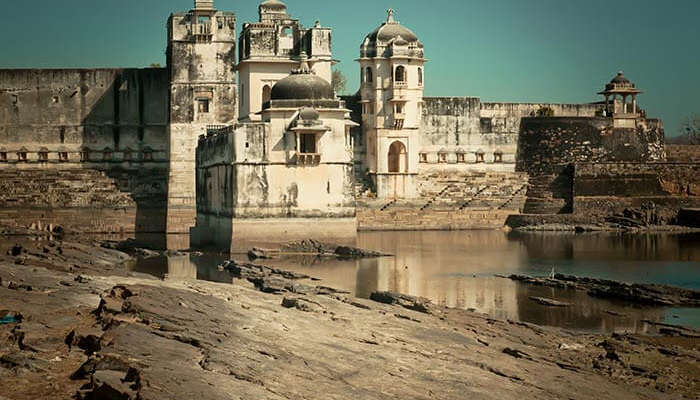 Located at the midst of the Chittorgarh Fort, Rani Padmini Palace is named after Queen Padmini. She was known for her impeccable beauty and intelligence. Tales say that she herself inspected the defenses of the palace when the fort was under the siege by Sultan of Delhi. Most of the places to visit in Chittorgarh are famous for their regal history. The story of Padmini stands as the symbol of valor and bravery in its chronicles.
Entry fee: INR 10 per adult and INR 5 per child
Suggested Read: 10 Resorts In Chittorgarh That Will Perfectly Compliment Your Tryst With History!
---
Planning your holiday in Rajasthan but confused about what to do? These Rajasthan travel stories help you find your best trip ever!
Real travel stories. Real stays. Handy tips to help you make the right choice.
---
5. Meera Temple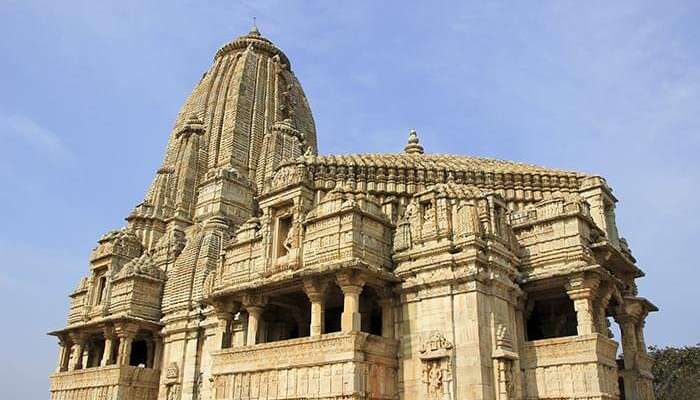 In the vicinity of Chittorgarh Fort, stands the proof of true love and devotion that Meera had for Lord Krishna. One of the most important temples in Rajasthan, the charm of the idols of Lord Vishnu and other Goddesses makes the temple the most beautiful place to visit in Chittorgarh. Meera uses to spend hours and days expressing her devotion through Bhajans and people still gather for hymns to dedicating to Krishna.
Entry fee: INR 10 per adult and INR 5 per child
Suggested Read: Rajasthan Tourism Comes Up With Coolest Possible TVCs- Jaane Kya Dikh Jaaye!
6. Kali Mata Temple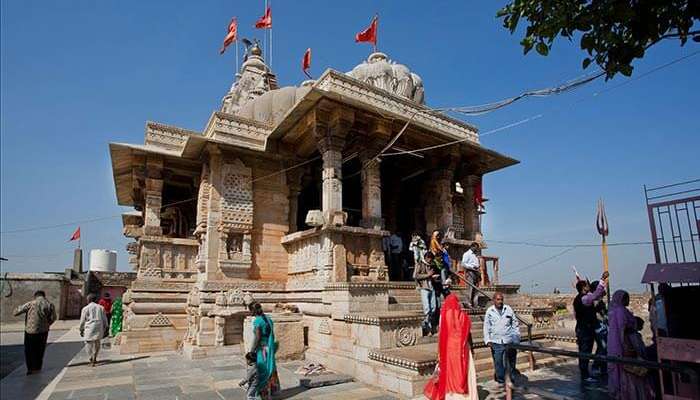 This temple is dedicated to Goddesses Kalika which is the Kuldevi of Mori Panwar Clan of Kshatriya Rajputs. One of the most religious places in Rajasthan, this temple was initially dedicated to the Sun God was built by Bappa Rawal. Later, the statute of great Maa Kali was placed by Maharana Hamir and ever since the temple got its name as Kali Mata Temple. It is known to be one of the most easily accessible places to visit in Chittorgarh city.
Entry fee: INR 10 per adult and INR 5 per child
7. Gaumukh Reservoir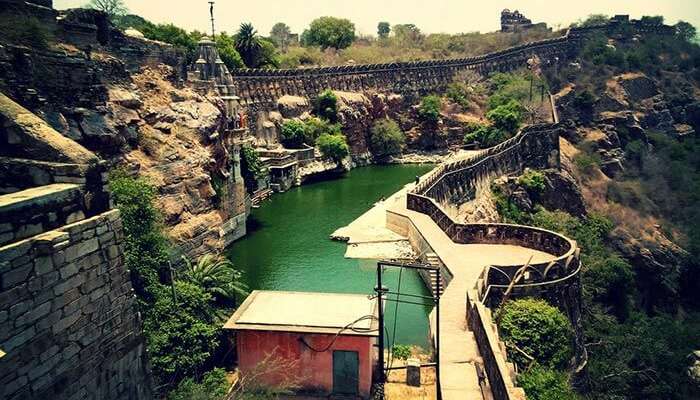 Gaumukh Reservoir is the most important water tank of Chittorgarh Fort and also one of the most-recommended Chittorgarh places to visit. The green water of the famous place to visit in Chittorgarh is a sacred spot among Hindus. It is speckled with fishes that are fed by pilgrims visiting the site. The fort is well maintained and the architectural beauty of the place is captivating, therefore listed as a must-see attraction in Chittorgarh. It is one of the most prominent places to visit in Chittorgarh, Rajasthan.
Entry fee: INR 10 per adult and INR 5 per child
Suggested Read: 8 Things To Do In Chittorgarh That Will Take You Back To The Old World Charm
8. Bassi Wildlife Sanctuary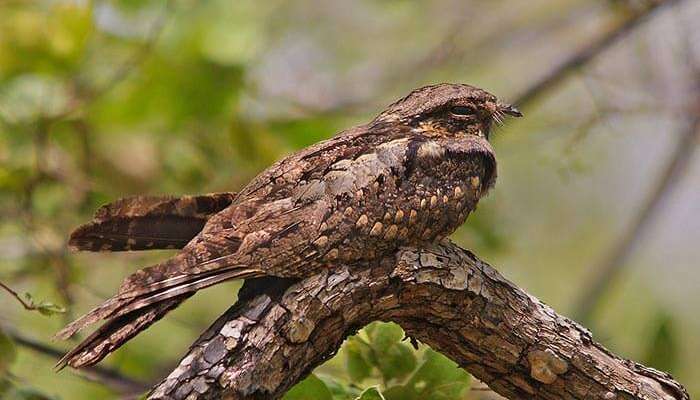 Chittorgarh sightseeing cannot be completed without visiting the lush green beds of  Bassi Wildlife Sanctuary. You can easily spot a Langur, Mongoose and even a Panther while roaming around the nature reserve. Saral and Dhok are the famous trees that enhance the pulchritude of the place. Scattered in the area of 15,000 hectares, it is unavoidable for nature lovers. It is one of the best places to visit in Chittorgarh. Besides there are many national parks in Rajasthan that you can visit.
Best time to visit: October to February
Stay options: RTDC Hotel, Padmini Hotel and Pratap Palace Hotel
9. Padmavati Palace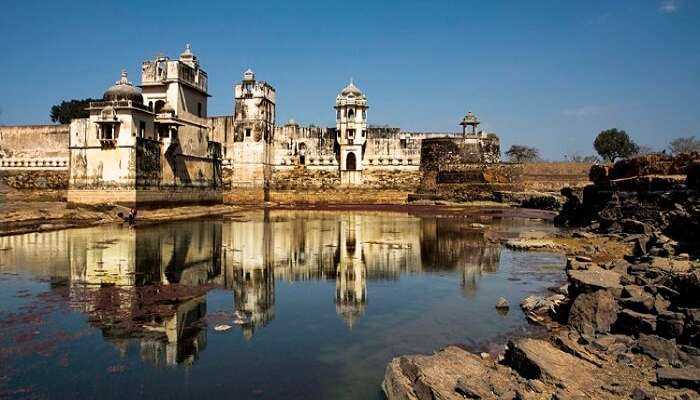 Padmavati Palace located in the heart of Chittorgarh Fort stands testimony to the legends and stories. The palace remained as the fond home of Rani Padmini, also hailed as Queen Padmavati. The braveheart queen of Chittorgarh known for her flawless and incomparable beauty once resided here and this place is straight out of a class act architecture.
Best time to visit: September to March
Stay options: FabHotel Padmavati Palace Mansarovar, Hotel Siddharth Residency and Hotel Mansarovar Palace
Suggested Read: 35 Glamorous Places To Visit In Udaipur In The Year 2020 For A Laidback Holiday!
10. Vijay Stambh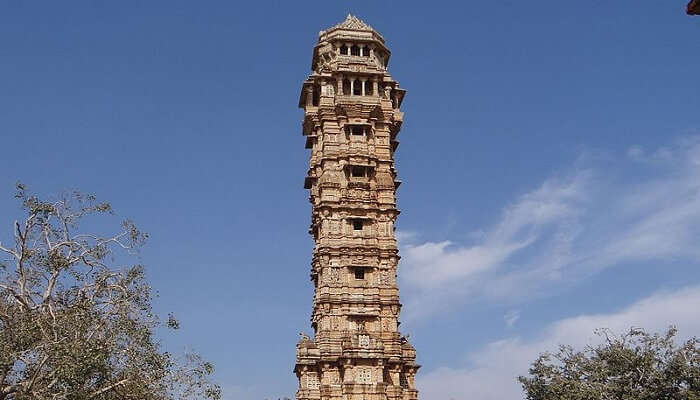 Vijay Stambh or the victory tower in Chittorgarh is an imposing monument that was built by Mewar King, Rana Khumba after their combined armies with Mahmud Khilji. One of the most popular tourist places in Chittorgarh, the structure of the tomb looks appealing with all the intricate carvings and designs. Since it is dedicated to Lord Vishnu, you will notice a variety of Hindu gods and goddesses inscribed on the tomb. Another best thing about this place is that you can see the whole town from here.
Entry Fee: None
Timings: 8 AM – 6 PM
11. Sathis Deori Temple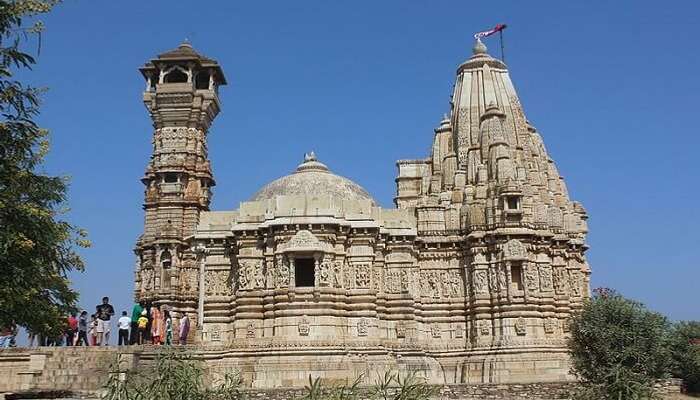 One of twenty seven Hindu temples in Rajasthan dedicated to Jain Tirthankaras, Sathis Deori Temple is an important place of worship for the Jain community besides being one of the prestigious Chittorgarh tourist places. The tranquil complex of the temple will take away all your woes and will leave you at peace while the beautiful 11th-century architecture will blow your mind away. It is a must-visit place for the religious people and history-buffs.
Entry Fee: Included in the fee of Chittor Fort
Timings: 9:30 AM – 6:30 PM
Suggested Read: Explore These 7 Airports In Rajasthan Before Flying To The Princely State!
12. Kirti Stambh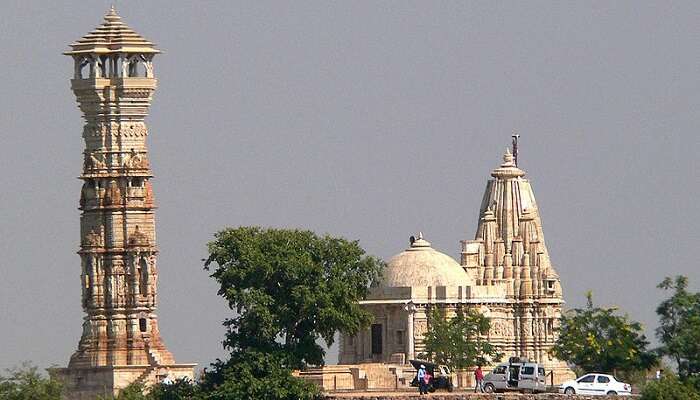 Another one of the famous tourist places in Chittorgarh,Kirti Stambh in Chittor is an example of fine architecture. The tomb stands tall with aplomb at a height of 22 m and was constructed by a Jain merchant. One can see the fine glimpse of Solanki architecture in its design. The 'Tower of Fame' is dedicated to Rishabha – the first Tirthankara. Jains make a holy pilgrimage to this tower to pay homage to their gods and ancestors.
Entry Fee: None
Timings: 10 AM – 5 PM
13. Shyama Temple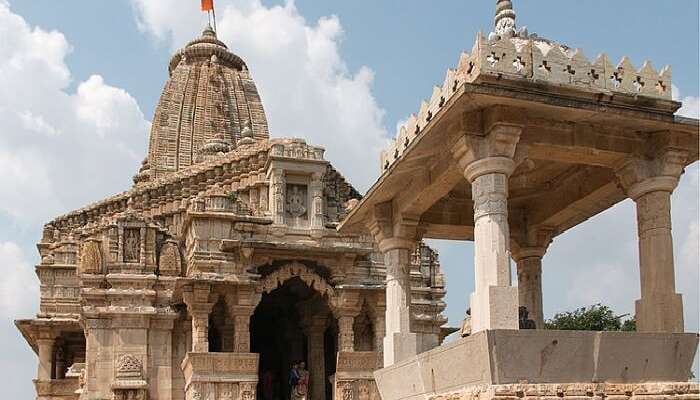 Dedicated to one of the incarnations of Lord Vishnu – Varaha, Shyama Temple holds great prestige for the people of Chittor. One of the most important Chittorgarh tourist places, the temple is located in the premises of Chittorgarh Fort. So, don't you dare miss it. The architecture of the temple includes a lofty roof and pyramidal tower. On the walls of the temple, you will find various figures of Gods and Goddesses with intricate carvings.
Entry Fee: INR 10 for the fort, none for the temple
Timings: 4 AM – 9:15 PM
Suggested Read: 9 Best Adventure Sports In Rajasthan That Will Add Thrill To Your Trip In 2020
14. Sanwariyaji Temple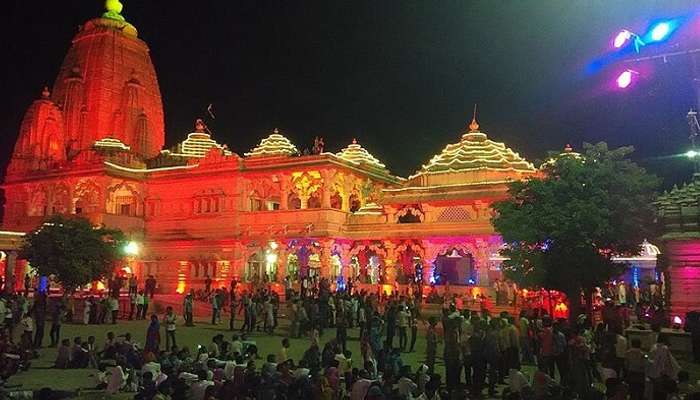 Sanwariyaji Temple is dedicated to Lord Krishna where hundreds of visitors come to pray. Though it is located 40 km away from Chittorgarh, it is still one of the worthy places to see in Chittorgarh. It is said that you will be blessed with wealth and prosperity if you pray to God in this temple with your heart. This is why you will see many wealthy merchants and businessmen visiting temple to show gratitude and seek blessings.
Entry Fee: None
Timings: 5 AM – 12 PM, 3 PM -11 PM
Further Read: 12 Historical Places In Rajasthan That Will Take You Back To The Glorious Past
Can't resist the grandness of the majestic places to visit in Chittorgarh? Book tickets now, to feel the splendor of being a royal! So, if you're in a mood to take a weekend getaway, we would recommend you to take a trip to Chittorgarh and witness its charm. You will never forget this trip ever. It will give you a lifetime's worth of memories.
Frequently Asked Questions About Places To Visit In Chittorgarh
Q. What is the best season to visit Chittorgarh?
A. Winter from October to March is the best time to go and visit Chittorgarh where the peak season is generally from December to February. The winters are quite pleasant and the perfect time you can explore there are the beautiful forts and also there are many temples in the town.
Q. What is the practical budget to visit Chittorgarh?
A. It completely depends on what kind of hotel in Chittorgarh you want to stay in, which places you are going to visit, how you are going to visit. There are a few tour packages that can start from INR 8000 per person if you are going for a 3D/2N trip. It can go on but you need to keep a minimum of 7K per person on this trip inclusive of everything.
Q. What are some must-visit places & things to do while visiting Chittorgarh?
A. You need to visit all the places in Chittorgarh because they are all famous. You have the famous Chittorgarh fort, then the Rana Kumbha Palace, the Kirti Stambh, Fateh Prakash Palace Museum, Ratan Singh Palace, Vijay Stambh, Kumbha Shyam Temple, and Rani Padmavati Palace, etc. These places are all nearby and you can hire a taxi/ car to take you around these places.
Q. How many days are required to visit Chittorgarh?
A. Well, the tour of whole Chittorgarh can be completed in a day. You can see a lot of other attractions that are nearby like Udaipur, Mount Abu, Jaipur that can be visited by simply adding a few additional days to the trip.
Q. What are the things that you can buy in Chittorgarh?
A. While visiting this place, you can explore the local markets. The rickshaw was and the hawkers will show you around the place and you can buy a lot of tie and dye fabrics, silver jewelry, metalwork, and the shoes from markets like the Rana Sanga Market, Fort Road, and Sardar Bazaar.
Q. Why is Chittorgarh famous?
A. Chittorgarh is home to the magnanimous Chittor Fort that puts this place on tourist's map. It is also the largest fort in India and Asia. This is also one of the major sieges (1303, 1535 and 1567-1568) site and the Rajput rulers fought bravely to maintain their independence.
---
Looking To Book A Holiday Package?
Book memorable holidays on TravelTriangle with 650+ verified travel agents for 65+ domestic and international destinations.
---
Comments
comments