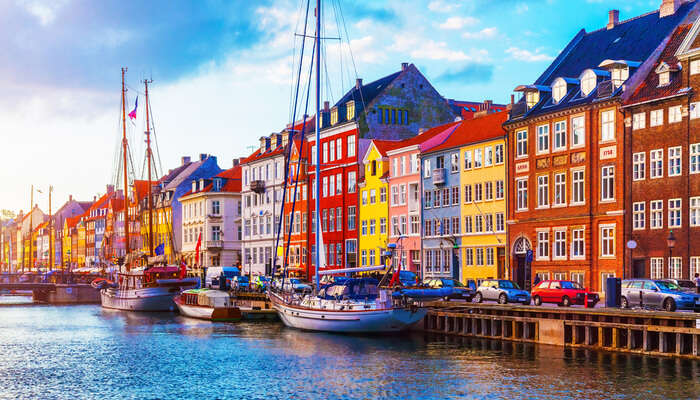 Denmark is a small Scandinavian country that comprises of stunning landscapes where the tourists can soak in the natural beauty of the surroundings. This country is blessed with a perfect blend of creative architecture, breathtaking landscapes, unique and grand castles, and medieval complexes that make tourists fall in love with Denmark instantly. Here's a short list of top touristy places to visit in Denmark for a picture-perfect vacation. The best time to visit Denmark is from May to August and the climate is pleasant with mild temperatures and a blooming countryside.
Top 16 Places To Visit In Denmark
Denmark is a country that offers a variety of experiences to its visitors. Classic castles, gorgeous islands, colorful harbors, cathedrals, museums and zoo, Denmark has countless options for you to visit! Have a look:
Rabjerg Mile
Gilleleje
Elsinore
Maritime Museum
Tivoli Gardens
The Little Mermaid Of Copenhagen
Rosenborg Castle
Christiansborg Palace
Skagen
Mols Bjerge National Park
Rold Skov Forest
The Rubjerg Knude Lighthouse
Møns Klint Biosphere
The Fur Island
Søhøjlandet – The Lake Highlands
Jammerbugten – The Bay Denmark
1. Rabjerg Mile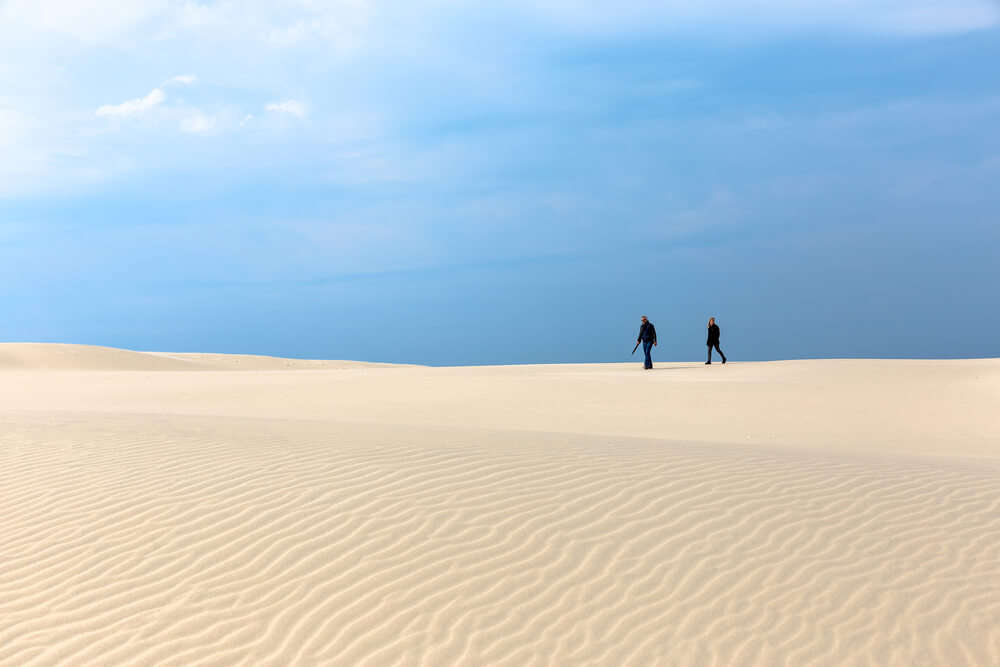 Rabjerg Mile is one of the top migrating dunes across the country and among the best places to visit in Denmark in winter. It is one of the top recommended Denmark tourist attractions for a picnic. The sand dune was developed besides the western coast during sixteenth century B.C. It extends towards east-northeast of Kattegat at a speed of about fifteen meters. Some of the reliable modes of transportation to reach Rabjerg Mile are through cars all the way from Kandestedvej. If you prefer to explore the dune via bike, then commence the journey from the west coast route of Vestkystein. Those who wish to travel on foot may kick off their trip from Raabjerg Kirke which is a famous chapel.
Address: Råbjerg Mile Vej, 9990 Skagen, Denmark
Suggested Read: National Parks In Denmark: 5 Places That Should Be On Every Nature Lover's List
2. Gilleleje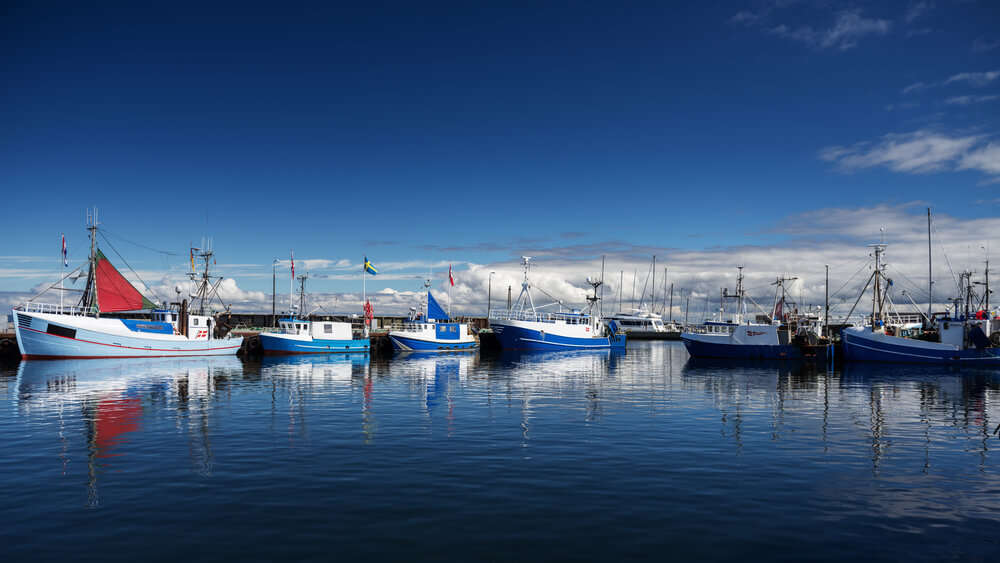 Gilleleje is a prominent fishing town revered by the local tourists. Experience the cool breeze where the port is a crucial part of the town. If you are wondering what to see in Denmark, the tourists can witness the fisherman clearing all the lines besides the panoramic fishing town. It was erected way back in the fourteenth century, which is really charming and alluring. Do not forget to take a free stroll amidst the city and witness the regular morning fish auction. The world-renowned monument Kierkegaard is an incredible experience to explore. Gilleleje is among the many places to visit in Denmark in summer if you're looking for a touristy day.
Address: Gribskov Municipality
Suggested Read: Denmark Nightlife: Get Ready To Party Hard At These 10 Places In This European Country!
3. Elsinore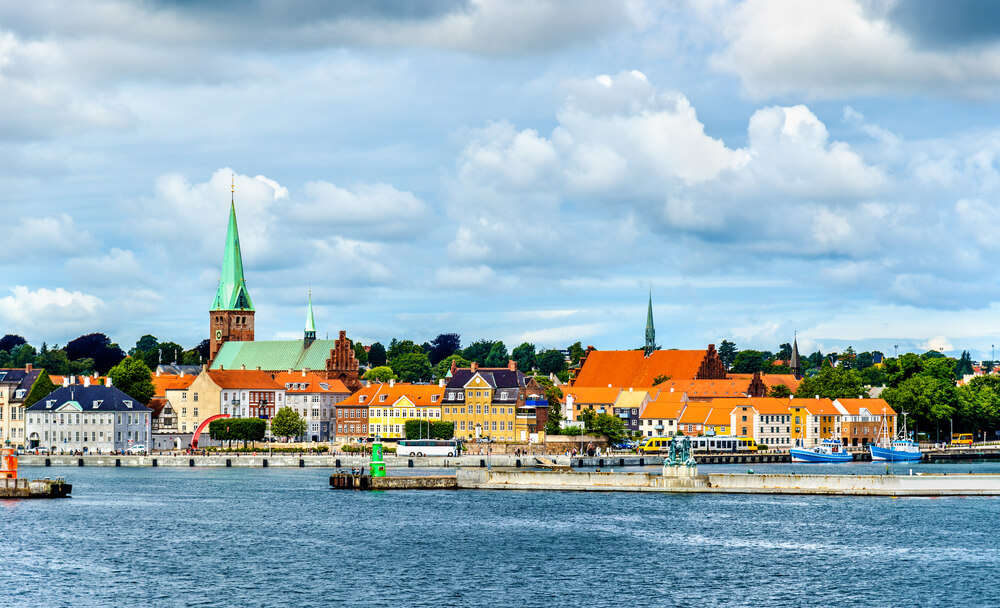 In Denmark, places to visit are plenty. Elsinore, which is also termed as Helsinger, is a port city located at eastern Denmark and one of the best places to see in Denmark. It is a city which is steeped in history. As a result, it could be an excellent spot for those who are historically inclined and prefer to have a sneak peek into the history of eastern Denmark. It houses libraries, exhibition halls as well as a shipyard museum.
Suggested Read: Here Are The World's 29 Richest Countries As Per The IMF's Latest Report
4. Maritime Museum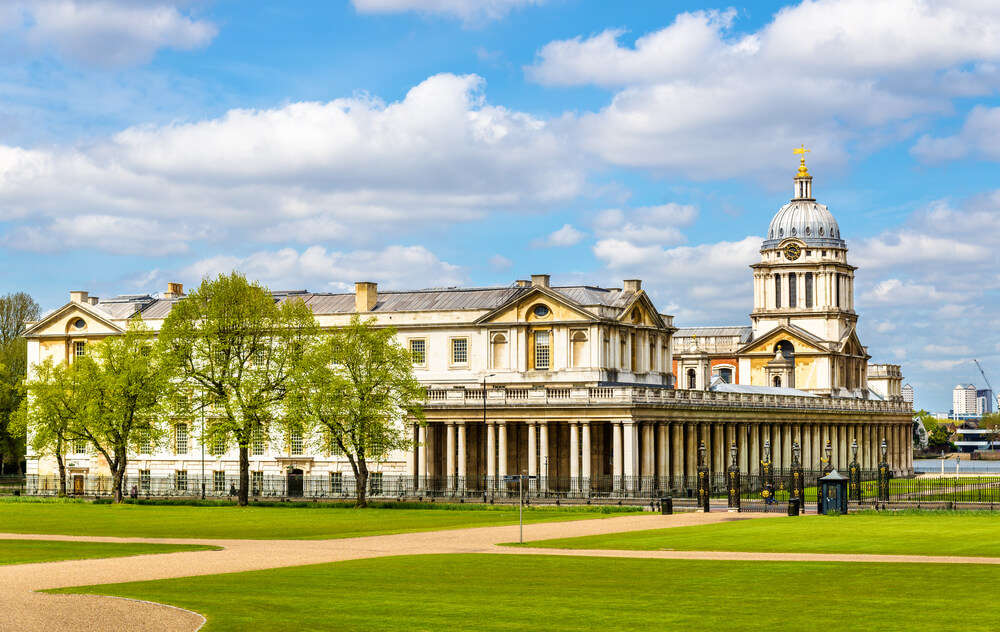 One of the best places to visit in Denmark, Maritime Museum opened its doors to the public in 1915. There are numerous collections with respect to Danish trade and shipping belonging to the fifteenth century B.C. However, in the year 2013, the museum was shifted to a brand new spot under the supervision of Bjarke Ingels Group (BIG). The place is originally referred to as 'The Trade and Maritime Museum' and is among the famous Denmark points of interest. The trade was executed between China and India.
Address: Ny Kronborgvej 1, 3000 Helsingør, Denmark
Suggested Read: Christmas In Denmark: 13 Places To Enjoy The Christmas Vibes In Europe
5. Tivoli Gardens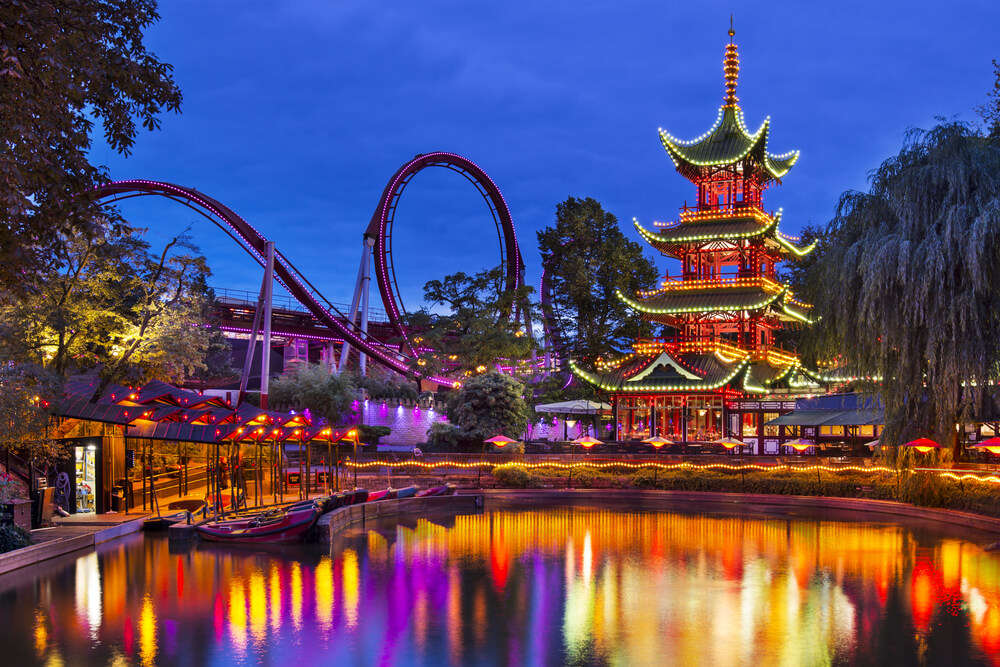 Tivoli Gardens is a world-renowned amusement park and an enchanting garden located at Copenhagen in Denmark. It opened its doors to the public on August 15th, 1843. It is currently the second oldest amusement park that functions actively across the globe. The park had gained immense popularity with more than 4.6 million visitors in the year 2017. This spot is one of the frequented tourist spots across the European continent. It ranks at the top where Disney Land Park and Europa Park falls behind. The amusement part is one of the finest places to visit in Denmark, Copenhagen.
Address: Vesterbrogade 3, 1630 København V, Denmark
Suggested Read: 12 Super Hilarious City Names And How They Got Them!
6. The Little Mermaid Of Copenhagen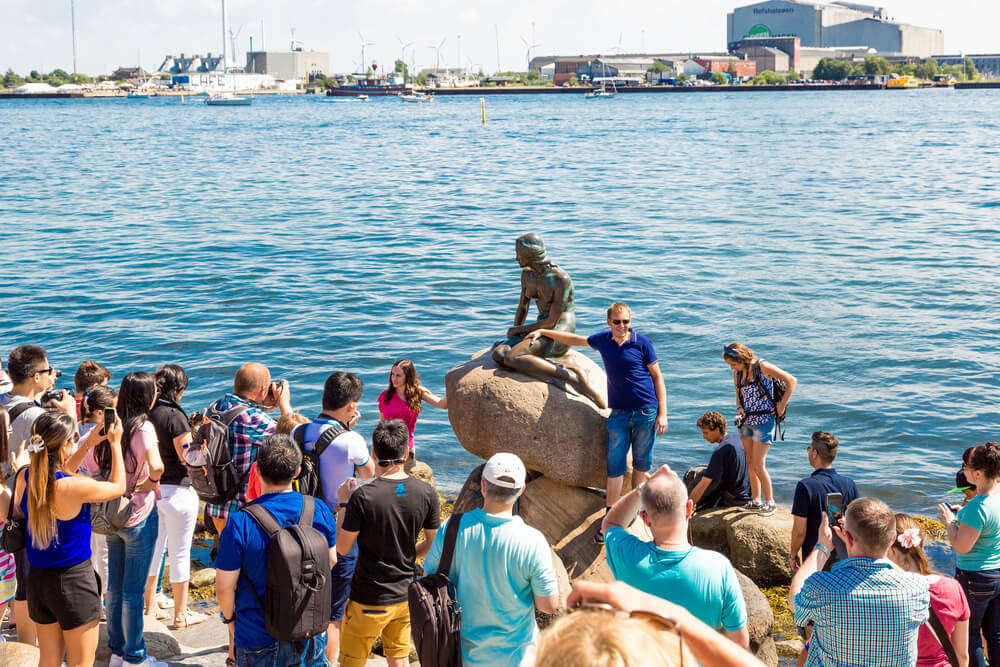 The Little Mermaid is a famous bronze statue designed by an eminent sculptor Edvard Eriksen and one of the most gorgeous things to see in Denmark. The unimposing statue is a major landmark of Copenhagen. However, the statue has become a venue for vandalism by miscreants. The Mermaid is an epitome of prominent cities such as 'Manneken Pis', 'Statue of Liberty' in New York and Christ The Redeemer. This is another addition to the list of the top places to visit in Copenhagen, Denmark.
Address: Langelinie, 2100 København Ø, Denmark
Suggested Read: The Little Mermaid: A Guide To Copenhagen's Iconic Landmark
7. Rosenborg Castle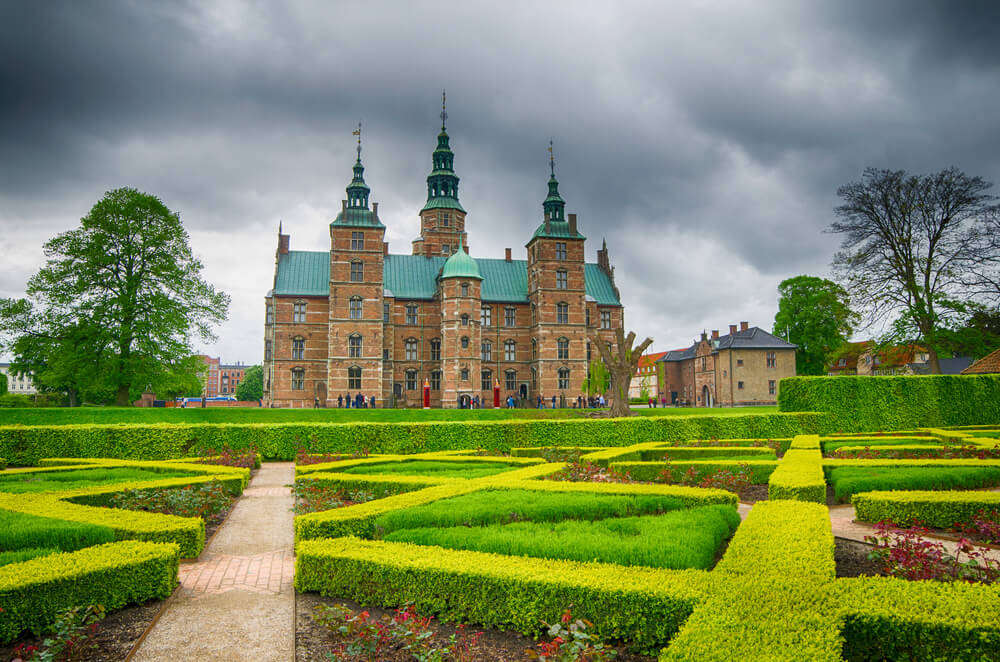 Rosenborg is a four-hundred-year-old castle, which is beautifully embellished with crown jewels, and stunning surfaces. It still maintains its majestic grandeur and simplicity. The grounds are beautifully crafted with plenty of enchanted gardens and beautiful flowers. The rooms, architecture and artworks are splendid and worth visiting. It is one of the top places to visit in Denmark.
Address: Øster Voldgade 4A, 1350 København, Denmark
Suggested Read: 11 Best Hostels In Denmark For A Stay Experience That Is Friendly To You And Your Budget
8. Christiansborg Palace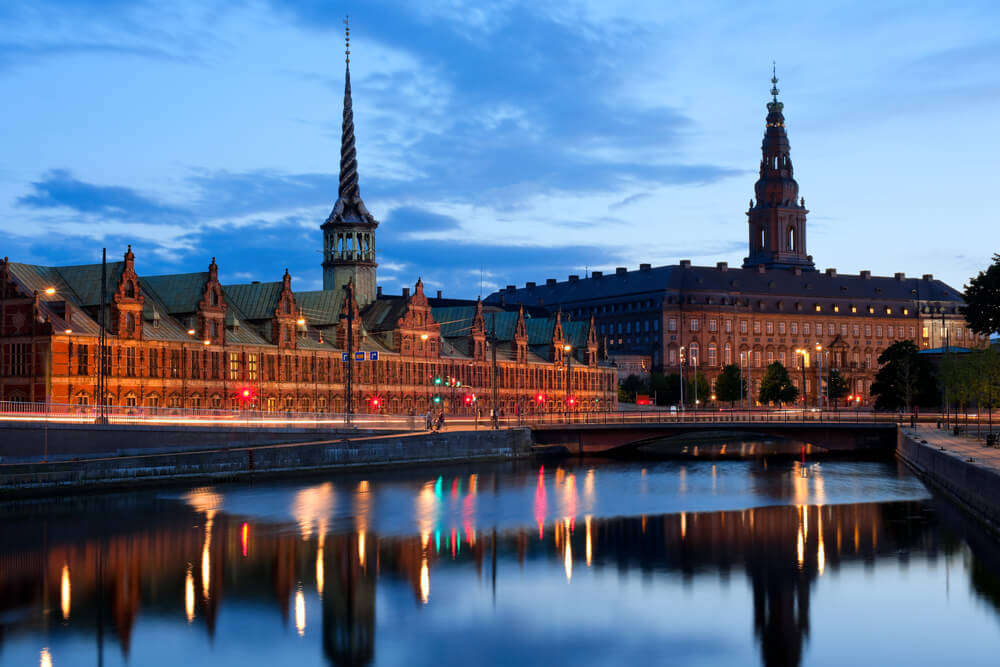 Christiansborg Palace is an opulent spot and home to the Danish Parliament. Majority of the parts of this palace are taken advantage by the Danish Monarch. It comprises of Royal Reception Rooms along with Palace Chapel and Royal Stables. The palace is governed by three major powers of the country namely 'Legislative power', 'Judicial power' and last but not the least 'Executive power'.
Address: Prins Jørgens Gård 1, 1218 København, Denmark
Suggested Read: 15 Unique Things To Do In Copenhagen To Experience The City Like A Local
9. Skagen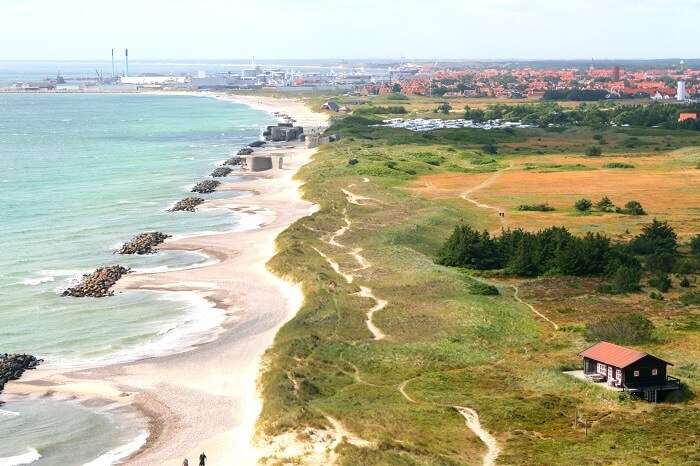 The northernmost tip of Denmark, Skagen is an epitome of natural beauty. It is where the water of Kattegat and Skagerrak confluence. Walk out on the Branch which are the sandy tips that open into the sea in a fashioned manner. The 700-year old village of Skagen is also known for Hygge which is a unique traditional Danish experience to have on your list. Skagen not only offers an environment of relaxation and contemplation but its wild nature also provide various adventurous opportunities to enjoy.
10. Mols Bjerge National Park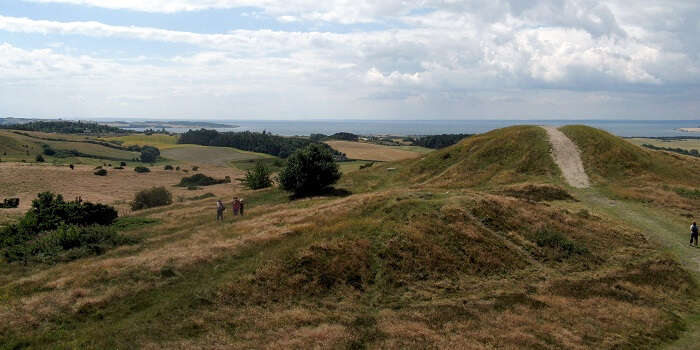 If you are looking forward to visiting some unexplored places in Denmark, this is where you must. Denmark is the country of most rugged landscapes and what better way is to explore them than visiting Mols Bjerge National Park. The park is located in the southern part of Djursland undulating with meadows, pastures, woodlands, and marshes. Needless to say how profusely rich the region is in terms of flora and fauna. Meet a variety of wildlife as you trundle through the designated national park. It is famous for dep dead ice holes and a variety of sand lizards.
Address: Grenåvej 12, 8410 Rønde, Denmark
Suggested Read: 12 Best Beaches In Denmark To Rejuvenate Your Mind & Soul
11. Rold Skov Forest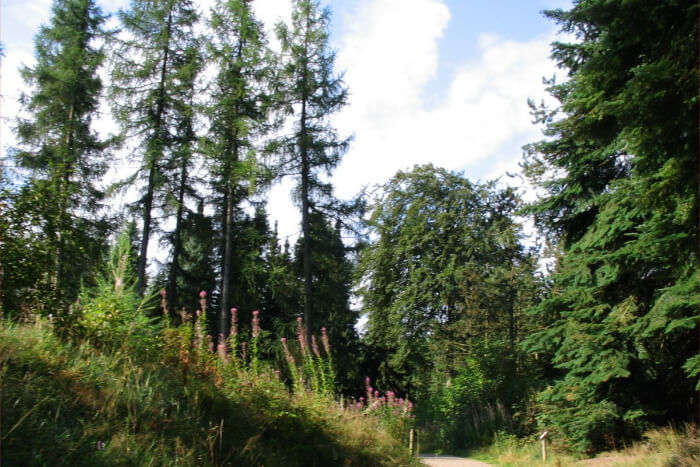 Located in the Himmerland, Rold Skov is one of the cool places to visit in Denmark. Named after the village of Rold, which lies in the outskirts of the forest, Rold Skov also holds the position of being the second largest forest in the country. Spread over an area of 80 Km. sq., the place is popular for its Troll Forest. These trees are ancient and have a unique wavy and spiral shapes, due to which Rold Skov Forest is also known as 'Magic Forest'. Rold Skov is a forest with remarkable natural phenomena which attracts many visitors from the world.
Address: 9520 Skørping, Denmark
12. The Rubjerg Knude Lighthouse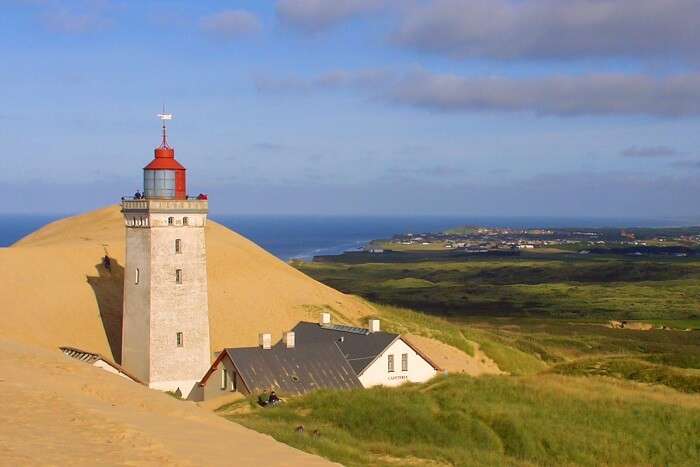 Image Source
The impressive Rubjerg Knude is located at an elevation of 90 meters above sea level, but what blows people's mind is that it is still growing in size! Other than its beautiful natural scenery and the clear ocean roaring underneath, this dramatic landscape is made famous by the Rubjerg Knude Lighthouse. This 23-meter high beauty has its own gasworks for illuminating the vast sea and the ships sailing in it. The lighthouse even has a staircase on it now in order to help visitors get a better look at the spectacular view from the top. It is estimated that the lighthouse will fall into the sea in the next 10-15 years owing to continuous coastal erosion in the area.
Entry fee: Nil
Timings: Open 24X7
13. Møns Klint Biosphere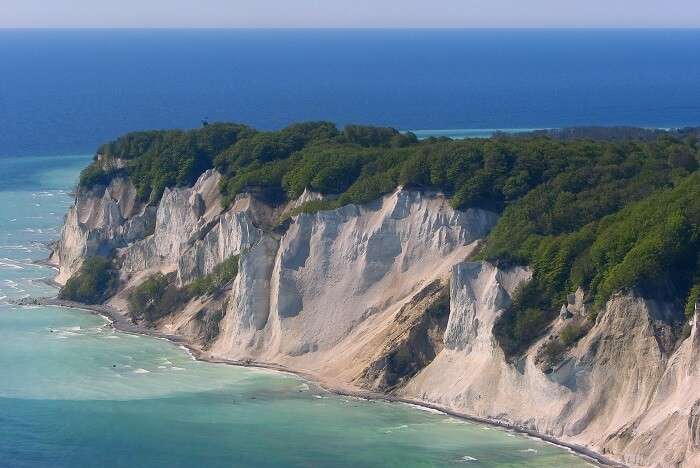 Image Source
It's among the greenest and dreamiest spots in Denmark where the emerging leaves adorn the Moens Klint and add an other-worldly charm to the place. The whole scenario will definitely remind you of the national song of Denmark – 'There is a lovely land..'. If you have unconditional love for nature, Moen is definitely worth visiting. Around this area, the Broad beech woods should also be checked out along with the magnificent cliffs offering awesome views of the surroundings. And the best part – both these places can be visited at any time of the year owing to their year-round pleasant weather and verdant foliage.
14. The Fur Island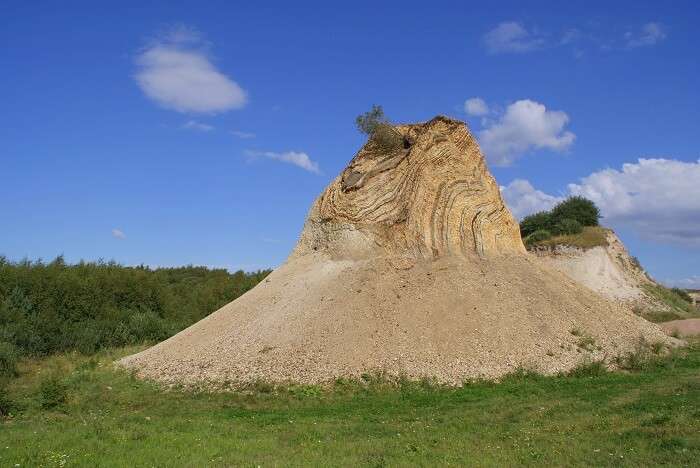 Image Source
For those who know how beautiful this place is, it'll come as no surprise that the island of Fur happens to top the list of the best natural places to visit in Denmark. It's a one-of-a-kind island with the most breathtaking sights. Other than natural beauty, the site offers an insight into the early history of this country in its many layers of volcanic ash and mo-clay (moler) visible to the naked eye. This is extremely rare sediment that can be found only in the Limfjord region. It's one of those very few places on earth where you can actually see fossils on the beach area. And if not the beach, you can simply visit the Fur Museum and behold the stunning exhibits showcasing Denmark's history. Owing to its unique moler landscape, it is just months away from being listed as a UNESCO World Heritage Site.
15. Søhøjlandet – The Lake Highlands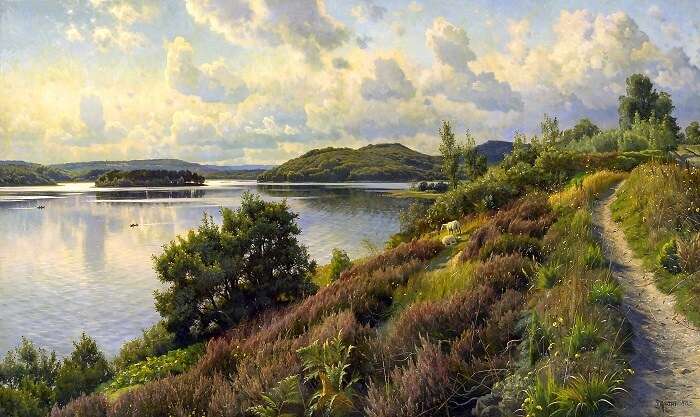 Image Source
Studded with fascinating lakes and moors, the Mid Jutland area has Denmark's largest forests as well as the largest river, the Gudenåen. All of these lakes are interlinked with this river meandering through the forest, which in totality offer nature lovers a spellbinding network of hiking trails, shorelines, forested camping spaces, as well as walking and cycling routes. In addition to the scenic sights offered at these forested cliffs, peaks, gorges, and Lakelands, the Søhøjlandet makes up for an amazing spot to tread into for all hikers, trekkers, adventure enthusiasts, and even peace seekers merely looking for a picnic spot.
16. Jammerbugten – The Bay Denmark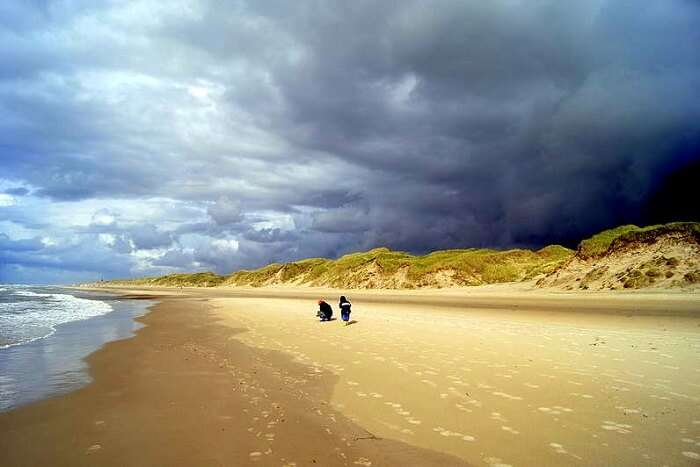 Image Source
Jammerbugten, commonly known as the Bay Denmark in the North Jutland area is among the most enchanting places to spend your Denmark holiday. Be it the sand dunes lined handsomely along the coast, the enormous amusement park Fårup Sommerland, or the number of rustic accommodation options nearby, you'll find plenty of reasons to fall in love with this place! Here you are also able to meet the friendly Danes and experience the great hospitality. This place houses some of the best beaches in the country and offers various adventure activities like hiking and mountain biking.
Further Read: Water Parks In Denmark: 10 Places To Have A Splashy Vacation!
Don't you think these places to visit in Denmark are really interesting? Are you excited about visiting these places in one of the happiest countries in the world? If yes, plan trip to Europe, head to your favorite destination and spend some wonderful time with your family or friends! There's a whole world out there for you to explore!
Disclaimer: TravelTriangle claims no credit for images featured on our blog site unless otherwise noted. All visual content is copyrighted to its respectful owners. We try to link back to original sources whenever possible. If you own the rights to any of the images, and do not wish them to appear on TravelTriangle, please contact us and they will be promptly removed. We believe in providing proper attribution to the original author, artist or photographer.
Please Note: Any information published by TravelTriangle in any form of content is not intended to be a substitute for any kind of medical advice, and one must not take any action before consulting a professional medical expert of their own choice.
Frequently Asked Questions About Places To Visit In Denmark
Which are the best places to visit near Denmark?

Denmark is a Scandinavian country comprised of a peninsula and small islands. You can visit Nyhavn, Anholt- an island in the middle of Kattegat, and Odense. denmark is also connected to Sweden via the Oresund Bridge.

Which are the best places to visit in Denmark in the summer?

Copenhagen, Skagen Village, Bornholm, Funen, and Aarhus are some of the best places to visit in Denmark in the summer.

What is Denmark famous for?

Denmark might be a small country but it is famous for an extensive number of things. Some of the things that Denmark is famous for are LEGO bricks, the biggest exporters of pork, castles, Viking history, danish butter cookies, and the happy vibes encircling the atmosphere of this country.

What can one do in Denmark?

There are many things that one can be a part of when in Denmark such as visiting the animals at the zoo, hiking, trekking, exploring the castles, visiting Viking burial grounds and paying respects, and many more exciting things.

Where can I eat in Denmark?

Some of the best restaurants that serve world-class food in Denmark are Madklubben Vesterbro, Restaurant Sushi Norregade, Asmara Restaurant, Cafe Piccolina, Pasfall ApS. and Kok & Vin

Is Denmark expensive?

When talked about food and accommodation in Denmark, the prices of these elements are a little more than in Bulgaria. Denmark is considered the second-most expensive EU country.

What is the best time of year to visit Denmark?

The summer or the spring season is considered as the best time to visit Denmark. If one is looking for some major events and warm weather, months from June to August is for you. But if a traveler is looking for lesser crowds and lesser rates, months from March to May are considered the best.

What are some nature-blessed places to see in Denmark?

Denmark is a country that has been blessed impeccably by mother nature. Some of the places that allow travelers to get closer to mother nature are Tivoli Gardens, Skagen, Mols Bjerge National Park, Rold Skov Forest, Mons Klint Biosphere, the Fur Island, and many more.
---