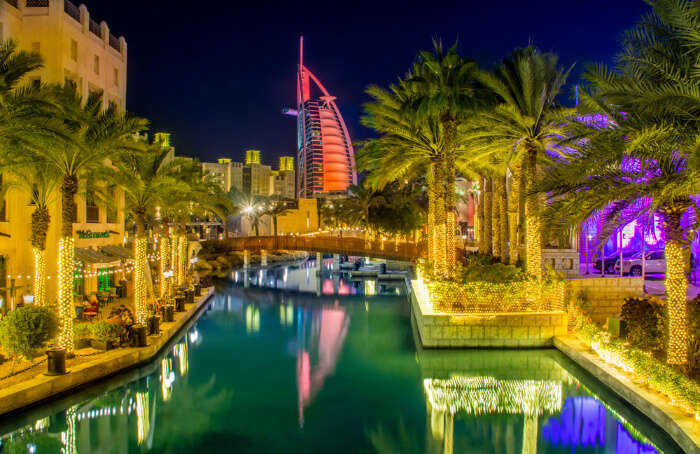 A man-made marvel that resembles a palm tree, Palm Jumeirah was made by a real estate company from a series of artificial archipelagos. It is home to some of the finest resorts and restaurants in Dubai and has well-developed roads and public transport. There are quite a few attractions to visit and a host of activities that you can partake in while in Palm Jumeirah. Here is a list of places to visit in Palm Jumeirah.
5 Places To Visit In Palm Jumeirah
From getting high at the numerous beach clubs, enjoying a seafood platter at a seaside restaurant, splashing at the water parks, swimming with sharks, this place won't disappoint.
Al Ittihad Park
Pro Art Gallery
The Lost Chambers Aquarium
Nasimi Beach
Al Sufouh Beach
1. Al Ittihad Park

A beautiful green oasis spread over 1.1 million sq. ft of land, the AI Ittihad Park is one of the best places to visit in Palm Jumeirah. Founded in the year 2012, the Al Ittihad Park was opened on the UAE's 41st National Day celebrations as a special tribute to the nation. The park has been designed as a unique eco-friendly and sustainable focal point for the residents and visitors of Palm Jumeirah and the UA. It features a 3.2 km jogging track and contains many of the varieties of plants and trees that are indigenous to the coastal areas, deserts, mountains, and wadis of the UAE. This makes it a perfect place to learn about the country's varied plant life. It is a lovely place to spend a relaxing evening and is open 24 hours a day with ample parking space.
Location: Between Golden Mile buildings 2 and 3, Palm Jumeirah, Dubai, United Arab Emirates
Must Read: The EDM Festival In Dubai: Know What This Upcoming Extravaganza Has In Store
2. Pro Art Gallery

If fine arts impress you and you have a spare evening in hand, head over to the Pro Art gallery in Palm Jumeirah. This amazing gallery hosts an impressive collection of paintings, photographs, sculptures, limited edition prints. From leading contemporary and modern master artists, the items in the Pro Art Gallery have a wide selection of mediums and styles. It is a perfect place to visit for art and craft enthusiasts, artists, and interior designer curators since it offers a perfect opportunity to acquire some of the best-curated art forms in the international market.
Location: 50 Jumeira Road, Palm Strip Mall, First Floor, Dubai, United Arab Emirates
Timings: It is open from 10 am to 9 pm from Saturday to Thursday and 1 pm to 8 pm on Friday.
Contact Number: +971 4 345 0900
Suggested Read: Dubai Street Food: 6 Best Savouries To Satiate All Your Cravings In The Charming Arab Land
3. The Lost Chambers Aquarium

We have all read books, watched documentaries on the ancient city, Atlantis that is now lost somewhere deep inside the sea. Get to live in the lost city of Atlantis in Palm Jumeirah with the fantastic Lost Chambers Aquarium. It is one of the primary attractions in Palm Jumeirah Dubai. Purchase an entrance ticket to The Lost Chambers Aquarium at Dubai's Atlantis The Palm resort and discover a world of marine life like never before. The aquarium is made up of chambers and lagoons, all themed around the legendary mythical city of Atlantis. The beautiful aquarium features 65,000 marine animals that include exotic marine life like seahorses, reef fish, sharks, rays, etc. There are many other activities like Fish tale tours, aqua-theatre shows, snorkelling, aquarium dives, etc that is arranged on various days. You can also rejuvenate yourself in a unique aquatic environment in The Lost Chambers Aquarium's Hatha Yoga class. You can also visit the Aquaventure Waterpark by getting a combo entry pass.
Location: Avenues in Atlantis, The Palm, Dubai, United Arab Emirates
Timings: It is open daily from 10 am to 10 pm. The yoga sessions are held every Friday from 8 am to 9 am.
Suggested Read: What Makes Atlantis In Dubai The Most Opulent & Grandest Resorts Of The World?
4. Nasimi Beach

Visit the Nasimi Beach to take a sunbath in one of the many sunbeds, relax at a cabana or enjoy a host of Asian and Mediterranean cuisine at the beachfront restaurant. Relax at your lounger and watch the sun slowly set across the Dubai skyline and the sky lit up with a thousand stars. This magical view is not visible from anywhere else in Palm Jumeirah.
Location: Atlantis The Palm, Palm Jumeirah, Dubai, United Arab Emirates
Timings: It is open from 11 am until sunset from Monday to Saturday. The Daydream hours are from 4 pm to 9 pm on Friday.
Other details: It is an adults only (21 years and above) beach. While shorts and shirts are allowed, you are not allowed to carry any swimwear or towels inside the restaurant and terrace. Complimentary self-parking is available opposite the beach.
Suggested Read: 6 Best Cafes In Dubai For Soothing All Your Hunger Pangs Like Never Before
5. Al Sufouh Beach

One of the nicest places to visit near Palm Jumeirah is the Al Sufouh beach. Also known as the secret beach and the Black Palace Beach, this is one of the best beaches in the city to spend a nice and quiet time. Its shoreline is tucked away between the Burj Al Arab and the 5-star properties of Palm Jumeirah, and behind the rows of palm trees. The place is usually not crowded, which gives you an opportunity to click beautiful pictures. The water is shallow, which makes it safe for children and adults to take a dive, explore the underwater marine life, and get refreshed.
Location: 44 33a Street, Dubai, United Arab Emirates
Further Read: Visit Dubai In April To Have A Vacation Full Of Amazing Marvels And Miracles
But the list does not end here. Besides spending time at these beautiful places in Palm Jumeirah, there are a host of other activities that you can do in this place that is a haven for vacationers. Giving you an adrenaline rush with a freefall above Palm Jumeirah, to going on exciting wildlife encounters, Palm Jumeirah does not disappoint its visitors. Taxis are available aplenty, and you can also take the monorail to move around. So, get going and spend a luxurious vacation in Dubai
Frequently Asked Questions About Places To Visit In Palm Jumeirah
Want to know more about this place? See these common queries:
What are the best places to visit in Palm Jumeirah?
The following are the best places to visit in Palm Jumeirah:
1. Aquaventure Waterpark - Waterslides
2. The Lost Chambers Aquarium - Aquarium
3. Dolphin Bay - Dolphin spotting
4. White Beach - Lively escape
5. Allttihad Park - Lush green ambiance
How much does Palm Jumeirah cost?
According to the reports, the cost of building Palm Jumeirah was around $12 billion. The massive structure of Palm Jumeirah is known for opulence and elegance.
Is it safe to visit Palm Jumeirah during Covid times?
You need to follow all the mandatory safety guidelines mentioned by the authorities to ensure a safe travel experience. Remain masked while stepping out and maintain social distance. Avoid visiting crowded places and keep sanitizing your hands after touching surfaces.
Who is the owner of Palm Jumeirah?
While the artificial island was developed by the real estate company Nakheel, it is now owned by the government of Dubai. Its magnificent structure was drawn by Helman Hurley Charvat Peacock, the famous architectural firm of America.
When was Palm Jumeirah built?
The construction of the Palm Jumeirah island began in 2001, the basic infrastructure came into place by 2004, and the project was completed in 2007. The first residents arrived here in the same year.
Is Palm Jumeirah sinking?
No one can surely say that whether Palm Jumeirah is sinking or not sinking. According to the owners, this manmade island is not going to sink.
How much is the Monorail in Dubai?
It depends upon the destination till where you wish to board the monorail. However, it is quite costly as compared to the tickets of the Dubai metro. A single passage ticket costs around 20 AED, or INR 375.
Where does the Atlantis monorail go?
The Atlantis monorail starts from Atlantis Aquaventure station and goes to Gateway station.
---
People Also Read:
Places To Visit In Ajman Places To Visit In Dubai At Night Places To Visit In UAE