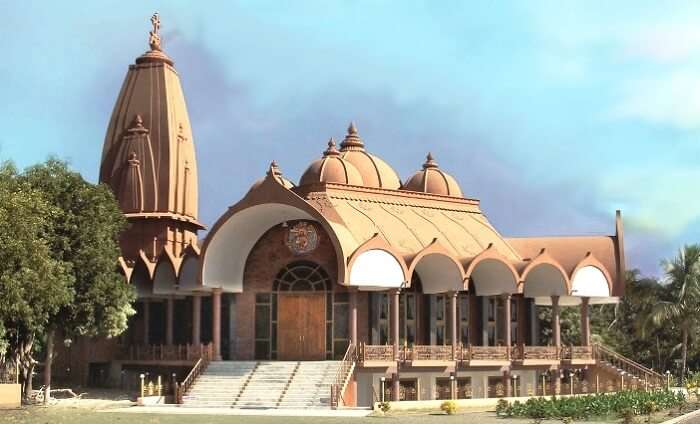 The sprawling, bustling city of Rajkot in Gujrat's Saurashtra region is not the first destination that comes to mind when you thinking of a holiday here. But, there are good number of places to visit in Rajkot that introduce you to its history and let you explore its natural allure.
Among the many must-sees are the home of Gandhi's childhood, a museum that lets you take a walk through Rajkot's history and a library with a vast collection of books that showcase Gujarati literature. As you head out of the city, there are dams and lakes just waiting to be explored.
15 Best Places To Visit In Rajkot
This city of Gujarat is known for its historical and cultural richness and there are various landmarks here that notably reflect these aspects. Apart from the amazing places to visit in Rajkot for couple, there are sites for kids, history lovers, and nature lovers in the city. Some of the prominent ones are listed below!
Kaba Gandhi No Delo
Rotary Dolls Museum
Watson Museum
Nyari Dam
Prem Mandir
Khambhalida Caves
Jubilee Garden
Lang Library
Aji Dam
Lal Pari Lake
Race Course Ground
Ramakrishna Ashram
Swaminarayan Temple
Shri Ranchhoddas Ashram
Ishwariya Temple

1. Kaba Gandhi No Delo

Image Source
One of the most visited tourist places in Rajkot is Kaba Gandhi No Delo, the home where Gandhi spent his childhood. It was his paternal home which today has been converted into the Gandhi Smriti, a museum that showcases his life through photographs. Aside from being a museum, the building is also used to hold sewing and embroidery classes for young girls.

Ideal for: History

Suggested Read: Resorts In Rajkot: 7 Best Properties That Make Even The Blues Look Happy On A Perfect Vacay!

---

Gujarat Holiday Packages On TravelTriangle

Spot lions in their natural habitat at Gir national park, relax on the beautiful island of Diu, or go on a religious tour to Somnath and Dwarka. Book a memorable holiday to Gujarat inclusive of airport transfers, cab, resort, sightseeing, and meals on TravelTriangle.

---

2. Rotary Dolls Museum

Image Source
The Rotary Dolls Museum is an important attraction in Rajkot tourism. It exhibits over 1,000 dolls from various countries decked out in different attires. Unlike most museums that give you a glimpse of the world's cultures through ancient artifacts and relics, the Rotary Dolls Museum does so through beautifully made dolls set against backdrops highlighting the place they came from.

Ideal for: Culture, leisure

3. Watson Museum

Image Source
The region of Saurashtra has gone from becoming the home of dozens of princely states to industrial cities. Rajkot is one such. The Watson Museum inside Jubilee Garden , which commemorates Colonel John Watson, showcases the district's colonial history along with artifacts found in sites in and around the state dating back to the Indus Valley Civilization. Witnessing these relics from the past takes you back in time and really helps you appreciate the long history of Gujarat.

Ideal for: History

4. Nyari Dam

Image Source
When you want to take a break from museums, we recommend heading to Nyari Dam, a scenic Rajkot place to visit that's perfect for a picnic. It's located five kilometres from Rajkot and although frequented by tourists and locals, it still retains a peaceful ambience. The views are lovely and if you stay till evening you can catch a beautiful sunset.

Ideal for: Leisure

Suggested Read: 10 Amazing Picnic Spots Near Rajkot To Spend A Relaxing Weekend

5. Prem Mandir

Image Source
One of the most interesting destinations on our Rajkot tourist places list is Prem Mandir. Despite its name, which translates to 'temple of love', it's a Syro-Malabar cathedral dedicated to the Sacred Heart of Jesus. The church features an amalgamation of architectural styles of different religions including domes inspired by mosques and a mosaic of Christ seated above a lotus. Aarti is also performed. These unique aspects make the church one of the best Rajkot sightseeing places.

Ideal for: Culture

6. Khambhalida Caves

Image Source
Dating all the way back to the 4th or 5th century AD, the Khambhalida Caves feature beautiful carvings hewn from limestone. They comprise three caves of which the central one has a chaitya. Life-size figures of Bodhisattva flank the entrance to the chaitya, one of which is Avalokiteshvara Padmapani and the other is Avalokiteshvara Vajrapani. According to the description at the site, the figures are the only known depictions of Bodhisattva Avalokiteshvara in cave architecture in Gujarat.

Ideal for: History

7. Jubilee Garden

Image Source
A picturesque tourist place in Rajkot city, Jubilee Garden provides a quick getaway from the hustle and bustle and encourages you to relax and enjoy the serenity. Large, leafy trees offer plenty of shade while an old pavilion invites you to admire its intricate carvings. Although the garden is not o towell-maintained, it's still worth a quick visit.

Ideal for: Leisure

Suggested Read: Ahmedabad's Real Poseidon Is The First Underwater Restaurant In India

8. Lang Library

Image Source
Bibliophiles who love the intoxicating scent of books and love being surrounded by them will find Lang Library to be one the best places to visit in Rajkot & around. It's home to Kathiyawadi and Gujarati literature, fiction and reference books. Some are written in gold on handmade paper while others are bound in old leather. There are over three lakh books here and you'll have a wonderful time exploring them.

Ideal for: Leisure

9. Aji Dam

Image Source
Aji Dam is a popular Rajkot sightseeing spot. Like Nyari Dam, it's the ideal place for a picnic. It features a walkway atop the dam, a manicured garden and plenty of space for children to play. Keep an eye out for migratory birds that flock here.

Ideal for: Leisure

10. Lal Pari Lake

Image Source
A few kilometres from Rajkot city is Lal Pari Lake, another picturesque locale that's yet another terrific picnic spot. It's among the more popular tourist places near Rajkot as like Aji Dam, it attracts various migratory birds who put on quite a show.

Ideal for: Leisure

11. Race Course Ground

Lying right in the middle of Rajkot, Race Course is essentially a sprawling ground that is ideal for evening and morning strolls. At this place, you'll find various tourists places like Bal Bhavan, Fun World, and Children's Traffic Park – this is why this one of the places to visit in Rajkot, Gujrat, which is perfect for hanging around with your kids! You can even enjoy playing cricket, football, hockey, or volleyball and spend your time at the gym or swimming pool.

Ideal for: Leisure

12. Ramakrishna Ashram

This is the place where the cultural and historical aspects of the city can be seen. This ashram was built in the year 1926 when Swami Madhavanandaji Maharaj visited this place and he then became the 9th president of Ramakrishna Mission and Ramakrishna Math. It is here that you'll get an insight to his principles and significant life.

Ideal for: History, culture

13. Swaminarayan Temple

Shastriji Maharaj from Bochasanwasi Akshar Purushottam Swaminarayan Sanstha established this temple in the year 1907. Swaminarayan Temple reflects the skills of artisans of the past, as the temple has been constructed with the stones that had been hand carved. Dressed in royal clothes, the awe-striking idol of Swaminarayan can be seen here.

Ideal for: History

14. Shri Ranchhoddas Ashram

This is a place that you must visit with your family. This place is known for encouraging people to serve the poor and those who are in need. Renowned for the charitable services, this ashram is also visited by those who want to perform some rituals related to their ancestors. This ashram is worth visiting for those who want to have a knowledge of the various cultural practices of India.

Ideal for: Culture

15. Ishwariya Temple

This is a small temple in the city of Rajkot and is based on the lordship of Shiva. Located at a distance of 10 kilometers from the city, this temple is established in Madhapar Village on Jamnagar highway. 'Shiva Lingam' is considered to be the highlight in this temple and is called as 'Swayambhu'.

Ideal for: Culture

Further Read: The Top 10 National Parks In India: A List You Just Can't Ignore

Looking at the above places to visit in Rajkot, one thing is certain, that it is an awesome destination for culture and nature lovers! And if you've already been in the city, do share in the comments section below if we missed out on your favourite place in the above list.

---

Looking To Book A Holiday Package?

Book memorable holidays on TravelTriangle with 650+ verified travel agents for 65+ domestic and international destinations.

---

Comments

comments