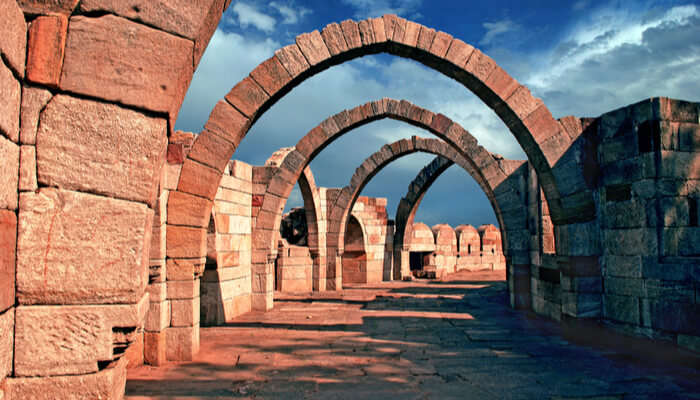 Pavagadh which means "one-fourth hill" or "fire-hill" is a hill in the Panchmahal district of Gujarat that has a mythological history. The Pavagadh Hill is a must-see place in Gujarat that houses many forts, Hindu and Jain temples; Kalika Mata Temple at the summit being the most popular one. While private vehicles are not allowed to the hill, one can board the registered vehicles or hike or enjoy the rope car ride to the top of the hill. The ropeway ride in Pavagadh is considered to be one of the highest ropeway rides in India. Pavagadh is well connected to all the major cities of Gujarat and here is a list of places to visit near Pavagadh, that can be clubbed together on one's trip here.
9 Best Places To Visit Near Pavagadh
Have a look at the best options that one can club together on a trip to Pavagadh. One can either plan day trips for those closer, or a longer vacation for the places that aren't that close.
1. Champaner – 6 Km From Pavagadh
2. Vadodara – 52.5 Km From Pavagadh
3. Anand – 86 Km From Pavagadh
4. Kheda – 122.8 Km From Pavagadh
5. Ahmedabad – 156 Km From Pavagadh
6. Surat – 210 Km From Pavagadh
7. Gandhinagar – 174 Km From Pavagadh
8. Bhavnagar – 250 Km From Pavagadh
9. Sardar Sarovar Dam – 139.9 Km From Pavagadh
1. Champaner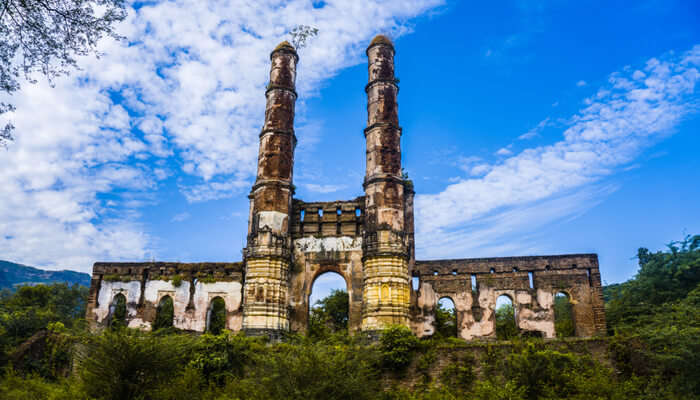 Just 4 kms away from Pavagadh lies the historic town of Champaner. The town was founded by Vanraj Chavda, an eminent ruler of the Chavda Dynasty. Champaner is home to a number of masjids that have magnificent architecture, reverential Hindu Temples mainly dedicated to Maa Kali, and Jain Temples that fill the surroundings with a spiritual aura. The Champaner – Pavagadh Archaeological Park is a UNESCO World Heritage Site that one cannot afford to miss.
Distance from Pavagadh: 6 km
Best time to visit: October – March
Key attractions in Champaner: Champaner – Pavagadh Archaeological Park, Jama Mosque, Kevada Mosque, Mahakali Mandir, Kamani Masjid, Saar Kaman, Nagina Mosque, Khandeshwar Mahadev Temple
Must Read: 51 Incomparable Places To Visit In Gujarat For A Memorable Trip In 2022
2. Vadodara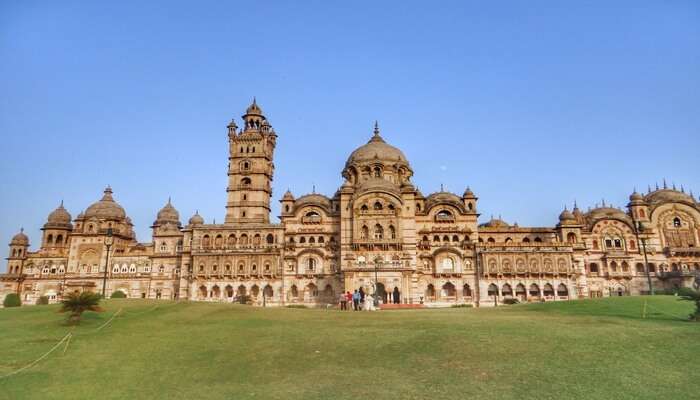 Also known as Baroda, Vadodara is the cultural hub of Gujarat that is located by the beautiful Vishwamitri River. This cosmopolitan city is the third-largest in Gujarat and the lavish palaces, interesting museums and art galleries here make visiting this place worthwhile. While at Baroda, do not miss tasting the scrumptious street food like Sev Usal, Farsan, Dabeli, and Poha.
Distance from Pavagadh: 52.5 km
Best time to visit: October – March
Key attractions in Vadodara: Lakshmi Vilas Palace, Sayaji Baugh, Baroda Museum & Picture Gallery, EME Temple, Maharaja Fateh Singh Museum, Kirti Mandir
Suggested Read: 52 Intriguing Tourist Places In Ahmedabad For Your Gujarat Getaway In 2022
3. Anand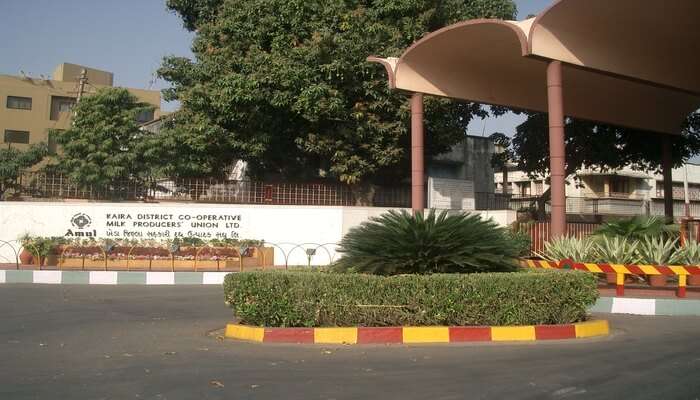 Anand in Gujarat is known as the Milk Capital of India for a reason. Housing the Head Office of Gujarat Cooperative Milk Marketing Federation Ltd, Anand is famous for its sprawling manufacturing and processing unit of AMUL (Anand Milk Union Ltd) and its milk revolution. The city is also the home to several Hindu temples that look magnificent with brilliant architecture detailings.
Distance from Pavagadh: 86 km
Best time to visit: September to March
Key attractions in Anand: BAPS Shri Swaminarayan Mandir, Vaijnath Mahadev Temple, Sardar Vallabhbhai Patel House, Dr. Kurien's Museum, Amul Carillon Chimes
Suggested Read: Shopping In Gujarat: 10 Incredibly Awesome Places That Will Tempt You To Splurge More!
4. Kheda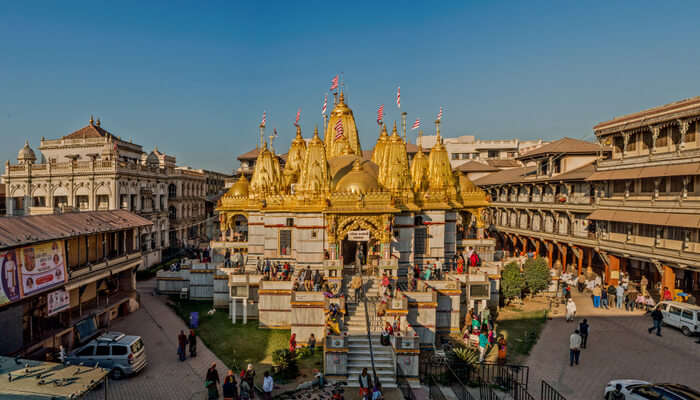 One of the mythological cities in Gujarat, Kheda was known as "Hidimba Van" because it is believed that Bhimsen, the renowned Mahabharata character had killed a demon to marry Hidimba at Kheda. Kheda is loaded with several sacred temples and many of them have 150 years old murals adorning their walls. Also, Kheda is a historically important city as Gandhiji had started his Satyagraha from Kheda.
Distance from Pavagadh: 122.8 km
Best time to visit: September to March
Key attractions in Kheda: Khedia Hanuman Temple, Shree Mahalaxmi Temple, Shree Mankameshvar Temple, Shree Hanumanji temple, Bahucahraji Mandir, Shree Somnath temple, Ramji Mandir, Bhadrakali temple, Shree Meldi Mataji temple, Shree Nilkanth Mahadev temple, Ranchodrai Temple of Dakor, Shree Khodiyar Mandir near Kheda
Suggested Read: Top 8 Places To Visit In Gujarat During Monsoon To Enjoy This Season In 2022
5. Ahmedabad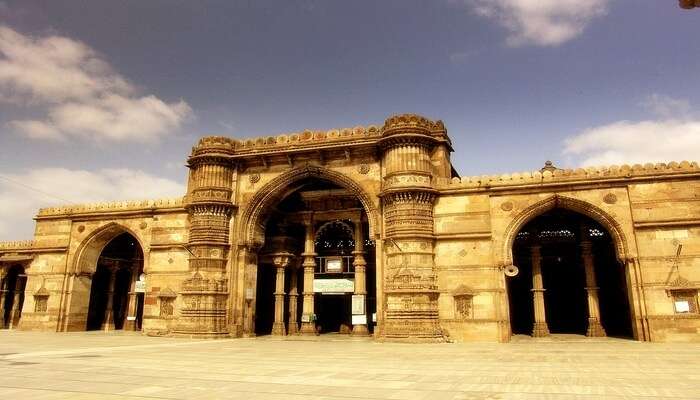 The capital city of Gujarat is the seventh-largest metropolitan city in the country. A perfect blend of rich heritage and urbanization, Ahmedabad has a plethora of attractions to lure tourists. Ahmedabad has great importance in Indian history as Gandhiji initiated the Salt Satyagraha from the Sabarmati Ashram in Ahmedabad. Today, the city has rapidly evolved and with many tall structures adorning its skyline, Ahmedabad boasts of world-class infrastructure. The city gets festive during Navratri during when the traditional Garbha dances are held at many spots throughout the city.
Distance from Pavagadh: 156 km
Best time to visit: October to March
Key attractions in Ahmedabad: Sabarmati Ashram, Adalaj Stepwell, Kankaria Lake, The Calico Museum of Textiles, Sidi Bashir Masjid, Sarkhej Roza, Bhadra Fort, Sidi Saiyyed Mosque
Suggested Read: 10 Best Places To Visit In Gujarat In Summer For An Enthralling Holiday In 2022!
6. Surat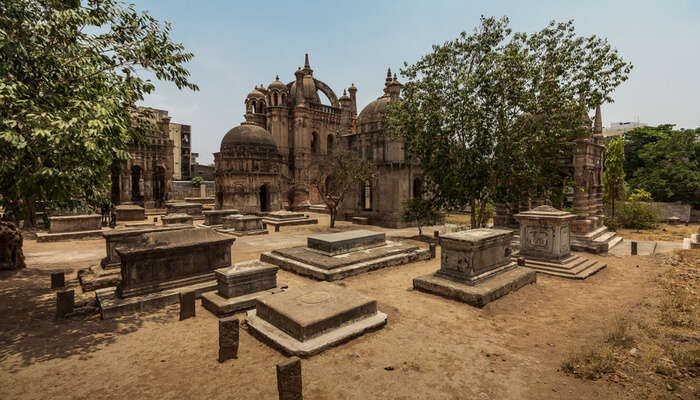 Located beside the Tapi River, Surat is one of the busiest textile hubs of India. The city is popular for silk weaving. Those who like to go on a shopping spree for apparels at dirt cheap rates, the New Textile Market is the place to go here. The market is lined with several small shops selling both wholesale and retail quantities. The 16th century Surat Castle that overlooks the river Tapi portrays the rich heritage of the city. Do not miss it on your trip here.
Distance from Pavagadh: 210 km
Best time to visit: October to March
Key attractions in Surat: Surat Castle, New Textile Market, Dumas Beach, Gopi Talav, Amaazia Water Park
Suggested Read: 17 Historical Places In Gujarat That Uncover A Legendary Past
7. Gandhinagar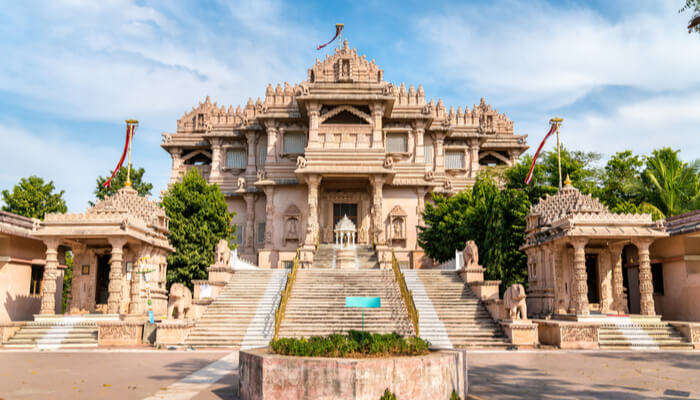 Located on the western bank of the Sabarmati river, this planned city is the administrative capital of Gujarat. The city is also one of the cleanest cities in Asia and is particularly popular for the monumental Swaminarayan Akshardham. This modern edifice is a 10-story temple with an elaborately carved sandstone facade. The water and laser show that happens every night is a visual delight. If you have an upcoming wedding to attend, do not miss shopping for the rich Patola Sarees, glittering Ghaghra-Cholis, and the traditionally dyed Bandhanis here.
Distance from Pavagad: 174 km
Best time to visit: October to March
Key attractions in Gandhinagar: BAPS Akshardham Temples, Adalaj Stepwell, Indroda Nature Park, Sarita Udhyan
Suggested Read: 7 Haunted Places In Gujarat That Will Scare You Out Of Your Wits In 2022
8. Bhavnagar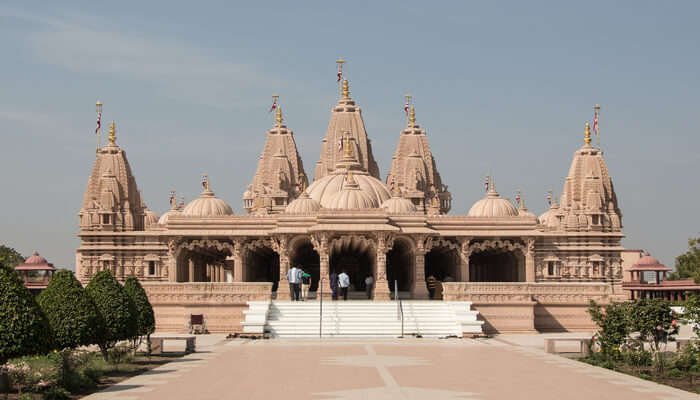 Founded by Bhavsinhji Gohil in 1723, the city is known for ocean trading and businesses related to gems and silver jewelry. The city is popular for the Samaldas Arts College where Mahatma Gandhi was a student. Literary maestros like Govardhan Tripathi, Kavi Kant, Narsihm Mehta, and GangaSati were from Bhavnagar which adds a poetic touch to this place. This trivial city has a handful of tourist spots like lakes, parks, and temples that make Bhavangar a good destination for one-day visits.
Distance from Pavagadh: 250 km
Best time to visit: November to February
Key attractions in Bhavnagar: Shree Takhteshwar Temple, Bortalav Lake, Gandhi Smruti, Khodiyar Temple, Gauri Shankar Lake, Nilambag Palace, Victoria Park
Suggested Read: 10 Exciting Things To Do In Saputara To Make Your Gujarat Getaway More Fun!
9. Sardar Sarovar Dam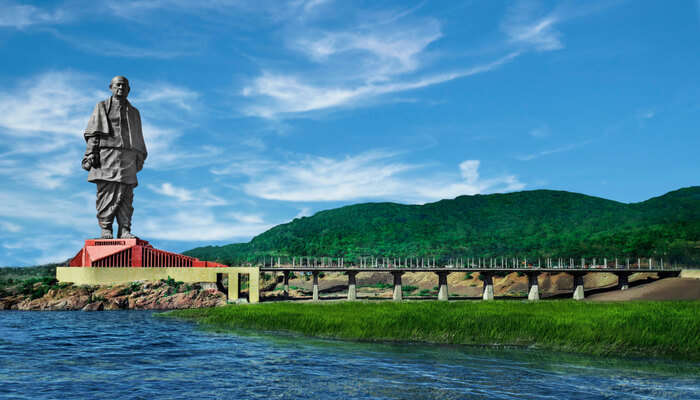 Built on the Narmada river, Sardar Sarovar Dam was established by Jawaharlal Nehru in 1961. The dam is close to the town of Kevadia and can be easily reached by cab. The dam features a garden, the foundation stone, a lake for boating, the first lock gate and a trekking point for nature camps. After the monsoon showers, the dam is usually full and looks beautiful in its complete glory; becoming a perfect picnic spot to spend an evening. The recently installed mammoth Statue of Unity at the dam has made this place a bustling tourist attraction in Gujarat.
Distance from Pavagadh: 139.9 km
Best time to visit: June to December
Further Read: International Kite Festival In Gujarat 2022: Join The Uttarayan Celebrations This January
While visiting the Pavagadh Hill itself is a refreshing break from the clutter of city life, there are several interesting and historical places to visit near Pavagadh that promise a pleasant getaway. So, what are you waiting for? Book your Gujarat trip with TravelTriangle and enjoy visiting all the places around Pavagadh.
For our editorial codes of conduct and copyright disclaimer, please click here.
Frequently Asked Questions About Places to Visit Near Pavagadh
What are some of the best locations to visit in Pavagadh?
Pavagadh is a lovely hill station located 762 metres above sea level and around 46 kilometres from the picturesque city of Vadodara. There are a variety of sites to see in Pavagadh that will provide a great vacation experience. here are some of the best locations to visit in Pavagadh:
1. Champaner-Pavagadh Archaeological Park
2. Manchi Fort
3. Jami Masjid
4. Jain Temple
5. Mahakali Temple
Is it safe to visit Pavagadh during Covid times?
Though there are no limitations on intrastate travel, all passengers travelling to Gujarat from other states or the UT must have a negative RT-PCR report from an ICMR accredited laboratory that is no older than 72 hours. The Aarogya Setu app is required for all travellers.
How many steps are there in Pavagadh?
The Kalika Mata temple is located at a height of 550 metres (1,523 feet). To get to the temple, travellers can use a rope-way system that was installed in 1986. From there, around 250 steps must be ascended.
What is the price of the ropeway in Pavagadh?
The cost of the ropeway is ₹116 (US$1.60) (2017)
Who ruled Pavagadh?
Pavagadh is centred on the ancient city of Champaner, which was built in the 8th century by Vanraj Chavda, the most important monarch of the Chavda Dynasty.
What are the timings to visit the Lakshmi Vilas Palace in Vadodara?
The Lakshmi Vilas Palace in Vadodara is open from 9.30 AM – 5.00 PM Tuesday to Sunday. The palace is closed on Mondays.
How long does it take to reach Ahmedabad from Pavagadh?
It takes about 3 hours to reach Ahmedabad from Pavagadh by car. It could take a little longer if you travel by state-run buses.
Which are the best restaurants near Pavagadh Hill?
Hotel Sarvottam, Hotel Heritage, Jagdish Food Zone, ad Brown Burger Co are a few restaurants in Pavagadh to snack on delicious food.
Is the hiking path from the foothill of Pavagadh to the Kalika Mata Temple easy for senior citizens?
No, senior citizens can use the ropeway service available from the bottom of the Pavagadh Hill to the Kalika Mata Temple atop to visit the temple.
---
---
People Also Read
Places To Visit Near Shirdi Places To Visit Near Alibaug Places To Visit Near Nainital