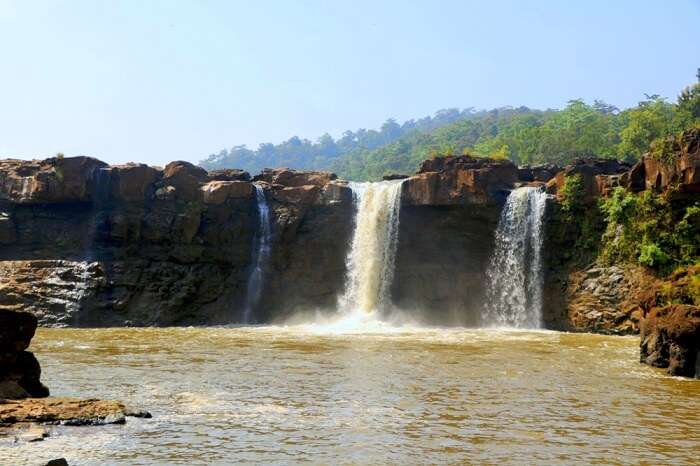 Nestled over the gigantic Sahyadri mountain range in Gujarat, the picture-perfect hill station of Saputara boasts of endless natural beauty. From green landscapes stretching into the horizon to misty hills that are perfect for your Instagram feed, there's a lot to explore in Saputara to surrender yourself to nature. Saputara is often called the abode of serpents owing to the fact that it derives its name from the snake God that the town's tribal clan worships. Other than relaxing amidst nature and exploring the town's historical and religious avenues, there are various things to do in Saputara that tend to draw travelers here.
From riding the popular Pushpak ropeway, boating in the Saputara Lake, engaging in a trekking expedition through its enchanting forests, trying rock climbing and rappelling, there is no dearth of fun experiences that you can have here.
13 Things To Do In Saputara
Planning your trip to Gujarat? A look at these exciting number of things to do at Saputara will compel you to add this charming hill town in your Gujarat tour itinerary.
1. Saputara Lake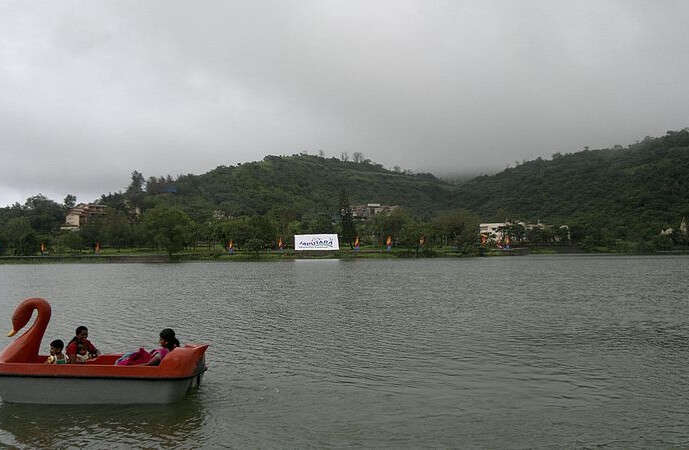 This beautiful and tranquil lake is famous among tourists and locals for boating as well as the colorful garden that surrounds it. Boating is amongst the best things to do in Saputara hill station to make sure you have an exciting vacation. The best time in the day to visit this lake is morning, when one can enjoy some peaceful walks and englf themselves in the beauty of this garden amidst chriping birds. Nearby this lake is the Saputara Museum that will provide you with a fascinating background into the lifestyle, culture, and history of the tribal people of Dang.
Location: Nasik Road Toll Booth, Saputara-Nasik Rd, Saputara, Gujarat 394720
Timings: 9 AM – 8 PM
Boating price: INR 35
11 Best Saputara Resorts Amid The Beautiful Sahyadri Hills
2. Artist Village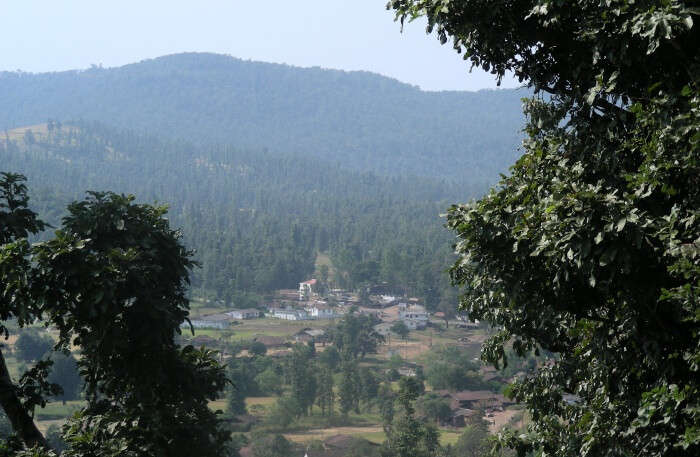 The Artist Village of Saputara is located merely a few kilometers away from Satpura Lake. It's a gorgeous village near the Nasik road that exhibits spectacular artifacts of Bamboo, tribal art, clothes, and many other things representing the Dang way of living. This is the main tribe of the village of Bhil, Warli, and Kunbi that are renowned for their benevolence and will let you try your hand at creating some of these works of art in their own workshops as well. So, other than simply buying these beautiful artworks, make sure you put your skills to test and try crafting their art yourself.
Location: Nasik Road Toll Booth, Saputara-Nasik Rd, Saputara, Gujarat 394720
Timings: 9 AM – 7 PM
3. Hatgadh Fort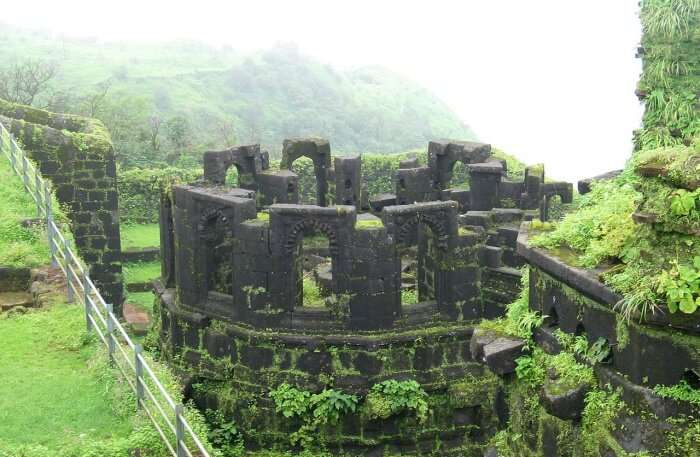 Built ages ago by the Maratha king Shivaji, the remote Hatgarh Fort is an ideal spot for you and your family tospend some time relaxing amidst pure tranquility. Set high up in the hills, it provides stunning panoramas of the city beneath and is quite a refreshing palce in itself owing to the cool mountain wind that blows here. It is situated a mere 5 km away from the Satpura Lake, and though is in a dilapidated condition, visiting it is still one of the most thrilling things to do in Saputara owing to its isolation, serenity, and historical ruins.
Location: Hatgad, Gujarat-Maharashtra border 423502
Timings: 8 AM – 5 PM
17 Famous Festivals In Gujarat To Celebrate With Joyous Fervor
4. Vansda National Park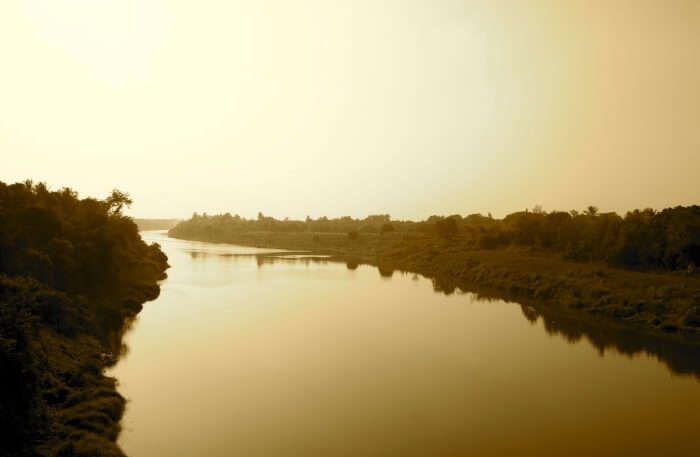 Spanning over an area of about 24 spuare kilometres, this conserved national park tucked between the Sahyadri ranges got its name from the Maharaja of Vansda who once owned it. The unique part about this place is that not a single tree has been cut here since his rule, which is why the canopies in some parts of this forest are so thick that they do not let light to pass through. It is just about a 2-hour drive from the town of Vansda and you can easil get a permit if you wish to explore this place in your own vehicle. You'll be delighted to explore these Dang tribal jungles other than spotting the wildlife and flora, which is anyway among the most exciting things to do in Saputara owing to the fact that this place is surrounded by lush jungles. When you're tired, you can also spend time beside the sparkling River Ambika that flows along the north-eastern boundary of this park.
Location: Vansda, Dangs, Gujarat 394710
Timings: 9 AM – 5 PM
Entry fee: INR 20,
Vehicle fee: Starts from INR 400
Camera fee: INR 100-200
Guide fee: INR 100 per hour
5. Sunset Point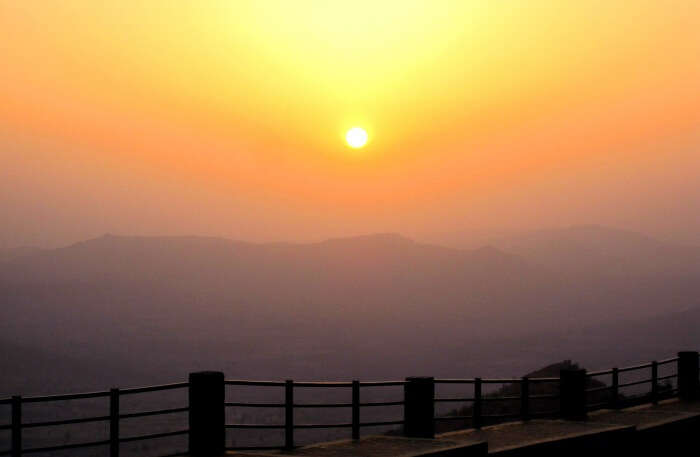 This spot is located right next to Malegaon and provides a beautiful opportunity to travelers to witness the colorful sunset. The Sunset View Point is surrounded by lush greenery on all sides. While it offers stunning views of the setting sun on one side, it gives equally mesmerizing views of the great Dang forest on the other. Getting to this hill top is among the best things to do in Saputara hill station since it involves a moderate to difficult trek and totally thrills adventure seekers and adrenaline junkies. If you do decide to visit this point, do no forget to carry a water bottle along. If you're not really a trekker, you can simply take the cable car which will get you up there in 15 minutes
Location: Sunset Road, Saputara, Gujarat 394720
Cable Car ticket price: INR 40 per person
52 Intriguing Tourist Places In Ahmedabad For Your Gujarat Getaway
6. Gira Falls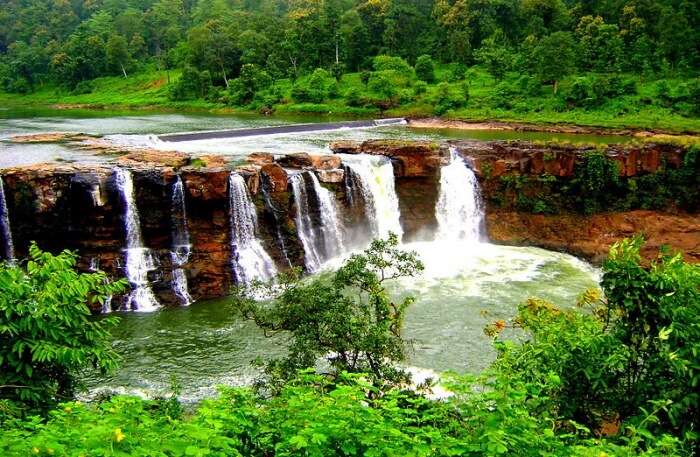 You can further surpirse yourself with the beauty of this hill town by taking a trip to the Gira Falls. It's among the best tourist attractions in Saputara and cascades from a height of about 150 feet, making the whole thing a pictyre-perfect spectacle for you and your travel companions. You can either take a dip in these waters, hike to the nearby forest, simply relax by the enormous pool at the base, or sip on a steaming cup of tea or coffee at the stalls nearby while you take in the views! The waterfall is located a few kilometers away from the Satpura- Waghai road and a trip to this wonderland will surely prove to be one of the best things to do at Saputara during your trip.
Location: Waghai, Gujarat 394730
Timings: Sunrise to sunset
Best time to visit Gira Falls: June to November
7. Purna Sanctuary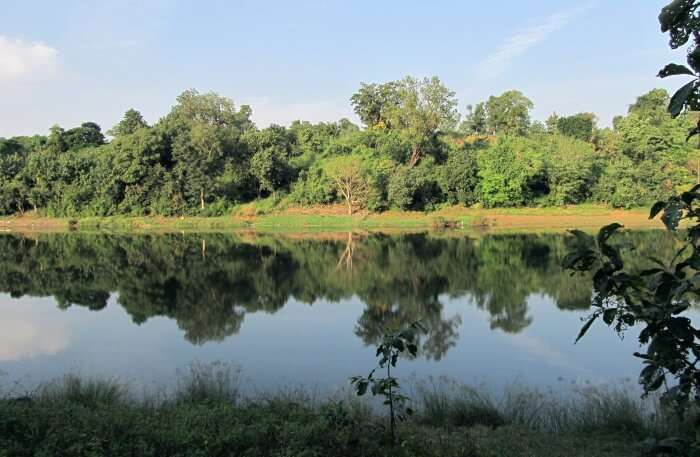 The Purna Sanctuary is a lush forest in the northern Dang with the highest ever rainfall recorded. While once it only had wild bears, sloths bears, and rhinoceros, this place now also serves as a home to leopards, rhesus macaques, bonnet macaques, common mongoose, Indian civet cats, porcupines, four horned antelopes, and many more beasts and plant species. It's a great place for nature lovers and wildlife enthusiasts along with history geeks owing to the brilliant folk music that the tribals often play here. One, however, needs a specil permission from the forest authorities to enter these premises.
Location: GJ SH 174, Jamlapada, Gujarat 394716
Timings: 8 AM – 6 PM
51 Incomparable Places To Visit In Gujarat For A Memorable Trip
8. Saputara Tribal Museum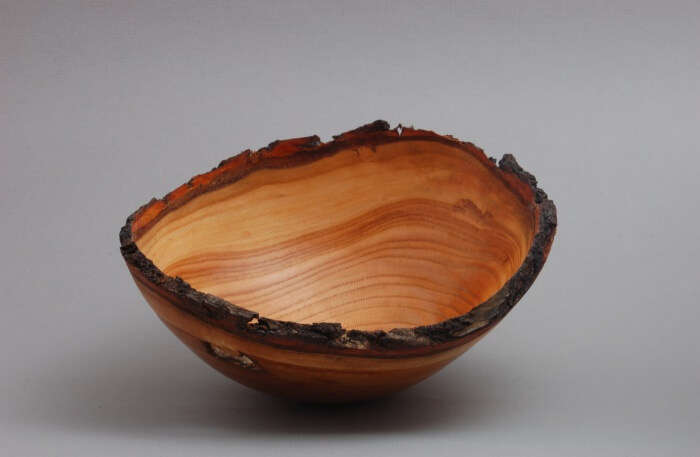 The Sapatara Tribal Museum is a must-visit during your trip to Gujarat since this place provides travelers and history lovers with a deep insight into the lifestyle, traditional dresses, heritage, and the ecology of the Dangs, the tribals who inhabit this entire area. Other than these things, visitors can learn a great deal about the unique things that make up the Dang culture, including their stone funerary columns, grass ornaments, woodcarvings, stuffed birds, body tattoos, masks used in dance-dramas, clay objects used in rituals, body tattoos, as well as their musical instruments. For all those who wish to take a peek into their rich heritage and history, visiting this museum is among the most important things to do in Saputara.
Location: Surat-Saputara-Nasik Highway, Saputara, Maharashtra 423502
Timings: 10:30 AM – 5 PM
Entry fee: INR 1 (Students) | INR 2 (Adults) | INR 50 (Foreigners)
9. Nageshwar Mahadev Temple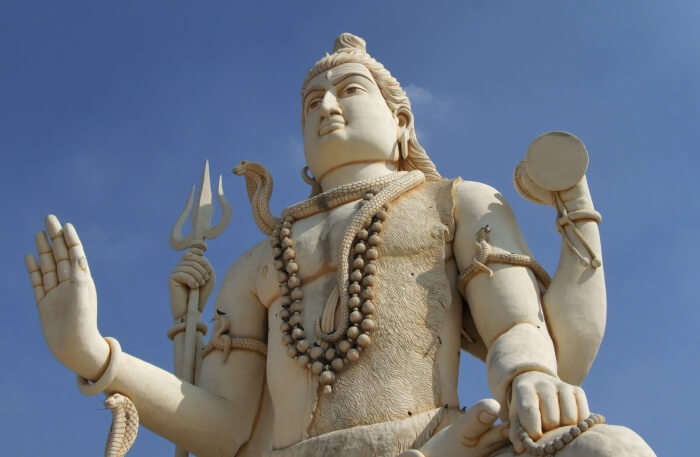 The Nageshwar Jyotirlinga happens to be one of the twelve Jyotirlingas in India and one of the holiest palces to visit in Gujarat. Once you're inside the underground chamber in this temple, you'll find yourself looking in wonder at the mighty statue of the presiding deity here – Lord Shiva. If you wish to see this temple in all its beautiful colours and shimemring lights, you must visit during the time of Shivaratri when its flooded with worshippers and pilgrims.
Location: Daarukavanam, Gujarat 361345
7 Haunted Places In Gujarat That Will Scare You Out Of Your Wits
10. Honey Bees Centre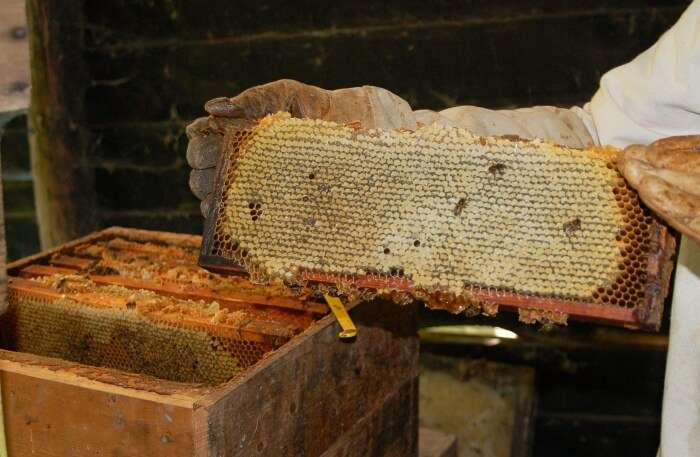 The Honey Bees Centre is amongst the most famous places in this hill station ad boasts of a variety of engaging attractions for visitors. This apiculture center provides travelers an intriguing insight into the functioning of the honey industry and shows the delightful process of rearing and breeding honey bees as well as collecting honey in its purest form. While here, visitors are also provided with an opportunity to get up close and personal with the bees (keeping all safeguards in place) wherein they get to extract honey under careful supervision and guidance. Visitors can also purchase fresh and pure honey extracted at this center from the workshop situated right here.
Location: Saputara, Gujarat 394720
Timings: 9 AM – 5PM
11. Townview Point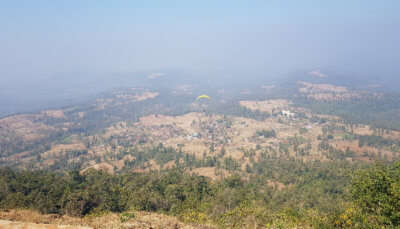 Townview Point is another interesting attraction in Saputara that offers panoramic vistas of the town. Perched at an elevation, the point not only gives you a chance to click unbelievable pictures of the region but you can also enjoy the weather and plan picnic with your loved ones. The night view of Saputara is truly admirable for wanderers. Visiting the viewpoint is among the best activities to do in Saputara.
Location: Saputara, Gujarat 
Timings: 9 AM – 9PM
12. Step Garden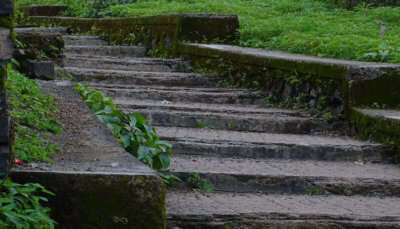 Step Garden features an exquisite architecture that is established on steps. You can sneak peek at a variety of flowerpots, plants and wooden art pieces. There are unique forest huts in the centre of the garden and a play area for kids makes it a perfect place for travellers.
Location: Saputara, Gujarat 
Timings: 9 AM – 6PM
13. Forest Nursery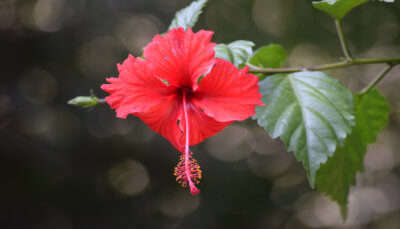 If you like exploring greens then don't forget to glance at the Forest Nursery. Home to a colourful plants, creepers, trees, and regional floras maintained by the Forest Department of Saputara. The site is known for Hibiscus flowers and its variety and you can also buy plants and trees from the nursery.
Location: Saputara, Gujarat 
Timings: 9 AM – 5PM
Intrigued much? Now all you have to do to try all these fabulous things to do in Saputara is book yourself an exciting escapade to Gujarat. Get in touch with TravelTriangle's experts who'll be more than happy to provide you with a customsed tour well within your budget. Don't forget to share your trip experience with us once you're back!
For our editorial codes of conduct and copyright disclaimer, please click here.
Frequently Asked Questions About Things To Do In Saputara
How many days are sufficient for Saputara?
What should I wear in Saputara?
It depends upon the season when you are planning to visit Saputara. However, the weather remains hot and you must opt for wearing breathable clothes, especially cotton or linen. Don't forget to carry your sunscreen and keep yourself hydrated during sightseeing tours.
Is it safe to visit Saputara during Covid times?
If you are fully vaccinated then you can surely plan your visit to Saputara. In case your vacation is pending then you need to get an RT PCR test done and carry your negative report along. Make sure that you follow all the mandatory travel guidelines mentioned by the authorities.
When is the best time to visit Saputara?
Saputara has pleasant weather throughout the year and therefore the best time depends upon what you want to do there. Monsoon is the best time to visit for nature lovers and photographic enthusiasts. Winter weather is also quite enjoyable and accounts for peak season here.
What should I buy in Gujarat?
Shopping in Gujarat is a nice way to experience the city of colours. From beautiful handmade fabrics to arrays of crafts and tribal jewellery to handmade shawls, dyed scarves and silver jewellery, there is a lot for you to buy in Gujarat.
How far is Saputara from Mumbai?
Saputara is located 250kms away from Mumbai which can be covered in 6 hours. You can board a bus or hire a cab from Mumbai to reach Saputara. The nearest railhead to Saputara is Waghai railway station at Bilimora and welcomes trains from Mumbai.
Is alcohol allowed in Saputara?
Saputara is situated in the state of Gujarat where alcohol has been prohibited by the State Government and hence alcoholic beverages are not allowed here.
Which are the famous budget-friendly resorts in Saputara?
Savshanti Lake Resort, Toran Hill Resort is the best budget-friendly resort in Saputara offering great balcony views, spacious rooms and perfect for those who want to relax all day long.
When is the best time to visit Gira Falls?
June to November is a good time to visit Gira Falls. One can either take a dip in these waters or hike to the nearby forest or simply relax by the pool area.
---
Looking To Book A Holiday Package?
---
People Also Read:
Things to do in Pondicherry Things to do in Udaipur Things to do in Sikkim