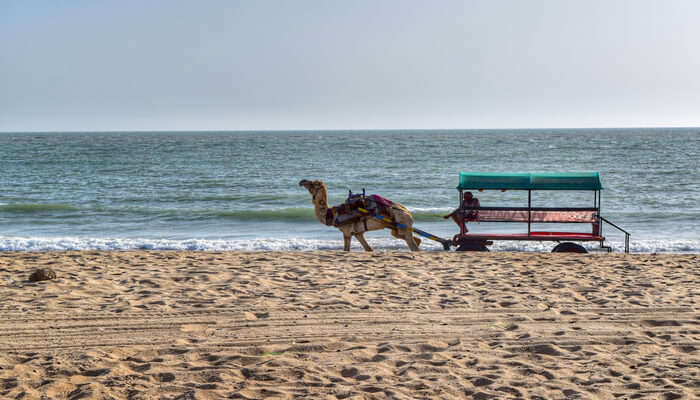 The coastline of Gujarat extends as long as 1666KM, which is beautified by some of the most beautiful scenic beaches in the country. It offers a splendid opportunity to tourists who love visiting the seaside and enjoy the beautiful scenic beauty. For the love of ample amount of sand and sun, gaze your time away by staring at the sunset and exploring the beaches in the beautiful western state. It boasts a large array of pristine beaches that makes for an ideal holiday with your family. Although there are many beaches in Gujarat, however only some of them enjoy maximum popularity.
Best Time To Visit Gujarat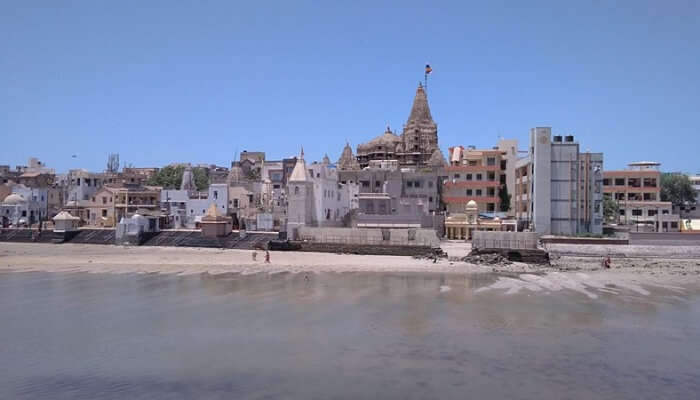 Gujarat in its totality is a warm state; however, the winters are quite pleasant. The state comprises of variant climatic conditions present throughout the year. As a whole, the state comprised of dry and hot summers along with pleasant winters. During summers, the temperature rises as high as 41 degrees C in the daytime, and at night it surrounds 29 degree Celsius. The peak summer time is experienced in the months of April to May when it is extremely hot and makes it difficult for tourists to explore. The best time to plan a trip to enjoy its scenic beauty is undoubtedly in the winter months, starting from November to February.
Must Read: 30 Incomparable Places To Visit In Gujarat For A Memorable Trip In 2020
Best Beaches In Gujarat
1. Mandvi Beach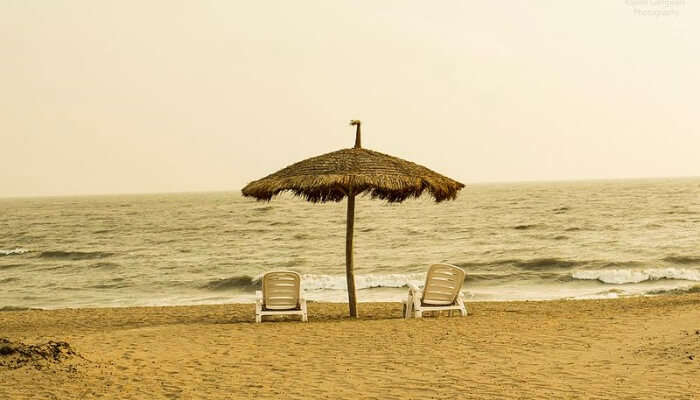 Mandvi beach is situated in the Kutch district and is also a widely popular beach among tourists. This beach comprises of beautiful golden yellow sand which presents a striking colour and looks wonderful in contrast to the emerald waters that lash out at shores. Apart from experiencing its beauty, you can also indulge in a wide range of water sports such as speed boating, surfing, skiing, water scooting, parasailing, paragliding, and so on. This ample water sports opportunity is the perfect way to spend some quality time with the ones you live. Moreover, the beach lies near to city centre hence can be reached easily with the help of an auto, cab or rickshaw.
Ideal for: water sports, relaxation, scenic beauty
Things to do: Visit Vijay Vilas Palace nearby and take camel rides on the beach
Location: Mandvi rural
Stay options: Hotels
Suggested Read: Shopping In Gujarat: 10 Incredibly Awesome Places That Will Tempt You To Splurge More!
2. Dwarka Beach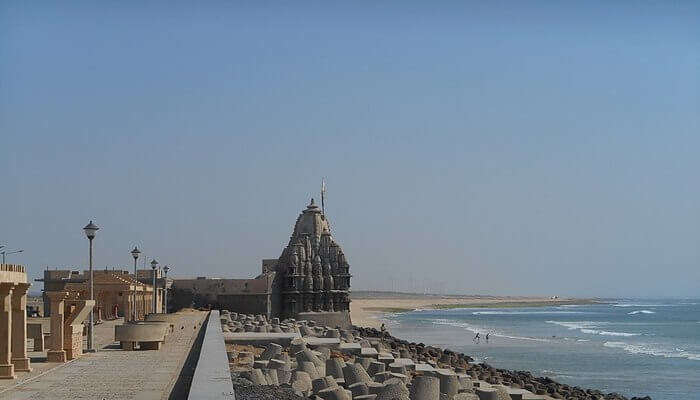 The beach is highly popular not only for its beauty but also for the Jagat Mandir or Dwarkadheesh temple that is located closely. This beach gains major popularity among tourists due to its mesmerizing marine life. It is extremely usual to spot octopus, urchins, sea turtles, jelly fishes and dolphins on your tour around the beach. Apart from these, you can indulge in an adventurous fun time by enjoying activities such as scuba diving and swimming at Dwarka beach.
Things to do: Visitors can tour around the beach and visit temples such as Dwarkadhish temple, Rukmini temple and others.
Ideal for: water sports, relaxation, scenic beauty, tourist spot
Location: Near Dwarka, Gujarat
Stay options: Hotels
Suggested Read: Top 8 Places To Visit In Gujarat During Monsoon To Enjoy This Season In 2020
3. Ghogla Beach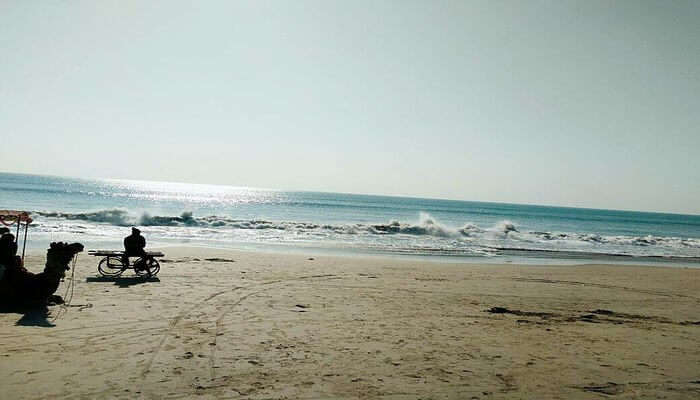 This is popularly referred to as Golden sand beach that undulates in the horizon with the Arabian Sea in its lap. If you talk about beauty, this is one of the most attractive beaches in town. Located in the north of Diu town, it easily manages to catch the attention of many. It specially caters to the crowd who prefers to stay aloof from the bustling crowd. The beach is a complete package with eatery places located nearby for the convenience of the tourists. In addition to these, water sports too make way for an exciting attraction in Ghogla Beach.
Ideal for: water sports, relaxation, solitude and peace
Things to do: explore the beautiful sand beach, explore the water sports
Location: North of Diu town
Stay options: Hotels
Suggested Read: 10 Best Places To Visit In Gujarat In Summer For An Enthralling Holiday
4. Porbandar Beach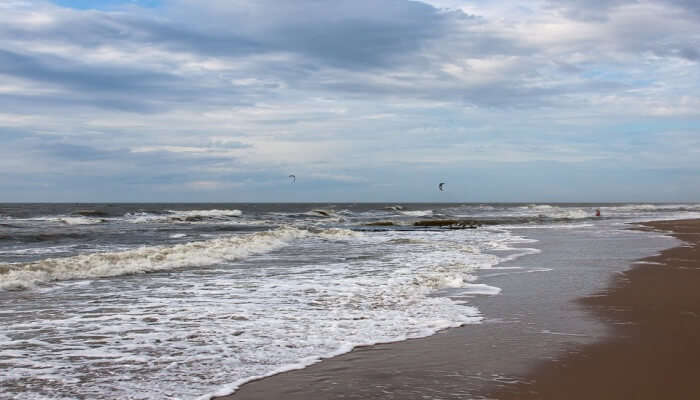 The beach, also known as Willingdon Marina Beach is a popular beach in Gujarat. Nestled between Veraval and Dwarka, this is an ideal place to relax and watch the waves swing by. This beach is also one of the most favourite spots for morning and evening among the locals. While visiting the place, do not forget to visit Huzur Palace, which is one of the most eminent tourist sports located on Porbandar beach. The ancient seawall majestically remains one of the most impressive backdrops for the beach.
Ideal for: Scenic beauty
Things to do: Visit Sudama-Lord Krishna's best friend's childhood place
Location: GEB Colony, Porbandar
Stay options: Hotels
Suggested Read: 16 Best Places To Visit In Vadodara For A 2020 Tour Through The Historical Past Of Gujarat!
5. Positra Beach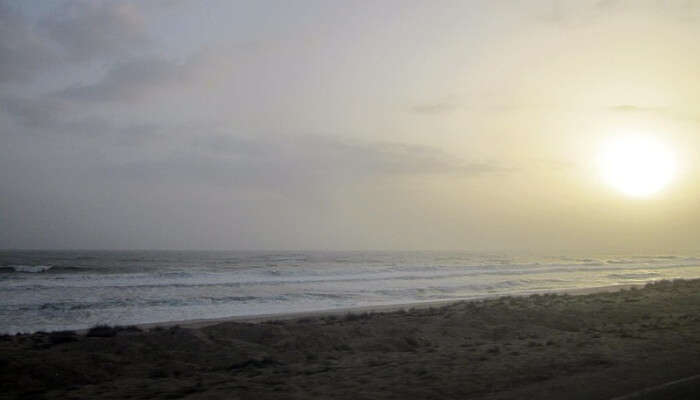 This is another popular beach in Gujarat, which is an extremely quiet and peaceful spot, ideal for tourists aiming to reconnect themselves with nature. For those who want to step aside from the bustling crowd of the city, this beach is the perfect getaway. It is surrounded by eminent shopping places that offer handicrafts and brass products along with various other local items specific to Gujarat. If you are not interested in shopping, you can just sit back and relax while watching the sunset down the horizon.
Ideal for: lazing around, relaxing and shopping
Things to do: Shopping local items, relax by the seaside
Location: Near Jamnagar, Gujarat
Stay options: Hotels
Suggested Read: 6 Haunted Places In Gujarat That Will Scare You Out Of Your Wits
6. Gopnath Beach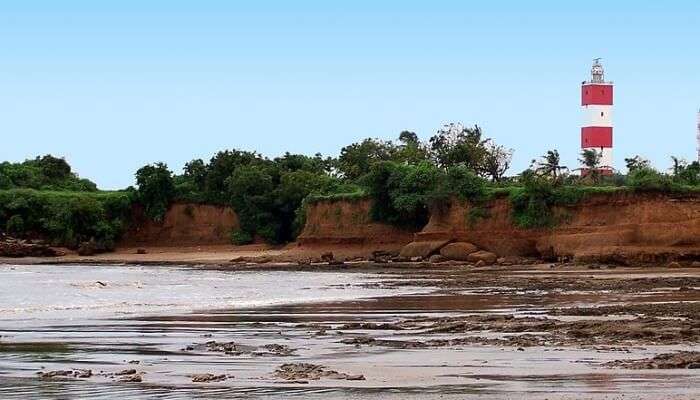 Gopnath Beach, another treasure is popularly known for the pristine beauty, is located in Bhavnagar district in Gujarat. This beach which was the summer retreat of Maharajah Krishna Kumar Sinjhi of Bhavnagar is now famous for its serene beauty, limestone cliffs with its flora and fauna. In addition to relaxing in the surrounding nature, tourists can plan local sightseeing to explore the nearby popular tourist areas such as Talaja Jain temple, Gopnath Temple, Alang.
Ideal for: exploring serene beauty and relaxing
Things to do: Explore nearby tourist places, view scenic beauty, and explore limestone cliffs, flora and fauns.
Location: Talaja
Stay options: Hotels, resorts
Suggested Read: 37 Intriguing Tourist Places In Ahmedabad For Your Gujarat Getaway In 2020
7. Devka Beach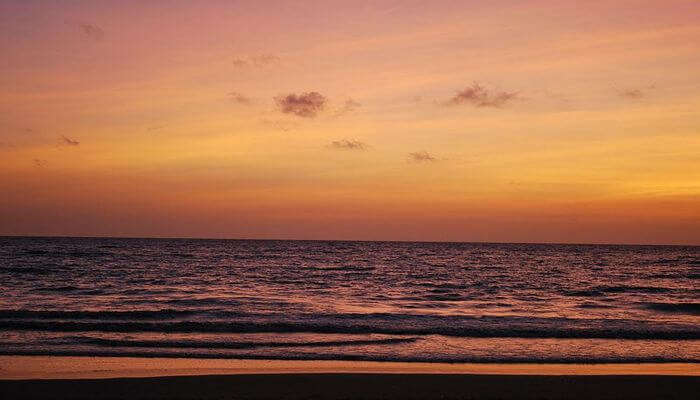 This beach is a pure sight of sheer beauty. Similar to other beaches in Daman, this too is a massive beauty and is unspoilt. This place has clean blue waters along with well maintained shores offering beauty for everybody. A special Amusement park located nearby is a major attraction among tourists that comprises of a play area for kids along with fountains.
Ideal for: Exploring the scenic beauty
Things to do: Explore Amusement park and the scenic beauty of the pristine beautiful beach
Location: Daman
Stay options: Hotels, resorts
Further Read: 10 Historical Places In Gujarat That Uncover A Legendary Past
If you are looking for a relaxed holiday filled with adventure and local tourist attractions, beaches in Gujarat is the place to visit. Besides the gorgeous sun and golden sand, water sports like surfing and parasailing are also offered to make it an attraction for adventure enthusiasts as well. So, plan a trip to Gujarat and treat yourself!
Frequently Asked Questions About Beaches In Gujarat
Q. What is the best time to visit Gujarat to explore its beauty?
A. The ideal time to explore Gujarat is during the winter, from the months of November to March as it offers a pleasant ambience to enjoy the place.
Q. Do the beaches in Gujarat have water sports?
A. The beaches in Gujarat offer a wide array of adventure sports such as parasailing, paragliding, surfing, snorkelling and others.
Q. What are the stay options near beaches in Gujarat?
A. Tourists can stay in luxury cottages, hotels and enjoy local beaches to the fullest. The stay options can be chosen based on the budget and needs of the travellers.
Q. What are the options to relax near the beaches in Gujarat?
A. Tourists can relax on the beaches as there are lounge options available.
Q. Is there a beach in Ahmedabad?
A. Yes, there is one of the most beaches in Ahmedabad, namely Mandvi Beach, which is a popular tourist attraction among all.
Q. What entertainment options do beaches in Gujarat offer?
A. Beaches in Gujarat offers several entertainment opportunities that include camel rides, lounging options, local tourist attractions, local market hopping and others.
Q. Do Gujarat beaches have white sand?
A. Ahmedpur Mandvi Beach, located in Ahmedpur Mandvi, is extremely popular for its white sands that make it extremely exotic in its appearance.
Comments
comments