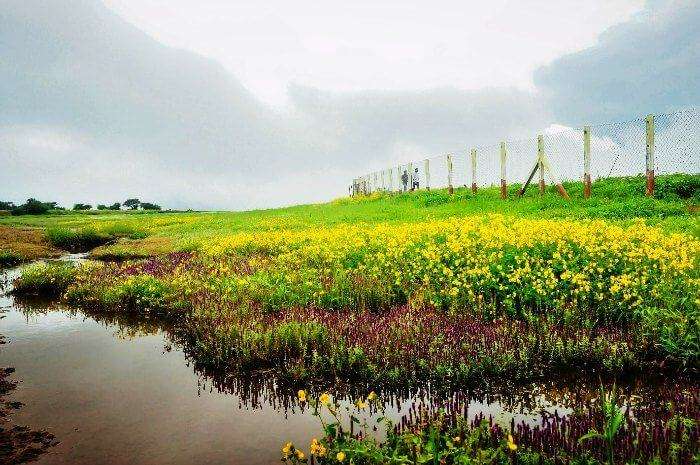 Soulfully blessed with nature's magic and historically rich with ancient forts, temples and museums, Satara is one of Maharashtra's most loved destinations. The region was a significant seat for Chhatrapati Shivaji as well as the halt of Pandavas during their exile. Satara offers a plethora of tourist attractions to avid travellers, nature lovers and of course adventure buffs.
The city lies at the confluence of the River Krishna and its tributary; River Venna. The city derived its name from seven forts (Sat-Tara) which are located in close vicinity. Some of the most popular tourist places to visit in Satara hold treasures of the city's ancient culture and heritage, lakes, picturesque waterfalls and bird sanctuaries.
Best Places To Visit In Satara In Monsoon
We have handpicked some of the famous places to visit in Satara for your vacation. Picturesque landscapes, royal monuments and wonderful sightseeing locations will surely make you fall in love with the city of Satara. So, here's a list of tourist places in Satara that are perfect for a quick getaway to escape from the chaos of the urban life and find some solace in the arms of mother nature.
1. Kaas Plateau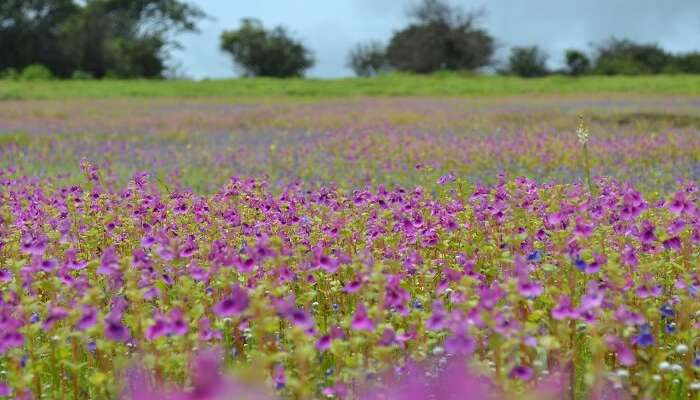 Located just 24 km from Satara, Kaas Plateau, also known as the Kas Pathar ranks high among the best places to visit in Satara. Perched at an altitude of 1200 meters and sprawling across an area of 1,000 acres, this is one of the amazing volcanic lateritic plateau with a deep fiery reddish soil, making it a loved picnic spot for nature lovers in monsoon. You will also find some carnivorous plants such as Drosera Indica here during this month. Tourists often come here to take pleasure in watching different colors of butterflies fluttering their way through this kaleidoscopic maze and
Location: 24 km from Satara, Maharashtra.
Timings: 9:00 am to 7:00 pm
Entry fee:
Entry fee: INR 50 for visitors above 12 years
Weekends/Public Holidays: INR 100
Things to do: Photography, sightseeing and Bird watching
How to reach: One can easily hire a taxi from Satara city center (22 km away) to reach this nature's own excotic paradise. There are a few state-run buses as well from Satara to Kaas.
Must Read: 6 Best Places For Water Sports In Maharashtra You Must Experience In 2020!
2. Thoseghar falls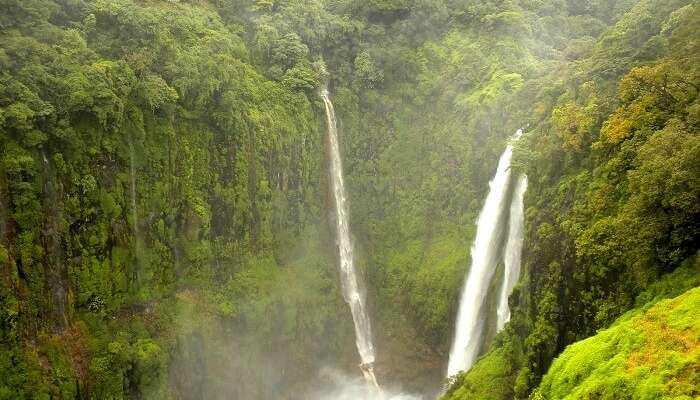 Located at the edge of the Konkan region and hardly 26 km from Satara city, Thosegarh falls tops among the best places to visit in Satara in monsoon. Warmly embraced by verdant greenery and dropping through a series of cascades, Thosegarh falls is a must-visit destination for nature lovers. The serene ambiance and refreshing atmosphere of this seasonal waterfall will leave awestruck.
Location: 26 km from Satara, Maharashtra.
Timings: 8:00 am to 5:00 pm
Entry fee: INR 10 per person
Things to do: Relish the magnificence of nature, sightseeing and photography
How to reach: Visitors can easily access this place via public or private means of transport widely available from the city center
Suggested Read: 23 Places To Visit In Mahabaleshwar For A Refreshing Maharashtra Trip In 2020
3. Bhambavli Vajrai Waterfall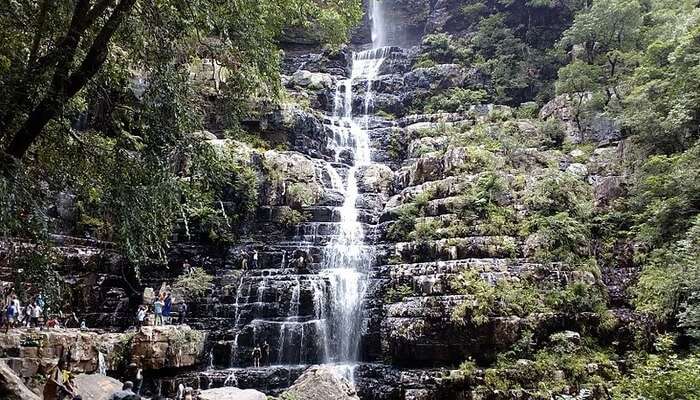 A perfect weekend destination for all age groups, this picturesque waterfall is located 28 km from Satara and is one of the most popular places to visit in Satara Maharashtra. Bestowed with alluring green mountains and water cascading down from a mammoth height of about 853 feet (260 meters), this eternal waterfall will help you reconnect with yourself and nature of course. The waterfall is the origin of River Urmodi and the water flows all 365 days. During monsoon, the area is highly saturated with leeches, so be careful.
Location: Around 28 km from Satara
Timings: 8.00 am to 5.00 pm
Entry fee: INR 30 per person
Things to do: Embrace the wonders of nature and behold the most reviving vistas of the ghats & hills. You can also trek here.
How to reach: Commuting to Bhambavli Vajrai Waterfall is easier with any public or private transport from Satara
Suggested Read: The Staircase Waterfall In Maharashtra: A Hidden Gem That We Bet You'd Love To Explore!
Best Places To Visit In Satara In Summer
Satara experiences hot and scorching summers from March to June with the day temperature often hitting 40 degree celsius. Due to which, the tourists footfall is low during this period. However, there are some amazing tourist places in Satara that are worth visiting for a perfect summer vacay with your friends and family.
4. Ajinkyatara Fort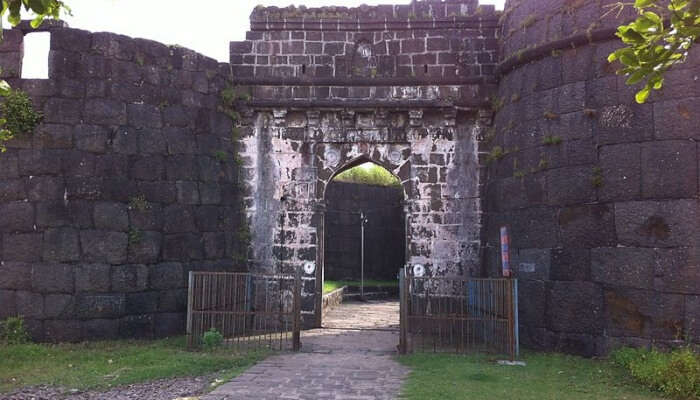 Often called as the "Fort of Satara", this magnificent structure preached at 3,300 feet high on Ajinkyatara Mountain offers outstanding views of the entire Satara city. Some of the major attractions within Ajinkyatara Fort are temples dedicated to Hanuman, Mahadev and Mangala Devi and the wonderful Tara Rani's Palace.
Ajinkyatara Fort is also quite popular among adventure lovers planning to indulge in hiking, trekking and mountaineering. If you are looking for an ideal picnic spot to spend some fun-filled moments with your friends and family, this is the place to be.
Location: Around 4 kms from Satara
Timings: Open from sunrise to sunset
Things to do: Sightseeing, trekking and hiking
How to reach: Take a bus or hire a taxi from Satara main city to comfortably reach this gorgeous fort.
Suggested Read: 18 Absolutely Breathtaking Places To Visit In Monsoon In Maharashtra In 2020
5. Char Bhinti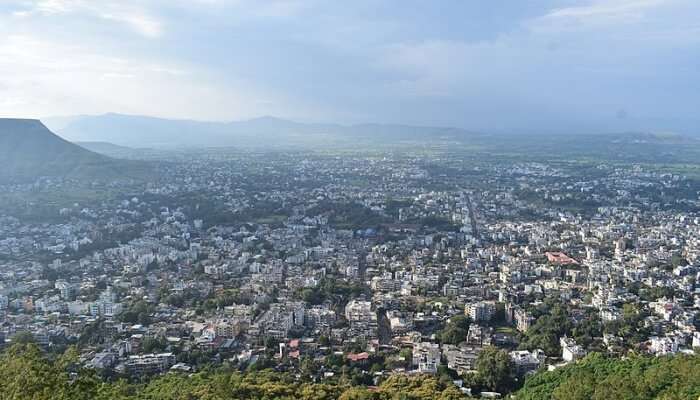 This is probably one of the most significant and widely famous historical sites in Satara, Maharashtra. Built in the year 1830 under the reign of Chhatrapati Pratapsinh to protect his kingdom from invaders. Ancient monuments of Rani Lakshmibai, Tatya Tope and Rango Bapuji Gupte can also be found here, which are major attractions among locals. The place was completed renovated in 2001 to attract more visitors.
Location: Ajinkyatara Fort Road, Satara, Maharashtra
Timings: Open all days
How to reach: One of the best and affordable ways to reach Char Bhinti is to take private or public transport from Satara.
Suggested Read: Top 10 Restaurants In Maharashtra For Tasting The Best Foods Of This Indian State
6. Sangam Mahuli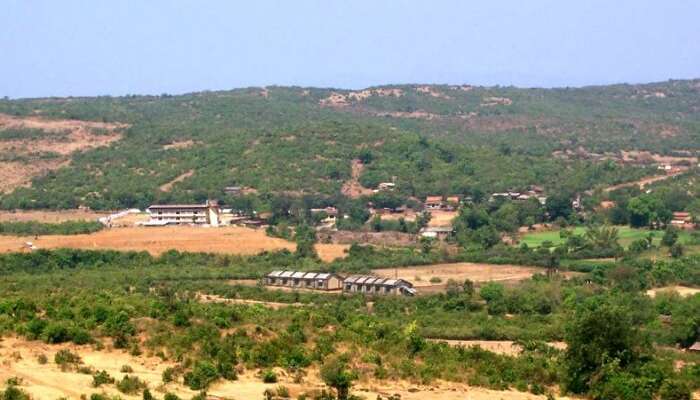 Conveniently located at a distance of 5 km from the Satara, Sangam Mahuli is one of the oldest temples dedicated to Lord Shiva. Engraved in typical Maratha style of architecture, this place houses a group of Hindu temples dated back to 18th and 19th century and is also considered to be the birthplaces of Ramshastri Prabhune, a powerful spiritual and political advisor of the Peshwa regime. Two rivers Krishna & Venna confluence at this location, making the entire sight pleasing to visitor's eyes.
Location: Only 5 km from Satara
Timings: One can visit this place from morning till evening
How to reach: Regular services are available from Satara to this famous tourist place.
Suggested Read: Choose The Best Travel Insurance In India In 2019 With Our Guide
7. Mayani Bird Sanctuary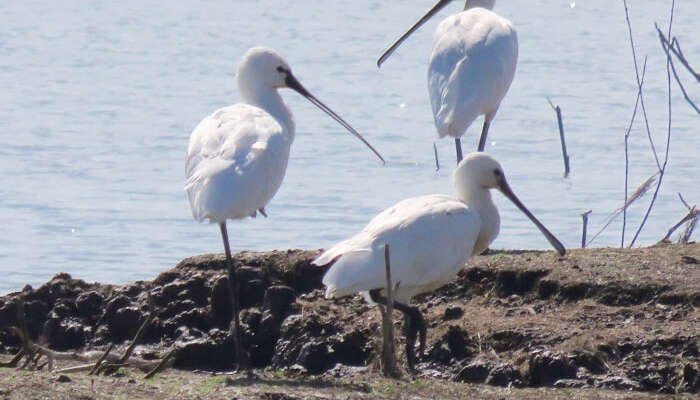 If you are a bird lover, then Mayani Bird Sanctuary is the place you cannot afford to miss out while exploring all other famous places to visit in Satara. Built during the regime of British Empire, this sanctuary has more than 400 types of birds and species. Regarded as one of India's most prominent bird sanctuaries, Mayani is a paradise for ornithologists who often come here to study different species of flora and fauna. You can also find a lot of herbal and medicinal plants flourishing here.
Location: Satara District, Maharashtra
Timings: 7:00 am to 9.00 pm
Entry fee: INR 15 per person
Things to do: Bird watching and also there is a park nearby to spend some time
How to reach: One of the most comfortable ways of accessing this place is to take a bus from Satara.
Further Read: 25 Gorgeous Places To Visit In India In December 2019 With Your Loved Ones
The above mentioned places to visit in Satara are handpicked by us to enhance your holiday trip to Maharashtra and enjoy the scenic wonders of these offbeat locations and beautiful attractions in Satara on your trip. Make sure you add these to your list before jotting down a plan to this beautiful destination.
Frequently Asked Questions About Places To Visit In Satara
Q. What is special in Satara?
A. Satara is appreciated for its ancient monuments like forts and temples. Besides, it is also famous for picturesque waterfalls and  Kaas Flower Plateau, a World Heritage Site.
Q. Is Satara a hill station?
A. Located 2320 feet above sea level, Satara is indeed a beautiful town located Satara, Maharashtra. It is one of the most historical places of Maharashtra.
Q. How far is Satara from Mumbai?
A. Satara is about 259 km from Mumbai.
Q. How many forts are there in Satara?
A. There are plenty of forts in Satara, Maharashtra. However, the city derived its name from seven famous forts (Sat-Tara) which are located in close proximity.
Q. What is the best season to visit Satara?
A. Winter months from September to February are perfect to visit and explore the historical city of Satara, Maharashtra.
Q. How far is Satara from Pune?
A. Satara is just 118 km from Pune city and can be reached conveniently by three direct trains – Koyna Express, Sahyadri Express and Lokmanya TT Express.
Comments
comments