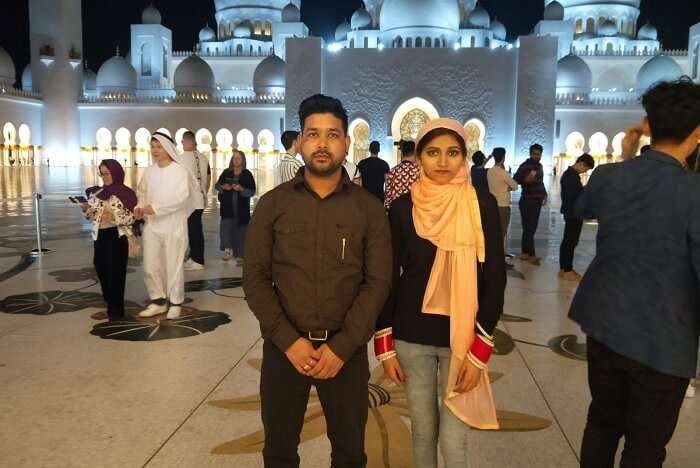 Peacefully shared by cultures, landscape, music, and fashion, Dubai although rooted in Islamic tradition is bustling with visitors seeking to indulge in a myriad of experiences. From shopping for local art to riding a camel on the desert, the city embraces its ability to dream up. Ready to be explored, this authentic city under the shadow of the tallest building awaits travelers like Shavy and her husband, to fulfill their holiday dreams on their Dubai 5 days trip. Their honeymoon in this city was more like a dream come true and they lived every moment of their holiday.
While browsing the internet for various destinations we had first decided to go to Kerala. Then eventually we thought of Ladakh, but due to the unsuitable weather conditions, we had to drop that plan as well. Then we came across TravelTriangle on facebook and on contacting the folks, they gave us various choices of destination, where we chose Dubai. The folks planned well for our 5 days in Dubai and things turned out to be amazing on a vacation. Here is an overview.
Table Of Content
Details Of The Trip
Trip Type: Honeymoon
Cost: INR 113000
No. Of People: 2
Duration: 4 Nights 5 Days
Inclusions: Breakfast, Dinner, Airport Transfers, Sightseeing, Visa
Exclusions: Lunch, Private Cabs, Entrance Fees
Our 5 Days In Dubai
Day 1: Arrival in Dubai & Dhow Cruise
Day 2: City Tour
Day 3: Desert Safari
Day 4: Ferrari World Theme Park
Day 5: Return Back Home
Dhow Cruise In Dubai: A Guide To The Best Way Of Touring The Bustling Emirate!
Dubai Weather In February
After a lot of research and browsing, we decided to go to Dubai in February. We were also aware of the Dubai Shopping Festival when the whole city comes alive and the streets are bustling with festivities. As expected, the weather in February was not too hot and it was pleasant. Our 5 days in Dubai were spent in pleasant weather where we enjoyed all sorts of activities.
Things To Do In Dubai In 5 Days On Your Honeymoon
Dubai is all about towering heights, flavorsome food and adventure-packed activities. We being explorers ourselves, we're all excited for our exquisite honeymoon. Here are some places you might not miss on your next trip to Dubai.
1. Dhow Cruise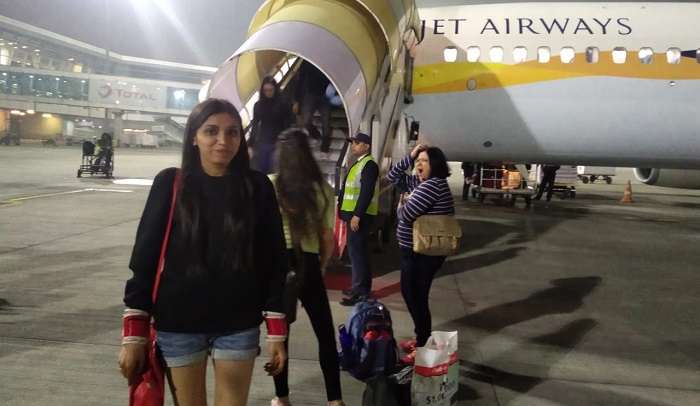 Our Dubai honeymoon trip began with a luxurious cruise. We were dropped off on the crew point around 8:30 pm and then we boarded. Drifting along Dubai's Creek in a traditional wooden boat was so much beyond our imagination. The contrasting sights of modernity against the simpler historic waterways are delightful. We treated ourselves to the buffet dinner with authentic Arabic cuisines which tasted delicious and also enjoyed some refreshing beverages. Though we were pre-informed that we might face a little disappointment that was totally not the case We enjoyed the food and soaking in the scenic pleasures and the sweet smell of the sea made us feel relaxed and rejuvenated.
 Mark These Churches In Dubai On Your Bucket List While You're At This Beautifully Carved City!
2. City Tour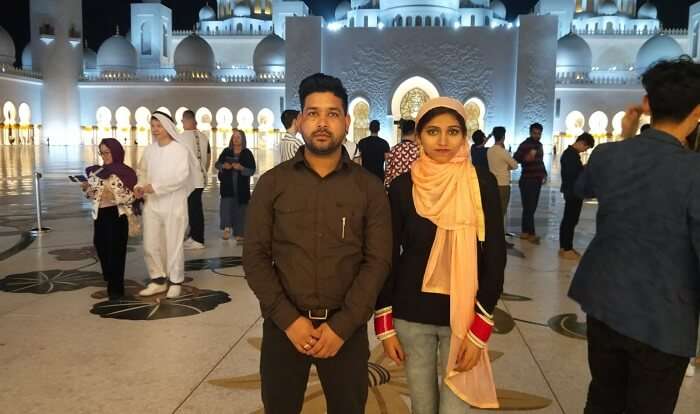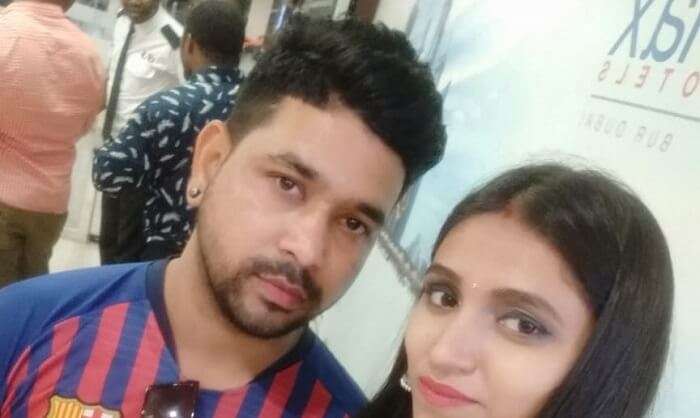 On the second day of our 5 days in Dubai, we planned to go for a city tour. We started our city tour with a drive through Meena Bazar, Union Flag Pool, Shindagha Area, and Dubai Water Canal Project. Famous for the various handpicked artwork, jewelery, Islamic calligraphy, and woven carpets. We also took a photostop at the Jumeirah Beach and clicked some amazing pictures. We also visited the Jumeirah Mosque which is a popular mosque in Abu Dhabi. Wild Wad and Burj Al Arab were other attractions we covered of the trip.
3. Burj Khalifa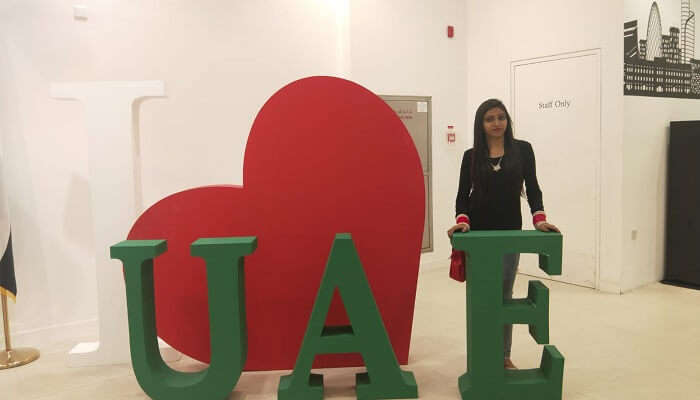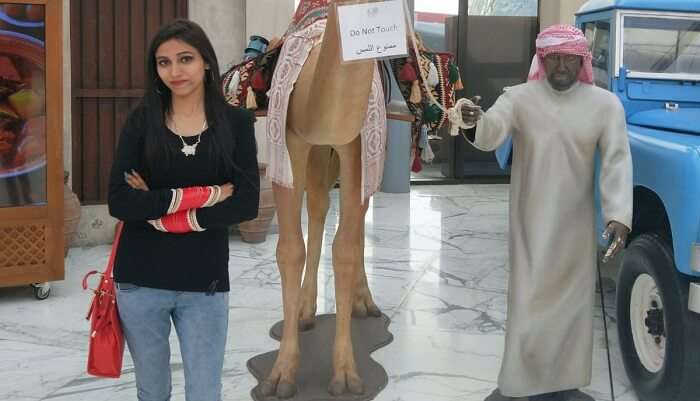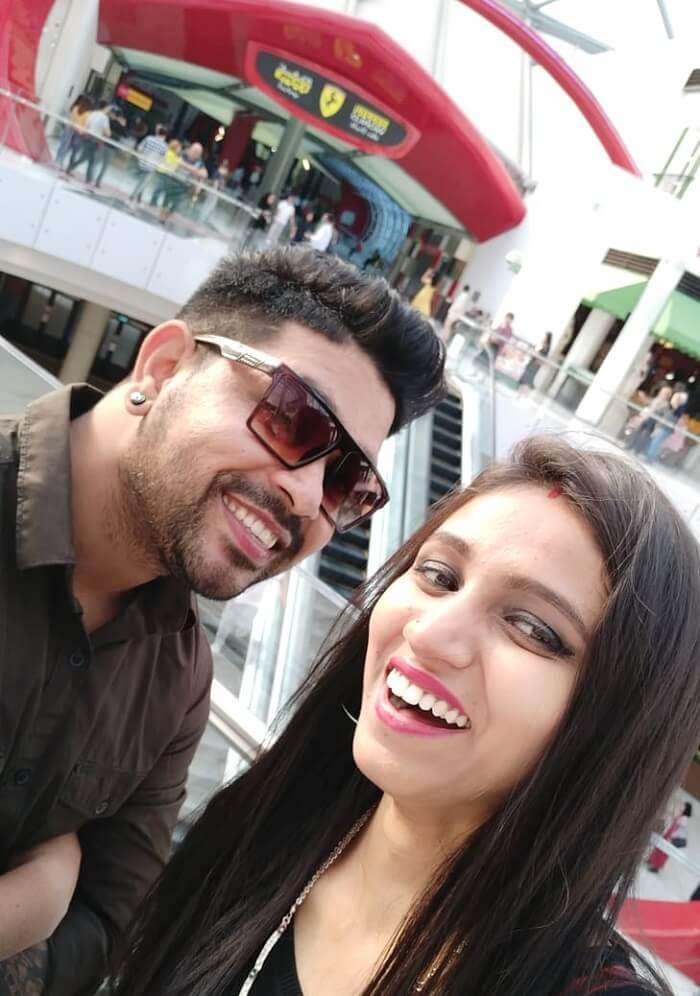 Redefining architecture and design, Burj Khalifa is the tallest architectural wonder of the town and our 5 days in Dubai itinerary had a visit to this wonder. We were baffled to see the beauty of this wonder right in front of our eyes. With two observation decks on the storey at the top of the 125th floor and on the 148th floor. We entered the observatory deck through the Dubai Mall and the jaw-dropping views took our heart. We also enjoyed at the base of the tower which was the vibrant hub of entertainment and featured the enormous Dubai Mall. We enjoyed eating at the KFC and also walked by the choreographed musical Dubai Fountain that attracted us a lot. Both Dubail Mall and Burj Khalifa are must when it comes to places to visit in Dubai in 5 days.
 The Complete Guide To Applying For Dubai Visa For Indian Tourists
4. Camping Under The Stars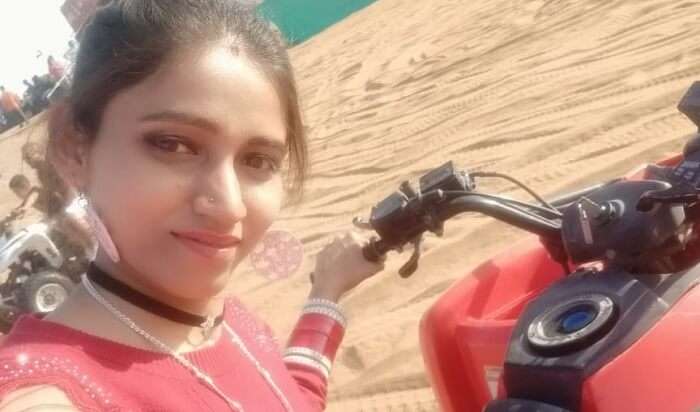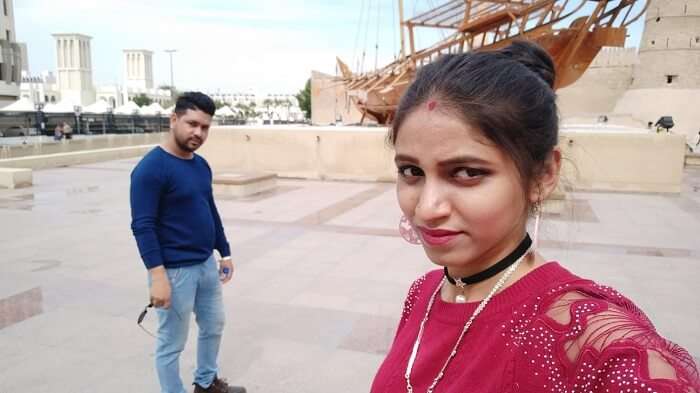 After already having so much in our palettes, our expectations were raised to another level. Desert safari and camping were one of the most cherished experiences on the trip. The adventure began with dune bashing and desert drives. We stopped in the middle of the desert for photo taking. Later we arrived at our campsite. We indulged in camel riding, sand boarding, henna painting, shisha smoking. Buffet dinner and refreshments were a treat in the evening. Dinner was followed by traditional dances like Tanoura dance and belly dance. We had a fun time relaxing and enjoying.
Ideal For: Couple, Families
5. Ferrari World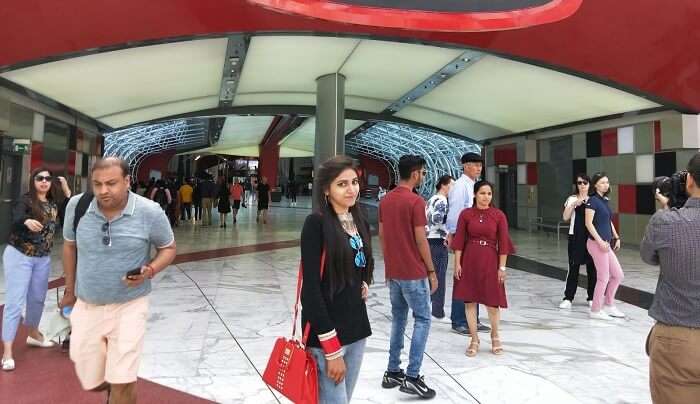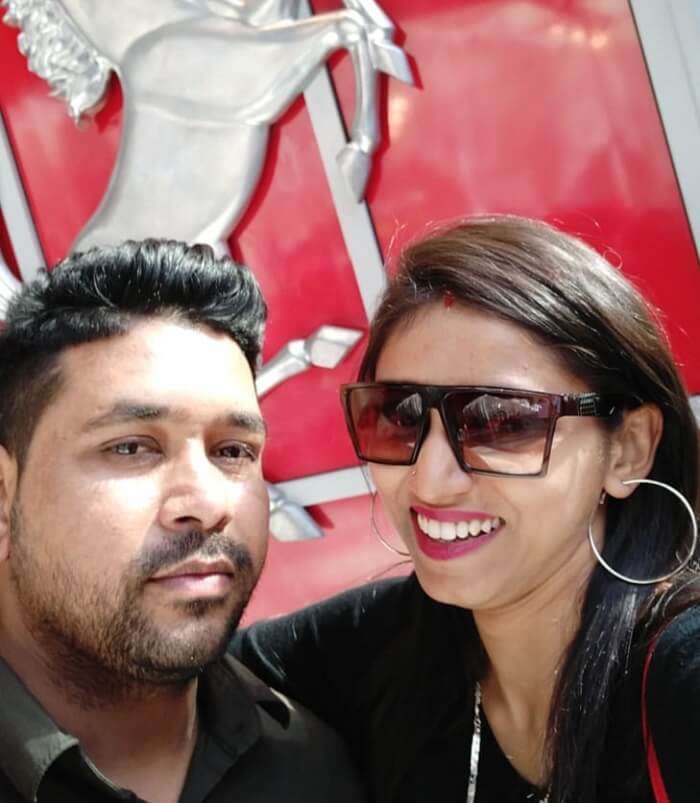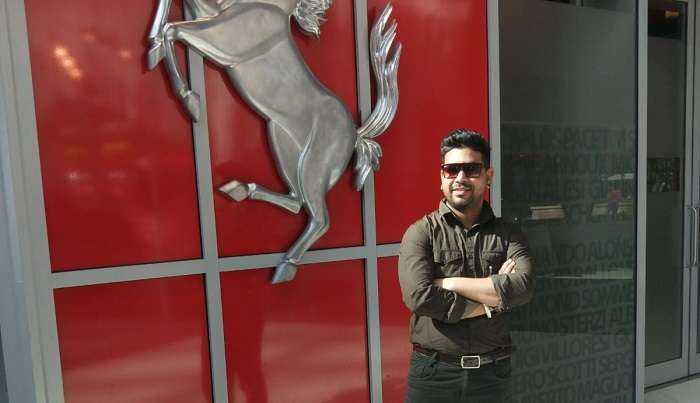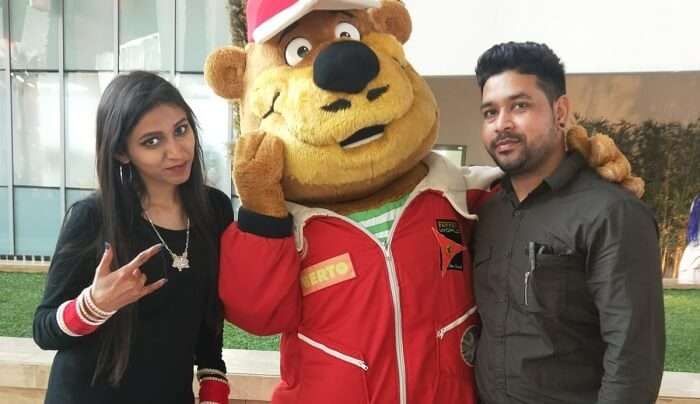 Our Dubai 5 days trip ended with our visit to Abu Dhabi where we went to Ferrari World Theme Park on Yas Island. Having something for every age and skill, the adventurer in us came to life. We experienced the fastest roller coaster and were thrilled after taking a ride in Formula Rossa. We drove along the picturesque Corniche area and took photos at Emirates Palace Hotel. Later, we decided to indulge in some peace and tranquility and took a trip to the Sheikh Zayed Mosque. The tranquil ambiance, breathtaking architectural style, and exquisite views of the gold chandelier was a great site. We were sure to add Ferrari World into our places to visit in Dubai in 5 days in Dubai.
Ideal For: Solo Traveler, Kids, Families
 Nightlife In Dubai: What's In The Store For The Kind Of Traveler You Are!
Our Hotel In Dubai
During our 5 days in Dubai, we stayed at the City Max Hotel Bur Dubai. It was a budget-friendly property and with all the necessary amenities. Facilities like gym and a rooftop pool were available at the accommodation. A plethora of dining choices were available onsite. The rooms were clean and spacious and in good condition. The ensuite bathrooms were also clean and equipped with essential toiletries.
What To Pack For International Travel
If traveling to Dubai, you need to pack exactly whatever you would pack for any other destination. pack the best of your clothes, dresses, skirts, fitted clothes, maxis, shirts, t-shirts, trousers and more. Just make sure that whenever you visit any religious place, you need to cover your knees and shoulders. Pack comfortable shoes as you would be walking around a lot.
Food In Dubai
Dubai has an exciting food scene. The Arabic food we enjoyed on the cruise was immensely delicious. We enjoyed the taste of authentic Arabic food. One would also find a variety of Indian restaurants in Dubai. However, the food at the Dubai mall is very expensive. But you can always go for options like KFC and McD around. We made the most of our 5 days in Dubai trip by feasting on delicious cuisines here.
Dubai Tips For Travelers
Dhow Cruise dinner is a must-have.
Ferrari World is the best place for people to take adventure rides.
Travelers are advised not to get fooled by the local street vendors
Western dresses are allowed in Dubai except in the Mosque
Travelers must experience camping and desert safari at Abu Dhabi
Our Experience With TravelTriangle
TravelTraingle planned a blissful Dubai 5 days trip. We got timely responses from the folks and even on our trip, they took regular follow-ups. Everything was well-planned within a budget and we loved how we were able to experience the most on our 5 days trip to Dubai.
 Is It Safe For Females To Take A Solo Trip To Dubai? Sushmita Says 'Hell Yeah'
Dubai with it's glistening skylines, lavish hotels, and ever welcoming hospitality is sure to offer you an enjoyable stay. If you want to explore the beauty of a fantastic city, plan a trip to Dubai with TravelTriangle and enjoy with your friends and family.
Answering Your Common Queries About Dubai
What can one do in Dubai for 3 days?
On your 3 days trip to Dubai, you can visit popular attractions like Burj Khalifa and the Sheikh Zayed Mosque. If you are an adventure seeker, Ferrari World in the perfect place for you to include in your itinerary. You can also board on the Dhow Cruise for a romantic dinner.
What is the best time to go to Dubai?
Winter is the best time to visit Dubai. One can plan a vacation in the months between November to April. Dubai shopping festival in February is the best month to visit Dubai.
Are women required to wear Burkinis at every tourist place in Dubai?
No, women can dress the way they like in Dubai. However, one must take care of their dressing while visiting the mosque.
What is the local mode of commuting in Dubai?
One can take the metro in Dubai. However, taxis are also cheaper in the city.
Is shopping in Dubai a good idea?
Yes, one will find a variety of International brands in Dubai. Travelers can also find good clothing in the local markets of the city. Besides that, woven carpets and handmade artifacts are the popularity of Dubai.
Can you wear shorts in Dubai?
Yes, it is perfectly okay to wear short dresses, shorts, and fitted clothes in Dubai. But is you are visiting a religious place, people are requested to dress conservatively.
Is it safe to walk in Dubai at night?
One of the most popular beaches and other famous places are safe to walk in at night. However, it is best to avoid industrial areas.
Looking To Book An International Holiday?
Book memorable holidays on TravelTriangle with 650+ verified travel agents for 65+ domestic and international destinations.
---
Comments
comments