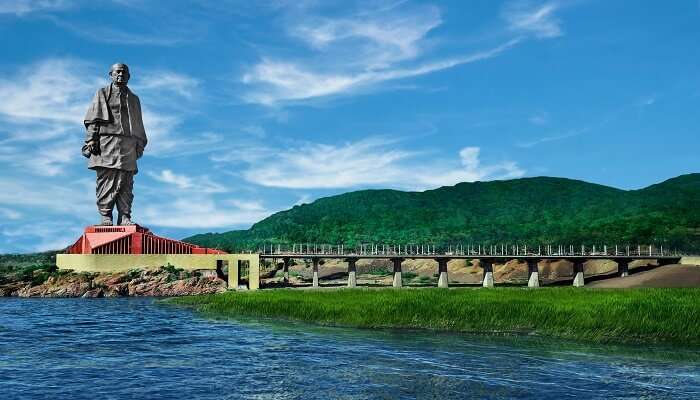 Significant for being the birthplace of Mahatama Gandhi and housing several excerpts from his life still, there are many places to visit near Gandhinagar, a city that lies on the banks of the Sabarmati River approximately 23 km away from Ahmedabad. While covering more than 50% of the area with trees, the destination takes pride in being the greenest capital city in Asia. Although the capital of Gujarat features numerous attractions like Akshardham Temple, Adalaj Stepwell, etc., there's more that the location offers. Lying a few kilometres away are some fascinating places to visit near Gandhinagar like Vadodara, Ahmedabad, Bhavnagar, etc. that boast of a plethora of attractions ranging from palaces to gardens and museums. Let us take you through some of the best locations near Gandhinagar that you can explore on your next vacation.
10 Places to visit near Gandhinagar
There is a myriad of places you can visit while travelling to Gandhinagar. Check out some of the best ones that you can add to your itinerary:
1. Ahmedabad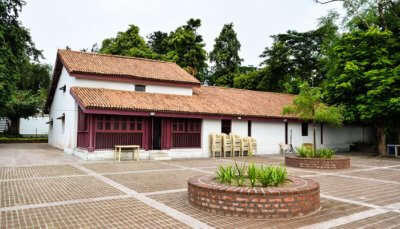 Situated on the banks of the Sabarmati river, Ahmedabad or Amdavad is famous for its cotton textiles, diamond cutting, and toothsome Gujarati snacks. Housing fascinating spots like Auto World Vintage Car Museum and Calico Museum of Textiles, and Sunset Drive-In Cinema, the destination makes an ideal hub for vacationers of all age groups. Besides this, the place is also home to Mahatama Gandhi's peaceful abode called Sabarmati Ashram where several excerpts of his life and teachings are present. If you are seeking the best places to visit near Gandhinagar within 50 km, Ahmedabad should be your first choice.
Distance from Gandhinagar: 26.6 km
Places to visit: Sabarmati Ashram, Bhadra Fort, Jama Masjid, Sarkhej Roza, Shah-e-Alam's Roza, Vastrapur Lake, Kankaria Lake
Things to do: Watch a movie at the drive-in cinema, enjoy water rides on Kankaria Lake, spend a day at the Science City
How to reach: You can opt for a state board bus and complete the journey in only 30 minutes. However, the most convenient way is to hire a taxi and cover the half an hour journey easily.
20 Best Things To Do In Gujarat On A Vacation In 2022!
2. Vadodara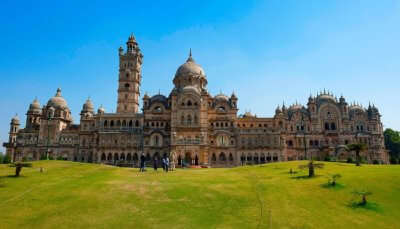 Located on the banks of the river Vishwamitri, Vadodara is best known for its magnificent palaces, art galleries, lakes, temples, and more. The destination comes alive, especially during Navratri festivities that fall during the months of October or November. Attractions in Vadodara like Makarpura Palace and Laxmi Vilas Palace lets one bask in the history of Vadodara, whereas Thol Bird Sanctuary and Sardar Patel Zoological Park offer a wonderful experience for animal lovers. While boasting several palaces, museums, and lakes, Vadodara is indeed one of the best weekend places near Gandhinagar.
Distance from Gandhinagar: 133.0 km
Places to visit: Sayaji Baug, Lakshmi Villas Palace, Sur Sagar Lake, Vadodara Museum and Picture Gallery
Things to do: Explore history at Lakshmi Villas Palace and Nazarbaug Palace, enjoy boating at Sursagar Lake
How to reach: To reach Vadodara from Gandhinagar, you can either book a train or hire a taxi that takes around 2 hours to complete the journey.
3. Bhavnagar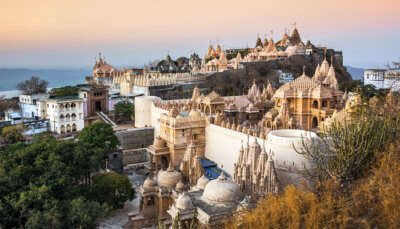 Founded in 1724 by Bhavsinhji Takhtasinhji Gohil, Bhavnagar is a place where the old world meets the new world. Enhancing its charm is the Nilambagh Palace where the royals of the Gohil clan spent their opulent times. Besides this, spots like Gaurishankar lake allows visitors to relax their senses with a serene ambience. Apart from being one of the best picnic places near Gandhinagar, Bhavnagar is also home to the world's largest ship breaking yard that lies in Alang.
Distance from Gandhinagar: 195.1 km
Places to visit: Barton Library And Museum, Gandhi Smriti, Nilambagh Palace, Victoria Nature Park, Gaurishankar lake
Things to do: Witness wildlife at Victoria Nature Park, try water activities at Gopnath Beach, visit Shri Swaminarayan Mandir
How to reach: You can board a train from Gandhinagar Capital Railway Station that takes around 6 hours to complete the journey. Besides this, buses from GSRTC or private companies are also available and take around 5 hours. However, if you are seeking the fastest way, then opt for a cab that will take you to the destination in only 3.5 hours.
17 Famous Festivals In Gujarat To Celebrate In 2022 With Joyous Fervor
4. Anand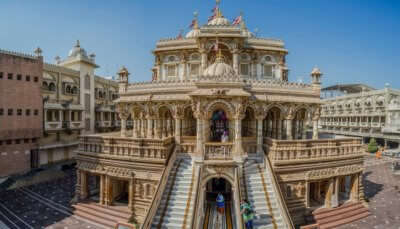 Also called the milk capital of India, Anand is primarily famous for its milk production centres and dairy products. With attractions like Bharuch Fort and Jama Masjid, the place boasts a bit of rural touch. From visiting the famous Amul Milk factory to spending some soulful moments at temples like BAPS Shri Swaminarayan Mandir and Vaijnath Mahadev Temple, you can easily spend 2-3 peaceful days here. So, if you are hunting for a place to visit near Gandhinagar within 100 km, add Anand to your itinerary.
Distance from Gandhinagar: 97.4 km
Places to visit: Sardar Patel and Vithalbhai Patel Memorial, Amul Factory, Kanewal Lake, Hanumanji Temple
Things to do: Take a tour of Amul factory, spend some peaceful moments at ISKCON Temple, visit Flo Art Gallery for handicrafts
How to reach: The train from Gandhinagar to Anand takes approximately 2.5 hours, whereas the bus can complete the journey in 1 hour 50 minutes. If you are opting for a bus, you need to board one to Ahmedabad and change another to reach Anand.
5. Palanpur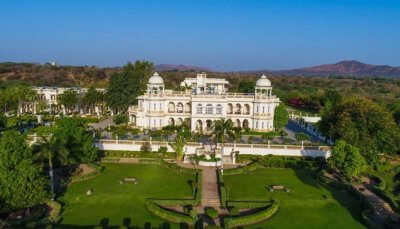 Image Courtsey: Balaram Palace
Palanpur is a city and municipality lying in the Banaskantha district of Gujarat. Showcasing Aravalli on one side and Sabarmati river on the other, Palanpur is undoubtedly one of the best places to visit near Gandhinagar. Architectural shrines and architectural marvels greatly exude the charm of this place. And, attractions like Balaram Mahadev Temple, Pataleshwar Mahadev Temple, and Kedarnath Mahadev speak volumes of it. If you happen to be a wildlife lover, make sure to visit Jessore Sloth Bear Sanctuary to spot animals like sloth bears, Rhesus macaque, porcupine, Indian civet cat, striped, hyena, and more.
Distance from Gandhinagar: 129.4 km
Places to visit: Balaram Palace, Jessore Sloth Bear Sanctuary, Motu Derasar, Varai Dham Golden Temple
Things to do: Visit temples including Mota Ramji Mandir, Pataleshwar Mahadev Temple Balaram Mahadev Temple, Spot wildlife at Jessore Sloth Bear Sanctuary
How to reach: You can board a direct bus to Palanpur from Gandhinagar and reach the destination in around 3 hours. However, the fastest way is to reach via train and cover the journey in only 2 hours.
10 Best Hotels In Vadodara For A Comfortable & Memorable Stay
6. Udaipur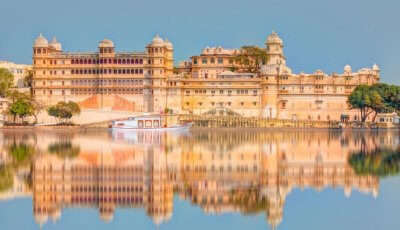 Famously known as the "City of Lakes", Udaipur is home to palatial forts, wildlife sanctuaries, intriguing museums, and palaces. While featuring a plethora is attractions like Ambrai Ghat, Lake Pichola, City Palace, Tiger Lake, Udaipur Solar Observatory, Haldighati, Udaipur makes an ultimate weekend place near Gandhinagar. For wildlife enthusiasts or photographers, there's no better place than Kumbhalgarh Wildlife Sanctuary and Sajjangarh Wildlife Sanctuary. From savouring traditional Rajasthani delicacies at Jagat Niwas to enjoying a helicopter joyride, there are numerous things to do in Udaipur that solo, as well as family vacationers, can enjoy.
Distance from Gandhinagar: 248.1 km
Places to visit: Saheliyo Ki Bari Garden, Jagat Niwas, City Palace, Jagdish Temple
Things to do: Enjoy boating on Lake Pichola, shop for souvenirs at Hathi Pol Bazaar, witness classical cars at Vintage Car Museum Udaipur
How to reach: You can board a direct train from Gandhinagar Capital Railway Station to Udaipur Railway station. The journey takes around 7.5 hours. There are also GSRTC buses that operate from Gandhinagar to Udaipur and complete the distance in 6.5 hours. Private cabs or taxis are available too that will take to to the destination in around 4.5 hours.
7. Mount Abu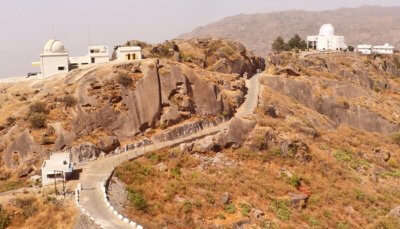 The only hill station in Rajasthan, Mount Abu lies in the Aravalli Mountain range and sits at a height of 1,220 m above sea level. The destination is best known for its Dilwara Jain temples, Nakki Lake and some historical sites like Achalgarh Fort, Toad Rock, and more. Mount Abu is a year-round destination as the temperature ranges between 12°C to 29°C that makes sightseeing experience all the more exciting.
Distance from Gandhinagar: 198.5 km
Places to visit: Nakki Lake, Dilwara Jain Temples, Mount Abu Wildlife Sanctuary, Peace Park
Things to do: Enjoy boating in Nakki lake, go for a jungle safari, go on a temple tour
How to reach: You can hire a private taxi and reach Mount Abu in approximately 4 hours. Besides this, there are regular trains available from Gandhinagar Railway Station to Abu Road Railway Station. The journey takes about 4.5 hours.
10 Amazing Resorts In Gujarat That'll Make Your Stay Here Memorable
8. Morbi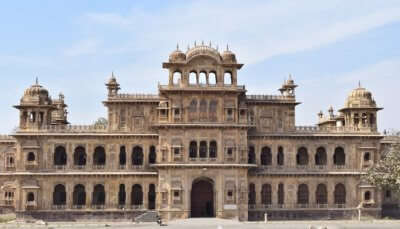 Lying on the banks of, Morbi is less than a decade-old district that is home to 5 talukas or tehsils including Morbi, Maliya, Halvad, Tankara, and Wankaner. Famous tourist spots like Art Deco Palace, Julto Pul Hanging Bridge, and more showcase the unique blend of Indian and European architecture. Another attraction is the Mani Mandir where one can witness the traditional carvings inspired by Rajasthani architecture. Besides this, Morbi district enjoys proximity to Surendranagar district in the east, Jamnagar district in the west, Kutch district in the north, and Rajkot district in the south.
Distance from Gandhinagar: 214 km
Places to visit: Mani Mandir, Wankaner Palace, Wellingdon Secretariat
Things to do: Go on a historical tour, click pictures at Julto Pul Hanging Bridge
How to reach: You can board a train from Gandhinagar Railway Station to Morbi railway station and complete the journey in around 4.5 hours. Hiring a taxi is another great option that will take you to the destination in less than 4 hours.
9. Sardar Sarovar Dam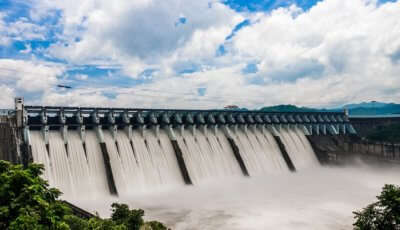 One of the best tourist spots near Gandhinagar, Sardar Sarovar Dam is a concrete gravity dam lying on the Narmada river in Narmada District, Gujarat. Then-Prime Minister Jawaharlal Nehru laid its foundation in 1961 and its construction began in 1987. However, it took approximately 56 years to complete the dam amid several disputes and in 2017, Prime Minister Narendra Modi inaugurated the dam. Notably, Sardar Sarovar Dam supplies electricity and water to Gujarat and its neighbouring states like Rajasthan, Madhya Pradesh, and Maharashtra.
Distance from Gandhinagar: 222.6 km
Places to visit: NA
Things to do: Visit nearby attractions like Ratanmahal Sloth Bear Sanctuary, Shoolpaneshwar Wild Life Sanctuary, Dediapada Range, and more
How to reach: There are 3 ways to reach the dam from Gandhinagar including bus, cab, and train. If you want to save time, opt for a cab ride that takes around 3 hours to complete the journey.
12 Places To Visit In Kutch In December For An Amazing Travel Experience
10. Pavagadh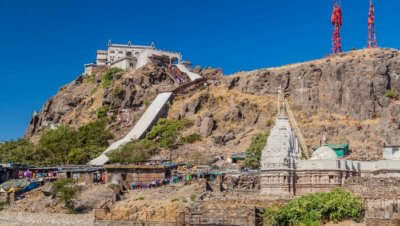 Pavagadh is one of the most religious places in Gujarat that boasts rich history from the periods of Treta Yuga and Dvapara Yuga. The spectacular hill station lies 762 meters above sea level and it's primarily famous for its primordial Mahakali Temple. Another famous spot is the Champaner-Pavagadh Archaeological Park which is also a UNESCO World Heritage Site. The park is a huge township that exhibits a unique fusion of Islamic and Hindu styles.
Distance from Gandhinagar: 173.1 km
Places to visit: Mahakali Temple, Champaner-Pavagadh Archaeological Park, Navlakha Kothar, Teliya Talav
Things to do: Visit several mosques and temples, explore history at Champaner-Pavagadh Archaeological Park
How to reach: The fastest way to reach Pavgadh from Gandhinagar is by a car ride that takes around 2.5 hours via NE1 route. However, you can also opt for state buses that regularly ply on this route.
If you are already encouraged for a weekend trip from Gandhinagar, head out to any of these places. Apart from the above-mentioned places, Sardar Sarovar Dam, Champaner, Kheda, and Ambaji are some of the best places to visit near Gandhinagar from spotting exotic wildlife to traversing through history, you can indulge in numerous experiences. So, plan a trip to Gujarat and spend a cosy weekend with your loved ones.
For our editorial codes of conduct and copyright disclaimer, please click here.
Frequently Asked Questions About Places to visit near Gandhinagar
Which are the best places to visit near Gandhinagar for one day?
There are numerous places near Gandhinagar that you can cover in one day. Some of the popular ones include Ahmedabad, Rajkot, Bhavnagar, Palanpur, Vadodara, Jamnagar, Porbandar, Amreli, Morbi, Anand, Gondal, Dhoraji, and more.
Is travelling to Gujarat safe amid the current Covid situation?
Yes, you can safely travel to Gujarat while following all the safety protocols. When in public, make sure to wear a mask, sanitize your hands regularly, and maintain a required social distance. Also, make sure to check the latest news before heading to the state.
What is the best time to visit Gujarat?
The best time to visit Gujarat is from November to February when the temperature oscillates between14°C-30°C. The delightful weather makes the sightseeing and outdoor experiences quite pleasing.
Which are the best Gujatri dishes to try?
If you wish to try the authentic taste of Gujarati cuisine, try some of these delicacies:
1. Undhiyu
2. Gujarati Samosa
3. Bardoli ki Khichdi
4. Dhokla
5. Gujarati Kadhi
6. Dal Dhokli
7. Methi ka Thepla
8. Khandvi
Where can I go in Gandhinagar for sightseeing?
Some of the best attractions to visit in Gandhinagar include:
1. Akshardham Temple
2. Adalaj Stepwell
3. Sarita Udyan
4. Craftsmen's Village
5. Indroda Nature Park
People Also Read: