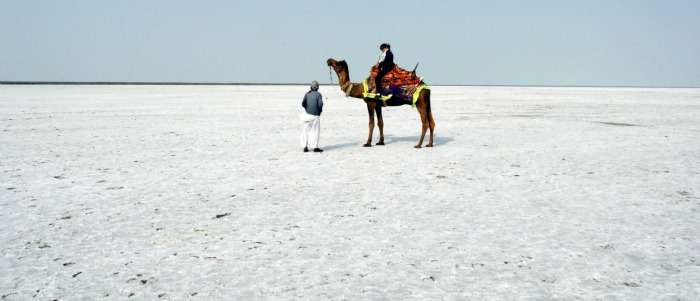 The Garba dance, the full moon, and the desert blended with salt, with the dancers swaying to the tunes of the folklore all night. Roaming around the state trying to understand the heritage and the rich culture as you binge on the best Dhoklas, Teplas, and Handwas, there are so many things to do in Gujarat. Gujarat tourism is vast and vivid as the history and heritage of the state is rich and diverse. Along with visiting the destinations and attractions per se, Gujarat offers a plethora of other things to do, making your trip worthwhile every single second.
Top 10 Things To Do In Gujarat
Traveling to a place like Gujarat and coming back without doing the below-mentioned things would be a major sin. So, here we are to take you on a virtual tour of the state through our list of things to do in Gujarat:
1. Sabarmati Riverfront – Take An Evening Walk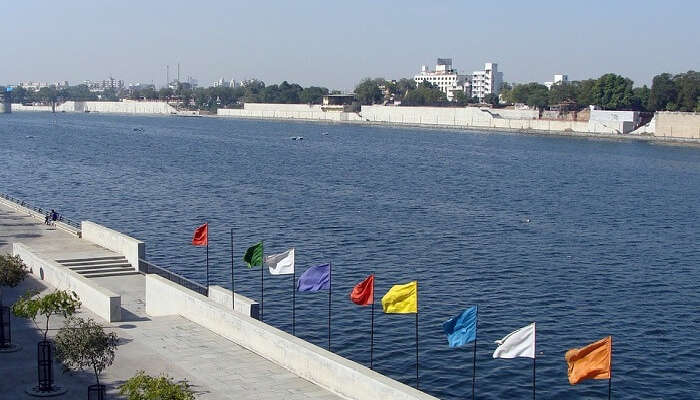 Experiencing the view of the Ahmedabad city from the Sabarmati riverfront is unbeatable, and that can be enjoyed at its best from this place. Well, every place has its beauty, so does the Sabarmati Riverfront too. Walking down this place with your spouse enjoying the sight of the lush green parks and the clean walkways is one of the top things to do in Gujarat.
Must Read: 30 Incomparable Places To Visit In Gujarat For A Memorable Trip In 2020
---
Gujarat Holiday Packages On TravelTriangle
---
2. Dandi – Explore The History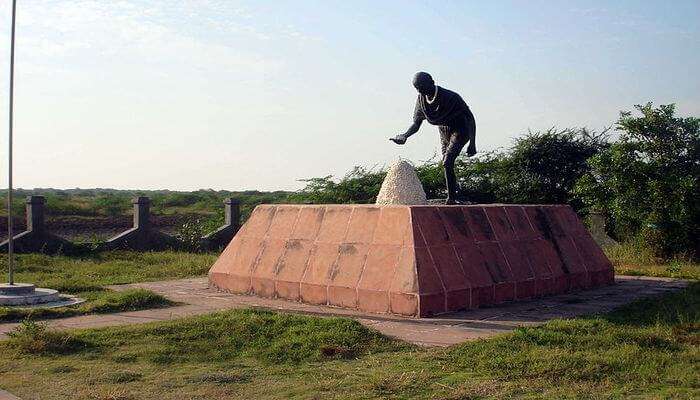 We must have all studied history and the incidence of 'Dandi march.' If Mahatma Gandhi is your role model, you are then certainly in the right place. Dandi is a perfect amalgamation of historical and fun tourism. Walking on the silky soft sand barefoot experiencing the clear water and the blue sky during the evenings can be the best thing to do. Understanding the history of Dandi March and reminiscing the valour of the freedom fighters then, can be a perfect thing to do when you are walking on the shore.
Suggested Read: 37 Intriguing Tourist Places In Ahmedabad For Your Gujarat Getaway In 2020
3. Girnar – Hiking And Temple Visits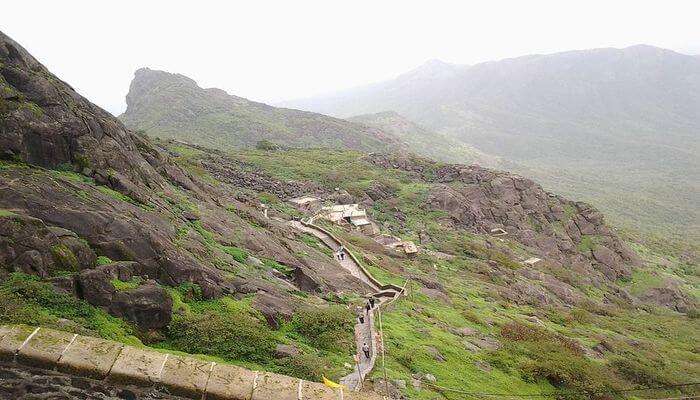 Gujarat is a land of rich heritage and culture on the one end and the other end it is tucked safely in the bosom of the Mother Nature. With Gir forest on one end and the fascinating salt desert of Rann of Kutch on the other, Gujarat mesmerizes all the travelers. While most of the people come to Gujarat to eat, dance, and explore, there are a few others who are interested in hiking and trekking.
For such people, Girnar is an apt place to go to because being a pilgrim and a trekker can happen all at once when you start hiking the hills of Girnar. The hills at Girnar are filled with a wide variety of Flora and Fauna and offers magnificent and sweeping views of the surroundings. So, for all the trekking enthusiasts, hiking in Girnar is one of the things to do in Gujarat.
Suggested Read: Shopping In Gujarat: 10 Incredibly Awesome Places That Will Tempt You To Splurge More!
4. Vadla – Bird Watching And Photography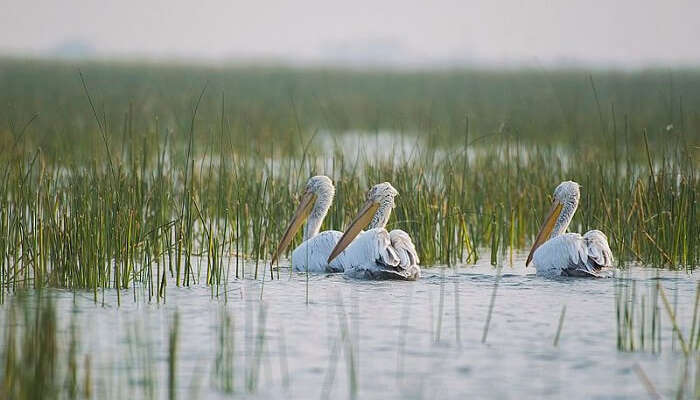 Are you a wildlife photographer, and are you keen on bird photography? When you are in Gujarat, you must take time out to watch the migratory birds at Vadla and take pictures of them till your heart's content. Also, birding at Vadla can be a great experience as you would not find many people, and clicking photographs can be a lot more fun. So, this is a great thing to do in Gujarat.
Most of the other sanctuaries in Gujarat are crowded all the time, and it becomes highly impossible even to take a tour and enjoy the place but, at Dandi, one can enjoy the sublime ambiance and spend as much time as you want without being disturbed. So, don't you think this could be one of the most famous things to do in Gujarat?
Suggested Read: Top 8 Places To Visit In Gujarat During Monsoon To Enjoy This Season In 2020
5. Anand – Learn Chocolate Making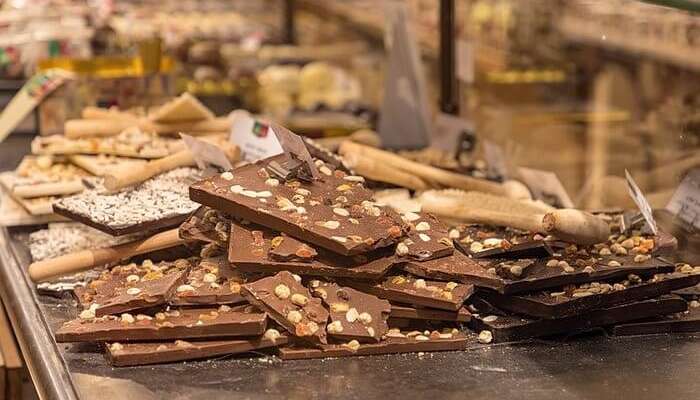 There is probably no one who would refuse to binge on chocolates. Well, if you can get to experience the movie "Charlie and the Chocolate Factory" in real at our own Amul factory in Gujarat, located in the "Milk Capital of India," Anand why not list that out as one of your unique things to do in Gujarat. Well, when you are in Anand, you could also visit Swamy Narayan Mandir, which is the major landmark of Gujarat. When you take a tour of the temple, the best thing to do in Gujarat is to admire the architecture of the temple. It indeed shows the skills and craftsmanship of the artists in Gujarat.
Suggested Read: 10 Best Places To Visit In Gujarat In Summer For An Enthralling Holiday
6. Bhuj – Visit The White Desert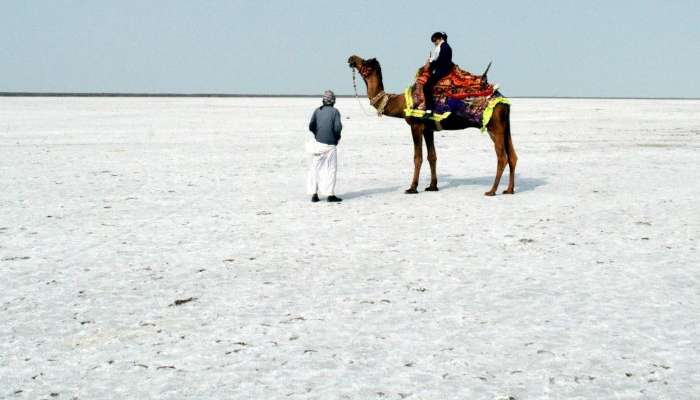 For all those solitude lovers, here is your chance to experience a fantastic landscape as you take a walk in the salt desert at Bhuj. The white salt and the blue sky stretching endlessly from the Indus River till the Gulf of Kutch is a feast to the pair of eyes. So, this can be one of those top things to do in Gujarat. Also, another thing that you must do when you are here is to take part in the cultural performances and the dances that would be held as part of the festival.
Suggested Read: 10 Historical Places In Gujarat That Uncover A Legendary Past
7. Beyt – Indulge In Water Sports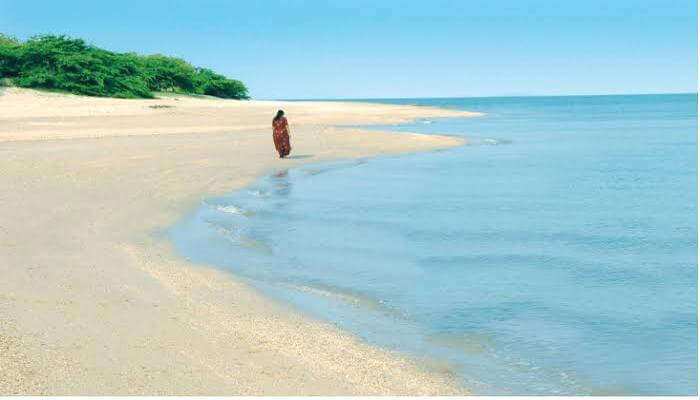 Are you sitting and wondering if there are any sports activities to bring the water lover in you out when you are in Gujarat? Well, go to Beyt Island when you visit Dwarka and unleash the adventure side of yours. Apart from indulging in water sports, you can go around enjoying the coral reefs and the view from the white sand beach. So, this place would immediately sort the doubt of what things to do in Gujarat at once?
Suggested Read: 6 Haunted Places In Gujarat That Will Scare You Out Of Your Wits In 2020
8. Law Garden – Buy Bandhej Sarees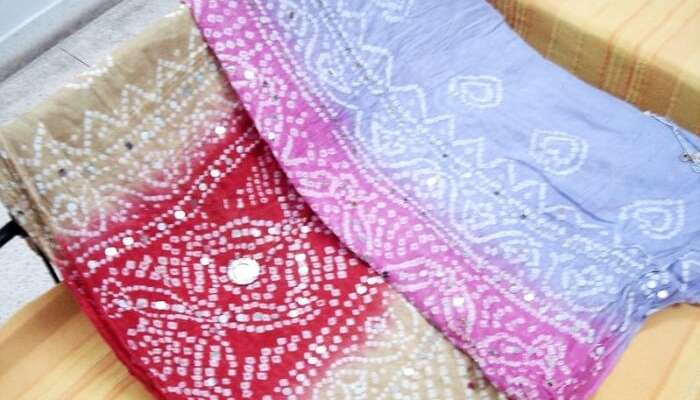 If you have come back from Gujarat without shopping for sarees then, it's mandatory that you revisit this place once again. When you are here and wondering what things to do in Gujarat, you must step out to the Lawn Garden, especially during the evenings. Those colourful and vibrant sarees would light up your mood within an instance, and you would be walking out carrying bags full of Bandhej Sarees. Gifting these sarees to your friends and relatives can make you feel happy and also narrate a lot of stories about your trip to Gujarat.
Suggested Read: 10 Exciting Things To Do In Saputara To Make Your Gujarat Getaway More Fun!
9. Somnath Beach – Beaching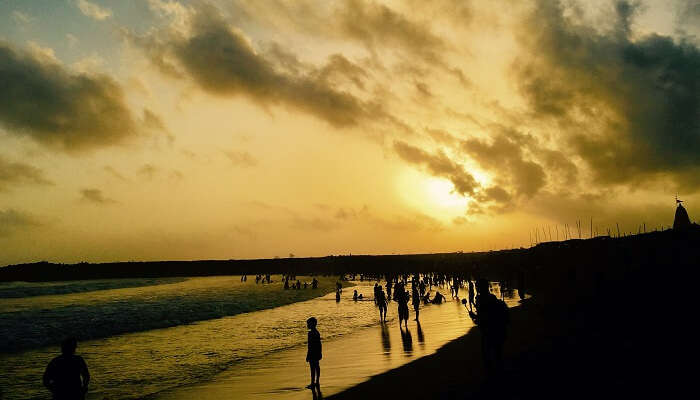 Unwinding and letting yourselves lose to enjoy the lovely sunset on a camel ride at the Somnath beach can be the best things to do in Gujarat. Watching the sun play hide and seek with the waves making them sparkle is one of the bewitching sights to behold. This can be a perfect spot if you are on a romantic trip with your spouse or BAE.
Suggested Read: 15 Famous Festivals In Gujarat To Celebrate In 2019 With Joyous Fervor
10. Gandhinagar – Shop For Handicraft Items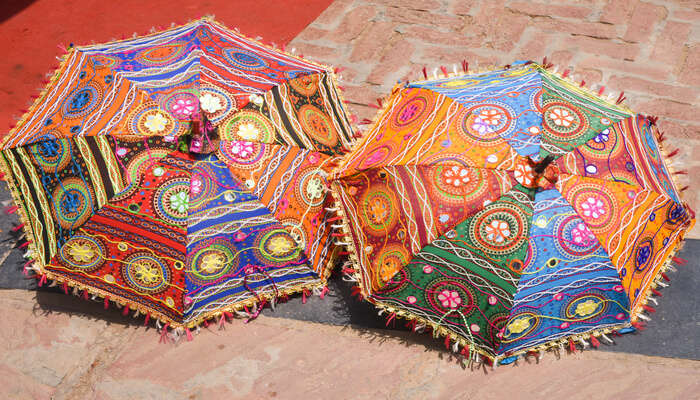 Gujarat is known for its splendid artistry. So, when you are here shopping, handicraft items are one of the most famous things to do in Gujarat. Be it wooden carvings, sculptures, or handcrafted fabrics, Gujarat has it all. Walking down the village in Gandhinagar is a must for all those who are interested in trinket collection. Here is an extensive list of unique things to do in Gujarat for all who are planning your vacation to this beautiful place. This list is sure to give you a better idea of planning your trip wisely to enjoy every single second of it.
Further Read: International Kite Festival In Gujarat 2017: Join The Uttarayan Celebrations This January
Frequently Asked Questions About Things To Do In Gujarat
Q. Is Gujarat famous for street food?
A. Yes, Gujarat is famous for street food, and they are known for some of their sweet delicacies. Hence, one can go on a gastronomic tour in Gujarat.
Q. What are the best handicraft materials to buy from Gujarat?
A. One can buy Bandhani sarees, Rabari Embroidered fabric, and paintings of different types like the Pithora and Rogan. These are the best things to do in Gujarat and everyone must indulge in these activities when they are here.
Q. What are the famous shopping streets in Gujarat?
A. Law Yard Market, Sindhi Market, Lal Darwaja, and Rander Road are some of the major shopping streets in Gujarat that every shopaholic must visit. Try these places to visit in Gujarat at night.
Q. What are the famous delicacies of Gujarat?
A. Dabeli, Sev Usal, Fafda and Jalebi, Dhoklas, Handwas, Teplas, and Aam Shrikhand with Mango Salad are some of the best delicacies that you must try when you are in Gujarat.
Q. Are there any palaces and Museums in Gujarat?
A. Yes, there are many museums in Gujarat. Some of the most famous ones are the Kutch Museum, Auto World Vintage Car Museum and Watson Museum is the ones to go to, and these can be one of the things to do in Gujarat.
Q. Is walking on the beach allowed after sunset in Gujarat?
A. Yes, the beaches here are safe, and you can go walking on the beach after sunset; however, being safe is essential.
Q. Is it challenging to climb Girnar, and is it fine to take small children on this hike?
A. Yes, it might be a little challenging to hike Girnar hills as one needs to climb 10,000 steps to reach the top approximately. It might be difficult for children to walk to this hill.
---
Looking To Book A Holiday Package?
---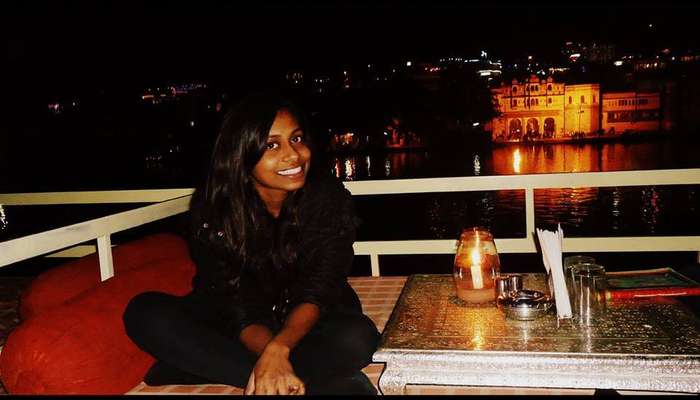 Comments
comments