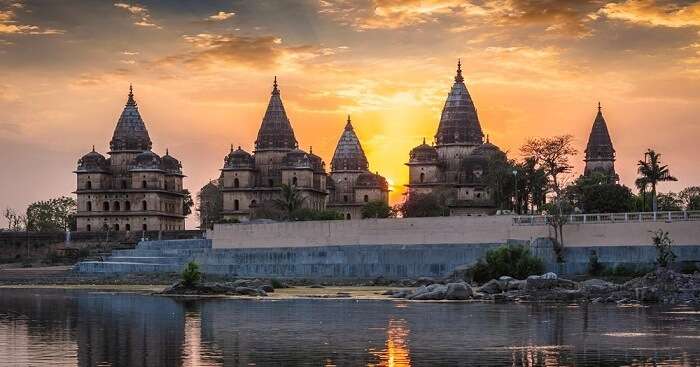 Gwalior is a city of hidden historical treasures, architectural wonders and museums that are a testament to its glorious past. After you have explored the abundant charms of this interesting city, there are some wonderful places to visit near Gwalior that will take your travel experience to another level.
With a picturesque picnic spot very close to the city, a National park teeming with flora and fauna and mesmerizing historical sites like Orchha and Bateshwar to marvel at our incredible heritage, you will be spoilt for choices of tourist places around Gwalior.
9 Best Places To Visit Near Gwalior
If you're planning to make a visit to Madhya Pradesh anytime soon, then make sure to keep these 9 places to visit in Gwalior in your travel list and enjoy the grandeur of the city.
Bateshwar Temple
Tighra Dam
Madhav National Park
Padmavati Pawaya
Orchha
Jhansi
Chanderi
Jahangir Mahal
Bir Singh Palace
1. Bateshwar Temple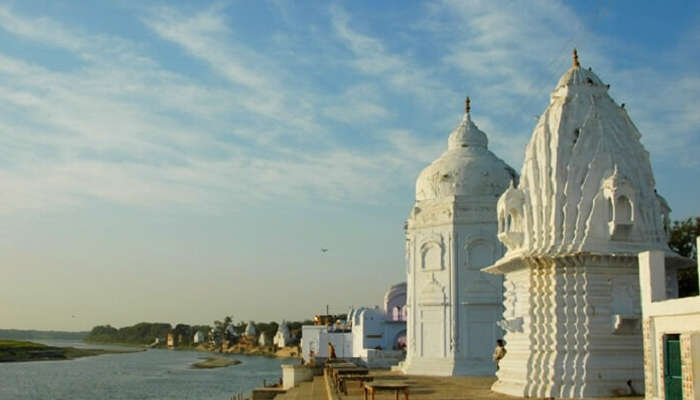 Image Source
Architecture lovers will be amazed to visit this historical site just 40 kilometres away from Gwalior. A group of more than 200 temples excavated and restored by the ASI are truly a hidden treasure waiting to be explored. Built in yellow sandstone by the Gurjara-Pratiharas across the sloping hills of Bateshwar, most of the temples are dedicated to Shiva, Vishnu or Shakti. Named after the Bhuteshwar temple, the largest Shiva shrine at the site, Bateshwar structures display an interesting amalgamation of several different temple building styles. The nearby sites of Mitawali and Padawali are also not to be missed for some more incredible heritage structures.
Ideal for: History, architecture, photography
Suggested Read: 10 Honeymoon Places In Madhya Pradesh Every Couple Should Visit
2. Tighra Dam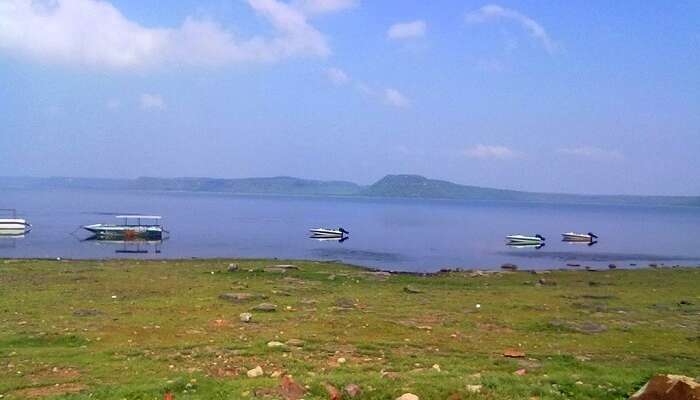 This scenic dam is one of the best picnic spots near Gwalior and a great option for a relaxing day out with friends or family. The placid waters of the Sank River, picturesque views and boating facilities make this an ideal spot for a rejuvenating break from the bustle of the city. An hour's drive from Gwalior, part of which is through some narrow village roads, this oasis of tranquillity also offers a range of boating options and water sports facilities. You could choose between a languid paddle boat ride, a thrilling speed boat trip or some adrenaline rushing water scooter adventure. Follow this up with a quiet packed lunch in the lush green area and breathtaking sunset views to wrap up you picnic at Tighra dam.
Boating timings: 9AM to 5PM. Charges vary from INR 50/person for speedboat and jalpari boat. INR350 for water scooter ride
Ideal for: Nature, Water Sports, Relaxation
Suggested Read: 10 Best Things To Do In Gwalior: The Glittering Gem Of Madhya Pradesh
3. Madhav National Park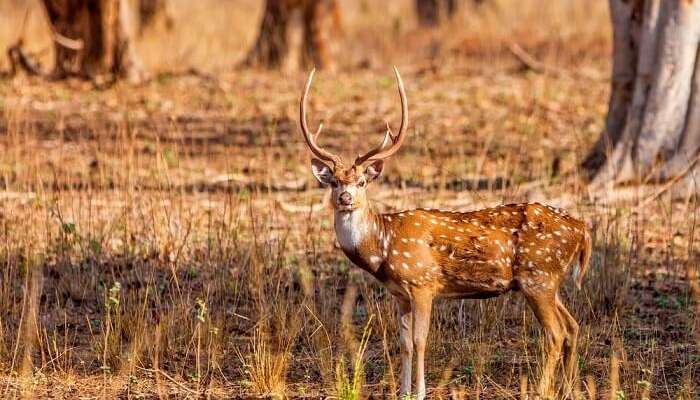 Located around 80 kilometres away from Gwalior, the Madhav national park is an amazing weekend getaway for an authentic wildlife experience amidst thick deciduous forests. Spread over 300 square kilometres of forest and grasslands, the Madhav National park is home to antelopes, sloth bear, Indian gazelle, etc. The national park is also dotted with many historical ruins and 2 beautiful lakes deep inside the forest, making this an excellent outing for both nature lovers and history buffs. With a flourishing wildlife and many bird species near the lake, you can take the 2.5 hours jeep ride through the forest or simply spend a day at the Sankhya Sagar lake at the edge of the forest photographing the migratory birds.
Entry fee: Vehicle with guide costs INR 1100.
Ideal for: Nature, Wildlife, Photography
4. Padmavati Pawaya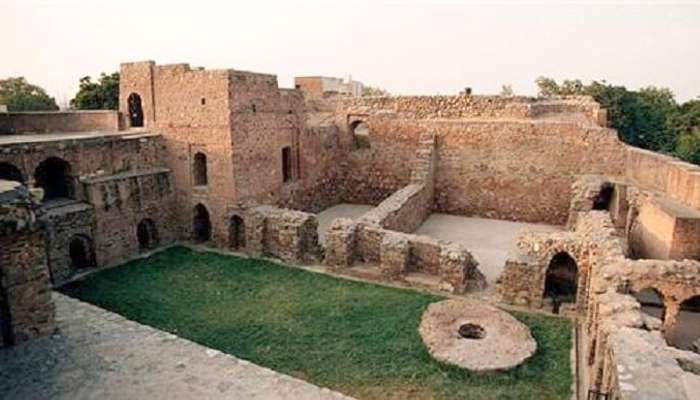 Image Source
This ancient site with the ruins of the magnificent capital city of the Nagas is one of the lesser known places to visit near Gwalior for its historical significance. Strictly for history and archaeology enthusiasts, the ruins are located about 60 kms from the city. Padmavati finds mention in many significant Sanskrit texts including the Puranas The ruins just give you a glimpse into its glorious period of lofty mansions, towers, temples and gardens during the Naga and Gupta rule. Most of the terracotta and stone artefacts like the beautiful palm capital and the image of Yaksha Manibhadra are now displayed at the Gurjari Mahal Archaeological Museum at Gwalior. The Dhumeshawar temple and the Sind waterfall close by are other worth visiting sites.
Ideal for: History, Archaeology, Photography
Suggested Read: 15 Magnificent Places Near Delhi To Turn This Winter Into An Epic Affair
5. Orchha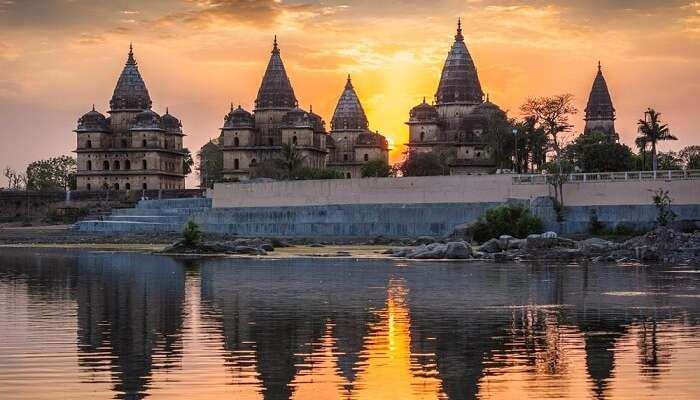 An easy 3-hour drive out of Gwalior stands the magnificent historical town of Orchha with its fascinating fort, palaces, temples and the popular cenotaphs. Amongst all the places to visit near Gwalior, this erstwhile capital of the Bundela rulers on the banks of the Betwa river is the most rewarding destination. The 14 ornate chhatris or cenotaphs dedicated to the rulers along the bank of the Betwa are a sight to behold and must not be missed. The island fort of Orchha houses the Jehnagir Mahal, Raj Mahal and Rai Parveen Mahal each splendid in it s own way. The Raja Ram temple holds great religious significance for the local populace. Also worth visiting are the Laxminarayan temple with beautiful frescoes, Chaturbhuj temple and the Phool Bagh with its unique water ventilation system. The Satdhara where the Betwa river splits into seven streams is a perfect spot for a quick splash in the water and unwinding after traipsing around the town.
Ideal for: History, Architecture, Nature
6. Jhansi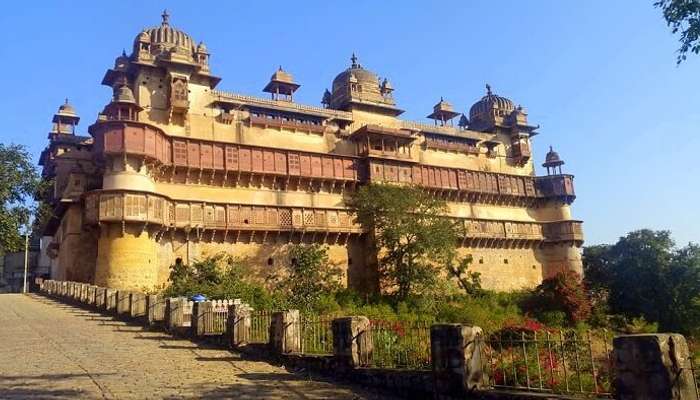 Jhansi's historical significance and the important role it played during the independence struggle has been forever etched into our minds. Having grown up on tales of the brave Queen of Jhansi, Rani Laxmibai, this historical city is great choice when looking for places to visit near Gwalior. The Jhansi fort which stood witness to the battle between Rani Laxmibai and the British Army is a must visit to relive that glorious chapter in history. The mesmerising light and sound show in the evening takes you on a wonderful historical journey and must not be missed. While in Jhansi you can also visit the picturesque Parichha dam for a brush with nature and some tranquil moments.
Ideal for: History, photography
Suggested Read: Gwalior Fort: An Epitome Of Architectural Grandeur
7. Chanderi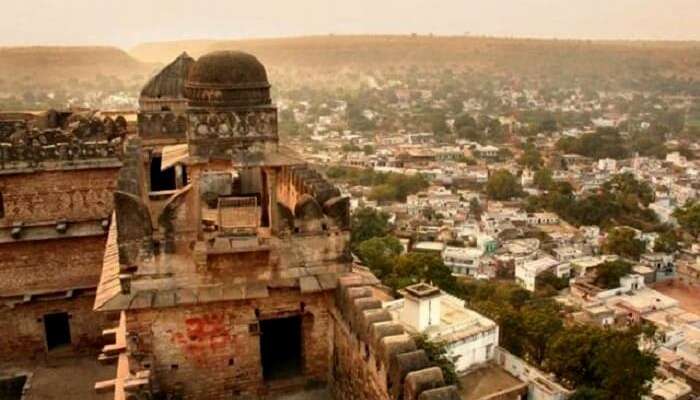 Image Source
Surrounded by hills, forests and lakes Chanderi is a scenic town 200 kilometres away from Gwalior. Dotted by many historical monuments and an important centre for the Jains, Chanderi is best known across the globe for its beautiful hand-woven fabric and sarees. Nothing showcases our country's rich cultural heritage and crafts better than the splendid handlooms. The gossamer silk threads embedded with intricate designs, traditional patterns in vivid colours and the quintessential gold border make the Chanderi fabric a delight to wear and look at. For those seeking a different experience visiting the Chanderi looms and exploring its historical sites, this interesting town is one of the best tourist places around Gwalior.
Ideal for: History, Textile, Shopping
Suggested Read: 4 Best Tourist Circuits In Madhya Pradesh
8. Jahangir Mahal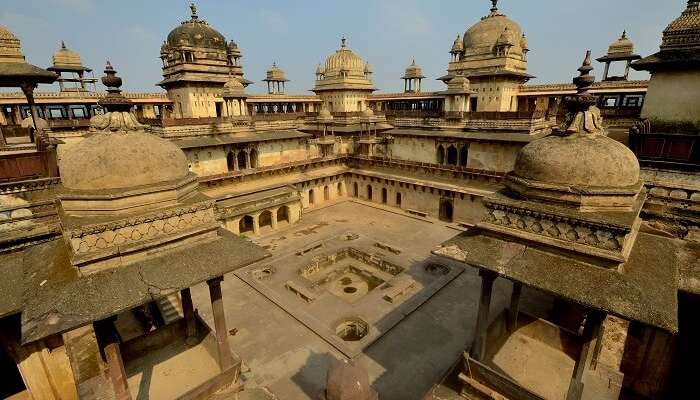 Showcasing the indo-islamic architecture, the Jahangir Mahal in Orchha is a rare combination of beauty and rust. Built in the 17th century by the Bir Singh Deo, this ancient marvel was a symbol of honor to the Mughal emperor Jahangir who visited Orchha for the first time. The monument is considered as a symbol of friendship and its rusted interiors gives the complete vibe of the bygone era.
Timings: 7:30am- 6pm
Entry Fees: INR 5 for Indians, INR 30 for foreigners
Suggested Read: 10 Best Hotels In Gwalior To Make Your Stay Comfortable & Luxurious
9. Bir Singh Palace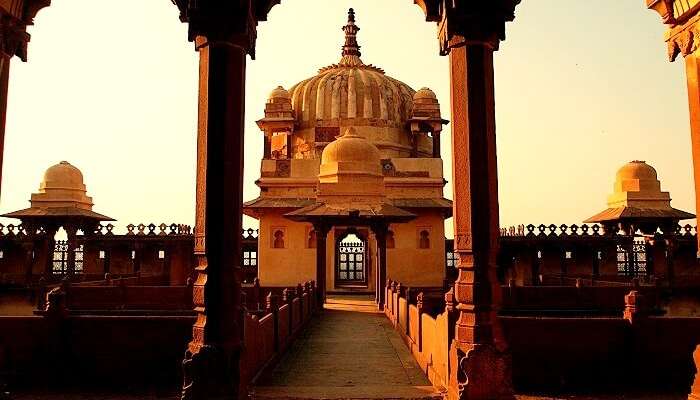 Settled atop a hill, this ancient palace was built in the time of 1614 by King Bir Singh Deo. The architecture of the palace reflects the grandeur and fine artistry of the bygone era. For the people who are visiting Gwalior for the first time can keep this place in their list and witness the beauty of this underexplored gem of the city while looking out for places to visit near Gwalior, Madhya Pradesh.
Timings: 8am-5pm
Location: Next to the Duttiah Lake
Distance from Gwalior: 75 Kms
Further Read: 10 Best Things To Do In Gwalior: The Glittering Gem Of Madhya Pradesh
So if you're a true history buff, then make sure to visit these places in Gwalior. Needless to say, these places offer an exciting and surreal escape from Gwalior. While some can be enjoyed on a weekend, the others are good for a day trip. So what are you waiting for? Pack your bags and get on a journey to explore the bygone era of Gwalior city while traveling to Madhya Pradesh.

Frequently Asked Questions About Places To Visit Near Gwalior
Q. Why is Gwalior so famous?
A. Gwalior is known for a number of historical places like Gwalior Fort, Gujari Mahal, Suraj Kund, Chaturbhuj Mandir.
Q. Which things are famous in Gwalior?
A. If you are going shopping in Gwalior, then there are a number of things you could buy on your shopping spree:
1. Chanderi Silk Sarees
2. Handicrafts like jewelry, handbags, wooden artefacts
3. Maheshwari Sarees
Q. Where is Gwalior situated?
A. Gwalior is situated in Madhya Pradesh, 121 km from Agra and 321 km from New Delhi.
Q. Who is the founder of Gwalior?
A. Ranoji Sindhia is the founder of Gwalior. He founded Gwalior in the 18th century as part of the Maratha Confederacy. It was a significant state at the time when India was colonized.
Q. How do I reach Gwalior?
A. Gwalior Airport is just 8 km from the airport. A number of major trains stop at Gwalior railway station. You will also find a number of buses from major cities like Vadodara, Indore, Bhopal, Jhansi, etc.
Q. Is Gwalior a metro city?
A. Yes, Gwalior has a rapid transit system that was proposed in 2014 but it does not become functional before 2021. So, it does make it a metro city.
Q. How old is Gwalior Fort?
A. Gwalior Fort has existed since the 10 century if you believe the historical documents. However, the inscriptions on the fort walls indicate that the fort has been in existence since the 6th century.
Q. Which rivers flow in Gwalior?
A. Chambal River flows through Gwalior.
Comments
comments