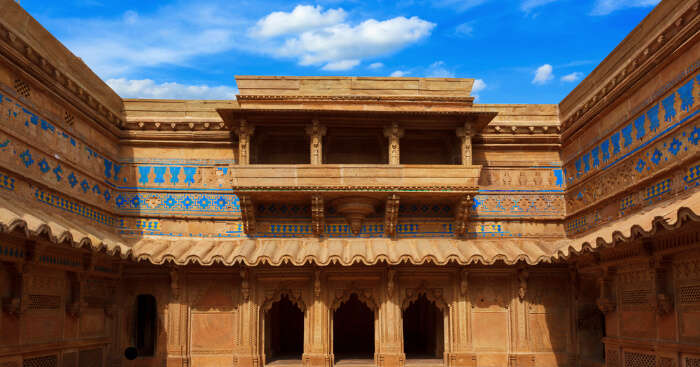 Gwalior Fort's moss-covered domes, giant faded doors, and carved walls, looming over the old city of Gwalior, have withstood everything that came their way. It's believed that the fort already existed in the 10th century, and the inscriptions and monuments found inside the premises specify that it may have existed as early as the beginning of the 6th century.
Standing on a rocky, long, narrow outcrop of Vindhyan sandstone, which rises 300 feet above the surrounding countryside, the foundation of Gwalior Fort is quite ancient.
Best time to visit Gwalior Fort: October to March and December and January
Gwalior fort ticket price: Indian tourists: INR 75 for adults and Children: INR 40 (above 15 years of age). Foreign tourists: INR 250 for adults.
Timings to visit Gwalior Fort: 9:00 am to 5:00 pm all days.
Timings and charges of Gwalior fort light and sound show: Hindi at 7:30 pm and English at 8:30 pm for 45 minutes. Indians: INR 100 for adults and Children: INR 50. Foreign tourists: INR 250 for adults.
Gwalior Fort history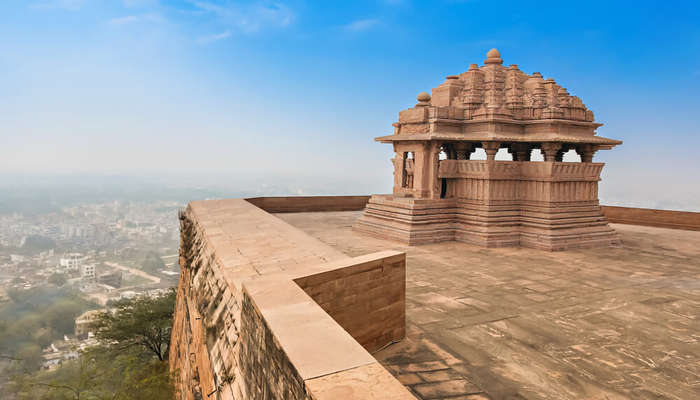 Over the centuries, Gwalior kila passed through the many hands—the Huns, Prathiharas, Qutub-ud-din Aibak, princes of Kanauj, Akbar, the Tomars, Kachwahas, Jats, and Marathas. According to Sikh history, Guru Hargobind (the 6th guru), was held captive at Assi Khamba Bawri near the Man Singh Palace in the 17th century during the rule of Jahangir. And in the early 19th century, Gwalior Fort and the city became the reason for a long disturbance between the British and the Scinids.
Must Read: 15 Tourist Places In Madhya Pradesh That You Should Be Visiting Right Now!
Inside the majestic world of Gwalior Fort
1. The sculptures of Jain Tirthankaras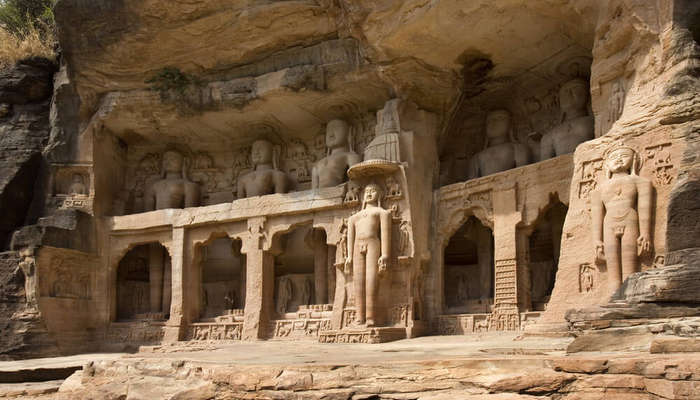 Gopachal hill inside the fort premises houses 1500 idols. The stunning sculptures of Jain Tirthankaras were carved on the face of the cliff during the 15th century. The size of these idols ranges from 6 inches to 57 feet. The largest idol is of Bhawan Parsvanath (42 feet H and 30 feet W).
2. Teli Ka Mandir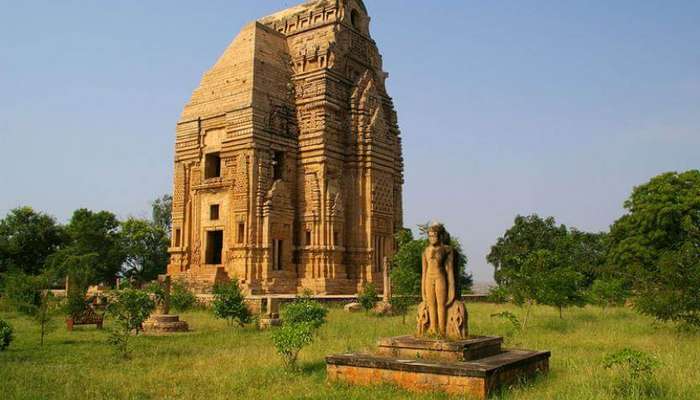 Image Source
It is said that the temple was built either in the 8th or the 11th century, which was renovated in the 19th century. The design of Teli Ka Mandir is a fine amalgamation of north and south Indian architectures.
Suggested Read: 4 Best Tourist Circuits In Madhya Pradesh
3. Sas Bahu Temple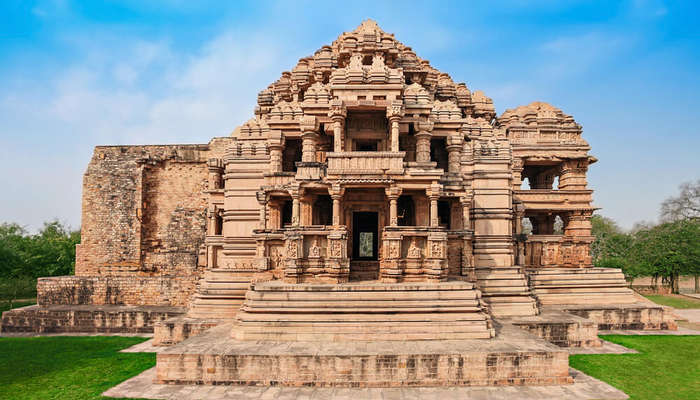 Built by King Mahipal of Kachchhapaghata dynasty, the Sas Bahu temple is also known as Sahastrabahu temple. Vishnu in his Padmanabha form is worshipped in this temple. As per the folklore, the wife of Mahipal was a worshipper of Lord Vishnu and her daughter-in-law of Lord Shiva so a new temple was built for her. Manuel Joseph, who is an assistant superintending archaeologist, says that the temple was possibly called Sahasra Bahu, which means "thousand arms" (another name for Vishnu), which with time morphed into Saas Bahu.
4. Man Singh Palace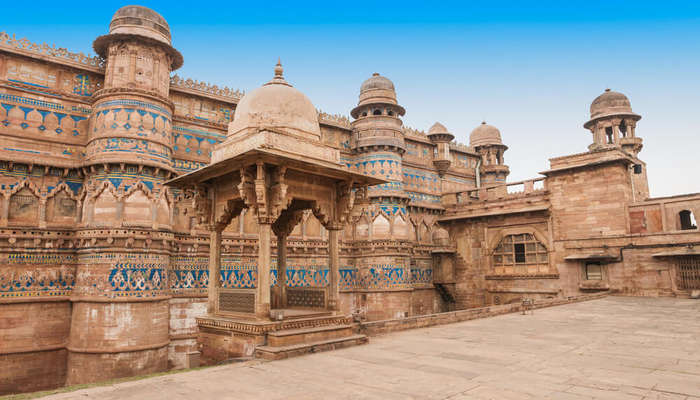 Inside Gwalior Fort, there are several palaces that were built by different rulers. One of the most spectacular palaces is Man Singh Palace built by Man Singh Tomar during his rule from 1486 to 1516. The palace's exterior is decorated with blue and yellow tiles on bronze walls. Also, there are lattice-screens, mosaics with floral and geometrical patterns, cornices, and pendants. The grand palace houses many rooms, underground passages, corridors, and courtyards.
Suggested Read: 10 Captivating Places To Visit In Bhopal – The City Of Lakes
5. Karan Mahal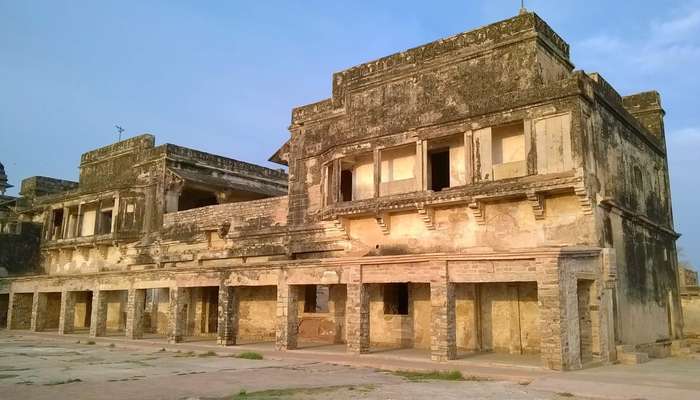 Image Source
One of many palaces in side Gwalior Fort is Karan Mahal built by Kirti Singh, who was the 2nd kind of Tomar dynasty. Other than a few lattice-screens and some sculptures, the structure of the palace is simple. Recently restroed, Karan Palace is older than Man Mandir Palace.
6 Vikram Mahal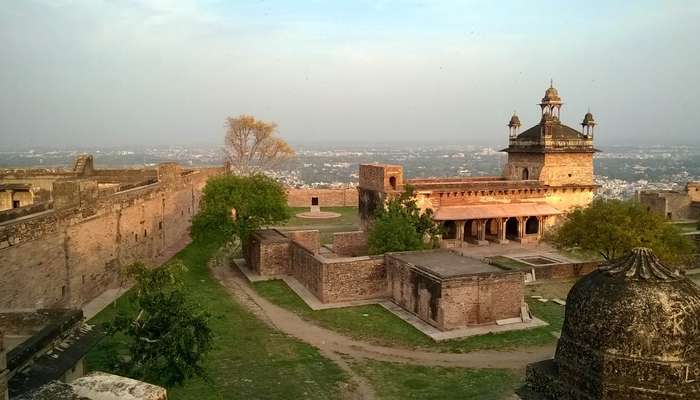 The elder brother of Man Singh, Vikramaditya Singh built Vikram Mahal, which was also known as Vikram Mandir. The palace had a temple of Lord Shiva which was demolished during the Mughal Period. The temple has been rebuilt right in front of the palace.
Suggested Read: 20 Most Famous Historical Places In India: You Think You Know Them Well Enough?
7. Gujari Mahal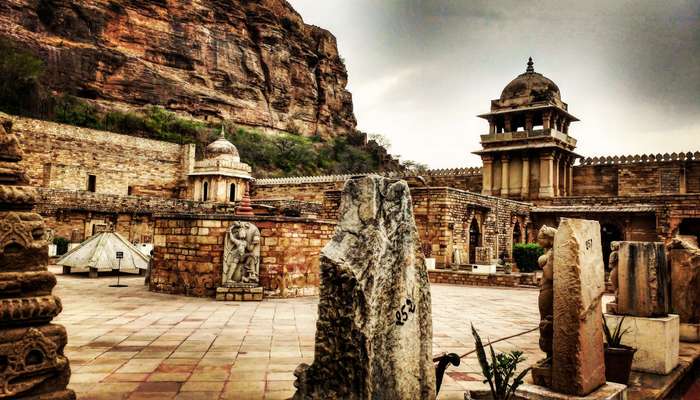 Gujari Mahal was built for Mriganayani, who was Man Singh's queen. The palace was later converted into an Archaeological Museum, which remains open from 9:00 am to 5:00 pm. The museum has a wide collection of sculptures, artefacts, weapons, pottery, and coins.
8. Gurudwara Data Bandi Chhor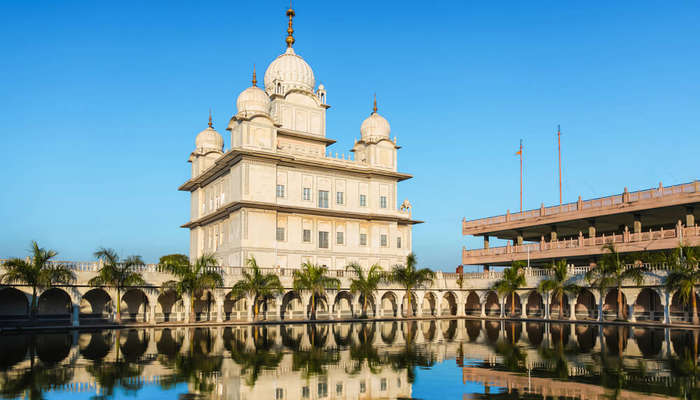 Situated inside Gwalior Fort, Gurudwara Data Bandi Chhor was built after Sri Guru Hargobind Sahib Ji, who was imprisoned in Gwalior Fort helped released fifty-two kings who have long suffered imprisonment inside the fort. The word 'Bandi' means 'imprisoned', 'Chor' means 'release'.
If you want to lose yourself in the memories of great battles, brave dynasties, and epic stories, you must visit Gwalior Fort once in your lifetime.
Further Read: 25 Regal Forts In India That Are Popular Tourist Attractions Today
Comments
comments