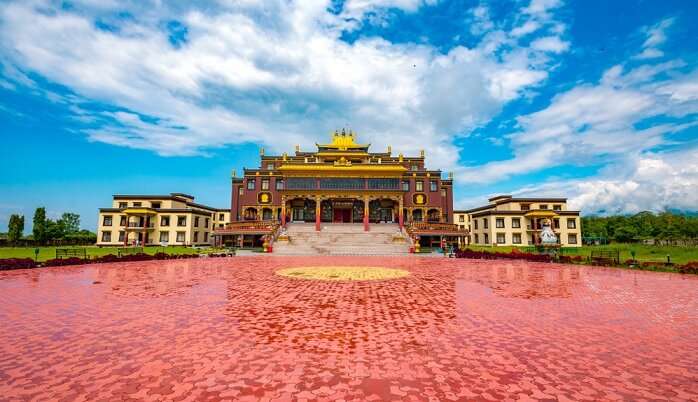 Kolkata is known as one of the most authentic Indian holiday destinations because of its immersive and welcoming culture. In addition to its historical marvels, the city is filled with natural beauty and serene surroundings that make it a perfect place for relaxation and tourism. Winter offers wonderful ambiance for travelling in and around Kolkata as that's the time when humidity tends to be the minimum in the city and you can enjoy sightseeing as the weather remains pleasant. Read on to know the best places to visit near Kolkata in winter for your future excursions around the lovely city.
Top 10 Places to Visit near Kolkata in Winter
Winters call for vacations, adventures and road trips and all other fun activities that you cannot enjoy in summer because of the heat and humidity. If you are someone who is confused about where to go during winters then we have prepared a list of places that you can visit near Kolkata during winter, even if you want to enjoy a one day trip near Kolkata in Winter.
1. Jamshedpur

Jamshedpur is one of the best places to visit near Kolkata in winter, as well as being one of the most well-planned cities in India. The city of Jamshedpur has an attractive infrastructure and landscape. Founded in 1919, Jamshedpur was named after Jamshedji Tata, CEO of the Tata industries, responsible for maintaining a majority of the infrastructure in the city. A classic example of the boon of industrialisation in a developing nation is Jamshedpur, which is known as the Steel City. Main tourist attractions: Dimna Lake, Jubilee Park, Dalma Wildlife Sanctuary, Tata Steel Zoological Park and Hudco Lake. Ideal Duration: 1 Day
24 Picnic Spots Near Kolkata: Escape From The City Rush In 2021 For A Day's Retreat
2. Shantiniketan

Santiniketan, a land of peace and tranquillity, where Rabindranath Tagore conceived Visva Bharati University, is a peaceful retreat near Kolkata in the winter. Founded by Rabindranath Tagore's father, the university transformed India's concept of education with Rabindranath Tagore's assistance. In recent years, this city has grown into a tourist haven, where knowledge meets aesthetic brilliance. Experience Shantiniketan's culture by exploring its historical museums and parks. Main tourist attractions: Tagore's Ashram, Poush Mela, Amar Kutir, Rabindra Bhavan Museum and Chhatimtala. Ideal Duration: 1-2 Days
3. The Sundarbans

Many rivers are running through this marshy forest, which makes it a great spot to get back to nature. One of the best-preserved tiger habitats in the world can be reached in just a few hours of driving from Kolkata. You can experience watching wildlife through the watchtowers form one of the houseboats during the winter. Have an amazing experience at this place which is ideal for a 2 days trip from Kolkata. Main tourist attractions: Sundarban National Park, Sajnekhali Wildlife Sanctuary, Sudhanyakhali Watch Tower, Netidhopani and Sajnekhali Watch Tower. Ideal Duration: 2 to 3 Days
40 Thrilling Weekend Getaways From Kolkata You Must Visit In 2021
4. Ganga Sagar (Sagardwip)

Sagardwip is a small island, located at a distance of about 100 Kilometers from Kolkata. One of the most prominent religious hubs in India, Sagardwip is located at the confluence of the Ganges river and Bay of Bengal. Gangasagar Mela, one of eastern India's largest fairs, is held in this estuary of the Ganges around Makar Sankranti. At this confluence of rivers, pilgrims gather on the auspicious occasion of Makar Sankranti to take a holy dip. You can visit this place on your one day trip near Kolkata in winter. Main tourist attractions: The Sagar beach, Ganga Sagar Mela, Kamil Muni Temple, The Sagar Lighthouse and Onkarnath Temple. Ideal Duration: 1 to 2 Days
5. Siliguri

Take a beautiful drive from Kolkata to Siliguri if you love long drives. After you arrive at Siliguri, you can take rides at Mahananda wildlife sanctuary, or you can stroll through the Hong Kong market at Hill Cart road to find diverse items. It is also home to the over-a hundred-foot-tall Tashi Gomang stupa located at the Salugara monastery. Main tourist attractions: Salugara Monastery, ISKCON Temple Siliguri, Mahananda Wildlife Sanctuary, The Science City and Dudhia Ideal Duration: 2 to 3 Days
8 Best Adventure Sports Near Kolkata To Kick Start Your Vacation
6. Raichak

Raichak is located 50 kilometres away from Kolkata but feels worlds apart. Surrounded by ultra-urban development, it is a breath of fresh air from the urbanized city. Its proximity to the Hooghly river and various forts add to the earthen charm of the town, making it among the best places to visit near Kolkata in winter. Enjoy walking around the tranquil surroundings overlooking the river, relaxing and pampering yourself. Main tourist attractions: The F Fort, Diamond Harbour, Lighthouse at Diamond Harbour, Chingrihkali Fort and Joynagar Ideal Duration: 1 Day
7. Mandarmani

Mandarmani is a small town near Kolkata which has an upcoming beach resort. It has the potential to become a world-class destination because of its top-notch facilities and luxuries. An amazing place to get away from the hustle-bustle of everyday life, Mandarmani has great scenery, a magnificent beach and an aura of luxury. In addition to relaxing at the beach, you can enjoy a thrilling high-speed ride at Mandarmani's beach which has the longest motor-able stretch in India. Main tourist attractions: Mandarmani beach, Shankarpur beach and Digha beach. Ideal Duration: 1 Day
Explore These 12 Temples In Kolkata For A Spiritual Enrichment In 2021
8. Bishnupur

The town of Bishnupur is well known for its terracotta temples, culture, music, handcrafted items, and architecture. You can visit the ancient temples and palaces, walk through the narrow alleyways of the city and snap a lot of pictures and enjoy fresh sugarcane and date syrup from freshly harvested date palms. You can shop for the terracotta and mud figurines, as well as Baluchari sarees, at the Sankranti Mela during mid-January. Main tourist attractions: Rasmancha, Lalji Temple, Susunia Hill, Jorebangla Temple and Madan Mohan Temple. Ideal Duration: 1 to 2 Days
9. Bakkhali

In the heart of West Bengal and yet a world unto itself, Bakkhali is a small beach town on the West Bengal coast. Those looking for a beach getaway that excludes all loud music and excessive drinking can visit Bakkhali. You can enjoy a walk along the beach, a trip on a boat, a stay on an island, or a bike ride. Bakkhali is a perfect place to experience an exotic getaway. Main tourist attractions: Bakkhali Beach, Henry's Island, Jambu Dweep, Frasergunj Wind Park and Bishhalakshmi Temple Ideal Duration: 1 Day
6 Luxurious Villas In Kolkata Which One Must Visit And Enjoy A Relaxing Stay!
10. Mukutmanipur

Mukutmanipur is a charming town in the Bankura district of Kolkata, surrounded by green forests, clear blue water, and hills in the background. The town is a popular weekend getaway for locals of Kolkata. Sharing borders with Jharkhand. The city is home to the confluence of the Kangsabati and Kumari rivers. It is a small serene town that attracts many tourists looking for a quiet vacation. Mukutmanipur dam is said to be the second-largest dam in the country. Main tourist attractions: Parasnath Hills, Kangsabati dam, Ambikanagar and Deer Park. Ideal Duration: 1 Day
These are some of the places that you can visit for a short trip like a 2 days trip from Kolkata in winter. The different landscapes and atmosphere of all these places make them worth a visit. Head on to these places on weekends with your family or friends for an escape from the daily hustle and bustle of life and these places will make you feel relaxed. Don't forget to book your future Kolkata trips with TravelTriangle. 
For our editorial codes of conduct and copyright disclaimer, please click here.
Frequently Asked Questions About Places to Visit near Kolkata in Winter
Where should I go for a 2 day trip from Kolkata?
Some of the places that you can visit for a 2 day trip from Kolkata in winter are Shantiniketan, Mandarmani, Jamshedpur, The Sunderbans and Siliguri. These places are ideal for short trips over the weekend and you can visit these places for a relaxing or an adventurous trip.
Which are some of the best places to visit in Kolkata?
Some of the major tourist attractions in the beautiful city of Kolkata are Victoria Memorial, Jorasanko Thakur Bari, Princep Ghat, Science City and Kalighat Kali Temple. You can explore these places to know about the history and culture of Kolkata.
How can I spend my weekend in Kolkata?
You can spend your weekend in Kolkata during winter by visiting some of the beautiful places near Kolkata like Siliguri, Mandarmani and Shantiniketan with your family and friends.
On which day Shantiniketan is closed?
Vishwa Bharati in Shantiniketan remains closed on Wednesday but all the other tourist places like Tagore's Ashram, Rabindra Bhavan Museum and Uttarayan Complex are open for tourists to visit.
How can I reach Sundarban from Kolkata?
There are multiple entry points in Sundarban from Kolkata. You can enter through Godkhali which is 82 km from Kolkata, Sonakhali, Kaikhali which is 83 km away from Kolkata or Jharkhali which is approximately 100 km from Kolkata.

People Also Read:
Places to visit near Lucknow Places to visit near Jaipur Places to visit near Bangalore