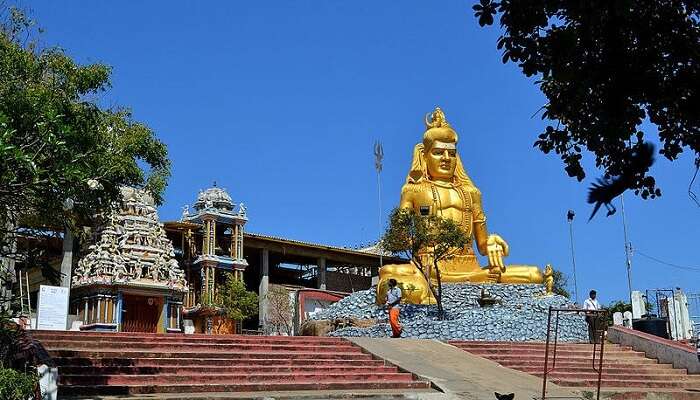 Trincomalee is known to be the world's best natural deep-water harbors and is located on the northeastern coast of Sri Lanka. Trincomalee is home to some of the finest beaches of Nilaveli, Uppuveli, and the off-shore Pigeon Island. Trincomalee district, is bejeweled with a multitude of ruins of ancient Buddhist temples and is considered a major Buddhist cultural and archaeological site of Sri Lanka. Koneswaram temple is one of the most popular temples in Trincomalee with great historical and religious importance. You can also find a number of interesting places to visit near Koneswaram Temple with family.
Top 3 Places To Visit Near Koneswaram Temple With Family
Visiting Koneshwaram temple? Explore these fun and interesting places to visit near Koneswaram Temple with family and be amazed by what this rustic place has in store for you.
1. Trincomalee

The bay of Trincomalee's harbor is very famous for its trade and cargo. It's a big beach which is indeed famous for ancient temples, trade and water sports. It is one of the best beaches in Sri Lanka.
Location: Koddiyar Bay, Trincomalee, Sri Lanka
Best time to visit: August to October
Famous for:
Hot Springs of Kanniya is a definite visit, its located just over 5 miles off the Anuradhapura Road
The great Hindu Shrine sacred to Koneswaran are visited by many which is one of the 5 Isvaram Hindu Shrines
Visit the beautiful tank called Periyakulam is a Buddhist Temple and spot the frontal bone relic of Buddha, built in the 3rd century is worth a visit.
The finest Circular Shrines which is as old as the 7th century is located at Tirivava
The marble bay promises variety of watersports such as diving and surfing
30 Best Beaches In Sri Lanka To Visit In 2022 That Will Make You Go 'Wow'!
2. Seruwila Mangala Raja Maha Vihara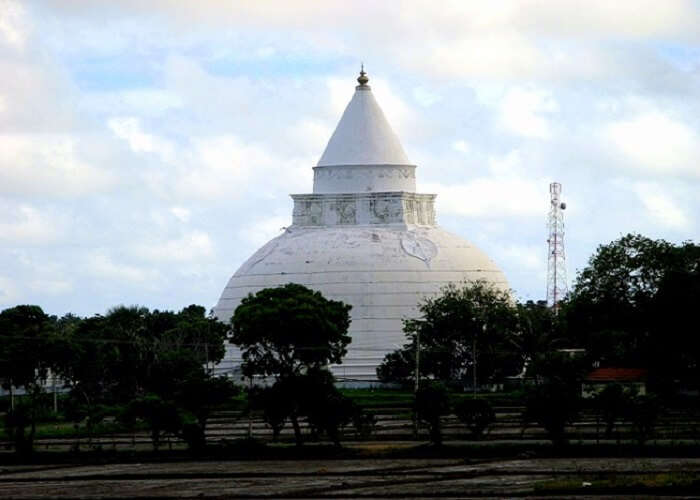 Counted amongst the holiest Buddhist sites in Sri Lanka, this temple is one of the important places to visit in Trincomalee for the spiritually inclined travelers. The 2nd-century stupa was originally built by King Kavantissa and holds the sacred frontal bone of Lord Buddha. Thousand of devotees visit this sacred Buddhist Vihara every year to pay homage and seek blessings of the enlightened one. Also, visit the new complex with a huge statue of Buddha; remember to be modestly dressed and remove your footwear.
Location: B347, Seruwawila, Sri Lanka
Best Time to Visit: All throughout the year
Famous for: 
Evidence of preliminary stages of stone works in moldings showing exemplary stone jointing methods.

Sculptured stone lotus

Bo tree shrine [Bodhighara]

Ancient pond

Natural stone platform and caves with primitive paintings
10 Best Places To Visit In Trincomalee That Prove It Is A Hidden Gem In Sri Lanka
3. Fort Frederick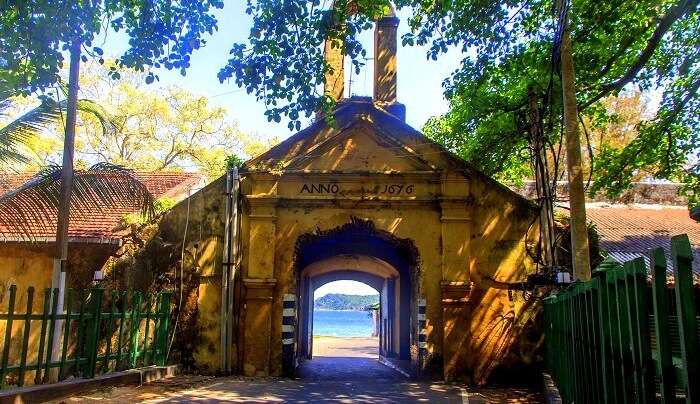 The Portuguese constructed a fort with the remains of an ancient Hindu Temple which was originally the 'Koneswaram Temple', that was destroyed. The original fort was a triangular fort named Fort 'Triquillimale". Eventually, the fort was captured by the Dutch in 1639, who then dismantled and rebuilt the fort, renaming it, Fort Frederick. Ultimately, the fort was taken over by the British in 1795 and they had added British War Guns to the fort.
The fort presently serves as a detachment of the Gajaba Regiment of the Sri Lankan Army. A premise, that allows interested visitors to explore the two temples it houses – Koneswaram Kovil and Gokana Temple emanate a magnificient charm of its own. The Fort Frederick is now a legendary monument which boasts another chapter of the colonial era of Sri Lanka.
Location: Konesar Road, Trincomalee, Sri Lanka.
Best time to visit: 09:00 am – 02:00 pm (all year round)
Famous for: 
Lovers Leap 

Koneswaram temple
Trincomalee has recently become popular as a Whale Watching destination. For the adventure seekers, The Dive centers at Nilaveli and Uppuveli offer tourists the opportunity to enjoy their holidays in diving, snorkeling, and swimming. It is a great destination where you can find a number of places to visit near Koneswaram Temple with family and spend a fun and enjoyable time on this beautiful island. Plan your trip to Sri Lanka now and lose yourself in this wonderful island and weave memory you'll always cherish!
44 Soul Satisfying Things To Do In Sri Lanka In 2022 For Travelers Of All Types
---
Looking To Book An International Holiday?
Book memorable holidays on TravelTriangle with 650+ verified travel agents for 65+ domestic and international destinations.
---