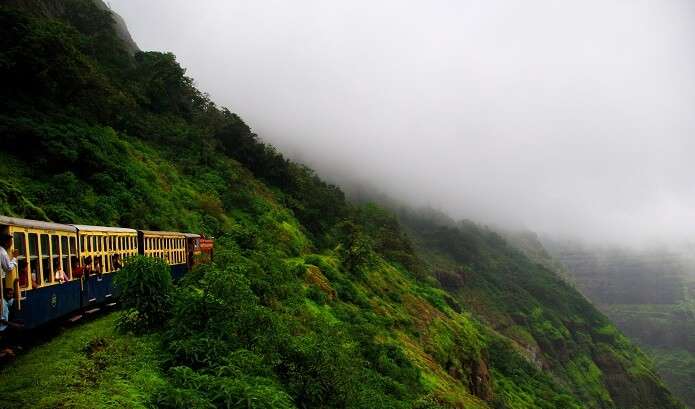 As unique as the name is so is the place is the best way to sum up Matheran. Matheran is a gorgeous hill station. It is a municipal council in Karjat Tahsil in the Raigad district in the Indian state of Maharashtra and is stunning. It is a part of the Mumbai Metropolitan Region. It also is the smallest hill station in India. Matheran's proximity to many metropolitan cities makes it a weekend getaway for urban residents. It is also known as Asia's only Automobile Hill station. There are about 38 designated lookout points in Matheran only so you can imagine the places to visit near Matheran might be limited but that's just a myth. There are some really exciting places around Matheran that you can visit and we will be talking about that right here.
14 Best Places To Visit Near Matheran
Matheran is the smallest hill station in India so one might think that there might not be much to explore around Matheran but that is where people go wrong. We have listed out some of the top places to visit near Matheran and you can take a look.
Lonavala
Khandala
Kamshet
Rajmachi
Bhimashankar
Karnala
Harihareshwar
Mumbai
Malshej Ghat
Sajan
Pune
Junnar
Igatpuri
Nashik
1. Lonavala

Lonavala is a popular hill station located close to Mumbai and Pune. It 29.7 kms from Matheran and also one of the top places to visit near Matheran. It is surrounded by waterfalls, hills and lakes. It is a welcoming place for those people who want to go hiking and trekking. It is the best location for nature lovers to explore the location. It is an essential part of Sahyadri Hills that provide bewitching and mesmerizing experience to look what's beneath nature. It has a dam beside rivers and dense forests, which are the most attraction for tourists visiting here. So, they take a long trip to Lonavala. Bhaja Caves, Karla Caves and Bushi dam best places in Lonavala. Khandala and Rajmachi are on its way to Matheran
Things To Do: Adventures like hiking and trekking.
Ideal For: Nature lovers, climbers and tourists
Duration: 1 to 2 hours.
Weather: 24 degrees Celsius.
Best Time To Visit: Morning and Evening (throughout the year).
How To Reach: Book a cab to the destination, as it is probably 29 kms from Matheran. So, you better not take a taxi or else you would charged with high amount.
Places To Stay: Hotel Lions Den, Pawna lake Camping, DMS Holiday Club-Ishera-2, Pavanadam Tourist camping, The Maiden Villa
Packages Starting From: ₹ 9,000/-
Must Read: 12 Best Things To Do In Matheran For The Thrill Seekers & Peace Lovers!
2. Khandala

Sahyadri foothills are perched with Khandala which another one of the great places to visit near Matheran. It gives you the perfect capturing images for beautiful valleys, serene lakes, mystic waterfalls and grassy hills. It provides calm and peaceful respite of heavy crowd of Mumbai. It acts as a perfect place to spend your weekend, as it is a gateway or a path for many people who come from nearby Matheran. Not to forget, one of the most interesting and fascinating things about this place is that it has a song in relation to it, which is "Aati Kya Khandala" that encites everyone to have a journey trip to Khandala. It has soothing weather with natural beauty. It has majestic waterfalls and serene lakes that make this place heaven.
Things To Do: climbing, capturing images.
Ideal For: Nature lovers, climbers and tourists
Duration: 1-2 days
Best Time: During sunset (throughout the year).
Weather: 20 degrees Celsius.
How To Reach: It is 39 kms from Matheran, so you better take book a cab to reach directly to the location, rather than changing your mode of transport every time.
Places To Stay: The Dukes Retreat, Della Resorts, D.A.T.A Resort, Breeze in the Hills, EKO Stay- Deltin Villa, Seven Sands Villas
Packages Starting From: ₹ 13,999/-
Suggested Read: 29 Places To Visit In Matheran For A Soulful Weekend Getaway
3. Kamshet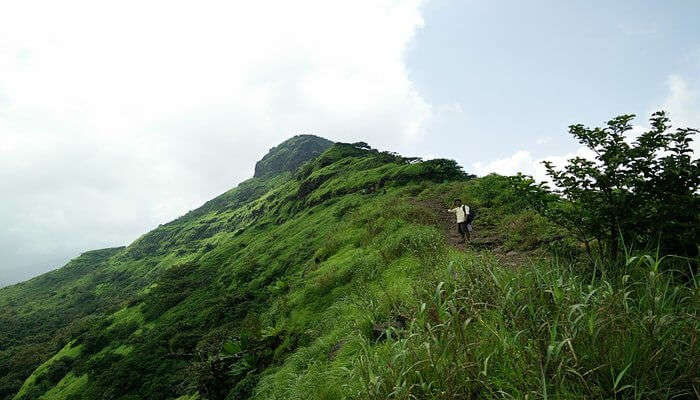 Next up on the list of places to visit near Matheran is Kamshet which is located in the Western ghats, that provide you with picturesque images of paradise, which is the reason it is listed here in top 10 visits near Matheran. It is an adventurous place especially for those people who love paragliding. It very near to Pune district and 45 kms from the town. It provides natural serene views with pure air filled with mist. Nature lovers would love this place as deeply they will go to look for its beauty. It is surrounded by fields of sunflowers and paddy with elegant view to capture the beauty in your camera. In Kamshet, you must visit to Bhairi caves, Pavana lake and Kondeshwar Temple.
Things To Do: Paragliding, visiting caves and enjoying the natural beauty.
Ideal For: Paragliders and nature lovers.
Duration: 1-2 days
Best Time: October to June.
Weather: 20 degrees Celsius, cloudy
How To Reach: It is 75 kms from Matheran and would take an only 2-hour ride to reach there. You take a taxi or book a cab.
Places To Stay: Trikaya Retreat Kamshet, Hotel Suvarna Samrat Lodge, Hirakani Resort, Ajay Dhaba And Lodging, SaffronStays L'Attitude ;

Suggested Read: 8 Best Cottages And Homestays In Matheran For Those Who Love To Stay Like Locals!
---
Planning your holiday but confused about where to go? These travel stories help you find your best trip ever!
---
4. Rajmachi

Rajmachi is located in Sahyadri hills of the Konkan region and is one of the top places to visit near Matheran. It is a small village with Manaranjan fort and Shrivardhan fort near Lonavala and Khandala. Udhewadi is another common name for Rajmachi. It saw many transformations from Shivaji to Aurangzeb to Shahu Maharaj including the contribution of the Britishers. Its forts are a perfect place for trekking and having an adventure in the places. Starting from the Konkan caves travel to Udhewadi village reaching the fort. It has easy trails to pass through, for reaching the Rajmachi. It is a well-known location for the beginners doing trekking. Its forts are beautiful with elegant infrastructure inside the forts. They look magnificent and attract most of the tourists. Climbing takes up to 3 to 4 hours to reach the top.
Things To Do: Camping, trekking, adventure and picnicking.
Duration: 1 day
Best Time To Visit: June to September
Weather: 20 degrees Celsius.
How To Reach: From Udhewadi village it would take 30-40 minutes, whereas 3-4 hours directly from Lonavala. Rajmachi is 289 kms from Matheran, so better you reach Lonavala and take a taxi from there, which is 9 kms from Matheran.
Places To Stay: Lotus Lodging, The Fern Residency Karad, Hotel Pankaj Executive, Sapphire Premium Hotel & Suite, Matoshree apartments

Suggested Read: 19 Hotels In Matheran For Couples: Romantic Havens Nestled In Nature
5. Bhimashankar

Last but not the least on the list of places to visit near Matheran is Bhimashankar. 223 kilometers from Mumbai, Bhimashankar is popular for being home to a temple by the same name of the place near Matheran, which counted all among the twelve Lord Shiva Jyotirlinga shrines. Bhimashankar is a small village in Bhorgiri. It is in the western ghats area of the Sahyadri Range. Its elevation is highest around 3,250 feet above. Also, it is surrounded by dense forests and hills. Its original name was derived from Bhima, evaporated in the result of the great war between Trupurasura and Lord Shiva. It is known to be the most sacred and holy location in India and nearest to Matheran. It is a special place for trekking and including the wildlife Sanctuary is another major reason why many tourists and trekkers come here to have a weekend visit.
Things To Do: Adventurous things and trekking
Ideal For: trekkers, nature lovers and tourists
Duration: 1-2 days
Weather: 30 degrees Celsius.
Best Time To Visit: November to February, during Sunrise and Sunset.
How To Reach: It is 29.3 kms from Matheran, so better take roadways
Places To Stay: Jamrung Hillside Camping, Ratwa Resort Bhimashankar, The Ocean Tales Kovalam, Bhimashankar Hills, Elevar Villa

6. Karnala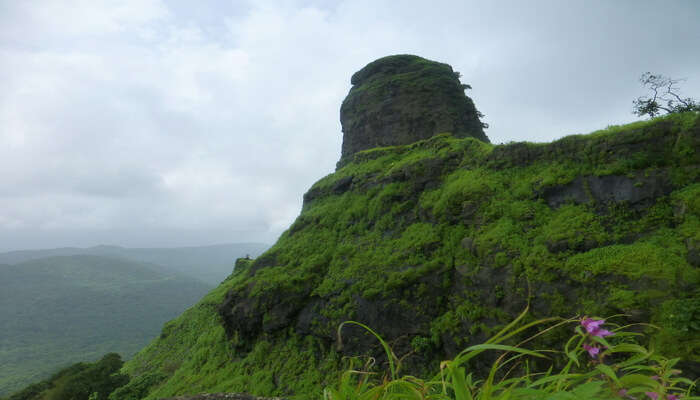 Hill forts have a unique granduer and beauty. Karnala is also a magnificant hill fort located in the Raigad district of Maharashtra. It is one of the best tourist places near Matheran. This historical site falls within the Karnala Bird Sanctuary. Nature has adopted the fort covering it under the carpet of lush greenery. An exciting trek to up the hill brings you to the site. And the sight of the spellbinding landscape surrounding the Karnala makes the trek worth every effort.
Places To Stay: SaffronStays RiverRock, SaffronStays MJ Estate, Hotel Panchratna
7. Harihareshwar

Located in the Raigad district, Harihareshwar is a very interesting town in Maharashtra. Surrounded by 3 hill, namely Harihareshwar, Harshinachal and Pushpadri, it has a very dramatic landscape. Just as the name hints, this town is a temple town, with the most revered temple bearing the same name – Harihareshwar Temple. It is visited by pilgrims from different parts of the country especially during Kalbhairav Jayanti Utsav. Harihareshwar is also one of the best tourist places near Matheran. It is known for its beaches including Shrivardhan beach and Diveagar Beach. It is on the coast of this town where river Savitri meets the Arabian Sea.
Places To Stay: Misty Woods Eco Cottages, Sudhavihar Homestay, Samarth Niwas, Tranquil Beach Resort
8. Mumbai

Mumbai is not just one of the most popular cities in Maharathra but also one of the top tourist places around Matheran. Often, known as the 'city of dreams', Mumbai has a very beautifullty distinct infrastructure. The harmonious exitence of the old and the new, the slow and the fast has its own charm. Beaches, landmarks, historical structures, highly revered temples, Bollywood vibe, every experience is unique and exciting.
Places To Stay: Novotel Mumbai Juhu Beach, Taj Lands End, Green Star Lodging, Holiday Inn Mumbai International Airport, Evergreen Rest House
Packages Starting From: ₹ 9,000/-
9. Malshej Ghat

Falling on the Thane-Ahamad Nagar Road, Malshej Ghat is a breathtaking location in Maharashtra. This is a mountain pass that takes you through extremely lush and striking landscapes. All you see is a beautiful contrast between the greenery and black mountains. The mysty weather add a magical effect to the whole sight. Be ready to be greeted by a few waterfalls on the way. The topsy-turvey road is nothing less than a roller-coaster ride. See the best to the Western Ghats at this one of the most picturesque tourist places around Matheran.
Places To Stay: Jandyal Farm House, Saj By The Lake, Hotel Girija
10. Sajan

Sajan is an paradise for nature and wildlife lovers. The serene Moho River flowing through this region adds more charm to the landscape. Best known as the Sajan Nature Club, this is one of the most beautiful places to see near Matheran. This place is also home to some ancient temples including  Peshawa Temple and Mahalakshmi Temple. And if you though this is it, there is more to raise your excitement, including the Tiger Caves and a wonderful hill fort located here.
11. Pune

Pune is one of the most amazing places to see near Matheran. Pune has been a significant region in the history of India. Being the former base for the Peshwas of the powerful Maratha Empire, Pune is home to the remains of several structures and landmarks from the past. The grand palace, beautiful gardens, and ancient cave temples are some of the major attractions in Pune.
Places To Stay: My Dream House, Lakeventure, Valley camping, Chavan Farms, Rajkanya Agri Tourism
Packages Starting From: ₹ 10,500/-
12. Junnar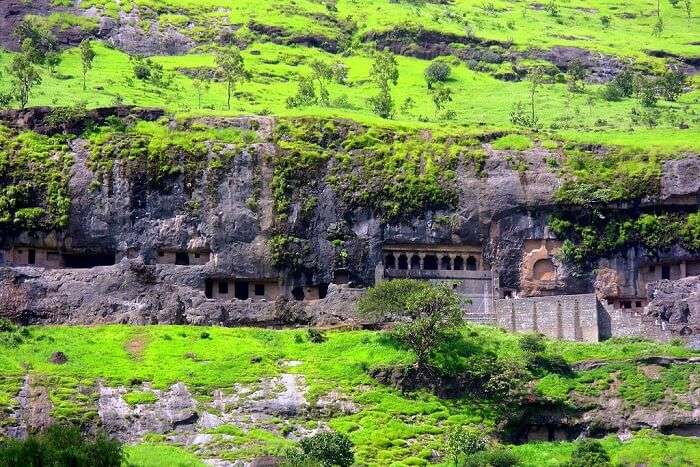 Junnar is one of the offbeat places to see near Matheran. This city lies very close to the Fort of Shivneri which was the birthplace of Chhatrapati Shivaji Maharaj, the founder of the Maratha Empire. Junnar is known for its architectural treasures and ancient temples.
Places To Stay: Hotel Bhavani, Hotel Girija, Hotel Anand, Camping By The Fort
13. Igatpuri

Proudly set on the lush green Western Ghat, Igatpuri is one of the most bewitching places to visit near Matheran. This hilltown has a calming vibe, thanks to the serene landscape and the Buddhist influence. There is an Dhamma academy and a pagoda in the region which you can visit. There is also immense travel opportunities in Igatpuri for nature and advenutre enthusiasts like trekking and exploring the wildlife sanctuary.
Places To Stay: Igatpuri Villa, Nature's Dreamland, Rain Forest Resort, Kurungwadi Camping with Adventure Activity, Ganaka Motel
Packages Starting From: ₹ 21,000/-
14. Nashik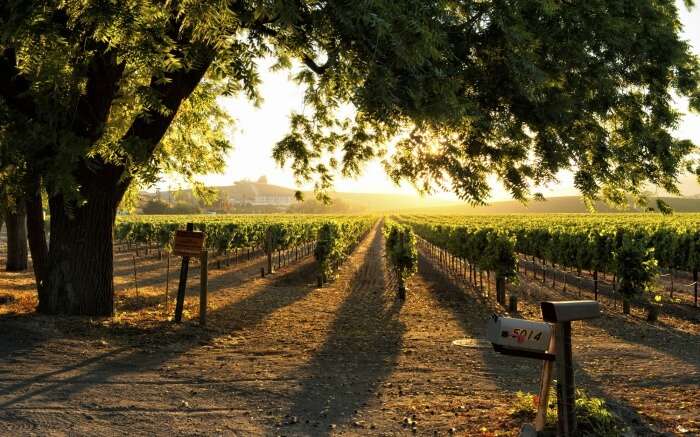 Nashik is one of the best places near Matheran for a visit. Located in the magnificant Western Ghats, this ancient holy city is home to a historical temple complex and other temples. River Godavari that flows through this city adds immense beauty to the landscape. Nashik is also associated to the Hindu epic poem, Ramayana. This mystical vibe of the city is worth experiencing.
Places To Stay: Cocoon Stay, Treebo Trend Sapphire Studio, Prathamesh Pride, FabHotel Sahara Inn Nashik, Ibis Nashik
Packages Starting From: ₹ 21,000/-
Further Read: Top 10 Restaurants In Maharashtra For Tasting The Best Foods Of This Indian State
Being to these places to visit near Matheran is a wholesome experience. These places bring us close to nature and offer a serene experience. Matheran is known for its non-polluted surroundings as it is a no-vehicle zone. Once you are done strolling the scenic hill station, the above mentioned places are must visit. So, plan a trip to Maharashtra and get going.
Disclaimer: TravelTriangle claims no credit for images featured on our blog site unless otherwise noted. All visual content is copyrighted to its respectful owners. We try to link back to original sources whenever possible. If you own the rights to any of the images, and do not wish them to appear on TravelTriangle, please contact us and they will be promptly removed. We believe in providing proper attribution to the original author, artist or photographer.
Please Note: Any information published by TravelTriangle in any form of content is not intended to be a substitute for any kind of medical advice, and one must not take any action before consulting a professional medical expert of their own choice.
Frequently Answered Questions About Places To Visit Near Matheran
What is the meaning of Matheran?

Matheran means "forest on the forehead", an eco-sensitive region declared by the Ministry of Environment. It also includes forest and climate changes by the Government of India.

What is special about Matheran?

It is one of the top hill stations in Maharashtra. The special beauty of Matheran is that it attracts many tourists and hikers from all over India.

Is one day enough for Matheran?

There are no vehicles in Matheran. So it is quite impossible to visit this place in a single day. We may spend as much time as we want but generally, it requires about 1 to 5 days.

What should we purchase in Matheran?

One of the top things we do in Matheran, except hiking, is buying chikkis made from jaggery and flour. Apart from this, we may buy leather products, chappals (slippers), dried flowers, local honey, and cane items.

Best season to visit Matheran?

The Best Time to Matheran's visit is from October to May when there seem low chances of rainfall. The weather remains pleasant to explore the place on foot.

Who discovered Matheran?

Matheran or 'forest on top' was discovered by the British in 1851. It was Hugh Poyntz Malet the collector of Thane district who found this peaceful hill town in the Sahyadri range. Lord Elphinstone put his sincere effort into developing the region.

Is Matheran good in winter?

Winter brings lower mercury levels in Matheran. The temperatures dropping to this place at 8 degrees Celsius and it is a sight behold in winter with its misty hills and cool breeze. October and January are the best offseason months to visit.

How can I travel to Matheran?

The closest railhead to Matheran is about 21 kilometres. We can get on the Deccan express from Mumbai or the Sahyadri express from Pune. From Neral town, we will have to go to Matheran by road, which is a 30-minute journey. Many local trains available on the Mumbai-Karjat stops at Neral to reach the place of Matheran.
---
People Also Read:
Places To Visit Near Kullu Places To Visit Near Coorg Places To Visit Near Ajmer