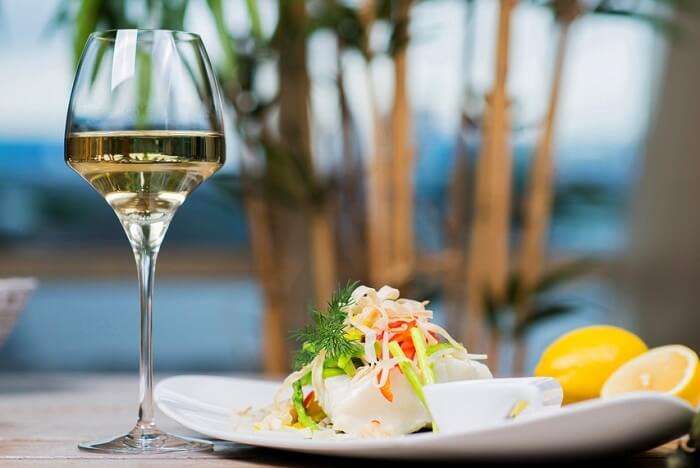 Just like the culture and cities of Portugal, the Portuguese cuisines are rich, unique, and lively as well. Concoctions of seafood, rice, vegetables, and everything lip-smacking, they truly are culinary delights that would leave you craving for more.
But which cuisine should you try first? In a country that has innumerable options for foodies, this is definitely not an easy choice to make. So, here's a list of Portuguese dishes, which are the most popular and definitely deserve a place on your platter for the next time you're traveling across Europe!
15 Best Portuguese Dishes For An Exotic European Experience
1. Sopa de Cação (Dogfish Soup)
A fish marinated in coriander, lemon & garlic brought to a boil, and often eaten with bread is exactly how this Portuguese cuisine is cooked and relished. Desired or not, this is definitely the best thing to order and start your meal with, especially because of its unique and toothsome taste. If not as a starter, you can also try and have it like a separate dish.
---
Europe Holiday Packages On TravelTriangle
Explore the most beautiful places to visit in Europe, from Paris to the Venice canals and from the Greek islands to the Swiss alps. Book customized packages by expert agents on TravelTriangle. Inclusive of airport transfers, cab, resort, sightseeing and meals. Best holiday experience Guaranteed. Book Now
---
2. Bacalhau (Codfish)
Suggested Read: 10 Extraordinary Things To Do During Your Summer Holidays In Europe
Codfish, which is popularly known as bacalhau in Portuguese, is not just an ordinary traditional cuisine, but is rather the national food of Portugal (unofficially). Often a concoction of onions, chips, cod, egg, and parsley, it's an all time favorite amongst the locals, which is why you may come across various Portuguese recipes for this appetizer. Needless to say, whether it's Christmas or not, you ought to order this!
3. Cataplana de Marisco (Seafood stew)
Cataplana de Marisco is an extraordinary Portuguese dish as the seafood stew is cooked in a copper double-pan and is served with either rice or chips. Originally prepared the best way in the region of Algarve, it can now be savoured at multiple eateries across the country, especially the popular ones in Lisbon. If you're a seafood lover, this one has to be on your platter!
4. Francesinha (Little Frenchie Sandwich)
Suggested Read: A Guide To Help You Plan Your Portugal Honeymoon
The signature dish of Porto, francesinha is Portugal's own, redefined way of making the ham and cheese sandwich. But, the only major difference is that it isn't a regular one! Comprising of two bread slices with steak, ham, sausage & chorizo, and dressed with melted Edam & spicy tomato sauce, this sandwich is an absolute gastronomic delight.
5. Porco Preto (Black Pork)
A native Iberian specie, the black pig or porco preto is the secret behind many lip-smacking Portuguese dishes. This is one popular local cuisine, which you should definitely try in Portugal if you wish to have the authentic taste. Be it the pata negra smoked ham or just the grilled porco preto on a stick, the smoky flavor is certainly hard to resist.
6. Polvo à Lagareiro (Baked Octopus)
Suggested Read: The List Of Top 10 Places Travelers Are Eager To Visit in 2022 Is Out!
Of all the things to do in Portugal, tasting the Polvo à Lagareiro, which is a dish comprising of a roasted octopus is a must. The octopus is first boiled and then baked with mashed potatoes in garlic and olive oil before it is finally served. This is certainly one of the most popular and lip-smacking Portuguese cuisines to have if the foodie in you wishes to savour the best of seafood in Portugal.
7. Posta Mirandesa (Beef Steak)
If France has chateaubriand steak and Italy's famous for their fiorentina steak, Portugal will leave you impressed with its posta mirandesa. Consisting of a thick tenderloin beef steak, which is cooked over a strong fire, this dish is one of the best the country has in store to offer. The finger-licking good taste of the steak would surely leave you drooling for more, even after you're too full.
8. Pastel de nata (Custard-Egg Tarts)
Suggested Read: 10 Most Romantic Hotels In Europe That Will Make All Your Dreams Come True, With Love!
Just like its appetizers, Portugal also has an impeccable range of desserts. One of the most famous across its regions is undeniably pastel de nata, which is a tart filled with egg yolk and custard. These crispy yet delicious pastries are savoured all across the country, both as a side with coffee and a quick sweet snack after dinner. So, if you're a lover of tarts, this is what you need to eat!
9. Alheira de Mirandela (Smoked Sausage)
Alheira is a type of smoked sausage, which is commonly eaten across all the regions and has become a famous Portuguese street food over the years. Often served with fried eggs and fries, this dish is also one of the cheapest cuisines to have in the country. Its smoky and garlicky taste would surely titillate your taste buds.
10. Caldo Verde (Green Soup)
Suggested Read: Germany's Got The World's Most Powerful Passport In 2018 & It'll Make You Wish You Lived There
A popular traditional cuisine, caldo verde is a Portuguese soup, which is made of potatoes, onions, kale, and pork sausages. Though, the best thing about this soup is that it can be relished both as an appetizer and as an after supper snack. The creaminess and toothsome flavor of this soup has made it a favorite amongst locals, which is also the reason why you may come across its name almost everywhere.
11. Sardinhas Assadas (Grilled Sardines)
No list of Portuguese dishes which are absolute must-haves can ever be complete without including the country's staple Sardinhas Assadas in it. The charcoal-grilled sardines are an all-time favorite and are cherished for their tangy-smoky taste, especially in Lisbon. You can enjoy it either on top of a corn bread or along with a roasted pepper salad.
12. Arroz de Pato (Duck Rice)
Suggested Read: 15 Free Things To Do In Europe For Backpackers And Budget Travelers
Often also described as duck rice or duck risotto, Arroz de Pato is another popular cuisine that you ought to have if the foodie in you is more of an explorer. The surface is crispy and the rice is filled with slices of chouriço, which makes it kind of unique and delectable. If you're trying this dish for the first time, make sure you savour it along with a glass of red wine for a completely surreal experience.
13. Torta de Azeitão (Spongy Cake With Egg Yolk)
If you've heard about the country a bit or have been to its streets already, you'd know that the egg-based desserts have become a traditional cuisine across the regions. One of the most famous being Torta de Azeitão, which is a soft, supple, and spongy cake with egg yolk filled or rolled on top of it. Irrespective of how icky they might sound, believe us they aren't, and you should definitely pop one in if you've a sweet tooth.
14. Arroz Doce (Sweet Rice Pudding)
Suggested Read: 22 Chilling Winter Destinations In Europe That'll Melt Your Heart!
The Portuguese food options are endless even if you're looking something sweet. Apart from torta de azeitão, if there is one dessert that is most famous & loved in the country, it is arroz doce. A rice pudding cooked with lemon and a touch of cinnamon in it, this hot dessert is a true culinary delight. Its hot and zesty flavor makes it a perfect pick after supper to treat the dessert lover within.
15. Salame de chocolate (Chocolate Salami)
Belgium and Switzerland are not the only countries in Europe that offer an exotic range of chocolates, and you'd believe it the moment you're in Portugal. While not exactly a chocolate, salame de chocolate is a popular salami-shaped sweet, whose concoction has gained a top spot in the list of best Portuguese recipes. The taste of butter, broken cookies, egg, and chocolate makes it so scrumptious that it's difficult to have just one.
Irrespective of how unique or unusual these cuisines might look at first sight, they are all lip-smacking in taste and definitely a key to an impeccable Europe holiday! So, make sure you include a tour of Portugal in your itinerary and try as many of these dishes as you can.
---
Looking To Book An International Holiday?
Book memorable holidays on TravelTriangle with 650+ verified travel agents for 65+ domestic and international destinations.
---