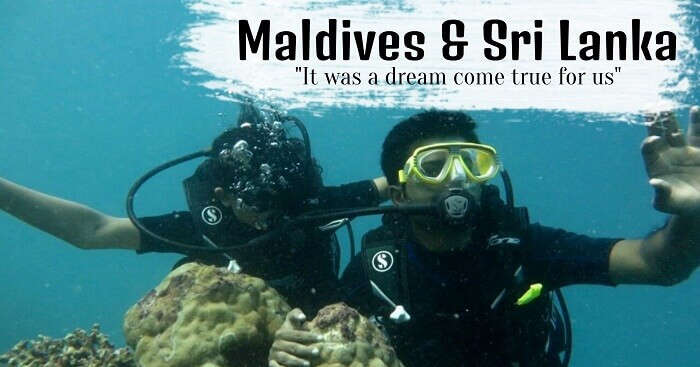 Ranjeet wanted his honeymoon to have it all – so he decided to holiday both in Sri Lanka and Maldives. Elaborating on their experiences in both the island nations, he tells us which one was better.He booked his Maldives honeymoon package from TravelTriangle and found it extremely value for money since it included their hotels, transfers, and meals – all for a cost of INR 92,795. You can also book a similar package like them.
Why Maldives and Sri Lanka?
Although initially planning to only go to Maldives on our honeymoon, my wife and I decided to include Sri Lanka in our romantic trip since it was on our way. Now that the destinations were decided, I began my search for an ideal Maldives & Sri Lanka honeymoon tour package.
Planning & Booking
My search began on Google and ended on Travel Triangle website which I really liked since it connected us to various travel agents who offered us multiple itineraries and quotes based on requirements. It offered us a tailor made experience and post some quotations, we finally selected one from Bernard Tours (Pvt) Ltd.
Day 1: Welcome to Sri Lanka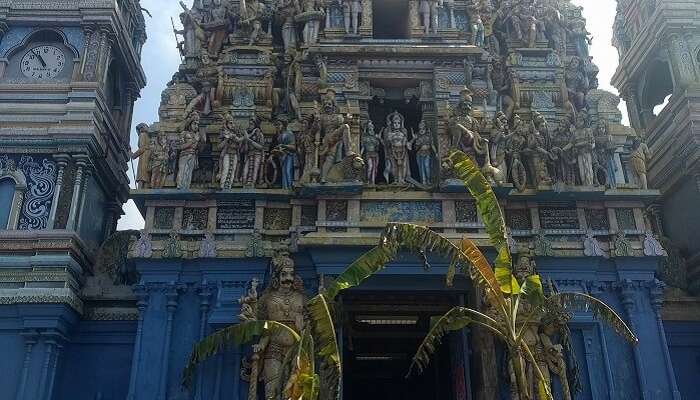 Suggested Read: Perfect Family Bonding On A Trip To Sri Lanka
Our trip started on 16th December and we boarded our flight from Chennai at 12 in the afternoon. We reached Sri Lanka (Colombo) by 1:30 and upon our arrival at the airport, were greeted by a travel representative from the agent's side.
This guy helped us with our transfers to the hotel where we relaxed for a while before heading out to explore some temples in the vicinity. This was a nice evening where we truly enjoyed the local feel of Sri Lanka and also its beautiful beaches. The people everywhere were very friendly and we felt our trip had started on a really positive note.
Day 2: Exploring the best of Colombo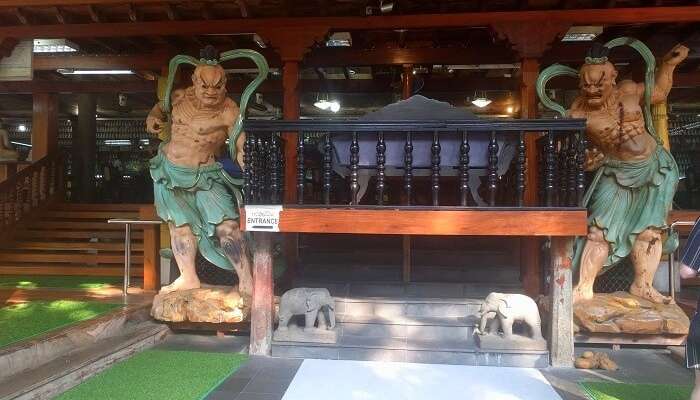 Suggested Read: 19 Photos That Will Make You Wish You Were In Sri Lanka Right Now!
This day we woke up early, had our breakfast, and then set out for the Columbo city tour. The trip started at 10 am and our fist stop was the Gangaramaya Buddhist Temple. This was a beautiful experience post which we visited the Independence Square. Next was Galle facing area which again showed us a very beautiful side of Colombo full of historic architecture.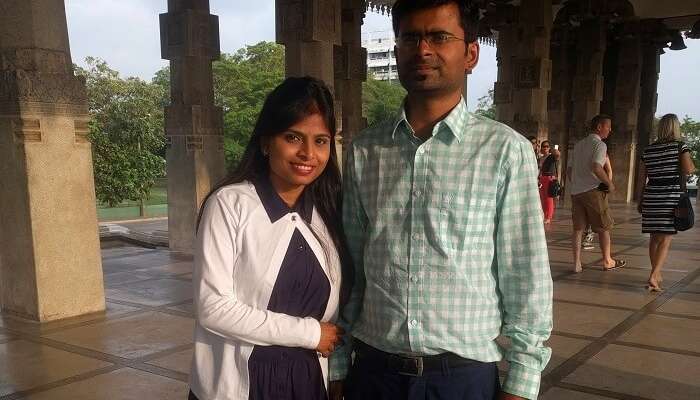 Lunch was another exciting affair since we indulged in delicious local cuisine post which we spent some time at a local beach. Our tour also included local markets including the gemstone market, and places where one could find antique items.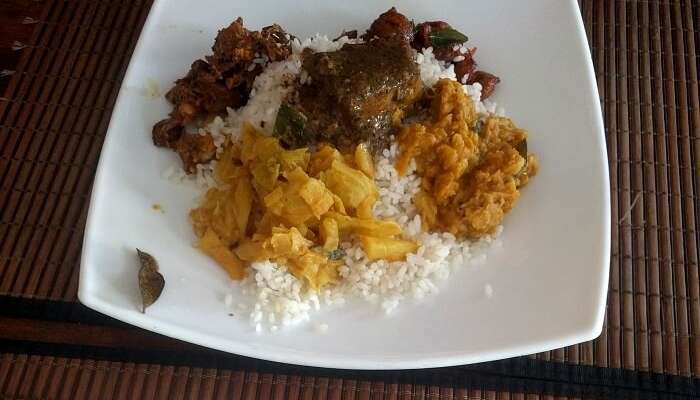 Overall, the tour was very nice and really showed us what Sri Lanka is all about.
Day 3: Hello Maldives
Early morning after breakfast, we checked out of our hotel and boarded our flight to Maldives at 12. We reached Male at 2 and from there, were transferred to our resort- Fun Island Resort.
This was a breathtakingly beautiful place and we were in love with the endless blue sky, pristine beaches, and the marvelous architecture of our resort. Post check in, we relaxed at the resort on our own, visited beaches, collected shells, and basically had as great time.
Day 4: Scuba diving delight!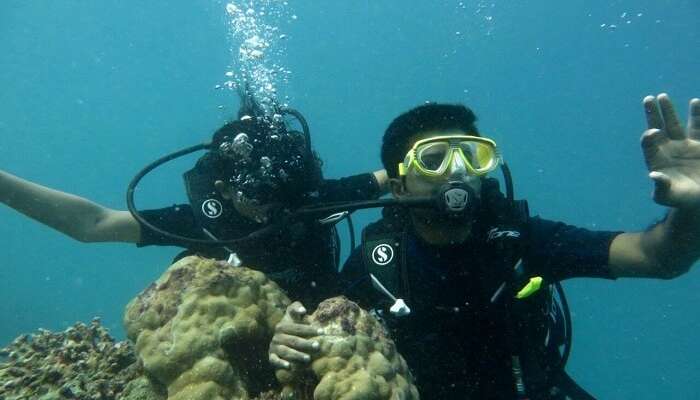 Suggested Read: Indulgent & Reinvigorating: 11 Spellbinding Water Villas in Maldives For A Calming Vacation
This was a really exciting day for us since we were to do Scuba diving today. So we got up early and reached the spot at 9:30 am. Here, the instructor first gave us all the equipment and trained us for Scuba diving. We practiced for a while and although initially, I was having a bit of a difficulty breathing with my mouth, I soon got accustomed.
The rest of the hours that followed were spent scuba diving and I loved the marine life and the underwater beauty. Robinson Crusoe island, our spot, was also stunning and by the time, the activity came to an end, we did not want to leave the water.
Post this, we had our lunch and then in the evening went on a jetty ride. Extremely calm, peaceful, and mesmerizing, we loved the ocean view from here and could even see the fises jumping out of the water.
Day 5: A fantastic island hopping tour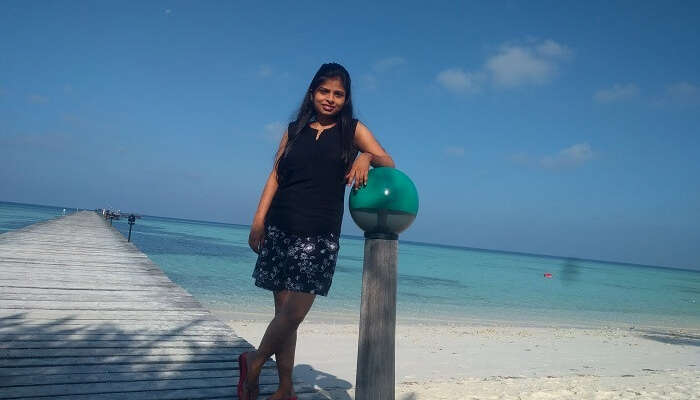 Another fun day in our Maldives itinerary, we were to do an island hopping tour today. Post breakfast, we got into a boat and began our journey. We visited many islands, some of the inhabited and it was really refreshing to witness so much beauty of nature in one day. This tour was truly spectacular and once again by the time, we were finished, we did not want to leave.
Day 6: Farewell Maldives, you will be missed!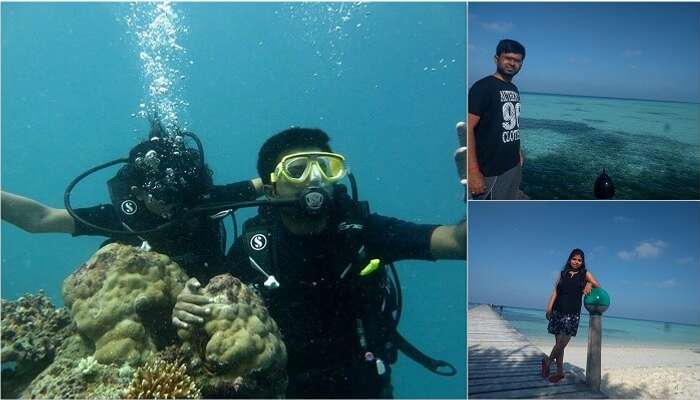 Suggested Read: Mauritius Vs Maldives Vs Seychelles Infographic: Which Is Your Ideal Holiday Paradise?
This was our last day in Maldives. We got up early in the morning to watch the beautiful sunrise and after this proceeded for the breakfast. Later at 11 am, we checked out of our hotel and bid farewell to the heaven on earth – Maldives.
Both Sri Lanka & Maldives were mesmerizing experiences for us. While Sri Lanka was more modern, cultural, and engaging, Maldives on the other hand was much more relaxing, beautiful, and a natural paradise in every sense. In the end, it is safe to say, we got the best of both worlds on our honeymoon and it truly felt like paradise.
Special moments from the trip: Scuba diving was one of the best experiences we ever had. The jetty rides, and island tours were also amazing.
Low Points: The only regret that we have is that we did not have enough time to visit more places.
Tips for travelers: Sri Lanka and Maldives both have their own unique charm. While the former offers a modern experience, the latter is really high on nature and relaxation. Choose one or both, you won't be disappointed.
Honeymoon on a tropical island is a dreamy affair! Book yours here for a perfect beach holiday!
Comments
comments