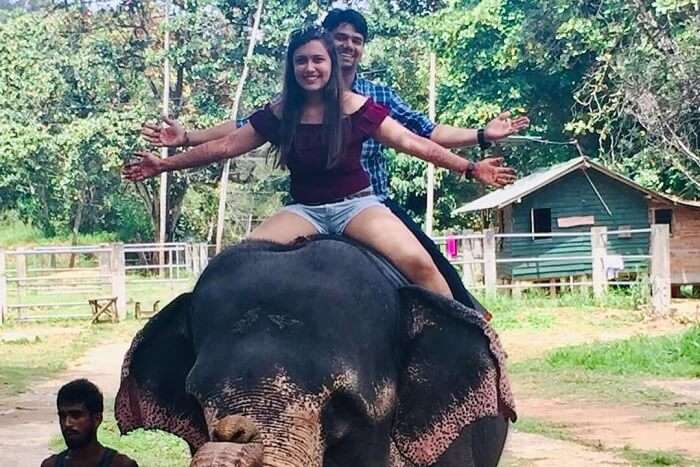 Most of us think of our honeymoon trip as a once-in-a-lifetime escape. Atul was no different. His honeymoon budget trip to Sri Lanka from India was magical in every sense of the word. Read on to find out how he took a budget honeymoon without skimping on luxury.
I was hounded by the question "why choose Sri Lanka" once we decided to embark on our honeymoon to the beautiful country. For us, it seemed like a natural choice. Wedding planning can get to your nerves and my wife and I were looking forward to destress. No place seemed better than the land of beaches! Thanks to TravelTriangle, we were able to plan our trip within no time and they made all the necessary arrangements for us to relax, rejuvenate and have fun.
Table Of Content
Details Of Our Budget Trip To Sri Lanka From India
Trip Cost: INR 51,750 per person
No. Of People: 2
Trip Duration: 7 days and 6 nights
Inclusions: Breakfast, candle light dinner, airport transfers, English speaking driver, free SIM cards on arrival, transportation to sites
Exclusions: Lunch, sightseeing charges, tips, personal expenses, visa, airfare, laundry, bar
Itinerary For Sri Lanka For 7 Days
Day 1: Arrival in Sri Lanka
Day 2: Sightseeing in Nuwara Eliya
Day 3: Sightseeing in Bentota
Day 4: Madu River boat safari
Day 5: Whale watching in Mirissa
Day 6: Water sport activities at Mirissa Beach
Day 7: Sightseeing in Colombo and departure
Is Sri Lanka Safe? Her Delightful Family Trip To Sri Lanka In May 2019 Proves That It Truly Is!
Weather At Sri Lanka
We found the weather at Sri Lanka pretty much pleasant throughout our trip. The morning air at Nuwara Eliya felt a bit nippy, which is expected from a hill station at an altitude of 1,868 metres. The temperature didn't vary a lot when we reached Ahungalla. However, Colombo was quite sunny. We broke into a sweat on the last day in Colombo despite wearing a loose fitted t-shirt.
4 Experiences During Our Budget Trip To Sri Lanka From India
After a lot of thought, I have arrived at 4 experiences from our budget trip to Sri Lanka from India that stole my heart. You can read them here:
1. Long Walks On Ahungalla Beach
We enjoyed taking long walks on the beach at sunset. Also, we made it a point to wake up early to catch the sun rise from the beach. It was an exquisite sight and one that we will remember for the longest time.
The Complete Guide To Applying For A Sri Lanka Visa For Indians
2. Water Sports At Mirissa Beach
Let's be fair, white water rafting at Kitulgala was thrilling, but the water sports at Mirissa beach were the icing on the cake. We indulged in canoeing, boating, and several other adrenaline-inducing water sport activities. It gave us a rush like none other!
 22 Places To Visit In Nuwara Eliya In 2022: The Mini London Of Sri Lanka!
3. Exploring Pinnawala Elephant Orphanage
We visited Pinnawala Elephant Orphanage, a nursery and captive breeding ground for wild Asian elephants on the third day of our trip. It was one of the highlights of our trip. We rode on an elephant while we were inside and took pictures with the beautiful animal. It is one of the best places to visit in Sri Lanka for couples.
12 Things Not To Do In Sri Lanka If You Wish To Have A Hassle-Free Holiday
4. Madu River Boat Safari
Madu River is one of the best attractions in Sri Lanka. The estuary of the Madu Ganga River is a complex coastal ecosystem of mangroves and islands. We sailed through the Mangrove Cave enroute our safari and took plenty of pictures to remember this ethereal journey.
 Viharamahadevi Park: A Handy Guide To Explore This Nature's Paradise In Sri Lanka!
Our Hotels In Sri Lanka
We stayed in Oak Ray Tea Bush at Nuwara Eliya on our budget trip to Sri Lanka from India. The property was good and the local food of Sri Lanka whipped up by the chef was excellent. Though we couldn't get the room of our choice due to unavailability of rooms, the hospitality of the staff and the delicious food made up for it. At Ahungalla, we stayed at the White Villa Resort. The property was situated on the coast. They also had a private beach. We couldn't have asked for more! If you choose to stay near the airport or train station, you can actually cut down on your Sri Lanka cost of travel.
Ceylon Tea Museum: The Perfect Spot To Relish The Taste Of The Authentic Sri Lankan Tea!
Local Food Of Sri Lanka
We relished the local food of Sri Lanka on our budget trip to Sri Lanka from India. We usually stopped by local cafes and restaurants enroute our destination to have a quick bite. The food was delicious and had a distinct taste of its own. The flavours of Sri Lankan cuisine still bring back memories from our vacation!
Local Shopping In Sri Lanka
The highlight of our trip was receiving 5% discount vouchers for Odel shopping. It was a wonderful touch to our honeymoon budget trip to Sri Lanka from India. We did some last-minute shopping in Colombo. Our experience of local shopping in Sri Lanka was great. Colombo has an extensive range of souvenirs for you to gift your friends and family and they easily fit our budget for Sri Lanka trip.
 We Spent 7 Days In Sri Lanka And It Was Absolute Bliss!
What To Pack For Sri Lanka
You must pack the following items (or similar) for your trip to Sri Lanka:
Raincoat and umbrella
Mosquito repellent
Sunscreen
Flip flops or sandals
Sturdy trekking / sports shoes
Sarongs
A light jacket (or two)
A small backpack
Bathing suit and quick dry towel
Flashlight
Photo ID
Scarves
 The Ultimate Guide To Sri Lanka's Dambulla Cave Temple
Travel Tips For Sri Lanka
Here's a list of travel tips for Sri Lanka that I believe will help you avoid mistakes and vacation like a pro on your budget trip to Sri Lanka from India:
1. Keep a bottle of sunscreen with you at all times.
2. Get your own swimsuit to save the money you would have spent on renting it.
3. Haggle (albeit respectfully) with shopkeepers in Colombo or else you will end up overpaying for souvenirs.
4. Trust only government certified stores for buying handicrafts.
5. Get out of your comfort zone and try some of the local dishes instead of restricting yourself to Indian cuisine.
6. Use local transport for getting around so that you do not mess up your Sri Lanka travel budget.
Our Experience With TravelTriangle
The TravelTriangle agent assigned to us customized our itinerary for Sri Lanka for 7 days according to our requirements. All in all, our journey was smooth and hassle-free. All our needs were taken care of. Our driver was warm and willingly shared extensive information about the background of the tourist hotspots we visited. TravelTriangle gave us more than we could have ever asked for.
 44 Soul Satisfying Things To Do In Sri Lanka In 2022 For Travelers Of All Types
Our budget trip to Sri Lanka from India was probably one of the best first decisions that we have made as a married couple. You too can experience all this and more on your honeymoon in Sri Lanka. Simply, book your trip with TravelTriangle to avail exciting deals and discounts and customise the trip according to your requirements.
Common Queries For Budget Trip To Sri Lanka From India
Where should I stay in Sri Lanka for a honeymoon?
The White Villa Resort at Ahungalla would be the top pick primarily for the views and the food on any budget trip to Sri Lanka from India.
Is Sri Lanka expensive to visit?
You can take a trip around Sri Lanka on a backpacker's budget easily. You should follow the tips for Sri Lanka laid out to help backpackers traveling to Sri Lanka on a budget.
What should I buy in Sri Lanka?
You should buy jewellery, gems, moonstone carvings, handwoven items, tea and spices in Sri Lanka.
How do people dress in Sri Lanka?
You will find local women wearing long dresses or loose cotton skirts and tops, while men are seen parading in shorts and t-shirts. However, you should carry warm clothes if you plan to visit Nuwara Eliya because the evenings tend to get chilly.
Is Sri Lanka safe to visit?
Yes, Sri Lanka is safe to visit. Exercise caution in the night if you're out on the streets alone.
People Also Read:
Things To Do In Sri Lanka With Family Solo Trip To Sri Lanka Friends Trip To Sri Lanka