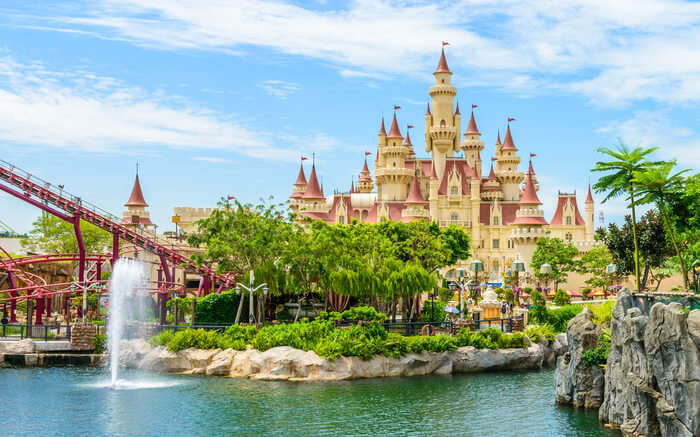 Singapore's much-talked-about tourist destination, Resorts World Sentosa is a wonderland dotted with theme parks that amaze children and adults alike. A great place for families and groups of friends, Sentosa has Adventure Cove Waterpark for the water babies, S.E.A Aquarium for marine life lovers, Trick Eye Museum for those fascinated with illusion arts!
Customize your Singapore tour packages to include a day tour to Resorts World Sentosa. In fact you could also plan what exactly you want to do there once you're done reading this piece. From the Resort World Sentosa Casino to Tall Ship Sunset Sail to CJ's Bar at Quaich to movie-themed Universal Studios Sentosa – the attractions here are mind-boggling and we're here to sort it with this one-stop guide to Resorts World Sentosa.
Entertainment attractions in Resorts World Sentosa
1. Universal Studios – The movie-themed park

Undoubtedly, one of Singapore's best tourist attractions is the Universal Studios. Inviting you to dive into the real world, this theme-park is full of rides, shows, and other attractions based on movies like Madagascar, Shrek, and Transformers.
Firework shows, and Hollywood Dreams Parade—featuring different movie character like Penguins in Madagascar and Marilyn Monroe—are among the frequently-held shows in Universal Studios. That's not it, you can sign up for your own tour – from VIP tours to wedding photography tours.
Timing: 10 am to 6 pm
Entry fee: S$76 per head for adults | S$56 per head for children aged between 4 and 12 years | S$38 per head for senior citizens
2. S.E.A Aquarium – Showcasing the marine wonderland

With over 100,000 marine creatures belonging to 49 different habitats, S.E.A Aquarium is where the jaws drop and memories are made. Manta rays, sharks, and a variety of other marine species swim around in their artificially-created habitats.
The aquarium area is divided into different sections as per suitable habitats and regions. The sections are named as Bay of Bengal & Laccadive Sea, Red Sea, and Strait of Malacca & Andaman Sea. The experience in the S.E.A is taken further with special amenities like VIP tour, and PADI diver course.
Timing: 10 am to 7 pm
Entry fee: S$34 per head for adults | S$24 per head for children aged between 4 and 12 years | S$24 per head for senior citizens
Get Info : Resorts in Sentosa
3. Adventure Cove Waterpark – Splash in the pool and waterslides

The Adventure Cove Waterpark goes beyond the basic water rides and swimming pools. Here, you can also snorkel to see colorful corals and schools of as much as 20,000 fishes. Ray Bay is the special attraction in Resorts World Sentosa, which allows close encounter with about a dozen of friendly rays with velvety wings.
Rides like Whirlpool Washout, Splashworks, and Tidal Twister are among the most joyful rides in the park. And to let you relax after the rides, Adventure Cove also has dining and shopping experiences.
Timing: 10 am to 6 pm
Entry fee: S$38 per head for adults | S$30 per head for children aged between 4 and 12 years | S$30 per head for senior citizens
Must Read: 25 Free Things To Do In Singapore We Bet You Didn't Know About
4. Dolphin Island – The home of Indo-Pacific Bottlenose dolphins

The world knows how adorable dolphins are, and Resorts World at Sentosa lets you interact with these creatures. Home to Indo-Pacific Bottlenose dolphins, the Dolphin Island hosts various engagement-learning programmes through which the visitors also get an insight to the marine world, along with diet, migration pattern, and habitats of the dolphins.
Timing: 10 am to 6 pm
Entry fee: The entry fee to Dolphin Island in Resorts World differs from program to program, and also the age of visitor. You can know the entry details of the same by clicking here.
5. Trick Eye Museum – Optical illusion at its best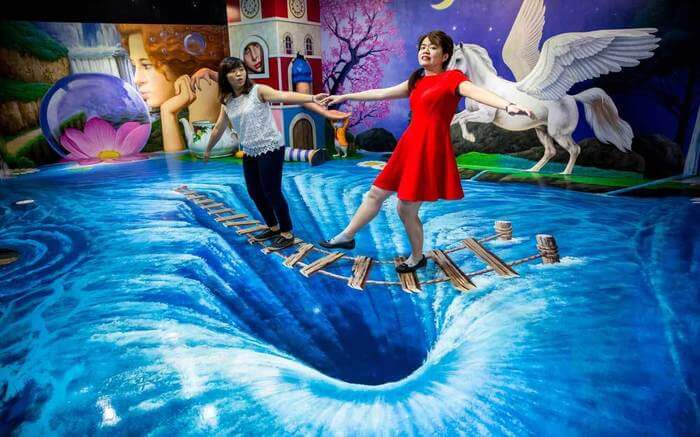 Astonishment follows when you're in the Trick Eye Museum in Resorts World Sentosa. The art installations and paintings in this museum are brought to life with light and sound. You might have seen many 3 dimensional masterpieces, but the art of making 2D exhibits look like 3D will surely amaze you.
Timing: 10 am to 9 pm
Entry fee: S$25 per head for adults | S$20 per head for children aged between 4 and 12 years | S$20 per head for senior citizens
Get Info : Best Resorts in Maldives
Attractions for rejuvenation and relaxation
1. Casino

With all the fun offered here, Resort World Sentosa Casino lets you bring the best out of your love for gambling. The casino is open 24 hours, and there are many table games (electronic and nonelectronic) like Electronic Roulette, Baccarat (Commission & Non-Commission), Money Wheel, and Caribbean Stud Poker to keep you engaged and enthralled. Alongside the table games, the casino boasts of over 2,400 slot machines.
Note: The dress code is strictly formal. Guests wearing shorts, slippers etc. are denied entry.
Timing: Open 24 hours
2. Spa

ESPA in Resorts World Sentosa is right where your mind, body and soul finds tranquility. The exclusive spa resort is tastefully designed to please the senses. Over the years, ESPA has bagged reputed awards like World Luxury Spa Awards 2016, and Wellness Travel Awards.
The exotic spa resort is the definition of luxury, boasting of Turkish Hammam, Crystal Steam rooms, Forest Onsen-style Pools, and a spa cafe.
Get Info : Hotels in Sentosa
3. Tall Ship Sunset Sail

After a long day of tiring yet intriguing adventures in the Resorts World Sentosa Island, you deserve a leisure evening. This beautiful evening is made of soaring skyline of Singapore and the golden hues unfurled by setting sun.
Each day of the weekend has its own theme. The Fridays are meant for partying and recommended for groups of friends. On Saturdays, the setting is more romantic and Sundays are great for families. There also is a special Roast Sunset with British theme, and it welcomes everyone.
Suggested Read: Here's Why Singapore Cruise Tour Is An Ideal Way To Explore The Lion City On Budget!
Top Resort World Sentosa hotels

With myriad of activities and sights, Resorts World Sentosa is the place where everything happening take place, day in and day out! This is a holiday destination on its own, and you'd want to stay over in Sentosa during your stay in Singapore.
When it comes to hotels in Resorts World, you'll be spoilt for choice. Though there are ten accommodation options in the area, but each of them faces cut-throat competition in terms of luxury, comfort, services, amenities, and of course visual appeal.
The Ocean Suite is built right next to S.E.A, and feature 11 exclusive suites. You can watch the exotic marine life right from your luxurious room.
Hard Rock Hotel on the other hand, exhibits the mesh of luxe and rock & roll.
Treetop Loft with its treehouses perched 12 meters above the ground will mesmerize you too.
What to eat at Resorts World Sentosa

Since you have numerous options in everything from sights to hotels, why would Resorts World Sentosa let food be left behind. All you have to do is be prepared for a culinary experience that's choicest, and freshly-served.
Whether you're longing for authentic Asian cuisine, or planning a lively dinner prepared by celebrity chefs, this is the place to be. The Resorts World at Sentosa is turned more vibrant with its clubs and lounges like Casino Royale Bar, CJ's Bar at Quaich, and Equarius Lounge. These are the best places to enjoy nightlife in Singapore.
Shopping at Resorts World Sentosa

Are you a shopaholic? If not you'll turn into one. Bvlgari, Dunhill, Rolex, Salvatore Ferragamo, and Michael Kors are some of the brands you'll stumble upon while taking a stroll in Sentosa's shopping complex.
Even if you're traveling with kids, they'll love it too. Take them to stores like Candylicious, and Lego, and watch them have a good time in Resorts World Sentosa.
Get Info : 3 Star Hotels in Maldives
Events held in Resorts World Sentosa

Evolved into a sought-after M.I.C.E destination, Resorts World Sentosa serves as a venue to various events, weddings, and business conferences. Food fests, concerts, shopping festivals, and themed-parties like Despicable Me Break Out Party are some of the events arranged in the Resorts World Sentosa.
Ideal duration & time to visit

When it comes to best time to visit Resorts World Sentosa, you can actually plan a trip any time around the year. The Summer season (May to July), however, is considered the best time for Sentosa; thanks to moderate weather. Winter too, specially November and December, are great since you can enjoy outdoor activities without getting dehydrated.
In the Monsoon season, starting from December end to March, Sentosa experiences average rainfall, which again hardly acts as a barrier in activities and visits to attractions.
Talking of ideal stay duration, considering the amount of attractions in Resorts World Sentosa, a stay of three days is recommended.
You clearly don't need another guide to help you plan your trip to Sentosa Island Singapore. In case you have more queries about the same, leave a comment and we'll be happy to address them.
Further Read: Honeymoon In Singapore: Your Guide To The Most Romantic Places & Experiences In The City