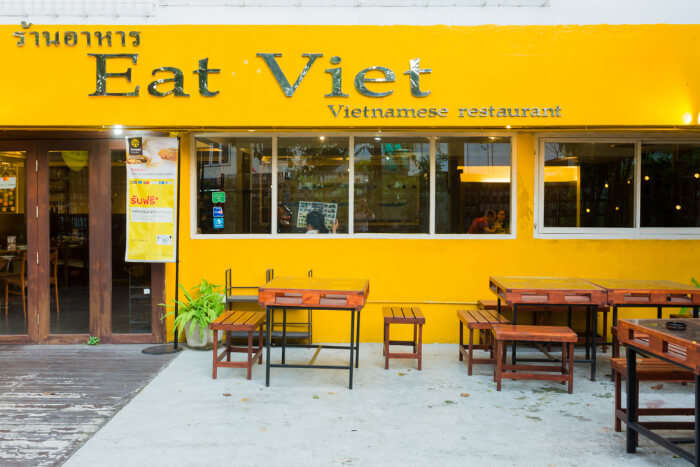 The ancient city of Hue is not only popular for its historic monuments, caves, temples and museum but also for its traditional food and other delicacies like seafood etc. These elegant restaurants in Hue can be traced near the iconic landmark where you can expect fascinating interiors, remarkable services, traditional music and dance performances. Owing to a considerable amount of growth in the number of tourists, the city is now tying up with bistros and café serving cuisines similar to European and Western cuisines like pasta, pizza, grilled meat etc.
Top Restaurants In Hue, Vietnam
These cuisines are paired with an extensive range of wines, beers, and spirits. Tourists here can find food from all platforms starting from frills-free local food to international cuisine. Below is the list of the restaurants that are meeting the expectations of the tourists on a large scale.
1.La Parfum Restaurant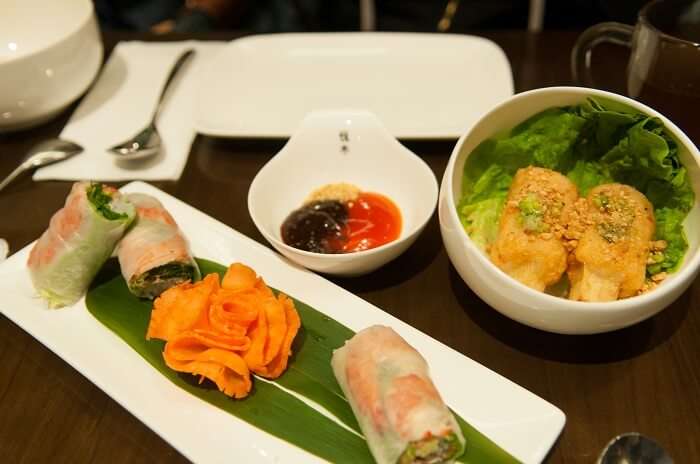 It is a sophisticated dining place located within the premises of La Residence Hue Hotel & Spa. One of the best restaurants in Hue, it offers a six course lavish menu which is an amalgamation of French and Vietnamese dish backed with a range of exotic European wines and other offerings. Some of the standout dishes include lemongrass-marinated chicken supported by smoked eggplant, sesame-crusted seared tuna and roasted lamb rack etc. Located in an ancient French-Vietnam building, it is suggested to make booking for the rooftop to enjoy the magnificent views of the hotel's herb garden and the Perfume River.
Address: 5 Le Loi Street | La Residence Hotel, Hue, Vietnam
Average Prices: ₹ 730 – ₹ 14,593
Must Read:
10 Homestays In Vietnam That Redefine Affordable Luxury
2. Ancient Hue Restaurant
One of the oldest restaurants in Hue, this place holds its existence since 1800. It is double-storied wooden house offering lavishing cuisines along with the Royal cuisine. This ancient Hue restaurant serves royal cuisine followed by traditional dance-Vo Kinh Van An. This restaurant is located sideways of Kim Long Street and is encircled by landscape gardens while the interior of the restaurant are adorned by ceramic vases and silk cushions reminding you of Nguyen's royal quarters. To make dining area look more intense, an art gallery has been established exhibiting the handicrafts and traditional paintings made by the local artisans and painters. Enjoy banana blossom salad, pancake, Hue beef noodles and steamed rice flour cake which are served in different shapes like dragon, phoenix or tiny flower.
Address: 104/47 Phu Mong , Kim Long | Vietnam, Hue 10000, Vietnam
Average Price: ₹ 219 – ₹ 1,094
3. Les Jardins De La Carambole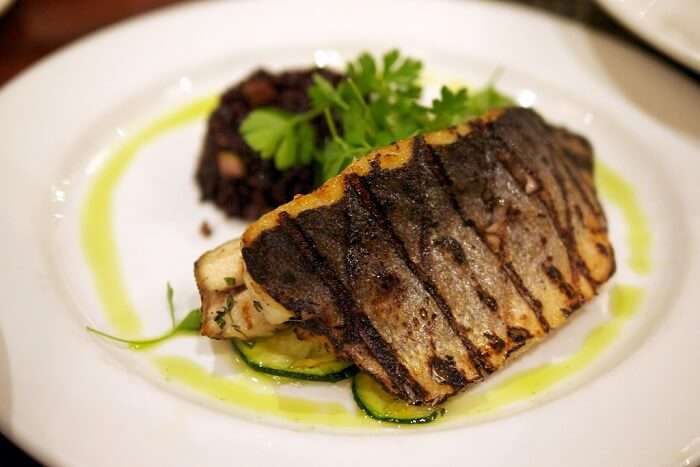 It is an authentic restaurant in Hue serving lavish cuisines of different countries like Italy, French, and Vietnam etc. The restaurant is constructed in a colonial-style villa and the interior settings give visitors a feel of the ancient times.Situated in the Dang Tran Con Street, its proximity to Hue Imperial City makes it one of the most prevalent restaurants in Hue. The upper portion of this restaurant holds live piano performance and its widespread lobby gives a broad look of the city. Some of their best-selling dishes are grilled chicken with lemongrass, beef and grilled sea bass fish with sauce. The dishes are priced at an affordable price of 6 USD.
Address: 32, Dang Tran Con, Hue 10000, Vietnam
Average Price: ₹ 365 – ₹ 1,459
Suggested Read: The Upright Vietnam Golden Bridge Is Leaving Its Travelers In Downright Awe
4. Elegant Restaurant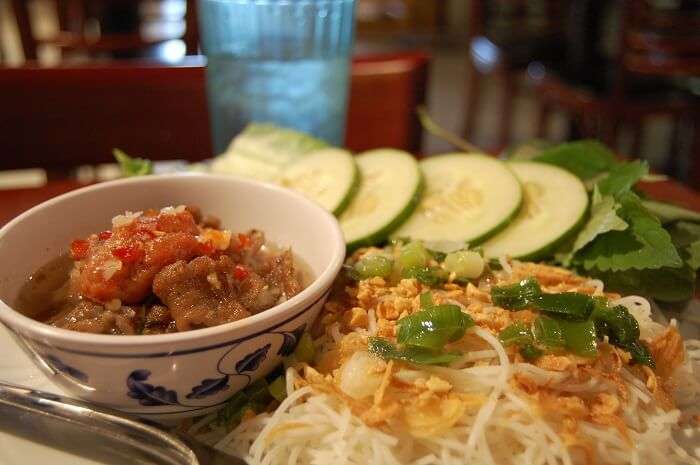 Enjoy the local and traditional Hue food served at this restaurant. It serves a variety of cocktail which is the main attraction for the tourists who like to try new things. This restaurant is at a walking distance from Truong Tien Bridge. Some of the best-selling dishes of this restaurant are shredded chicken, BBQ shrimp on sugarcane, caramelized pork with sesame. Enjoy other delicacies like English breakfast, sandwiches, pizzas, and pasta which are complemented with an extensive range of wines, liquors, cocktails, beers, and some other imported wines.
Address: 29 Vo Thi Sau, Phu Hoi Ward, Hue, Vietnam
Average Price: ₹ 146 – ₹ 1,094
5. Mandarin Café and Restaurant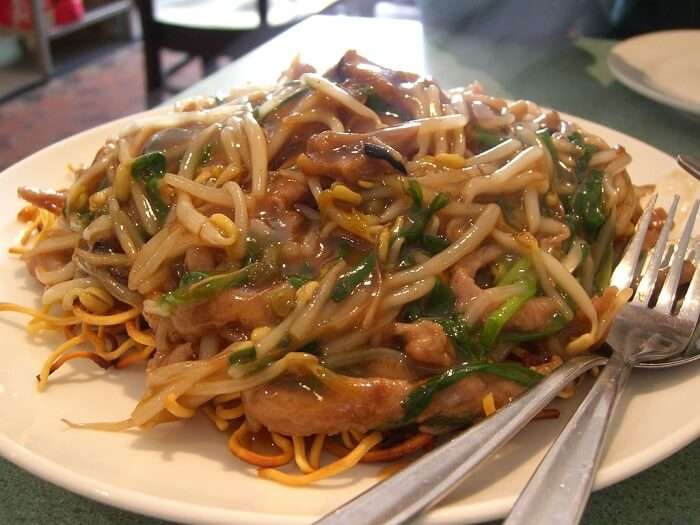 It is one of a fabled café restaurants in Hue wherein tourists can enjoy plenty of Vietnamese dishes like fresh fruit shakes, Vietnamese coffee, fried noodle with pork, shrimp, beef and veggies, pancake, seafood, and banana cake etc. this restaurant was established in the year 1990 by Mr. Cu who is a photographer by profession. The interiors of this restaurant are adorned with pictures of the local regime and beautiful attractions which you can buy as souvenirs for yourself.
Address: 24 Tran Cao Van St. | South Bank, Hue 470000, Vietnam
Suggested Read: 14 Festivals In Vietnam That Are All About Glitz, Glam, And Grandeur This 2022!
6. Tinh Gia Vien Restaurant Hue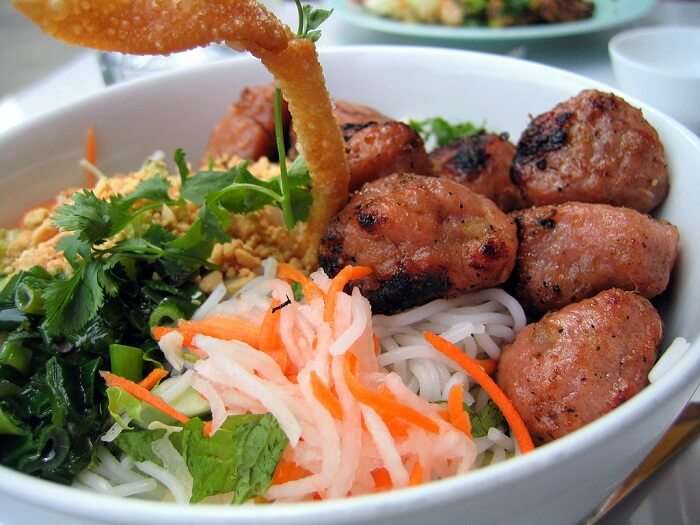 It is well known for its graceful interiors and a genuine demonstration of Vietnamese cuisines. Beautiful lanterns, bonsai plants, flowers, miniature ponds give this restaurant a natural look and replica of the royal palace. The cuisines are prepared by the posterities of Nguyen Dynasty. One of the best restaurants in Hue, it is at a walking distance of 5 min from Hue Imperial City and the dishes are priced between 15-20 USD.
Address: 7K/28 Le Thanh Ton, Hue 84 054, Vietnam
Suggested Read: Ho Chi Minh Shopping 2022: 10 Places To Splurge And Shop At This Vietnamese Hub!
7. Hanh Restaurant Hue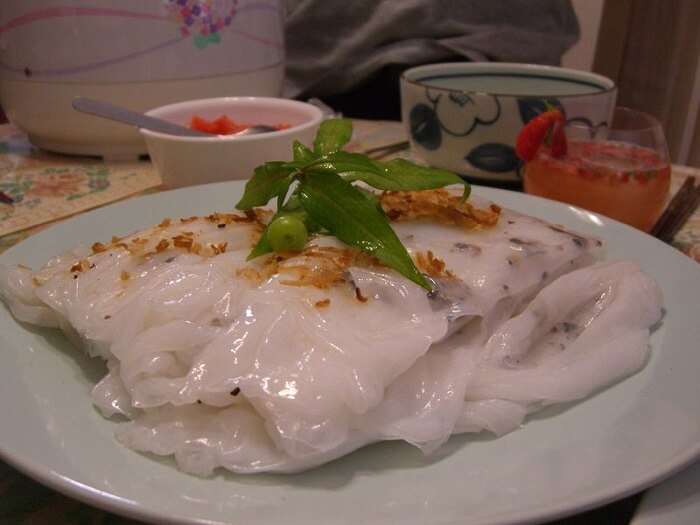 It holds its specialty in Nem Lui, which is a traditional local dish prepared from minced pork rolls wrapped in lemongrass and served with rice paper, vegetables, and peanut sauce. Some of the best dishes of this restaurant are BBQ pork wrapped in rice paper, steamed rice cake, rice pancake, and fried spring rolls. Similar to other restaurants in Hue, Hanh Restaurant is also 15 minutes away from the Hue Imperial City.
Address: 11 Pho Duc Chinh, Hue 530000, Vietnam
Average Price: ₹ 146 – ₹ 438
Suggested Read: 7 Temples In Vietnam That Are An Epitome Of Art, Architecture, And Excellence!
8. Risotto Hue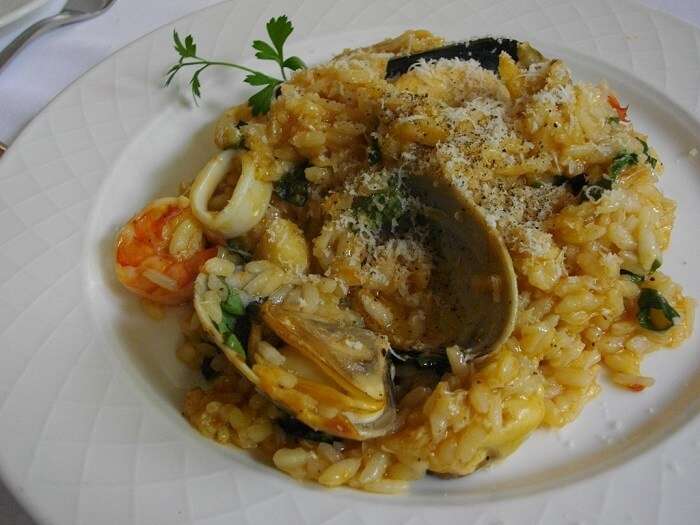 It is one of the best restaurants in Hue if you are looking for comfort food. The interiors of this restaurant are adorned by the lanterns and wall murals while the upper area offers a magnificent view of the Nhu Y River. This restaurant specializes in Italian cuisines like pizza, pasta, margarita, spinach, ricotta gnocchi, and seafood risotto etc.
Address: 14 Nguyen Cong Tru Str, Hue 0084, Vietnam
Average Price: ₹ 146 – ₹ 584
9. Nina's Cafe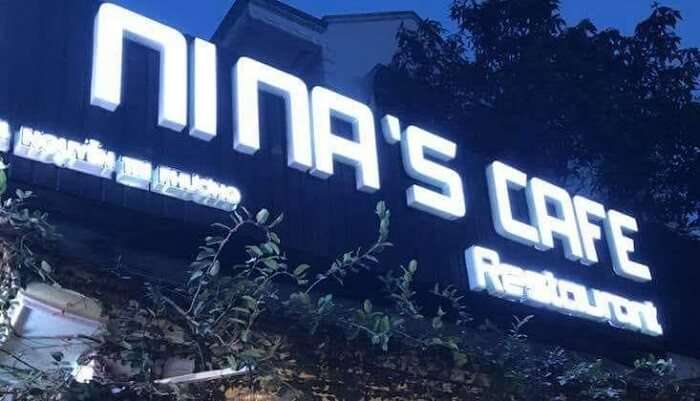 This is a family owned restaurant which is famous for its vast menu of affordable Vietnamese dishes which every traveler can relish. There are some signature dishes served here like the squid cooked with lemongrass and chili peppers. Alongside that there are some traditional dishes which makes an iconic landmark in Hue.
Location: 16/34 Nguyen Tri Phuong Street, Hue
Timings: 8AM-10:30PM
10. Tropical Garden Restaurant Hue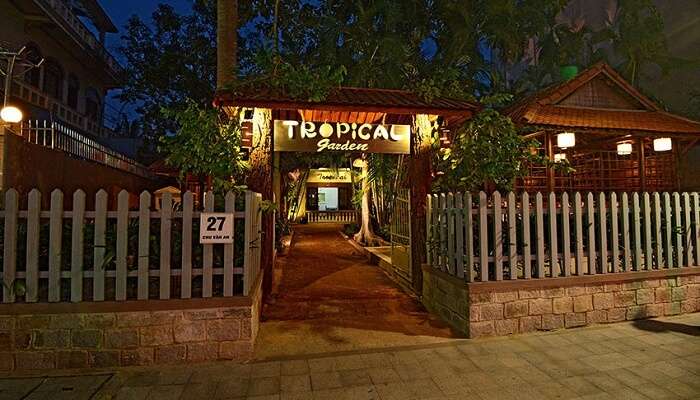 Quite a famous stopover for the tour buses in Hue, the Tropical Garden Restaurant where the travelers get the chance to enjoy a wide range of Vietnameses dishes. Residing a two-storey Vietnamese house at the Chu Van An Street, there are thatched huts inside which gives a tropical vibe. This place serve some of the delicious items like Nem Lui (minced pork rolls wrapped in lemongrass), rice paper, fresh greens and Banh Beo which gives the authentic flavors.
Location: 27 Chu Van An Street, Hue
Timings: 9AM-10PM
Further Read: Vietnam Shopping: 21 Places For Shopaholics Fancying An Astounding Experience In 2022!
The list of the best restaurants in Hue is endless. Tourists can find different options while holidaying in Vietnam ranging from local street food to international restaurants.
People Also Read:
Tokyo Restaurants Restaurants In Haifa Madaba Restaurants
---
Looking To Book An International Honeymoon?
Book memorable honeymoon on TravelTriangle with 650+ verified travel agents for 65+ domestic and international destinations.
---
p.box-links a {
display: inline-block;
margin-right: -2px;
font-size: 13px;
-webkit-box-sizing: content-box;
-moz-box-sizing: content-box;
box-sizing: content-box;
border: none;
color: rgb(0, 0, 0);
-o-text-overflow: clip;
text-overflow: clip;
background: #98eae3;
-webkit-transform: skewX(-20deg);
transform: skewX(-8deg);
text-decoration: none !important;
padding: .2em .6em .3em;
margin-top: 2px;
}
p.box-links a:hover {
background-color: #000000;
color: #ffffff;
}