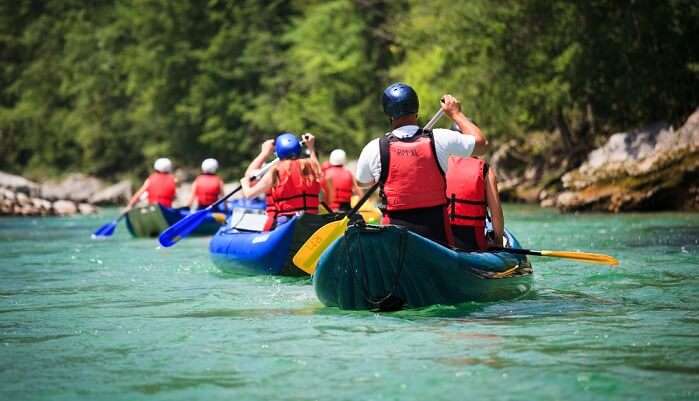 Nestled in the Western part in the state of Karnataka, Dandeli offers a scenic getaway for both nature lovers and adventure freaks. The diverse natural features of Dandeli include mountains, rivers, lush landscapes and caves. For most tourists, Dandeli is a favourite weekend destination that offers them a break from their daily hectic schedule. Dandeli Wildlife Sanctuary, Kali River, Kavala Caves, Syntheri Rock, Shiroli Peak and the Anshi National Park, are some of the major attractions of this place. Throughout the year, Dandeli is however famous for one thing – white water rafting. Yes! Dandeli is easily one of the most desired places in India where tourists from India and abroad come to experience the thrilling river rafting experience.
Set on the banks of the beautiful Kali River, when you are in Dandeli, it is a must activity to participate in. In today's blog, we are going to discuss different details regarding river rafting in Dandeli for helping you plan a trip.
Best Time For River Rafting In Dandeli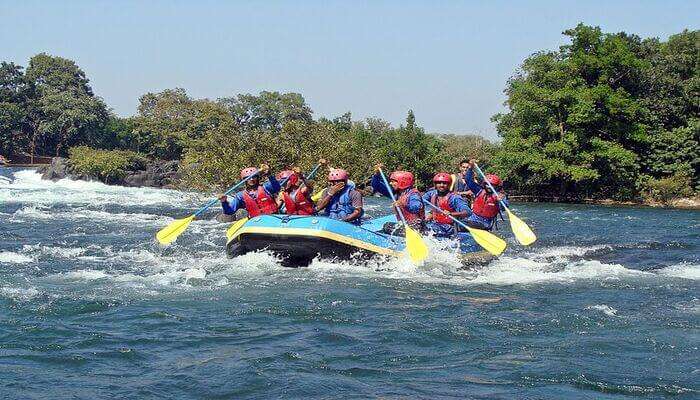 Dandeli water rafting is one of the key highlights of the place. With every passing year, the number of participants is increasing quickly. Dandeli is a true year-round destination where you can book your tickets and visit any time of the year. The months between October to January are the best time to visit experience Dandeli river rafting. The monsoon rains have left behind an air of freshness all around this place and lush green landscape and vegetation is a common sight when you are here in October to December.
Due to the heavy rainfalls during the months of August and September, the waterfalls and Kali River are at their full force. The overall weather is pleasant and very comfortable for tourists who want to take part in river rafting or any other adventure sports. River rafting ideally starts during this season just after the monsoon. The average temperature is anywhere between 18°C to 25°C, making it easier for everyone to adapt to the conditions that are prevalent here.
One can also choose the best time to visit Dandeli for river rafting which is in the months between February and May. This is the time when the forests are dry and the trees are starting to shed their leaves. Many cultural activities are held in Dandeli during this time of the year. Also, water activities are their peak demand as well. From snorkelling, diving and white water rafting, you can take part in any of them. Dandeli water rafting is a good sport to experience the ecstatic thrill and adrenaline. The temperatures are anywhere between 20°C to 28°C between the months of February and May.
15 Exciting Places Near Dandeli That You Must Visit In 2022
Best Places For River Rafting In Dandeli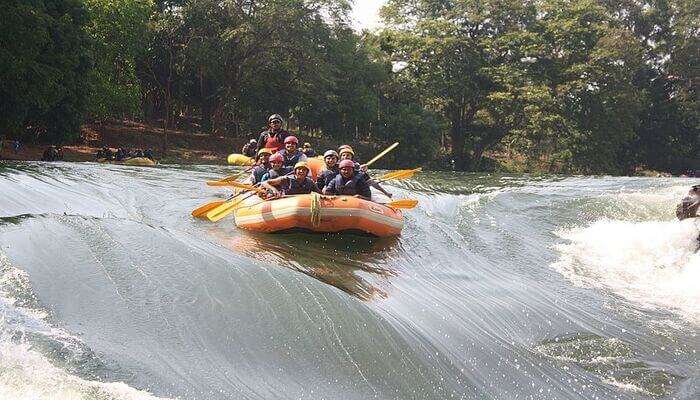 River Kali is the main course of all the river rafting in Dandeli tours operated here. The Kali flows through a large part of this region and along its course, you will come across many resorts and adventure sports agencies which allow you to participate in this sport easily. The Dandeli River rafting trail stretches to a distance of about 12 kilometres. The rapids and meanders of the Kali River have been classified into Grade II and III, which are ideal for professionals and as well as beginners in this exhilarating water sport. All the participants are mostly taken to the starting points via jungle jeep and there they will be guided through the rest of the process involved.
If you are new to this sport you will be going on a route that is filled with Grade II rapids and water passes. Experts and experienced rafters head to the Kali River Point of Grade III rapids. This course is much more difficult and challenging. You will expert steering and balancing skills to keep going through the route for a distance of more than 10 kilometres. All in all, Kali River offers a breathtaking experience of the river rafting in Dandeli for sure.
Average Cost For River Rafting in Dandeli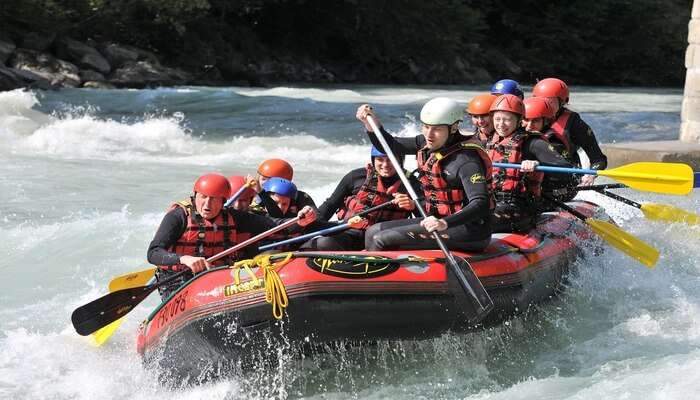 A lot of people will be interested to know the costs of river rafting in Dandeli. Isn't it? But to be honest, the actual costs are difficult to tell. It widely depends on the season you are visiting, the rafting course you have selected and the agency via whom you have booked the trip. However, on average, the basic cost starts at Rs.900 and for those who want the best facilities and experience, it can extend up to Rs.2500.
24 Places To Visit In Dandeli In 2022 For Unforgettable Adventure
Tips For Rafting In Dandeli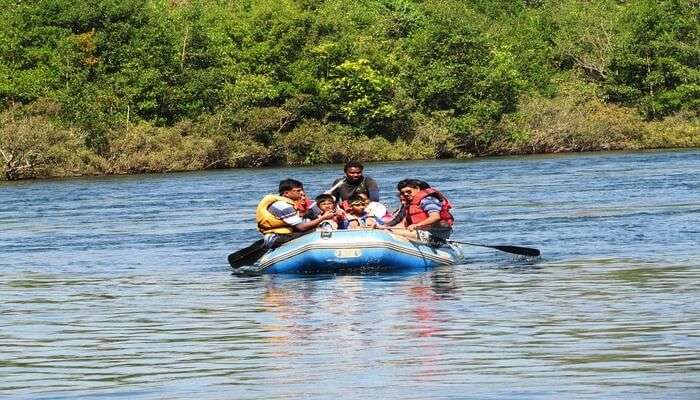 Before you book a white water resort Dandeli for a white water rafting trip, you need to take a look at some important tips we have jotted down here.
Always choose a licensed and verified rafting agency when you are in Dandeli. You will find many agents who work individually and provide white water rafting services. But, it is best for you to avoid such agents and rely on professional agencies available here.
Double-check the basic safety gear provided to you. It will include a lifejacket and helmet at all times. Also, you need to avoid loose clothing and slippery footwear and follow the guide's instructions on gear at all times.
There are good accommodation facilities available in Dandeli where you can stay for a few days and enjoy the place. Kali Adventure Camp, Bison Resort, Wilderness Chorla and Sai River Resort are the best resorts where you can accommodate. Ensure to book your rooms in advance.
Always learn and clearly understand the hand signs and commands that the guide will teach you before the start of the trip. These hand signs will be used for communicating with the guide when you are on the raft, gushing down the river.
What To Pack For Rafting In Dandeli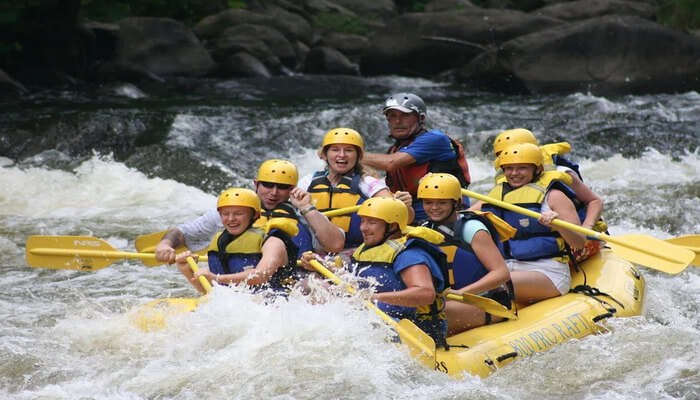 You need to pack some basic items for every trip of the river rafting in Dandeli. These items include a personal floatation jacket, goggles, lightweight waterproof jacket, and synthetic clothing. Avoid wearing any cotton clothes when you are going for the river rafting trip because cotton clothes make you feel really cold very quickly. Other than that, you can bring casual t-shirts and trousers to wear and don't forget to pack a towel to wipe yourself dry after the end of the trip. Carry a skincare lotion to keep your skin moisturized and to protect it from the sun rays.
Dandeli Wildlife Sanctuary 2022: Experience The Best Of Nature, Wildlife, And Adventure!
We hope our blog will help you plan your river rafting in Dandeli trip in a more efficient manner. If you have a getaway to Karnataka on your cards, make sure you add this thrilling experience to your list. It is a perfect place amidst nature to get away from all the hustle bustle and experience thrill and adventure. Let us know about your experience of Dandeli river rafting.
For our editorial codes of conduct and copyright disclaimer, please click here. 
Frequently Asked Questions About River Rafting In Dandeli
How safe is river rafting in Dandeli?
White water rafting in Dandeli is safe. There are ample skilled and professional rafters and rafting agencies who take the best care of their clients when they head out for a trip.
Which month is best to visit Dandeli?
The best months to visit Dandeli are between October to December and February to May. These are ideally the best time to enjoy beautiful and comfortable weather in Dandeli and also to take part in the various water sports.
Which river flows in Dandeli?
The Kali River flows through Dandeli and its surrounding regions. This river flows southeast into the Bommanahalli Reservoir.
Can non-swimmers go white water rafting?
Yes, non-swimmers can enjoy white water rafting experience but they need to take part in the fairly easy and manageable routes which do not have Grade III rapids and meanders.
People Also Read:
River Rafting In Coorg River Rafting In Kolad River Rafting In Rishikesh
Comments
comments