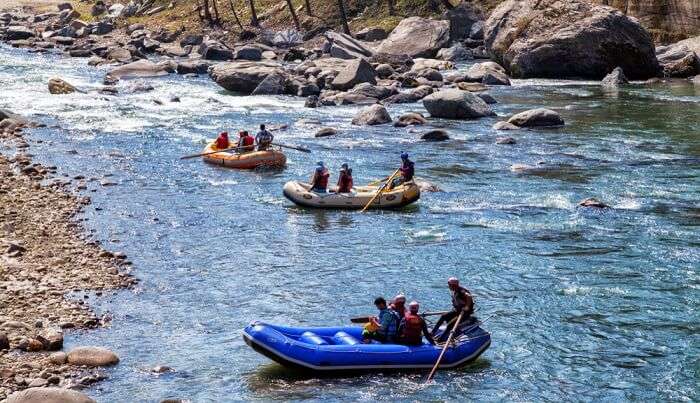 From the delightful snow capped mountains of Rohtang Pass to the warm surroundings of the thermal springs, Kullu offers a getaway that no other hill station in India does. The picturesque mountains, quaint villages, appealing cafes and cool vibe, are the major highlights of Kullu. It is because of its diverse natural features and lush landscapes that Kullu is one of the most visited destinations in the country. Both nature lovers and thrill-seekers can have a great time at the Kullu and surrounding regions. Adventure freaks from different parts of India and the world come here to enjoy the different adventure sports that are available here. Hiking, trekking, paragliding, biking, and white water rafting are some of the most thrilling activities you can take part in.
In recent times, the white water rafting scene in Kullu has grown increasingly popular. If you are also planning for a Kullu white water rafting experience, then you need to take a look at our blog. We have discussed important details about it, that will help you plan this adventure properly.
Best Time For River Rafting In Kullu

Kullu is a year-round destination for the tourists to visit and every season brings with itself a different charm altogether. Winters have a cool atmosphere with snowfall all around and the monsoon rains bring an air of freshness over the verdant landscapes. But, the best time to visit Kullu for rafting and other activities is between the months of the summer season. It is the perfect time to plan a trip to Kullu and explore the region with soothing weather. For those of you who want to experience the thrill of various adventure activities, summer offers the best time and weather to carry them out. The hill station gets covered with verdant greenery and vegetation, with deodar & pine trees all over.
The summer sets in by the first week of March and continues till the end of June. The weather, as we already mentioned, is pleasant and really comfortable during this time. With the mild cold breeze, the temperature is anywhere between 10°C to 25°C. The mornings are warm, but the nights in Kullu are cold nonetheless. So you will need to cover yourself properly for warmth. The rivers are gushing with water, and with the different rafting points, river rafting Kullu Manali is a true delight during the summers.
Must Read: 37 Awesome Things To Do In Manali In 2022 For Solemn Joy
3 Best Places For River Rafting In Kullu

Beas river flows through the heart of Kullu and offers different starting points for river rafting in this region. Depending on how long you are planning to do river rafting in Kullu, the starting point of your trip will vary.
1. Short Stretch – Pirdi To Samshi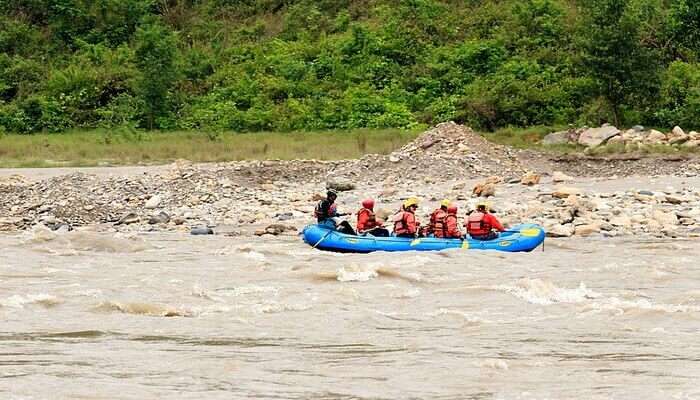 For those who are going for their first river rafting experience, a short trip from Pirdi to Shamshi is recommended. The distance of the ride is roughly around 4 km and lasts for about 25 – 30 minutes down the river. The boat will start its journey from Pirdi and reach the final destination at Shamshi through small rapids and meanders which are easily manageable. In spite of being a small trip, this short stretch of rafting in Kullu will bring you up close to nature.
Suggested Read: 14 Best Adventure Sports In Himachal Pradesh For Couples That Will Make Your Heart Skip A Beat
2. Medium Stretch – Pirdi To Sharabai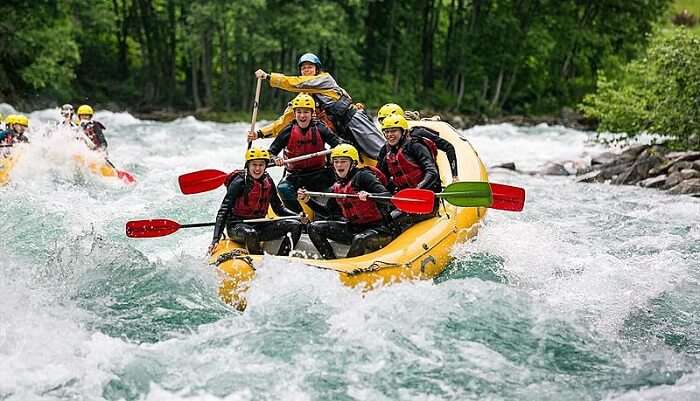 Those of you who have already had an experience in white water rafting, or even beginners can opt for the Pirdi to Sharabai trip. The rafting course of this trip will take you through the lush forests and crystalline waterfalls of Kullu. It starts from Pirdi and ends 10 km away at Sharabai. The trip lasts for around an hour and can be challenging because of the gushing Beas river and some medium sized rapids on this course. This is the most popular stretch of all the three courses that are available.
Suggested Read: Top 12 Hotels In Kullu For A Great Staycation Amidst The Best Of Nature In 2022
3. Long Stretch – Pirdi To Bajaura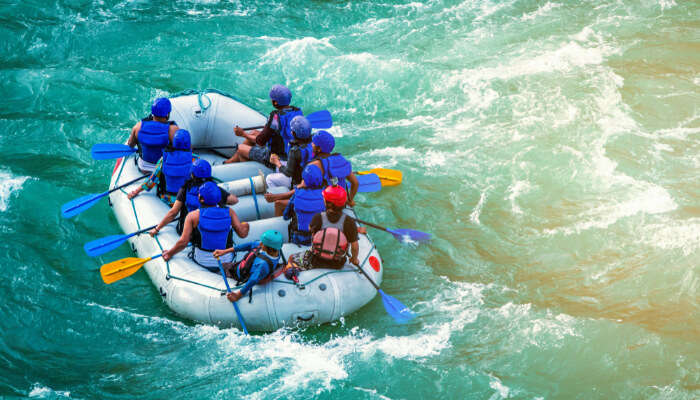 Experts and highly skilled professional rafters usually choose the Pirdi to Bajaura rafting course. This is the most adventurous and risky course in the river rafting Kullu Manali package. There are several high volume rapids and meanders which have been categorized as Class II and III. The complete ride covers more than 14 km of distance and takes about 1.5 hours to complete. You have to keep in mind that the course from Pirdi to Bajaura is difficult but beautiful, gorgeous and thrilling. You will also make way through the Parvati River after travelling for about 8 km.
Suggested Read: Dilip's Honeymoon Trip To Manali And Shimla Was A Snowcation To The Wintry Paradise
Average Cost Of River Rafting In Kullu

The cost of river rafting in Kullu depends on the course that you have selected. For short to medium stretched rafting courses, each person will be charged anywhere between Rs.800 to Rs.1500. On the other hand, long-distance rafting experience will require you to pay Rs.2000 or more. The prices also vary depending on the tourist season that is prevalent when you visit and also, the agency you select for the trip. Those of you who have got their river rafting in Kullu booking done beforehand, will surely save more.
Suggested Read: 5 Spots To Try Paragliding In Manali To Taste The Thrill And Thunder All At Once In 2022
Tips For Rafting In Kullu

River rafting in Kullu is surely a fun and thrilling experience altogether. The dramatic and exciting rafting courses will send you home with a head full of memories. However, there are some vital tips that you need to remember before you go rafting in Kullu. Take a look:
Research about the local agencies and rafting agents who operate in this area. Get to know about the feedback and reviews that the people have provided at their websites or any other online forum. This will help you to get hold of the best agency to offer the river rafting tour.
Learn all the hand commands and signs that your guide will teach you before the start of the trip. You need to use them during the rafting trip in order to signal or notify the guide about something. Hand signs and commands are the best way to communicate with your guide when you are gushing down the river.
Carry some kind of skin lotion and apply it over your skin before the start of the trip. This will help you to protect your skin from the direct rays of the sun and keep it moisturized till the end.
Make sure to wear comfortable clothes. As it is the journey downstream will be full of thrills and excitement, dressing comfortably will help you to keep your cool and experience the adventure rush.
Suggested Read: 11 Spectacular Places To Visit Near Himachal In 2022 For A Serene Getaway
What To Pack For Rafting In Kullu

When you are going for water rafting in Kullu, you need to pack a few things for sure. In clothes, you need to carry quick dry shorts or a bathing suit. These are comfortable and allows you to make movements freely. Wear sturdy footwear like sandals with straps or sneakers. Make sure to avoid wearing flip-flops because they are very slippery and can be risky to wear. Take with yourself a hat with brim in order to protect your face from the direct rays of the sun. If you are wearing sunglasses or spectacles, then make sure you do so with retainer straps. Avoid wearing clothes made of cotton because it gets very cold and soggy when they are wet.
Further Read: 10 Manali Travel Tips To Vacay Like A Pro In This Himachali Paradise
Now that you are aware of all the information for river rafting in Kullu, then the next step should be to plan a trip to Himachal Pradesh. Put your plan in action and have one of the most thrilling experiences the valley of Kullu has to offer. Whether you are traveling with friends or family, it is a fun experience for everyone alike.
People Also Read:
River Rafting In Coorg River Rafting In Kolad River Rafting In Rishikesh