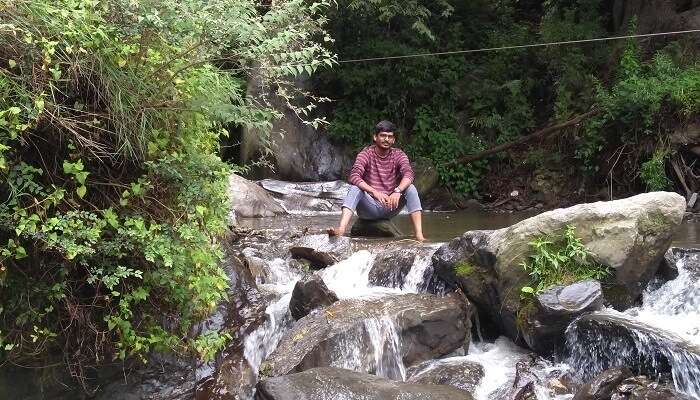 Who would say no to Manali? It is one of the most frequently visited places in Himachal Pradesh. Offering jaw-dropping views and soul-stirring experiences, it is perfect for an escapade into the wild. Nobody comes empty-handed from there but with a plethora of unforgettable memories. Whether you desire for peace or tranquility, you will find it in Manali without any doubt. And this is the reason why Satya Sri visited Kullu Manali with his wife. He wanted a laid-back vacation. Read along to know about Satya Sri's romantic 4 days trip to Manali with his soulmate and get ideas to plan your own!
I and my wife were looking for a refreshing vacation that would give us a fresh breath of air in our lives and put some fire as well to our love. We chose Manali as it seemed the best option to push open the windows of our lives and let in the cool vibes it has got. So, here are the details of our vacation that might interest you. In case, you are thinking about how to reach Manali from Hyderabad, let me tell you, we reached Delhi by air first and then we took a bus from Delhi to Manali which was a comfortable journey.
Manali In January 2022: Know What Makes It A Great Time To Explore This Paradise
Details Of Our Trip To Manali In July
Trip Type: Romantic
Cost: INR 35000 – INR 37000
No Of People: 2
Duration: 4 Days
Inclusions: Breakfast, Dinner, Volvo bus tickets, Cab for sightseeing,
Exclusions: Airport transfer,
Manali Itinerary For 4 Days
Day 1: Delhi To Manali Transfer
Day 2: Arrival, Sightseeing
Day 3: Transfer to Solang valley, Sightseeing, Return to Manali
Day 4: Transfer to Kullu, Sightseeing
Day 5: Departure
Manali Weather In July
Manali has a pleasant weather in the month of July. Usually, the rainy season in Manali begins from July. The average temperature remains 15 to 25 degree celsius. The best time to visit Manali is from October to February. During this time, the weather is perfect and you can experience snowfall which is the best part about Manali.
Two New Electric Buses From Manali To Rohtang Are All Set To Depart. Ready To Board?
Experiences Of Our Romantic Trip To Manali
Here are some of the best experiences we had during our romantic escapade to Manali. From visiting the most religious places to indulging in adventures, we had an amazing trip that left us overwhelmed. Read along to know further!
1. A Day Filled With Peace And Entertainment

As we started our journey from Hyderabad to Manali, we were very excited to experience the famous hill station in Himachal Pradesh. As we reached there, we were left spellbound by the beauty of the place. On the first day of our romantic 4 days trip to Manali, the first thing we did was visiting the very famous Hadimba temple. Nothing could be better than beginning anything by prayers. Apart from seeking prayers, we marveled at the beauty of the surroundings. Later on, we went to the Club house in Manali. It is an adventure zone suitable for both kids and adults. There we indulged in thrilling activities like boating and go karting which were very refreshing.
2. A Memorable Visit To Rohtang Pass


The best part of our trip was about to come. The much awaited visit to rohtang pass was finally done on the second day of our trip. It is one of the most famous places to visit in Manali and we had some of the most awesome memories to keep from there. I and my wife clicked a lot of pictures and were mesmerized by the whole experience. After that, we went to Solang valley which is also very beautiful and charming. There we had a lot of adventurous experiences that were soul-stirring like paragliding, zorbing, yak riding and more. All these activities were filled with so much fun. We'd love to go there again and again.
15 Homestays In Manali You Must Consider Staying In For Your 2022 Vacay
3. A Day Dedicated To Shopping


The last day of our romantic 4 days trip to Manali was majorly dedicated to shopping. I and my wife had decided that we will go shopping on the last day. We began our day by paying a visit to the Vaishno Devi temple. It was soul-reviving. After that, we enjoyed visits to Kullu shawl factory and Kullu castle. All these attractions in Manali are very interesting and unique. You must include them in your Manali tour plan for 4 days. Later on, we went shopping and enjoyed a lot. We bought a lot of things which are like memories to us from Manali.
Places To Stay In Manali
The place that we stayed in during our romantic 4 days trip to Manali was Hotel LOTUS Inn River View. We must say, the hotel was very good. It was quick in its services and maintained hygiene and cleanliness. The staff of the hotel was also very humble and we had a comfortable stay. We also had food in the hotel which was noteworthy.
Trekking In Manali: A Tryst With The Best Of Himalayan Trails In 2022!
Shopping In Manali
As we visited shawl factory in Kullu, we came across various good deals for buying shawls and stoles. Sweaters were also available at a good price. We also bought double bed blankets at the factory price. Apart from that, Manali is known for fruits like apple and plum, so we bought them.
Travel Tips For Manali
1. Carry warm clothes as it is very cold in Manali.
2. Keep medicines with you incase of any emergency.
3. Wear comfortable shoes while traveling for a smooth journey.
4. Don't forget to keep extra money for shopping and other expenses.
5. Keep your camera along for clicking pictures.
Our Experience With TravelTriangle
Our experience with TravelTriangle was quite smooth. We had a little issue with the agents but those were resolved later on. We had nice experiences. Our stay at the hotel was also very nice and comfy. We would like to book our future trips with TravelTriangle.
How To Spend 3 Days In Manali With Friends For A Super Fun And Snowy Getaway!
Satya's trip to Manali was like a dream come true. They had a lot of amazing experiences that gave them lifetime memories. If you are also planning a trip to Manali with your partner, then their experiences might help you have a hassle-free experience.