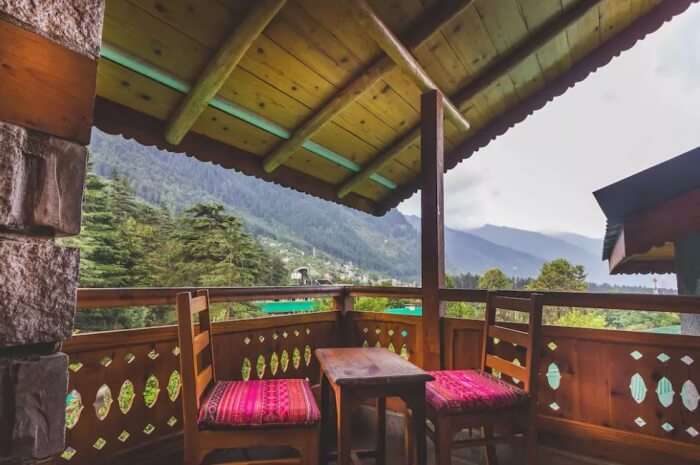 Being a popular hill station in the country, Manali experiences an influx of tourists around the year. Families and honeymooners find their own paradise here, indulging in several activities and attractions during their visit. Taking a break from this crowd might sound impossible at times, but if you're staying at the homestays in Manali, you get to connect with your inner peace and the beauty of nature. As we know, a good stay influences our experience about a place, so with the listed properties you need not fret regarding anything.
These homestays showcase local culture through its hospitality, decor and architecture. Most of the listed properties overlook mesmerizing Himalayan views and also provide you with amenities to make your stay comfortable and unforgettable. The homestays are listed according to their tariff, starting with the lowest and gradually to the higher side. There's plenty of information given, so you wouldn't have to open another tab to Google anything.
15 Homestays In Manali
Offering the homely comforts and dreamy surroundings, these homestays in Manali are perfect for your sojourn. All these properties are positioned at a great location, hence you can make the most of your holiday while staying at these homestays. Now, check out the list and pick one for your next vacay.
1. Relax By The Riverside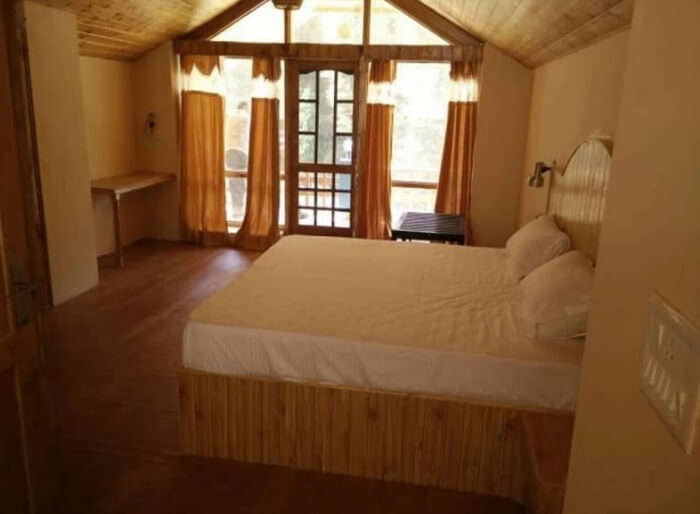 Hosted by a family with an army background, this one is definitely among the Manali homestay options to consider if the babbles of the river stream strike a chord for you. This simple and inviting homestay gives you three rooms options, starting from a basic room to the luxurious one. However, each of them comes with its own balcony.
Location: Jagatsukh
What's special: The decor of this homestay will indeed make you feel at home.
Tariff per night: Starting from INR 1,760
Suggested Read:20 Best Cottages In Manali For Peace And Seclusion On Your Much-Needed Hilly Escape
---
Himachal Holiday Packages On TravelTriangle
Head to Himachal to witness lush valleys surrounded by snow-capped hills. Indulge in skiing, paragliding, and other adventure sports. Book holiday packages inclusive of airport transfers, cab, resort, sightseeing, and meals to Shimla, Manali, Kasol, Dharamshala, and more.
---
2. Pir Panjal Cottage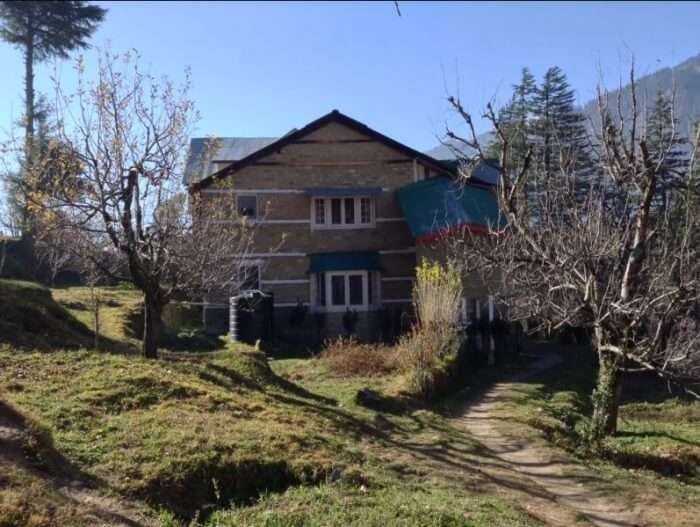 Hosted by Huzefa and Honey, this homestay is located in Village Chidiyari, which is just 1.5 km away from Manali. There is this perfect balance of peace and hustle-bustle. As the name suggests, the cottage overlooks the Pir Panjal Mountain Range. There are two guest bedrooms featuring a spacious porch, wifi, and hot baths. You also have access to the kitchen if you're a chef on the inside, though there also is a small cafe for your hunger pangs. This is one of the best homestays in Manali for travellers seeking an experiential stay, unlike any other.
Location: Kanyal Road
What's special: The cottage is more than half a century old with a lush garden. The location is just perfect, offering tranquillity.
Tariff per night: INR 1,800 for 2 guests
3. Ragri Homestead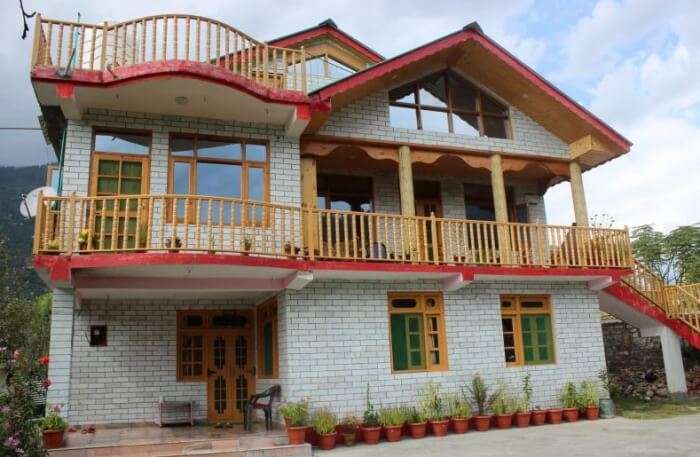 Your vacation to Manali will never be the same if you are staying in Ragri Homestead, one of the finest budget homestays in Manali. The property, along with letting you get close to nature's mystique, flaunts a peek into the local lifestyle with its traditional decor and location. The bedroom comes with a spacious balcony that allows you the view of apple orchards and of course the hill view. The home comes not only with wooden flooring, even the walls are finished using wood.
Location: Naggar
What's special: The fully wood-furnished decor makes the property stand out.
Tariff per night: INR 2,000
Suggested Read:101 Places To Visit In India Before You Turn 30
4. Pause Homestay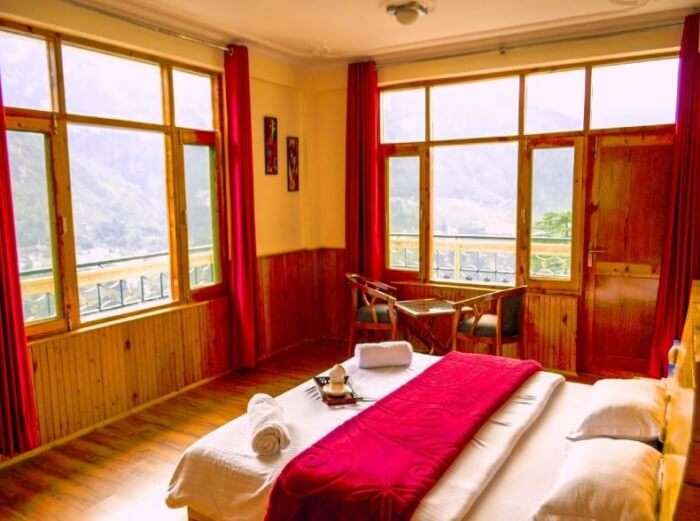 Every once in a while, you must pause and let yourself breathe the freshness of nature. Pause Homestay is among the Manali homestay options for you if you seek a connection with nature's essence. The host stays on the ground floor and the upper two floors are reserved for guests. You have three room options, namely – Cottage double room, Hampta sunrise and Family room, that accommodate two, three and four people, respectively. The property is pet-friendly and does not appreciate smoking in common areas. You also have a light breakfast and usage of the kitchen included in the room tariff.
Location: Kanyal Road
What's special: Pause Homestay in Manali gives the best of both worlds, homely feeling and warm hospitality by the staff.
Tariff per night: Starts from INR 2,000 for two people
5. Malhaar Homestay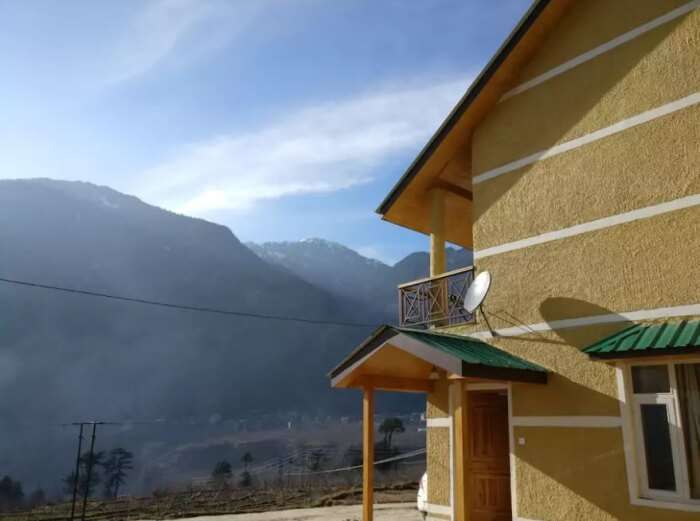 If you are seeking homestays in Manali for work from home, Malhar Homestays is an ideal option for you. The property features seven cosy rooms, each of them overlooking the stunning views of the snow-capped Himalayas and apple orchards. Come over for a stay and you may also anticipate the finest North Indian dishes being served to you by Anita. This property in our list of top homestays in Manali has about 22 amenities to offer, right from wi-fi, cable tv to free parking. So, if you're going for a road trip to Manali, you needn't worry about where your car would be parked.
Location: Aleo region
What's special: Anita, the host, would be happy to arrange a private Yoga session for you at the patio upstairs. Also, you can hire a bike for rent to explore the locale at your own pace.
Tariff per night: INR 2,500 for 2 guests
Suggested Read:10 Best Resorts In Manali To Pamper The Nature Lover In You
6. Bharhka Countryside Cottage Resort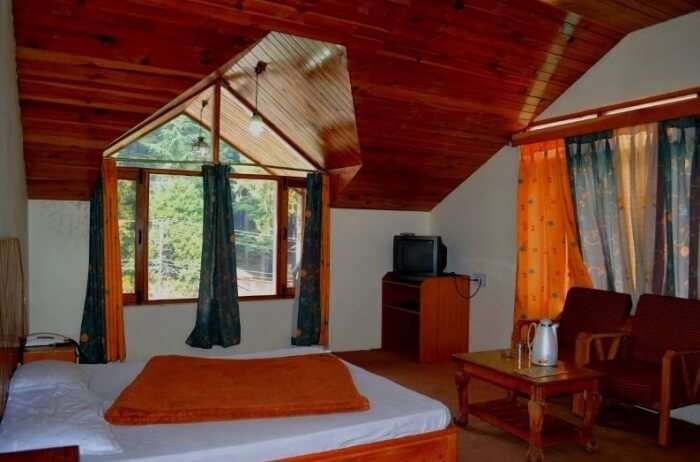 One of the best family-run homestays near Manali, this property offers you four rooms and two accommodation categories. Each room comes with wooden flooring, and you also have a garden and parking area. The surroundings are quite refreshing and therefore you are sure to enjoy a soothing stay here. 
Location: Naggar Region
What's special: The lush surrounding of the property will refresh you from within.
Tariff per night: Starting from INR 2,500
7. Best View In Entire Manali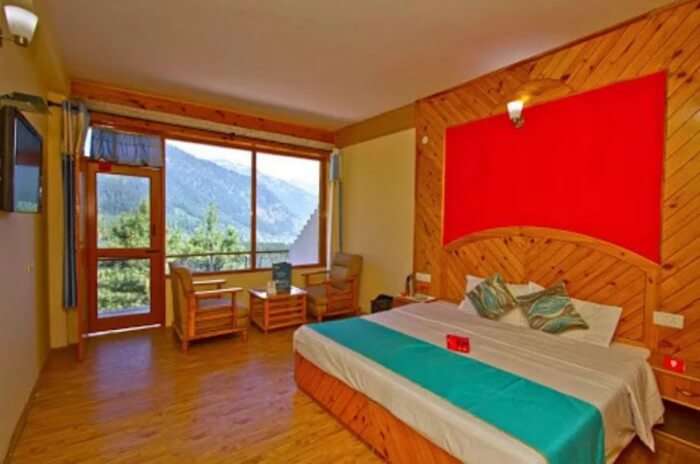 A homestay/guesthouse that's perfect for travellers wanting luxury, this property has 10 guest rooms. It is located in Old Manali, not too far away from the market area, yet too close to seclusion and serenity. The rooms are well-kept and come with ensuite bathrooms. There are four room categories and each of them allows a splendid view of the hills. If you're looking for homestays in Old Manali, don't forget to consider this one!
Location: Near Manu Temple
What's special: The property has dedicated hospitality, perfect for travellers who seek luxury with a personal touch.
Tariff per night: INR 3,000 per night
Suggested Read:5 Spots To Try Paragliding In Manali To Taste The Thrill And Thunder All At Once
8. The Dog On The Hill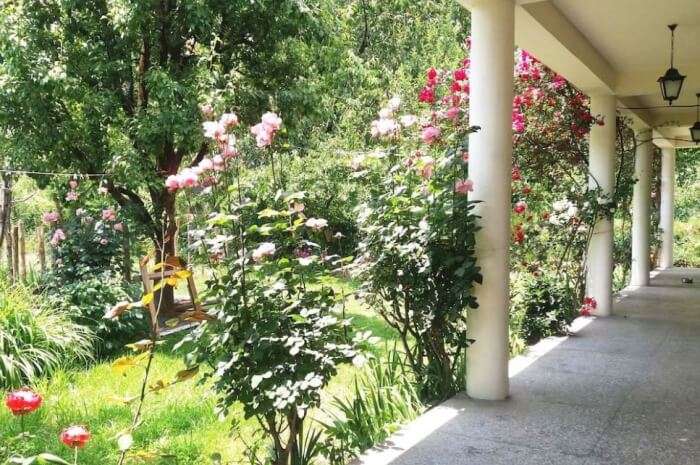 The Dog on the Hill is surrounded by a flourishing plantation of pear, apple, apricot, and cherry. There is this perfect balance of seclusion and humdrum here, giving you the best of both worlds. You have four ensuite rooms, overlooking the vista prettified by deodars, fir and Himalayas. This lovely property ensures comfort while also giving you a taste of local artistry. So, if you are looking for homestays near Manali that are closer to nature and also the tourist radar, this one has to be your pick.
Location: Old Manali
What's special: As the name says it all, the Dog on the Hill is a dog-friendly stay – sounds like a treat for all the dog lovers wanting a getaway to the hills with their beloved.
Tariff per night: INR 4,200 for two guests
9. Forest View Room At The Johnsons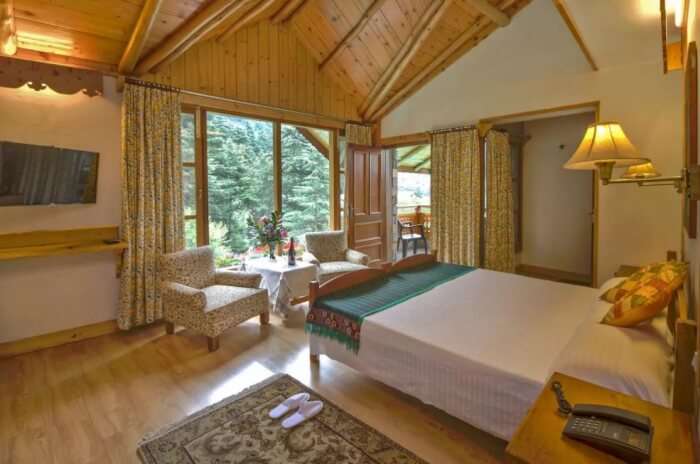 Standing up to its name, the Forest View Room is among the homestays near Manali offering ultimate luxury. There are two room categories, namely – the garden room on the lower level and the forest view on the upper level, which come with private balconies from where you can enjoy views of the woods and the splendid valley. The property gives you plenty of parking space, and you can ask the host to arrange for different activities like paragliding and white water rafting. This is one of the best luxury homestays in Manali.
Location: Manali Nature Park region
What's special: There is a happening bar and restaurant on site, where you can not only sample delicious delicacies but also enjoy DJ night, and even wine-tasting. You just have to time it right, or just get in touch with the host regarding the upcoming schedule.
Tariff per night: INR 6,500 for 2 guests
Suggested Read:6 Best Villas In Manali That Provide The Perfect Escape From Your Busy City Life!
10. Splendid Three Bedroom Wooden Villa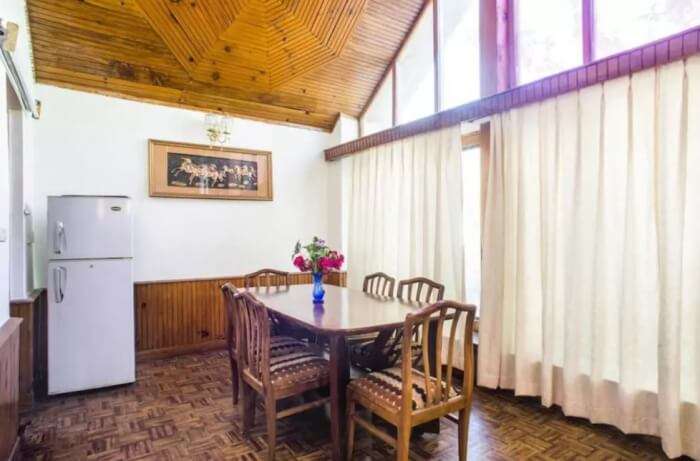 Surrounded by manicured, this Manali homestay cottage unfurls the Himalayan vibe with its stone facade, wooden flooring and sloped roof. The location is perfect for a traveller, as some of the top tourist attractions of Manali , such as the Mall Road are located in close proximity. Guests can enjoy total privacy and enjoy the views of Solang Valley right from the cottage. You have many modern facilities to look forward to, such as wifi, tv and washer. This three-bedroom wooden villa is an ideal option for families and groups of friends. When looking for a homestay in Manali near Mall Road, then you can consider this property.
Location: Kanyal Road
What's special: You can ask the host to arrange for various activities such as skiing and paragliding.
Tariff per night: INR 8,000 (approx) for entire villa
11. North Peace Home Stay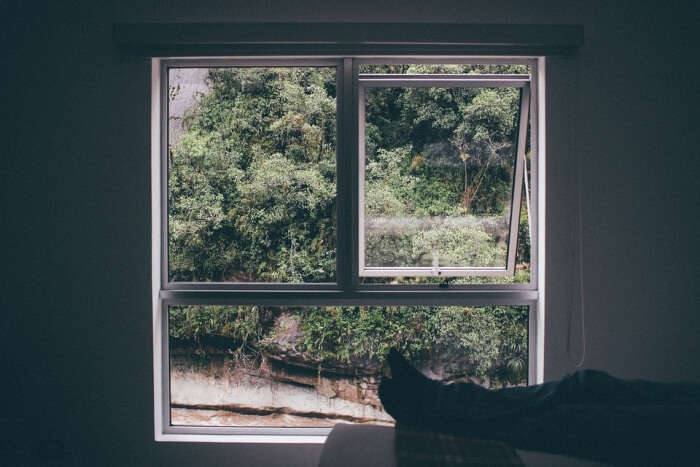 This property has a lawn as well as a parking space. Provided with the kitchen, living room, and private bathroom, the rooms at this homestay ensure comfort to their guests. Facilities like free WiFi, daily housekeeping, on-call medical assistance, power backup, laundry service, bellboy service, and more. The caretaker of the property would reliably look after everything, ensuring you a hassle-free stay. The property also has a business centre.
Location: Hadimba Temple Road Before Royal Enfield Showroom behind khatu shyam temple, Village Nasogi, Manali
What's special: There are many tourist attractions located close to this property
Tariff per night: INR 720
Suggested Read:Trip To Manali: 'The Best Part Of Traveling Solo, Is That You Do Not Return Solo'
12. New Mannat Home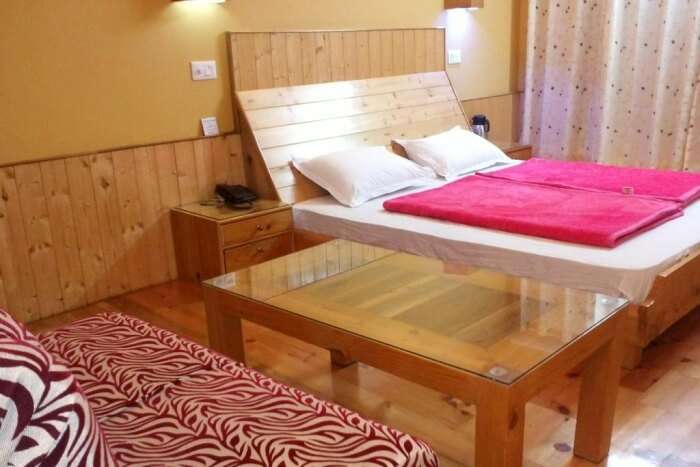 This property has been established at a distance of 25 kilometres from Hidimba Devi Temple while Tibetan Monastery is 22 kilometres from it. The rooms have a seating space and are equipped with a flat-screen TV. The private bathrooms have free toiletries inside. Vegetarian breakfast is served in the morning and people can sit back and relax at a shared lounge. The property even has a garden where you can enjoy your evening stroll or morning walk. Free WiFi is also provided in this homestay
Location: Vpo Naggar (Manali) distt Kullu Himachal Pradesh near hotel castle
What's special: You can even get your private parties or business events organized here
Tariff per night: INR 965
13. Narayan Vatika Cottage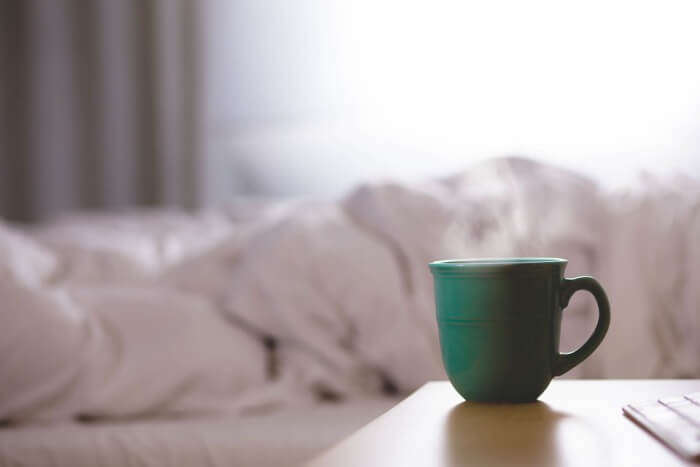 There are various facilities provided by this homestay its guests like medical assistance, wake-up call, laundry, housekeeping, power backup, and more. A parking space and lawn area are also there on this property. The rooms have a living area as well as a balcony and the private bathroom has a bathtub, geyser, and essential toiletries. The front desk specifically responds quickly!
Location: Near Sunpark Resorts Bhutani Gompa New Manali, Tehsil and P.O. Manali Distt Kullu
What's special: The homestay even arranges for get-togethers with bonfires for the guests
Tariff per night: INR 1,152
Suggested Read:15 Best Restaurants In Manali That Serve Extraordinary Treats
14. Shantikunj Homestay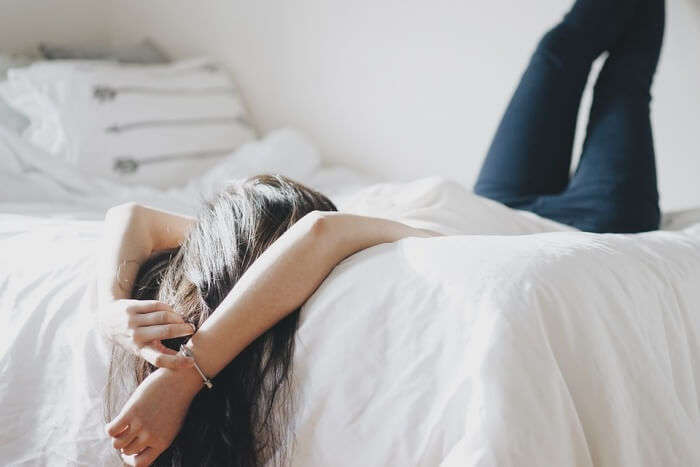 This is a bungalow that belongs to a hospitable and welcoming family. Outside the cottage, there's a beautiful garden. This little bungalow feels like a home and is far from the hustle-bustle of the city. If you're looking for a quiet and calming place to stay in Manali, this is where you should come. So, if you are looking for the best homestay in Manali that can fit your budget, consider Shantikunj Homestay as it has got everything that a traveller expects. 
Location: Kullu – Naggar – Manali Rd, Jagatsukh, Himachal Pradesh, Kullu – Naggar – Manali Rd, Jagatsukh, Himachal Pradesh, jagatsukh, valentino guesthouse, Manali, himachal_pradesh, 175143
What's special: Facilities like daily housekeeping, medical assistance, and security will ensure a stay without any hassles
Tariff per night: INR 1,978
15. Black Rock Homestay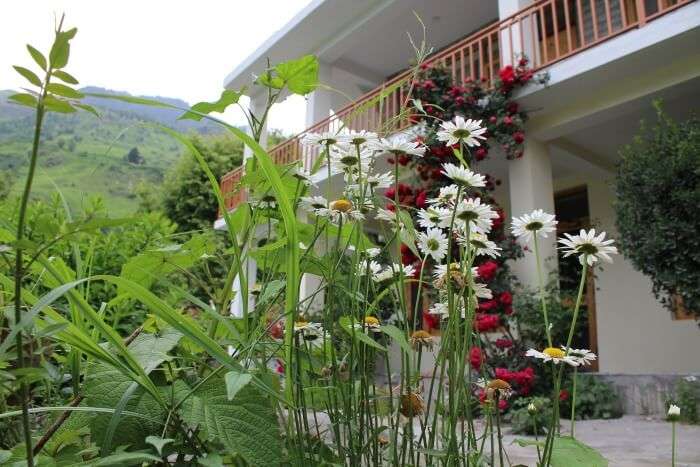 This property is located in the middle of rosebed – a major reason why people love planning their stay here. You'll be welcomed here with warmth and comfort is assured owing to the cosy rooms as well as numerous facilities. From laundry and housekeeping to laundry and parking, this homestay provides everything that one can ask for. Quality room service and well-furnished rooms add up to a great experience.
Location: Village Burua, Himachal Pradesh, Manali, Government Middle School, 175103
What's special: You can spend your evening barbequing or sitting around the bonfire for an unparalleled experience
Tariff per night: INR 4,005
Suggested Read:Trekking In Manali: A Tryst With The Best Of Himalayan Trails
Since Manali welcomes people around the year, you can simply pack your bags right now and get going. However, if you want to ditch the hassles, then plan your trip to Himachal beforehand. To make your stay here more comfortable and the planning process more hassle-free, then consider the above-mentioned homestays in Manali! Each place will bestow you with comfort and warmth beyond your expectations.
For our editorial codes of conduct and copyright disclaimer please click here. 
Frequently Asked Questions About Homestays In Manali
Are homestays in Manali safe?

Yes, homestays in Manali are quite safe and ensure a comfortable vacation. It is better to check the reviews of the homestay before booking it for a perfect experience.

Which is the best place to stay in Manali?

There are numerous beautiful hotels and resorts in Manali. The best places to stay in Manali include Whistling Pines Resorts & Spa, Snowflakes Resort, Retro Valley Camping Resort, Quality Inn & Suites River Country Resort, and Citrus Manali.

Which is the best area to stay in Manali?

Hadimba, Aloe, and log hut are the best areas to stay in Manali. However, the mentioned areas are a bit far from Mall Road but purvey the most awesome ambiance.

When shall I visit Manali?

The best time to visit Manali is from March to June. The weather is awesome during this time and you can capture the best of Manali during these months. However, if you are interested in seeing the snowfall then plan your vacation between December and February.

Is Manali safe for travelers?

Yes, Manali is completely safe for visitors and solo travelers. However, you need to take a few precautions before visiting areas like Rohtang Pass. It is advisable to check the local weather report before heading there.

Are there chances of landslides in Manali?

Yes, there are reports of landslides in Manali during monsoon. It is advised to check the weather forecast before planning your trip.

How far is Rohtang Pass from Manali?

Rohtang Pass is located at a distance of 51.2 kilometers which can be covered via road in 2 to 3 hours.

What are the most popular places in Manali?

There are numerous interesting places to visit in Manali such as Hidimba Devi Temple, Manu Temple, Manali Sanctuary, Mall Road, Van Vihar, Museum of Himachal Culture & Folk Art and a lot more!
---
---
People Also Read: