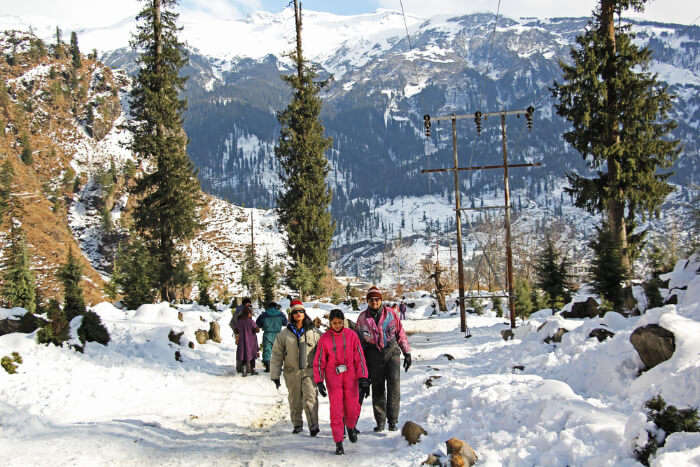 Mountains humble you and make you feel special about your being. Himachal in the north is dotted with alpine trees, and cutting through them are daunting trails that epitomise a mountain's true charm. Infinite vistas and snow-capped peaks keep uplifting your soul when the body cedes to climb. Something similar is the story of trekking in Manali.
Decorated with stunning vistas and daunting treks, Manali is an adventurer's muse. Round the year, adventurers take to Manali for trekking where they are awaited by the sprawling campsites, adventures, and infinite outdoor activities. Not just trekking, here you can actually engage in a number of activities at this adventure capital of India, like biking trips, paragliding, and jeep safari. Sitting at an altitude of around 2,000 meters, these Manali treks test you on several levels. Strategically, many of the popular Himalayan treks like Beas Kund Trek, Bhrigu Lake, Chandratal Lake originate from the Manali area.
15 Best Treks In Manali
With trekking routes all over Manali, you can easily pick your favorite depending on the choice of location and difficulty level. Most of the Manali treks and beyond this region are once in a lifetime experiences. These treks are also popular as winter treks in India wherein the narrow mountain trails make it an absolutely thrilling experience for adventurers. Here, we have enlisted some of the best routes that will lend you a marvellous Manali trekking experience. 
1. Jogini Waterfalls Trek 

Jogini Waterfalls Trek is rather a walk on the part. The short trek stretching over 3 km makes for one of the top Manali trekking places.
Ideal duration: 30 minutes
Maximum elevation: 6,700 feet
Starting point: Vashisht Temple
Endpoint: Jogini Waterfalls
Difficulty level: Easy
46 Best Places To Visit In Manali And Its Precincts In 2022
2. Lama Dugh Trek 

Lama Dugh Trek is more of a relaxing day walk into the thick alpine surrounding the city. One of the easiest paths to walk, Lama Dugh is the ideal option to go for a trekking trip in Manali. The route takes you past Hadimba Temple up to Lama Dugh cutting through the thick forest and alpine in the way. There are no water points amidst the trek route which means you have to be well-equipped before you begin.
Ideal duration: 7 hours
Maximum elevation: 9,900 feet
Starting point: Dhungri
Endpoint: Lama Dugh
Difficulty level: Easy
3. Bhrigu Lake Trek 

Doesn't the sight of horses grazing on a mountain slope carpeted in green make for a visual treat? While walking the Bhrigu Lake Trek you would traverse many such vistas. Bhrigu Lake is a glacial lake close to Manali and is one of the highlights of trekking in Manali. The Lake remains frozen for the most part of the year and it is indeed a thrilling place to trek to.
Ideal duration: 4 days
Maximum elevation: 14,000 feet
Starting point: Gulaba
Endpoint: Rola Khuli
Difficulty level: Moderate
28 Best Himalayan Treks Under 10K That You Must Include In Your Bucket List In 2022
4. Hamya Herbal Trek 

The exciting trek meanders along the vast outdoors in Manali. Hamya Herbal Trek makes a perfect opportunity to explore the vast Himalayan terrain. The place is known as a major stop for adventurers looking for a perfect trail for trekking in Manali. The trek is for those adventure enthusiasts who have a considerable amount of experience in trekking. Pandu Ropa is the place where you begin the trek as well as the place where you end the trek. Beautiful campsites and tents await you at Hamya Herbal Trek.
Ideal duration: 8 days
Maximum elevation: 14,000 feet
Starting point: Manali
Endpoint: Pandu Ropa
Difficulty level: Moderate
5. Deo Tibba Trek 

A 1.5-hour taxi ride from Manali takes you to Khanol, the base camp of the trek. Deo Tibba being one of the most scenic treks in the Himalayan region is certainly not easy to walk. Through the alpine forest and lush meadows, the Deo Tibba Trek showcases the best of Kullu Manali trekking. This trail is a must-take for every first timer as well as an experienced trekker.
Ideal duration: 6 days
Maximum elevation: 14,700 feet
Starting point: Khanol
Endpoint: Khanol
Difficulty level: Moderate
Trekking In Sikkim: 9 Trails That Will Prove You've Entered The Paradise In 2022!
6. Beas Kund Trek 

Manali trekking can be experienced at its glorious best while walking the Beas Kund Trek. The trek that goes on from easy to moderate makes for a perfect remedy for an adventure bereft soul. The trek starts from Solang Valley and cuts through deep alpine to finally reach Beas Kund. May-October makes for the ideal time to take this trek. An ideal destination for an extended weekend from Delhi, the trek also takes you through the origin of the river Beas. With this experience, you can also enjoy the perks of camping in Manali lending you numerous memories. 
Ideal duration: 2 days
Maximum elevation: 12,100 feet
Starting point: Solang Valley
Endpoint: Beas Kund
Difficulty level: Moderate
7. Chandrakhani Pass Trek 

One of the most breathtaking mountain passes, Chandrakhani offers incredible views of Deo Tibba peak, Pir Panjal, and Parbati range. As Daunting as it looks the entire spreads over the Kullu Valley region making it a prominent option for trekking in Manali. The entire trek length is 22 km with moderate climbs. This trek can be taken by a beginner as well.
Ideal duration: 3 days
Maximum elevation: 12,000 feet
Starting point: Patlikuhl
Endpoint: Rumsu
Difficulty level: Moderate
Trekking In Nepal: 20 Treacherous Treks To Challenge Your Nerves In 2022!
8. Hampta Pass Trek 

Hampta Pass Trek makes one of the highlights of trekking in Manali. The exciting trail of Hampta Pass charms an adventurer with its drop-dead gorgeous outdoors. At excess of 10,000 feet, Hampta Pass falls in the Pir Panjal range meandering near the Lahaul Valley before ending at Chatru near Chandratal.
Ideal duration: 4 days
Maximum elevation: 14,100 feet
Starting point: Manali
Endpoint: Chatru
Difficulty level: Moderate
9. Pin Parvati Trek 

Pin Parvati trek is one of the most challenging treks to experience which is a favorite for seasoned trekkers. This 12 days expedition gives a view of the surreal beauty and also the thrilling adventure which seems like a sense of achievement. Resting at a height of 17,457 feet, trekking to this valley is like a dream come true. While taking this adventure one can witness the verdant meadows of the Parvati Valley and also the Buddhist villages which are located at the Trans-Himalayan region of Spiti.
Ideal Duration: 12 Days
Maximum Elevation: 17,457 ft
Starting Point: Manali
End Point: Kaza
Difficulty Level: Difficult
5 Gorgeous Waterfalls In Manali For A Blissful Escapade In 2022!
10. Kheerganga Trek 

This trek is located at the extreme end of Parvati Valley and is also known as the last inhabited village when traveling to Pin Parvati valley. Boasting the panoramic skies and the lush greenery, this place is a much-needed break for the people who are nature enthusiasts. Apart from that this place is also known for the hot water spring and Lord Shiva for which this place is considered a holy one.
Ideal Duration: 6-7 Hours
Maximum Elevation: 10,065 ft
Starting Point: Manali
End Point: Tosh
Difficulty Level: Easy
11. Chandratal Lake Trek 

Considered to be one of the amazing treks in Manali which takes amidst the surreal landscapes of Ladakh. Alongside some of the famous treks like Markha Valley and the Stok Kangri, this is one of the treks which ignites the adrenaline rush of adventure junkies. This is quite an easy trek that can be experienced by beginners.
Ideal Duration: 4 Days
Maximum Elevation: 16,420 ft
Base: Chandratal
Difficulty Level: Easy-Moderate
15 Best Cafes In Manali That Offer Impeccable Food And Incredible Views In 2022!
12. Bijli Mahadev Trek 

Passing the Kais Wildlife Sanctuary, the Bijli Mahadev Trek is a treat to the eyes. The trek starts from the Kullu town for around 15 km to the hilltop from where one can enjoy the panoramic view of the entire scenery. Surrounded by the quiet valley and the surreal views, this route is lined up by the deodar and pine forests. Alongside that there are apple orchards and pear orchards at Jana village which is worth witnessing. The most fascinating highlight of this trek is the camping inside a forested ridge located at the Matikochar.
Ideal Duration: 2 Days
Maximum Elevation: 7,677 ft
Starting Point: Kullu
Difficulty Level: Moderate
13. Malana Village Trek 

The Malana village is the best-kept secret of Himachal Pradesh which is located at the Parvati Valley and visited by nature lovers and adventure junkies. Holding a lot of taboos, this natives of this village is also believed to be the descendants of Alexander the Great. This trek starts from Kasol and this journey of 21 km is blessed with spectacular views of jungles and rivers.
Ideal Duration: 2 Days
Maximum Elevation: 8,701 ft
Starting Point: Kasol
Difficulty Level: Easy
30 Places Near Manali That Are Perfect For A Dreamy Holiday In The Hills In 2022
14. Patalsu Peak Trek 

Image Credit: Parmindersinghsandhu for Pixabay
Manali is a land for adventure junkies and enthusiastic trekkers who want to indulge in a journey of enthralling experiences. Among the Friendship Peak, Ladakhi, Hanuman Tibba and Shitidhar lies the Patalsu peak which is explored by many enthusiastic trekkers. This is quite a moderate trek route that can be easily accessible by beginners.
Ideal Duration: 4 Days
Maximum Elevation: 13,944 ft
Starting Point: Solang Nallah
Difficulty Level: Easy-Moderate
15. Prashar Lake Trek

Enclosed by the Dhauladhar ranges, the Prashar lake trek is one of the best treks in Manali. This trek takes to the pristine Prashar lake which is a well-kept secret located in the Mandi district. This trek takes through the path surrounded by the forest and rivulets. Alongside that one can also explore and learn the local cultures of the villages which fall on the trail.
Ideal Duration: 2 Days
Maximum Elevation: 8,900 ft
Starting Point: Baggi
Difficulty Level: Easy-Moderate
37 Awesome Things To Do In Manali In 2022 For Solemn Joy
Popular Manali Trekking Camps
While exploring the mountains in and around Manali you will realize that there are not too many fancy hotels to stay. A few of those luxurious hotels in Manali are located in mainstream tourist places. Moving further into the mountains there are lesser hotels and more camps. These camps offer a picture-postcard view of the alpine and also act as a base camp for many Himalayan treks. Beas River, Solang Valley, and Kothi have some of the most amazing campsites in the Manali region.
Equipped with most of the basic amenities, these camps make a wonderful retreat while camping in Manali. Besides, you can always make your own tent at the wonderful campsites that you come across during the trek.
1. Camp Exotica

Tariff: INR 4,900/- per person per night onwards
Facilities offered: Gymnasium at camp, washroom with geyser, wide range of adventure activities
Website | Reviews
8 Intoxicating Things To Do During Snowfall In Manali
2. Kia Camps

Tariff: INR 3,000/- per person per night onwards
Facilities offered: Riverside camping, bonfire, and range of activities
Facebook | Reviews
3. Tentsville

Tariff: INR 2,450/- per night onwards (sharing basis)
Facilities offered: Adventure activities, luxury Swiss tent accommodation, bonfire, and indoor games
Website | Reviews
5 Spots To Try Paragliding In Manali To Taste The Thrill And Thunder All At Once In 2022
4. Backwoods Mountain Camp Hamta

Tariff: INR 4,500/- per night per person onwards (on sharing basis)
Facilities offered: Adventure tours, skiing (winter-specific) and other mountain adventures, camping trek, and basic amenities
Website | Reviews
5. Himalayan Frontier Adventures Camp

Tariff: INR 3,500/- per person per night onwards (sharing basis)
Activities offered: Adventure activities, sightseeing, excursion to Rohtang Pass
6 Best Villas In Manali That Provide The Perfect Escape From Your Busy City Life!
Duration To Reach Manali From Delhi 
It takes 12 hours approximately to reach Manali from Delhi by road. The road makes the easiest way to travel to Manali which is 538 km far. Buses run in tandem from ISBT Kashmiri Gate in Delhi.
Temperature In Manali In December 
The average temperature of Manali in December is 10 degrees celsius.
30 Places Near Manali That Are Perfect For A Dreamy Holiday In The Hills In 2022
Trek more often and trek to the places that are lesser-heard of. As you plan to go to Manali for trekking in Manali these trails would take you through the best of the Himalayas. So which one of them are you going to undertake this winter?
For our editorial codes of conduct and copyright disclaimer please click here. 
Frequently Asked Questions About Trekking In Manali
How much does trekking cost in Manali?
The cost of a Manali trek depends upon the type of trek, time, budget and other factors. However, the trekking starts from INR 500 that can go upto INR 10,000. One can opt for customised packages according to their requirements.
Which is the best trek in Manali?
Since Manali is bestowed with numerous trekking trails, it is difficult to pick one. However, Hampta Pass Trek is touted as one of the most sought-after treks by beginners as well as pro-trekkers. Having a maximum elevation of 14,100 feet, the trek begins from Manali and concludes at Spiti Valley via Kullu Valley. From lush green forests to snow-capped mountains, you can enjoy variou perks on this easy to moderate trek.
Where should I stay in Manali?
For a peaceful surrounding with the best view, it is recommended to stay in a cottage. Some of the best cottages in Manali are RiverSide Cottages Manali, Apple Bud Cottages, The Holiday Resorts Cottages & Spa, Kalinga Cottages, Manzana Woodlet Cottages. From budget to luxurious, you will find all kinds of cottages here.
Which is better, Manali or Kasol?
While being a family destination, Manali is always flocked by tourists. On the other hand, Kasol is a place that has not been explored by many, hence experiences a lesser crowd. Since Manali is a sub-urban city, you will find better accommodations, places to eat and other entertainment options. Compared to Manali, Kasol is more like a village area which is not wholly developed. However, it offers a perfect refuge for solo vacationers who are seeking peace. On the whole, bothe bestinations boast a unique charm. If you want to be at a lively place, pick Manali and if solitude is all that you are looking for, head towards Kasol.
What is there to do in Manali at night?
There are a number of places in Manali to hang out at night. One can visit Khyber, a popular restaurant serving quality food, Chelsea Club to shake a leg, stroll through Mall road or camp at Solang valley.
What can I buy in Manali?
Some of the best buys in Manali are prayer wheels, woollen clothing, Kullu caps, Tibetan and Himalayan handicrafts, Dorjes, Thangkas, Kinnauri and Kullu shawls. There are various shopping spots in Manali where you can buy these items and more.
What is the best time to visit Manali for trekking?
If you wish to witness the best of Manali, it is best to plan a trip between March to June. This is the best time to indulge in trekking as the summer weather is pleasant for such activities and also for rafting, paragliding and more fun adventure.
Which are the famous summer treks in Manali?
Manali is a trekking paradise for tourists from all across the world. Some of the famous summer treks in Manali are Chandratal Baralacha Trek, Deo Tibba Trek and Hampta Pass Trek.
---
People Also Read
Trekking In Darjeeling Trekking In Himachal Pradesh Trekking In Sikkim