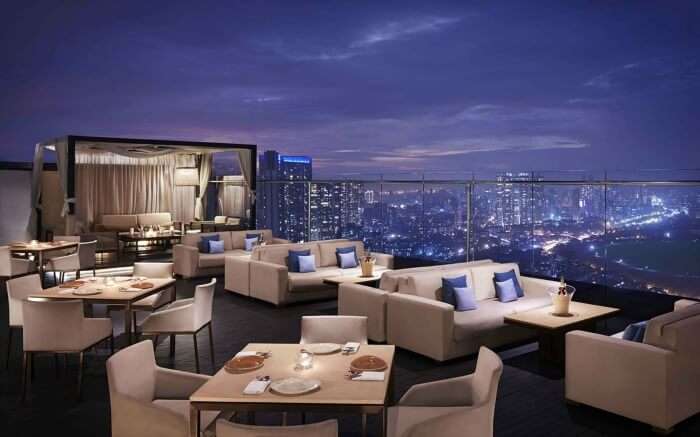 Planning to propose or surprise her on your anniversary? If yes, we bet there's nothing more foolproof than a dinner date at one of the most romantic restaurants in Mumbai. With unending ocean views, mindblowing lighting, seating, and setting, these lovely places to dine and romance will melt her for sure!
From The Oberoi's to Four Seasons to Taj, elegant rooftop beach restaurants flatter romantic couples with their perfect location, apt interiors, well-lit environs, lip-smacking delicacies, and soulful musical sessions. A date here means you will not only get to experience remarkable moments but also win her over a thousand times!
11 Romantic Beach Restaurants In Mumbai
Here's an exhaustive list of the 11 most luxe and romantic beach restaurants in Mumbai to plan romantic dining with someone special. You can catch some amazing beauty of the surroundings while enjoying a plate full of food. 
1. Out Of The Blue, Khar – A Coastline Beauty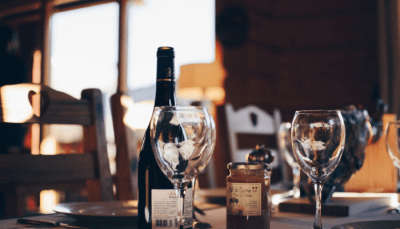 First one on our list is amongst the most romantic restaurants in Mumbai. Out of the Blue Kitchen in Khar isn't your usual dining spot, it is an elegant palette of flavors located in a hip, lively block on the edge of Mumbai's coastline. There's something absolutely cozy and inviting about the space as if they had translated the luxury dining experience into a designed restaurant with live music. The Indian-Medditerian menu is highly praised, but maybe not more than the Gnocchi which the customers can't seem to get enough of. 
Must try: Gnocchi, Ribs, Chocolate pudding
Cost for two: INR 1,000 approximately
Zomato Rating: 4.0/5
Cuisine: Indian-Medditerian
Address: 14, Union Park, Off Carter Road, Khar, Mumbai
Zomato Reviews
 The Sandhan Valley Trek: Your Pocket-guide To The Best Trek In Maharashtra
2. The Marina Upper Deck, Colaba – Beauty At Its Best

The perfect escapade offered by this sea-facing restaurant in the Colaba region boasts of everything to make it eye candy of all the lovey-dovey. The warm-lit environs with incomparable rooftop views offering Mumbai's skyline from Marina Upper Deck make an ideal set up for all the romantic couples. The ambiance, food, and friendly staff add to the wonderful experience at one of the romantic beach restaurants in Mumbai which is fondly called South of France by many. Dj is another added perk you get to avail yourself while dining at The Marina Upperdeck. You can also consider this restaurant for private dining for couples in Mumbai. If you are looking for a romantic dinner in Mumbai, this is where you must be. 
Must try: Chicken tandoori platter, Galouti kebab, and mutton seekh kebab
Cost for two: INR 1600 approximately
Zomato Rating: 3.6/5
Cuisine: North Indian, Italian
Address: Sea Palace Hotel, PJ Ramchandani Marg, Apollo Bunder
Zomato Reviews
3. Bayview Cafe, Colaba – Perfect Horizon Views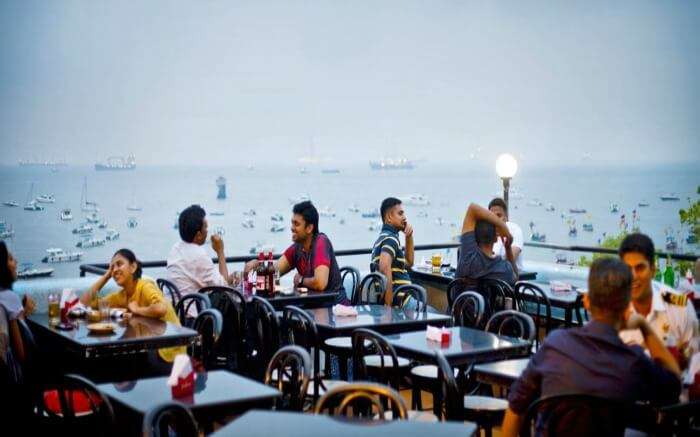 Are you thinking of a beachside candlelight dinner in Mumbai? Think no more. The perfect sea view and soothing ambiance of Bayview Cafe in Colaba look perfect for romantic dining. Lively rooftop ambiance, perfect harbor view, and windy evening weather are key highlights here. Also, this place isn't going to cost you big bucks! So, this place is one of the best romantic restaurants in Mumbai for candlelight dinner. This place is also surrounded by some of the best romantic resorts in Mumbai. 
Must try: Caramel custard, stuffed mushroom, potato cheese croquettes, and fish fingers
Cost for two: INR 800 approximately
Zomato Rating: 3.7/5
Cuisine: Chinese, Mughlai
Address: Hotel Harbour View, Kerawala Chamber, Opposite Radio Club, 25, J P Ramchandani Marg
Zomato Reviews
 24 New Year Parties In Mumbai: Top Venues & Events
4. Gadda Da Vida, Juhu – View From The Top Is Surreal

Enveloped by the tall and imposing pines, and outlined by the excellent ambiance, Gadda Da Vida has separate eating and recreation corner which offers the best of sea views of the region. Avail of the DJ facility and eat great food, because this one is on the list of popular romantic restaurants in Mumbai. This place has a gentle blend of good food and great environs! If you are thinking of a private dinner date in Mumbai, this one is a good choice as it is also one of the most fun places to chill out in Mumbai. 
Must try: Primavera pizza, Tiramisu, Novotel punch, caesar salad, and sangria
Cost for two: INR 4500 approximately (includes alcohol)
Zomato Rating: 4.1/5
Cuisine: Continental
Address: Novotel, Juhu Beach, Balraj Sahani Marg
Zomato Reviews
5. Asilo, Lower Parel – Of Romance & Views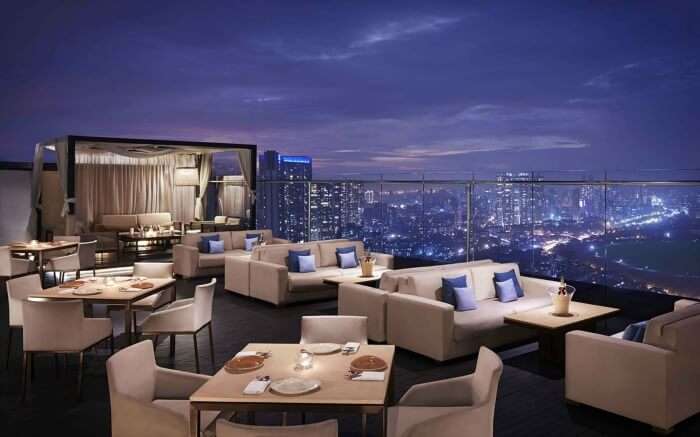 Believed to be one most thrilling landscapes all amidst the romantic sojourn, Asilo from St. Regis Mumbai is the most extravagant option in the Lower Parel region. European food and picture-perfect views are all you need in a while to win over the heart of someone special. Go for romantic private dining in Mumbai at this place!
Must try: Avocado crostini, chocolate volcano, tiramisu martini, and Thai chicken slider
Cost for two: INR 5000 approximately (includes alcohol)
Zomato Rating: 4.1/5
Cuisine: European
Address: St. Regis, 40th Floor, Phoenix Mills
Zomato Reviews
 13 Experiences That Make Summer In Mumbai Exciting!
6. Farmhouse Sea N Sand, Vasai – Secluded And Romantic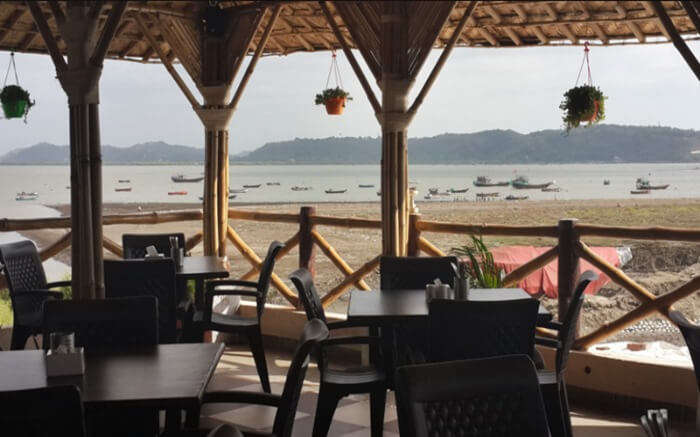 For every romantic couple seeking a private hideout to plan a quiet romantic dining, Farmhouse Sea n Sand is the place to be. The exotic surroundings with boats swarming the coastline are beautiful. Also, there are amazing dining options along with live entertainment like karaoke and sports screening that make this place ideal for couples. This is undoubtedly one of the best restaurants in Mumbai for couples!
Located on the outskirts, Farmhouse Sea n Sand is too good for everyone looking for a peaceful retreat. Seafood is their specialty which you mustn't miss at any cost.
Must try: Bombil fry, cocktail prawn, and seafood platter
Cost for two: INR 800 approximately (includes alcohol)
Zomato Rating: 4.2/5
Cuisine: Continental, Seafood, North Indian, and Chinese
Address: Pachubander, Vasai West, Vasai
Zomato Reviews
7. Dome Intercontinental, Churchgate – For The Setting Sun

Friendly staff, prompt service, classy decor, orange-ish skyline, setting sun and amazing look and feel! These are the defining traits of this one of the popular restaurants for couples in Mumbai. Dome Intercontinental is a majestic seaside restaurant in Mumbai that is romantic, elegant, and boast of exceptional vistas. A cocktail, sunset in view, and the soothing breeze are all you need to rewind and fix yourself!
Must try: Murgh Afghani, sushi, tiramisu, and chicken tikka
Cost for two: INR 3500 approximately (includes alcohol)
Zomato Rating: 4.2/5
Cuisine: Finger Food, Sushi
Address: Hotel InterContinental, 135, Churchgate
Zomato Reviews
 16 Spectacular Offbeat Places Near Mumbai To Be Explored
8. Sea Lounge, The Taj Mahal Palace, Colaba – Elegant & Musical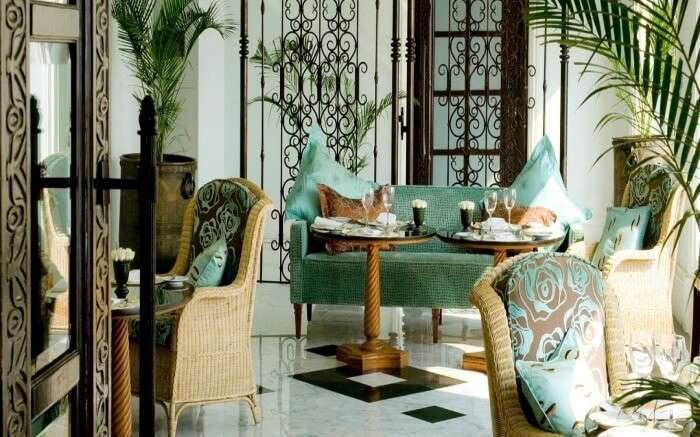 With the glorious view of Gateway of India and a vast Arabian sea in sight, Sea Lounge in Colaba is another of the popular romantic beach restaurants in Mumbai. The state of the art of elegant interiors, live music and romantic sea view accounts for a dining experience that has some tantalizing delicacies on the menu. The old world charm and rustic feel of the place with some piping hot served Italian delicacies give the restaurant that perfect edge over other romantic beach restaurants in Mumbai.
Must try: Scones, cappuccino, club sandwich, potato wedges, and masala tea
Cost for two: INR 3500 approximately
Zomato Rating: 4.3/5
Cuisine: Italian
Address: The Taj Mahal Palace & Tower, Apollo Bunder
Zomato Reviews
9. Ziya, The Oberoi Mumbai, Nariman Point – Suave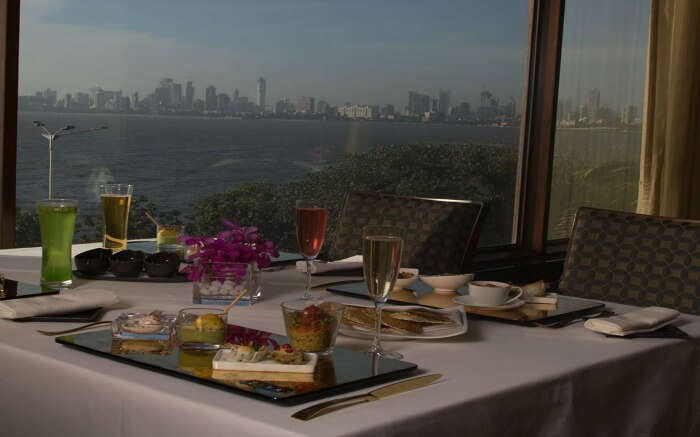 One of the highly-rated seaside restaurants in Mumbai, Ziya from the Oberoi presents the perfect spectacle of mesmerizing views around. The views of the Queen's Necklace along with the heart winning setup along the popular Nariman Point is the most appropriate encouragement for all the great foodies out there. From mutton biryani to good music, to courteous staffs Ziya has been an ultimate retreat for lovely couples. It is also home to one of the best places to stay in Mumbai.
Must try: Prawn curry, mutton biryani, raan, and dilli chaat
Cost for two: INR 4500 approximately
Zomato Rating: 4.4/5
Cuisine: North Indian, South Indian
Address: The Oberoi, Nariman Point
Zomato Reviews
 21 Hill Stations Near Mumbai To Soothe Your Senses On A Trip
10. Pizza By The Bay, Churchgate – Every Bite Dipped In Views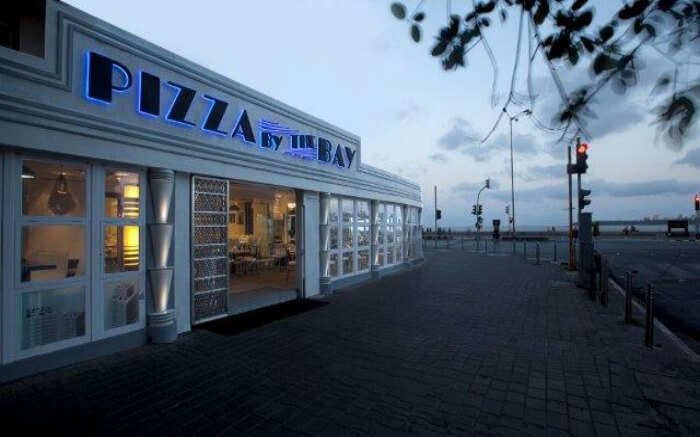 Are you in for some pizza treat? In that case, Pizza By The Way near Churchgate is one of the perfect beachside restaurants in Mumbai where you should be headed right now. The wonderful sea view, gourmet pizza, and courteous staff make the perfect combination that can woo any couple looking for a memorable dining experience.
Must try: Veg. lasagna, Aglio olio pasta, tiramisù, and minestrone soup
Cost for two: INR 2000 approximately
Zomato Rating: 4.4/5
Cuisine: Italian
Address: 143, Soona Mahal, Marine Drive
Zomato Reviews
11. Aer, Four Seasons, Worli – The World At Your Feet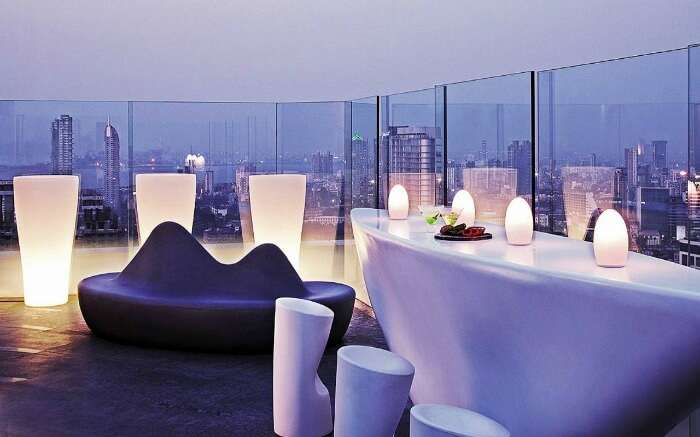 All the beautiful words elude me when I think of describing this rooftop restaurant in Worli region of Mumbai. Be it enjoying the live music while having food with someone special, or chilling out beholding the famed skyline of Mumbai, Aer from Four Seasons is one of the most accomplished rooftop eateries in Mumbai. The bird's eye view of the surroundings and an ideal party atmosphere with multi cuisine specialty make Aer an ideal place to be.
Must try: Pepperoni pizza, chicken satay, chicken tikka pizza, and masala pizza
Cost for two: INR 4000 approximately (includes alcohol)
Zomato Rating: 4.5/5
Cuisine: Spanish, Italian, European, and Lebanese
Address: Four Seasons Hotel, 1/136, E Moses Road
Zomato Reviews
 17 Romantic Places Near Mumbai For A Secluded Slip
There is something about fine-dining in Mumbai that intrigues the soul of every culinary enthusiast in India. Maybe it's the coastline view, rooftop dining settings, or delicious fusions that are only possible here, splurging on one elegant dinner night in Mumbai is absolutely worth it. Imposing and picturesque as they are, these romantic beach restaurants in Mumbai call for a kickass party making the best of beautiful personal space holding colossal sky and heavenly views. So, pack your bags, book your trip to Mumbai with TravelTriangle and Go and celebrate your special moments!
For our editorial codes of conduct and copyright disclaimer, please click here
Frequently Asked Questions About Romantic Beach Restaurants in Mumbai
Where can I hang out in Mumbai?
If you are looking for some amazing places to hang out after your date, here are a few romantic places to visit in Mumbai like Marine Drive, Girgaum Chowpatty, Shivaji Park and Powai Lake.
What food is famous in Mumbai?
If you want to try some famous local cuisines of Mumbai on your date, you should definitely try the Faluda, Ragda Pattice, or the Bombay Sandwich.
Where can I go for a long drive in Mumbai?
There is no better way to end the date than a long drive. Places such as Lonavala /Khandala route, Alibaug, Pelhar Dam, Kamset, Igatpuri, and Pune are a few places that you can go on a long romantic drive. The beautiful landscape on the route is sure to make the trip more romantic.
What is a good time for a date?
8 PM is usually a good time for a date as its dinner time and right after work for most people. This gives each of you time to relax, unwind, hit the gym, or get a few things done to clear out the rest of your night.
How far in advance should you plan a date?
It depends on when you are available, usually, they are planned for the upcoming weekend. Usually planned between 3-8 days in advance.
What should I eat on the first lunch date?
If you are on a lunch date and are wondering what you should order, then its advisable that you avoid food which is very spicy or has a strong smell. Try food items that are easy to eat and are not extremely expensive. You could go for potato cheese croquettes, fish fingers, Primavera pizza or Caesar salad. If you have a sweet tooth you could also try some Chocolate desserts as well.
People also read:
Romantic Restaurants In Kolkata Romantic Restaurants In Gurgaon Romantic Restaurants In Mysore