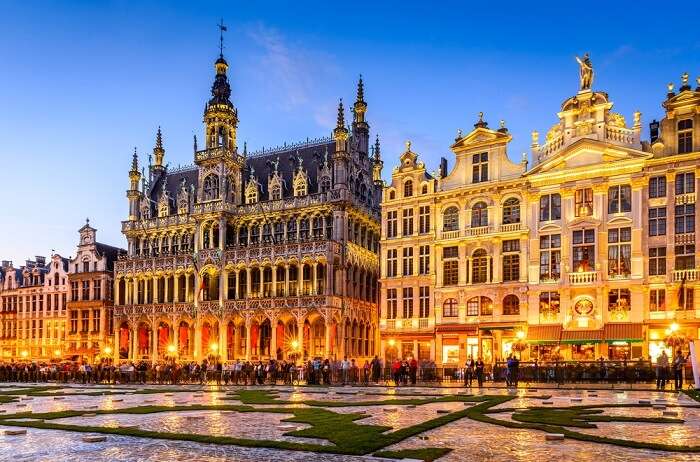 If there is any city to go to for a romantic getaway in Belgium, the capital Brussels is one place that must be on the top of the list. Known for its colourful and extravagant culture, Brussels is nothing short of amorous and charming. With scenic routes to take a stroll, delicious cuisine, world-famous chocolates and much more to offer. Brussels is the perfect romantic getaway for any time of the year to enjoy some glamorously charming time. Let us tell you about some of the most romantic places in Brussels for you to make the most beautiful memories.
10 Romantic Places In Brussels For Couples
With an elaborate list of places to go with your partner in this city, Travel Triangle brings you a well evaluated and narrowed down the list of the must go to places that you and your partner should not miss while in Brussels.
Van Buuren Museum
The Grand Place
BOZAR- Centre For Fine Arts
Elevator To The Sky
Streets
Royal Greenhouses Of Laeken
Galeries Royal St. Hubert
Brussels' Magritte Museum
Cathedral Of Saints Michael And Gudula
Mary Chocolatier Of Brussels
1. Van Buuren Museum

Known for its extravagant poise, this place was built by Alice and David Van Buuren, who have spent their whole lives decorating and perfecting their villa and garden and turning them into a work of art. This then caught the local eye and became a big attraction for couples. Alice then turned this home into a certified museum, dedicated to her late husband. But not before redefining the garden and having it personally shaped by famous architects Jules Buyssens and René Pechère. The garden is one of the biggest romantic attractions in Brussels with its vibrancy and serenity. Alice named it the Garden of Hearts, dedicated to her late husband. The garden has heart-stringed plantations all over and makes it a perfect spot to have some romantic time with your partner. The home also has a small museum, with a top-notch décor in the interior, with many original pieces of art and much more, which is a homage to her love life and is a very fascinating thing to experience with your partner.
Location: Avenue Leo Arrera, Brussels
Timings: 2:00pm to 5:30pm
Must Read: 14 Best Restaurants In Brussels 2022 That Offer A Glimpse Into The City's Vibrant Food Scene!
2. The Grand Place

A renowned UNESCO World Heritage Site, Grand Place has and is the heart of the city. Widely considered one of the best places in the whole of Europe, Grand Place doesn't fail in leaving its more than 10,000 visitors in its awe. Known for the roller coaster of a cultural experience it gives its visitors, this place has it all. Situated at the centre of the city, Grand Place is the place to be with your partner. Known for the magnificent Maison Du Roi and the City Hall, the place is really a sight to behold. With many squares around, you get a chance to see many famous street artist's works before your eyes and get acquainted with the city's art culture. But that's not it, as the place also offers its visitors a chance to participate in many festivities throughout the year. The central square is the main attraction for any and all festivals happening in Brussels and is the best place to be with your partner as you can experience Brussels at its best.
Location: Central Square, Brussels
Timings: Open 24hrs
Suggested Read: 10 Places For Shopping In Brussels That Will Give You A Shopper's High
3. BOZAR- Centre For Fine Arts

One cannot simply talk about Brussels without mentioning BOZAR. Known worldwide for its pristine architecture and elaborate collection of fine arts, BOZAR is the perfect spot to go to with your partner for getting immersed in the art and culture around. Built by Victor Horta, this architectural masterpiece is nothing short of brilliance. With a vast and diverse programme, this place has earned a name for itself for being inclusive of all kinds of art. With regular events happening throughout the year like art exhibitions, concerts and other artistic glees, you can visit this place anytime and always find something new to take away with you. With a very amorous backdrop, you and your partner will only find each other closer by the end of the experience inside this amazing place.
Location: 1000 Bruxelles, Brussels
Timings: 10 am to 6 pm, closed on Mondays
Suggested Read: 15 Hotels In Brussels That Suit Every Type Of Traveler
4. Elevator To The Sky

This is where things get very interesting. Place Poelaert is known for the view of the city it offers, but it comes at a price. If you and your partner are not afraid of heights, this place is the best experience you will have in this beautiful city. Known for the stunning and picturesque panoramic view it offers, this place is a haven for couples. The place has a glass box see-through elevator which takes you to a staggering height. After you've reached the top, you can take in all of Brussels at once, with the view only limited by the horizon. A free of cost experience and open till late night every day, this is a perfect spot to admire the beauty of this city with your partner and even propose to them if you haven't done it already. What can be better than proposing the love of your life surrounded by one of the most romantic cities in the world? The elevator is also open for bikes which makes it even more convenient for couples who have rented a bike to go around the city.
Location: Place Poelaert, 1000 Bruxelles, Brussels
5. Streets

It's not a particular place, but Brussels is the best city in Europe to take a stroll with your partner, holding hands and taking in the beauty of the city in. Start at the Grand Place and move around in any direction to see some amazing architecture and street arts, along with the local beauty of the city. Along the way, you will come across many bars and restaurants which always have something festive happening, especially during the winters. Brussels has a variety of good pubs, bars, cafes and restaurants which are at a walking distance from the Grand Place like Hard Rock Café, Le Roy d'Espagne, Le Cercueil, Little Delirium and many more. So, just hold your partner's hand, and take a stroll for a simplistic, yet amazing romantic experience.
Suggested Read: Brussels Nightlife: A Guide To The Best Pubs and Markets In The City
6. Royal Greenhouses Of Laeken

This is a very special place and is open to public only for two weeks throughout the year. The Royal Greenhouses Of Laeken are open from mid  April to early May and it celebrates the grounds which were designed and taken care of like a baby by the famous 19th century architects Victor Horta and Balat. Take a stroll at this garden hand in hand with your special someone. Feel like royalty and let the fragrances and the natural beauty take over your senses and maybe fall more in love with your special someone. 
Location: Avenue du Parc Royal 61, 1020 Brussels, Belgium
7. Galeries Royal St. Hubert

Is there anything more romantic than shopping? We don't think so! Galeries Royal St. Hubert is one of the shopping areas in Brussels that has got it all. Be it the stylish leather bags or boots, trendy shoes or cutesy toys, you name it and they have it. Oh! Did we mention they do jewelery too? Yes, that's right! One of the best shopping places in Brussel this place won't disaappoint. If you were wondering what was the best thing that you would possibly find here then its the chocolates. Chocolatiers are well known as the pride of Brussels and you will find plenty of them here and yes, you can buy chocolates too. 
Location: Galerie du Roi 5, 1000 Brussel, Belgium
Suggested Read: The Manneken Pis In Brussels: A Guide To This Unique Adventure Spot
8. Brussels' Magritte Museum

Museums don't even try being romantic. They just are! One of the romantic places in Brussels, the Brussels Magritte Museum features a huge collection of work by the renowned Surrealist painter Rene Magritte. If the two of you are art lovers then this museum is surely for you. From a trompe l'oeil exterior to the paintings by various Belgian artists and a lot more, the Brussels' Magritte Museum is as exciting as it gets and you must visit the place with your loved one. You will definitely be intrigued by what you will be seeing. Thank us later!
Location: Rue de la Régence 3, 1000 Bruxelles, Belgium 
9. Cathedral Of Saints Michael And Gudula

Can there be something better than seeking blessings for the two of you with each other? It's one of those aww moments! Visit the Cathedral of Saints Michael And Gudula for doing the same. Oh, and if you are not religious or spiritual then visit the church to be impresssed by the grandeur and beauty of the Brussels Cathedral. One of the most romantic places in Brussels, the Cathedral of Saints Michael And Gudula features high vaulted ceilings, wooden confession booths and much more and is definitely a must visit place on your Brussel trip. Don't miss out, guys!
Location: Sinter-Goedeleplein, 1000 Brussel, Belgium
Suggested Read: These 10 Best Craft-Beer Bars In Brussels Will Leave You Wanting For More
10. Mary Chocolatier Of Brussels

If you love chocolate then this is for you. If you would like to learn the art of making chocolate or even better , chocolate truffle then this is definitely for you! If you wish to learn the art of making chocolate truffle and not just eat them then Mary Chocolatier of Brusels is where you can do so. You can enrol yourself and your partner for the workshop and you can have a two hour session where you can try your hand at an art that many tend to miss out upon and what if you turn out to be awesome in making a chocolate truffle? Your special someone will be head over heels for you once again. 
Location: Belgium, Lombardstraat 28B, 1000 Brussel, Belgium
Further Read: 13 Best Places To Visit In Brussels In 2022 That Highlight The Charm Of The City
With this list, there is nothing else left to do other than visiting this haven of lovers and experiencing the best moments with your partner whicle checking out these romantic places in Belgium. So, don't think much, ensure that you include your visit to Belgium in your Europe trip with TravelTriangle, and let the spark of romance get reignited in your relationship!
Disclaimer: TravelTriangle claims no credit for images featured on our blog site unless otherwise noted. All visual content is copyrighted to its respectful owners. We try to link back to original sources whenever possible. If you own the rights to any of the images, and do not wish them to appear on TravelTriangle, please contact us and they will be promptly removed. We believe in providing proper attribution to the original author, artist or photographer.
Frequently Asked Questions About Romantic Places In Brussels
What is Brussels famous for?
Brussel is famous for its Art Deco taverns, towering Gothic cathedrals, unique Flemish art, open green spaces, and heavenly cuisines. Its main attractions are the historic and architectural landmarks.
Which is the best time to visit Brussel?
March and May have the most pleasant climate and is the best time to visit Brussel. September and October is another best time to enjoy a cozy and comfortable temperature of Brussel.
Is Brussel good for honeymoon?
Brussel is a center of a number of romantic attractions, dazzling creative design, and intriguing historical centers that make this beautiful capital city an ideal destination for honeymooners.
How many days do you need in Brussels?
3 to 4 days is the recommended time you should spend in this historic city so that you will be able to fully enjoy its beauty and experience.
What are the most romantic things to do in Brussels?
Some of the most romantic things to do in Brussels are:
1. Visit the Temple of Human Passions
2. Dig into some of the most delicious chocolates at the chocolatiers.
3. Explore the Garden of Hearts
4. Enjoy classic Belgian dishes in Place Stephanie
5. Choose from over 3,000 beers at Delirium Cafe
Which are the most romantic restaurants in Brussels?
Some of the best restaurants in Brussels for a romantic dinner are:
1. Restaurant le Rabassier
2. Comme Chez Soi
3. Pasta Divina
4. BonBon
5. Le Bistro
Which is the most romantic place to stay in Brussels?
The best places to stay in Brussels are:
1. Brussels Centrum
2. Ixelles
3. Saint-Gilles
4. European Quarter
5. Molenbeek – Saint Jean.
Is Brussels a safe city?
Brussels is a safe city for tourists. The main risk is petty crime and pickpocketing in the subway or at the train stations
Which places are near Brussels?
Some of the places near Brussels are Antwerp, Gent, Hague, Rotterdam, and Tilburg. These are some of the beautiful cities located near Brussels.
What are the points of attraction in central Brussels?
Grand Place, Belgian Royal Museum, Coudenberg Palace Archaeological Site, Saint Michel Cathedral, and Palace Royale are some of the places to see in central Brussels.
Do they speak English in Brussels?
Yes, 63% of the Brussels' residents can speak in English and in fact can hold up fluent conversations. So, you need not worry about it.
Is Brussels a safe city to visit?
Yes, absolutely! Brussels is absolutely safe for tourists. The only risk you stand is that of pickpocketing or petty crimes which can be avoided by being cautious.
---