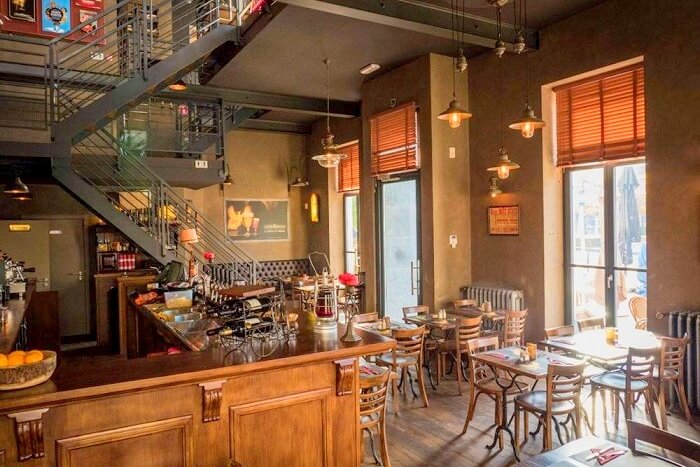 Europe's de facto capital's not just offers an array of experiences through its magnificent architecture and eclectic museums, but its culinary offerings are equally varied and delightful. Along with the sinful chocolates and waffles, a plethora of delectable Belgian dishes like the popular Moules-frites or the exotic Waterzooi.
This small city has surprisingly risen to be northern Europe's food capital with more than 25 Michelin starred restaurants in Brussels, great fine dining places and chilled out bars. We bring to you the best restaurants in Brussels that are sure to take you on the culinary journey of a lifetime.
Top 10 Restaurants In Brussels That Every Food Lover Should Feast At
From cozy ones to fine dining and casual, the food scene in Brussels is lit and these amazing restaurants prove just that! Choose your pick and dig in!
1. Restaurant le Rabassier
Undoubtedly the top contender for best restaurants in Brussels, the wonderful setting, impeccable service and fantastic food set it miles ahead of competition. The six course tasting menu is a gastronomic trip one mustn't miss out on- from savoury to sweet, and absolutely divine. The artistically presented exotic preparations are outstanding, and indicate why this restaurant boasts of two Michelin stars. Since there are very few tables in its intimate setting, an advance booking is a must.
Address: Rue de Rollebeek 23, 1000 Bruxelles, Belgium
Average cost/person: fixed menu from 65 Euro; special Black Truffle tasting menu from 135 Euro
Cuisine: Belgian, European, French
Opening Hours: 12PM-1:30PM; 7PM-8:45PM, Sunday closed
Suggested Read: 10 Places For Shopping In Brussels That Will Give You A Shopper's High
2. Comme Chez Soi
Food is a work of art at this wonderful restaurant, with so much attention to detail in the preparation of every dish which offers a melange of flavours. Amongst all Brussels restaurants, the Comme Chez Soi stands out for its exceptional food, art nouveau design, cosy ambience and unmatched service. Every morsel transports you to foodie heaven; a tour of the kitchen post the meal is quite interesting.
Address: Place Rouppe 23, 1000 Bruxelles, Belgium
Average cost/person: Lunch at 60Euro, the 5-dish fixed menu at 140 Euro
Cuisine: French, Belgian, European
Opening Hours: 12:-1:30PM, 7PM-9PM; Tuesday-Wednesday: Opens only for dinner; Sunday-Monday: Closed
3. Pasta Divina
The small, cosy family-run setup is one of the best Italian restaurants in Brussels serving fresh home-made fare. The friendly owner takes great care of the guests, while his wife prepares fresh pasta for the dishes every day. This is your go to place for the best pasta in town, along with amazing heart shaped salmon ravioli, tiramisu and other Italian specialities. The place fills up fast so a reservation is recommended.
Address: Rue de la Montagne 16, 1000 Bruxelles, Belgium
Average cost/person: 20-25 Euros
Cuisine: Italian, Mediterranean, European
Opening Hours: 12PM-2:30PM, 6PM-10PM (Monday to Saturday); Sunday Closed
4. Bon Bon
Tucked in a tranquil neighbourhood, this 2 Michelin starred restaurant in Brussels is in a lovely villa with the perfect ambience for a romantic meal. The attentive & friendly staff along with the creatively crafted and beautifully presented food will make you want to visit it again and again. Enjoying a 5-course culinary journey with the chef at the kitchen bar is a unique experience.
Address: Avenue de Tervueren 453, 1150 Woluwe-Saint-Pierre, Belgium
Average cost/person: 2-course menu at lunch time: 75 Euros; 5-course meal: 185 Euros
Cuisine: French, Belgian, European, Vegan Options
Opening Hours: 12:30PM-1:30PM, 7:30PM-9PM (Tuesday to Friday); Sat-Sun-Mon: Closed
Suggested Read: Brussels Nightlife: A Guide To The Best Pubs and Markets In The City
5. Le Bistro
This neighbourhood bistro in a fantastic location is a great choice for restaurants in Brussels with that warm and homely feel and amazing food. The staff is very friendly and make valuable suggestions, the portion sizes are pretty good and the prices reasonable. The mussels, beef steak, shrimp in garlic sauce and vegan pasta are all great. Sitting outside on a warm sunny day is a nice experience; complimentary mint tea is a nice touch.
Address: Boulevard de Waterloo 138, 1000 Bruxelles, Belgium
Average cost/person: Euro 15-20
Cuisine: French, Belgian, Bar, Seafood
Opening Hours: 10AM-11PM All days of the week
6. Le Chou de Bruxelles
This quirky restaurant is an ode to Belgian gastronomic delights and authentic drinks like Belgian Ales. The cosy hidden gem of a place is amongst the best restaurants in Belgium to try the most popular dish, moules-frites(mussels& fries), in its 30 culinary avatars. A small garden in the backyard is a lovely spot for an al fresco meal. Their service is quick and the food outstanding.
Address: Rue de Florence 26, 1050 Bruxelles, Belgium
Average cost/person: 3-course menu from 32 Euros
Cuisine: Belgian, Seafood
Opening Hours: 12PM-2PM, 6:30-9:45 (Tuesday to Saturday); Sun-Mon Closed
7. Bia Mara
If you're craving for sumptuous seafood in the city, this is one of the good restaurants in Brussels for a hearty meal at a great price. Their wonderful food, philosophy (of using sustainable fish) and impeccable service will win your heart. This is primarily a fish and chips place near the Grand Palace with an amazing variety of the dish and delicious array of sauces to go with it. They also serve chicken and have a good selection of beers.
Address: Rue du Marché aux Poulets 41, 1000 Bruxelles, Belgium
Average cost/person: 15-20 Euros
Cuisine: Seafood, Fast food, British, European
Opening Hours: 12PM-2:30PM, 5PM-10:30PM (Monday to Thursday); 12PM-10:30PM (Fri-Sun)
Suggested Read: 10 Best Places To Visit In Brussels That Highlight The Charm Of The City
8. Fin de Siecle
Located in the heart of the city, this gem of a place is one of the best restaurants in Brussels for enjoying a hearty Belgian meal without burning a hole in your pocket. Nice rustic ambience and authentic Belgian food with good portion sizes make this place a huge hit. They also have a wonderful selection of beers to go with the must-try dishes: spear ribs, pork knuckles and rabbit. The vegan moussaka and tomato salad are good too.
Address: Rue des Chartreux 9, 1000 Bruxelles, Belgium
Average cost/person:
Cuisine: Belgian, European, Vegetarian Friendly
Opening Hours: 12PM-12AM all days of the week
9. La Truffe Noire
Suggested Read: Belgium Food: The 10 Mouth-Watering Delicacies You Must Try!
You will be amazed to try the range of flavours, combinations and possibilities of using truffles in food at this Michelin star restaurant in Brussels. The owner Luigi is so passionate about his venture and it reflects in the warm hospitality and personal attention to every detail. From the unique truffled tobacco leaves, to whole baked truffles and beef capaccio with truffles, every dish is a delight for the palate.
Address: Boulevard de la Cambre 12, 1000 Bruxelles, Belgium
Average cost/person: Euro 90
Cuisine: French, European, Italian
Opening Hours: 12PM-2:15PM, 7PM-9:45PM (Tues-Fri); 7PM-9:45PM (Sat & Mon); Sunday Closed
10. Fanny Thai
If you're looking for an authentic Thai restaurant in Brussels, then this family run place at an excellent location is a must visit. Fanny Thai offers reasonably priced food with good portion sizes and a great selection of dishes. The mixed steamed starters, Penang Kai Chicken and various curries are exceptionally good. Since it is popular among both locals and tourists, be prepared to wait for a seat.
Address: Rue Jules Van Praet 36, 1000 Bruxelles, Belgium
Average cost/person: Approximately 20 Euros
Cuisine: Thai, Asian, Vietnamese
Opening Hours: 12PM-3PM, 6-11:30PM (Mon-Fri); 12PM-11:30PM (Sat-Sun)
If you're planning a holiday in Brussels or are in the city already, you need to check out the food scene and experience all the kinds of cuisines that it has on offer. And yes, if you've already been to any of the above restaurants, do share your experience with us.
Suggested Read: 15 Hotels In Brussels That Suit Every Type Of Traveler
Comments
comments