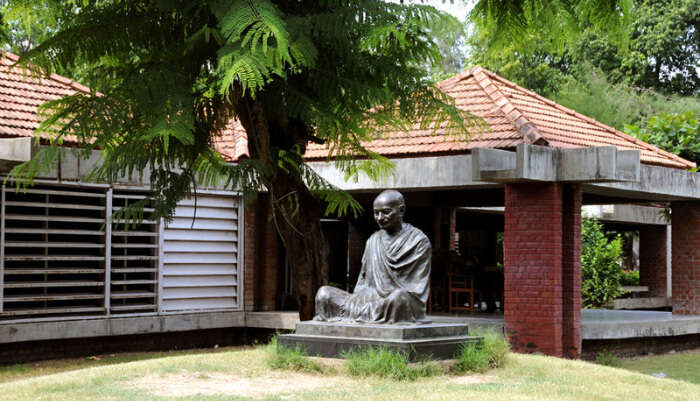 Cover Image Credit: Wikipedia
Situated in the north of Ahmedabad center, Sabarmati Ashram in Gujarat was once home to Mahatma Gandhi and his wife Kasturba. The ashram is located in the stretch of Sabarmati River and surrounded by peace and tranquility. This is also the place where from where Gandhi began his Dandi March. Located between a prison and a cemetery, Gandhi believed that a Satyagrahi is likely to end his life either in prison or in a cemetery and this was the reason he chose this place to stay. Sabarmati Ashram will revive the era of independence within you. Sabarmati ashram has a lot of other establishments within its premises and the most famous among them is the museum. The place is stocked with various personal letters and photographs of Gandhi on display. Other buildings with the ashram are Upasana Mandir, Magann Niwas, Vinoba, Nandini, and Kutir. Witness to the various historical events, the ashram today is itself a historical site. You can visit this place too and now the history of India's ancient past at a closer glance.
Quick Links To Navigate Sabarmati Ashram In Gujarat
History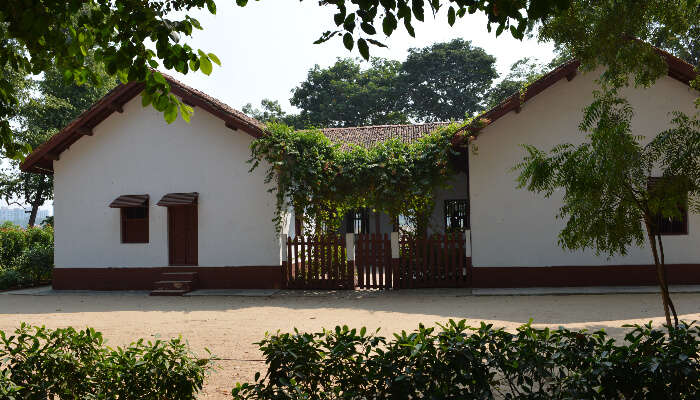 Image Source
After returning from South Africa, Mahatma Gandhi built his first ashram at the Kocharab Bungalow which was then known as the Satyagraha Ashram. This was the center of many activities like animal husbandry and farming. But due to the increase in activities, the land was no longer sufficient and therefore Gandhi decided to move to the Sabarmati Ashram along the Sabarmati River. The Sabarmati ashram architecture was constructed by Charles Correa wherein he used brick piers, stone floors and tiled roofs which gave an expression of contemporary style which was done to live up the spirit of Swadeshi movement. After, this Gandhi experimented in the fields of farming, animal husbandry, cow breeding, and other Khadi related activities at this place. Later this ashram became the epicenter of all the activities related to the Indian Freedom Struggle. Take this guide to this historical site and know the Sabarmati Ashram history in a better way. The Sabarmati Ashram history will take you back to the popular Dandi March on 12th March, 1930 when Mahatma Gandhi began this march at a distance of 241 miles from the Sabarmati Ashram. If tourists want to deep dive in knowing about Sabarmati Ashram then you must know that Ashram served as home to some of the ideas that led India free.
Must Read: Shopping In Gujarat: 10 Incredibly Awesome Places That Will Tempt You To Splurge More!
Places To Visit At Sabarmati Ashram
The Sabarmati Ashram was Charles Correa's first important work. The simple life of Gandhi is reflected through the Sabarmati Ashram architecture. This historical site holds a lot of significant structures within its bound. Here is something about every building.
1. Magan Niwas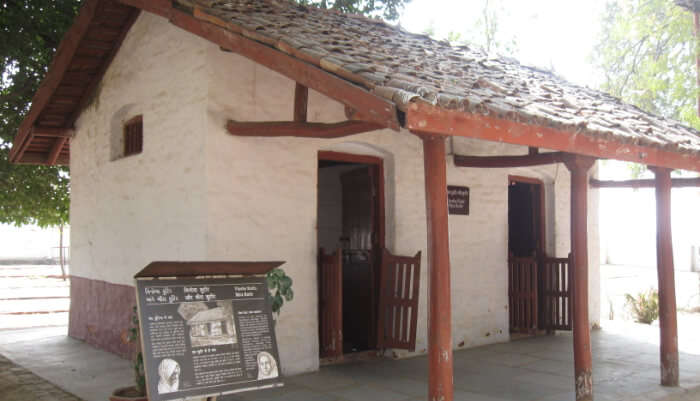 Image Source
Named after Mahatma Gandhi's nephew, who was a true follower of Gandhi. As said by Gandhi, he was the soul of the Ashram and Magan Niwas is the place he resided. An architect and an efficient manager, it was he who introduced the various upgraded versions of the spinning wheel which ultimately gave birth to Khadi.
Suggested Read: 8 Places To Visit In Gujarat During Monsoon And Enjoy The Best Of This Season In 2022!
2. Hriday Kunj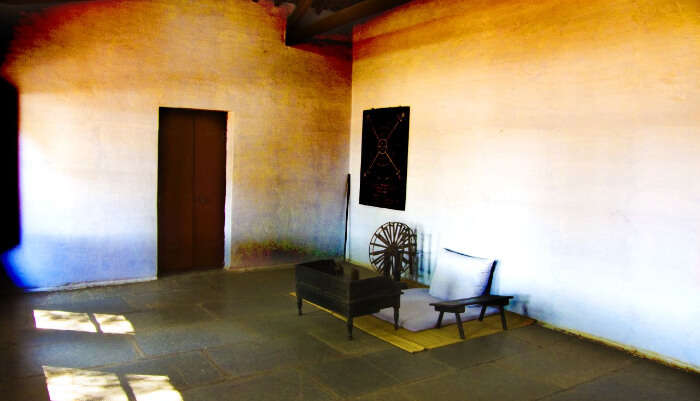 Image Source
The residence of Mahatma Gandhi and Kasturba Gandhi the Kunj is located in the Sabarmati Ashram. This includes six rooms mainly the guest room, store room, kitchen, and secretariat. The Kunj was also the venue for the various meeting held by Gandhi ji and you can still find original personal artifacts at this place.
Suggested Read: 10 Best Places To Visit In Gujarat In Summer For An Enthralling Holiday In 2022!
3. Gandhi Memorial Museum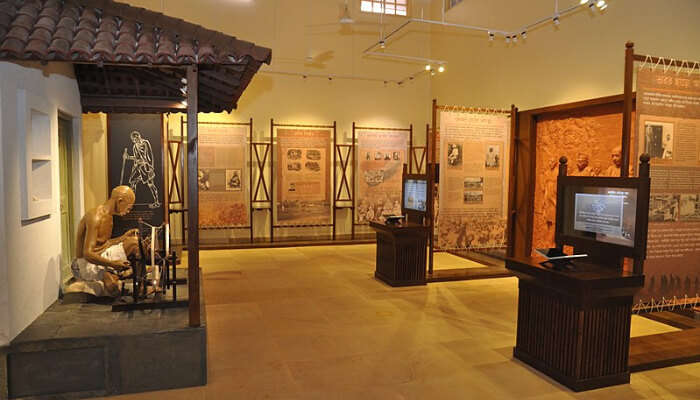 Image Source
The most popular unit of the ashram, this museum exhibits articles related to Gandhi's life. The museum was inaugurated in 1953 by the Prime Minister jawahar Lal Nehru. The museum consists of three important galleries, the Ahmedabad Gallery, My Life is My Message Gallery and Painting Gallery. Each gallery depicts a different phase of Gandhi's life. A library is also located inside this museum.
Suggested Read: 17 Famous Festivals In Gujarat To Celebrate In 2022 With Joyous Fervor
4. Vinoba Mira Kutir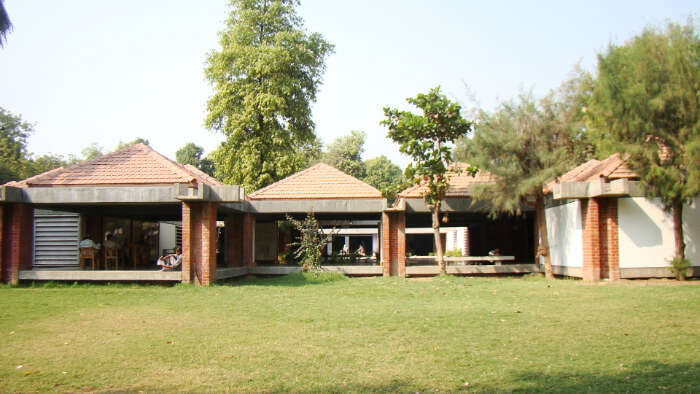 Image Source
Residence of Vinobha Bhave, the lady was the daughter to a British Admiral who was deeply influenced by Gandhi's ideologies and made every effort to serve the freedom fighter. Popularly known as Mira,she helped Gandhi in the various movements and helped in the activities of the ashram.
Suggested Read: 52 Intriguing Tourist Places In Ahmedabad For Your Gujarat Getaway In 2022
5. Udyog Mandir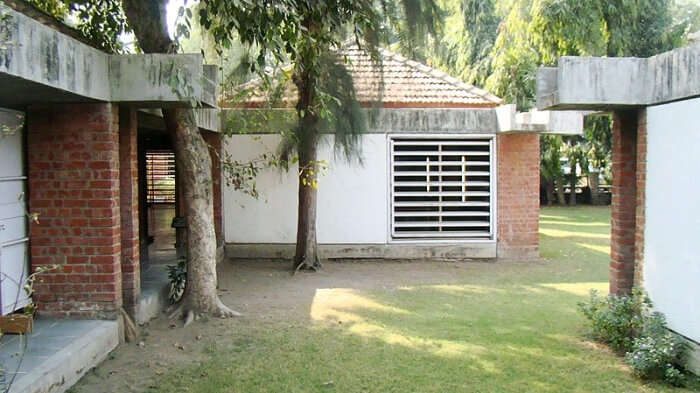 Image Source
Founded during the historical strike of the mill workers in Ahmedabad, this place developed in 1918. Known as the 'temple of industry' the place was instrumental in spreading the message of 'Swaraj through Khadi' in the nation. The temple was also a symbol of self-reliance for all the residents of the ashram.
6. Somnath Chhatralaya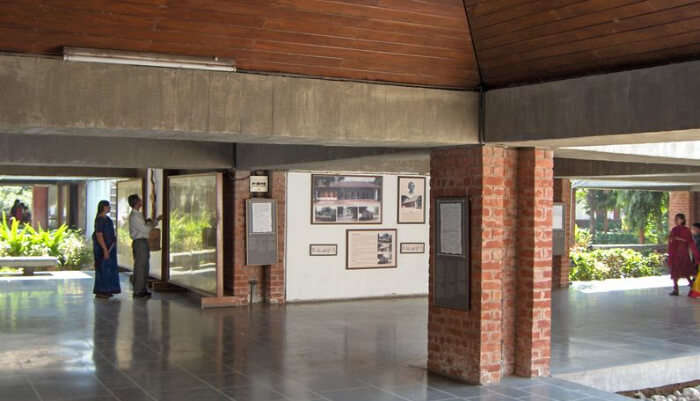 Image Source
The home to the students of the Ashram's school, and the various participants of the Swadeshi Programme, Somnath Chhatralaya made it easy for the Satyagarhis to observe the ashram's rules and communicated things in a better manner.
Suggested Read: 10 Exciting Things To Do In Saputara To Make Your Gujarat Getaway More Fun!
7. Upasana Mandir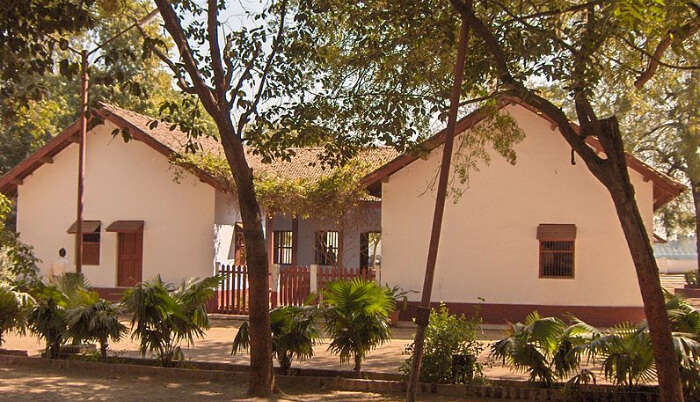 Image Source
Upasana Mandir is the place where Gandhi Ji held prayers for everyone in the Sabarmati Ashram. The prayers were held in the mornings and the evenings. Various sermons based on Bhagavad Geeta were also delivered by Gandhi to provide spiritual support to all the people.
Suggested Read: International Kite Festival In Gujarat 2022: Join The Uttarayan Celebrations This January
Sabarmati Ashram Events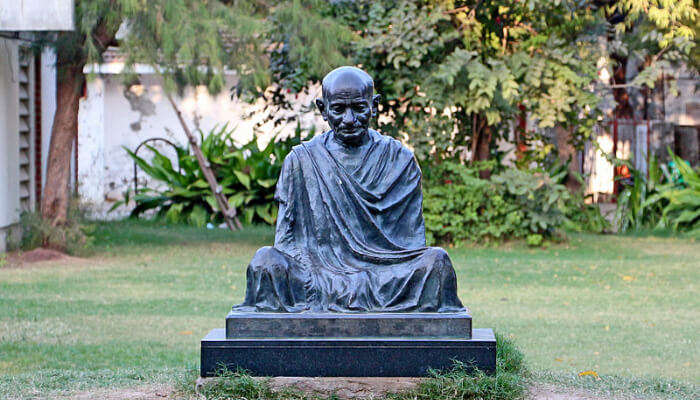 Image Source
To promote the great philosophy and ideals of Gandhi, various events are held in the Sabarmati Ashram. Here is a list of some of them. It is interesting to know that Sabarmati ashram has always been involved with the welfare of the community. Take a look at the latest Sabarmati ashram events.
1. Programme of 30th January: Gandhi Death Anniversary
Prayer Meeting: Time – 8:30 am to 9:30 am
Venue: Hridaykunj
2. Programme of 26th January, 2022
Flag Hosting: 8:30 am
Venue: Gandhi Ashram
3. Programme of 15th August
Flag Hosting: 8:30 am
Venue: Gandhi Ashram
Sabarmati Ashram: Location and Entry Timings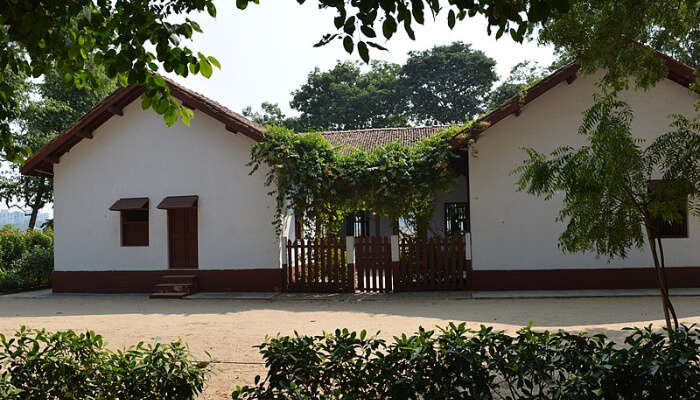 Image Source
Sabarmati Ashram is located in Ahmedabad along the banks of the Sabarmati River. The ashram is 4 miles from the town hall. A Sabarmati Ashram map is also available that will help you get along the ashram easily.
Address: Gandhi Smarak Sangrahalaya, Ashram Rd, Ahmedabad, Gujarat 380027
Entry Timings: 08:30 am to 06:00 pm
Entry Fee: No Entry Fee
Address
Sabarmati Ashram, Gandhi Smarak Sangrahalaya,
Gandhi Ashram, Ahmedabad-380027,Gujarat, India.
Phone: +91-79-2755 7277, Fax: +91-79-2756-0569
Suggested Read: 17 Historical Places In Gujarat That Uncover A Legendary Past
How To Reach Sabarmati Ashram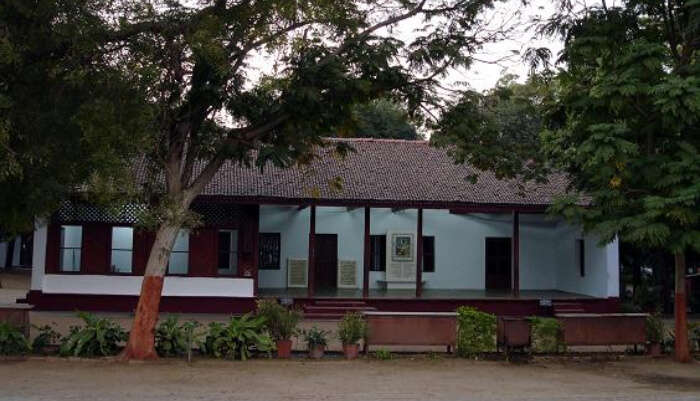 Being a major tourist spot, it is very convenient to reach this destination. Various public transport mediums are also available whereas one can also take rickshaws and autos to the ashram.
By Road: Major bus stops are located at Gitamandir near kalpur Railway Station and Paldi. Buses at regular intervals are available to the major destinations of the state
By Rail: The prominent railway station is located in Kalupur Area. If you happen to travel from the western side then Gandhigram Station is located near the Ashram.
By Air: Sardar Vallabhbhai Patel airport at Ahmedabad is an international airport. Numerous domestic flights to this airport are also available.
Further Read: 51 Incomparable Places To Visit In Gujarat For A Memorable Trip In 2022
Get a sense of the life of Gandhi and the history of India's past by visiting this famous historical site. Indulge in a series of events hosted at the ashram and make a contribution to the glorious history of India.
Disclaimer: TravelTriangle claims no credit for images featured on our blog site unless otherwise noted. All visual content is copyrighted to its respectful owners. We try to link back to original sources whenever possible. If you own rights to any of the images, and do not wish them to appear on TravelTriangle, please contact us and they will be promptly removed. We believe in providing proper attribution to the original author, artist or photographer.
Why did Gandhi shift to ashram life?

Mahatma Gandhi wanted to bring some reforms in practices like cow breeding, Khadi, animal husbandry and construction activities for which he searched a barren land which came to be known as Sabarmati ashram later.

When was Sabarmati Ashram established?

The Ashram was established on 25 May 1915 after which it was shifted on the banks of the river Sabarmati on 17th June 1917.

What was the reason for building Sabarmati Ashram?

The Ashram was built with a dual purpose. One was that it would serve as an institution of truth, reform and other was to connect workers together on a mission of non-violence which led to the freedom of India.

When does Sabarmati Ashram closes in the day?

The Sabarmati Ashram remains open on all days of the week from 8:30 AM in the morning to 6:30 PM in the evening.

What are the other names of Sabarmati Ashram?

Sabarmati Ashram is also known as Gandhi Ashram, Satyagraha Ashram and Harijan Ashram.

Why is Sabarmati ashram famous?

The Sabarmati Ashram is famous as it became the foundation from where Mahatma Gandhi began the Dandi March or Salt Satyagraha as it was called on 12th March, 1930.
People Also Read
Places To Visit In Gujarat Places To Visit In Bhopal Places To Visit In Jaipur
Comments
comments