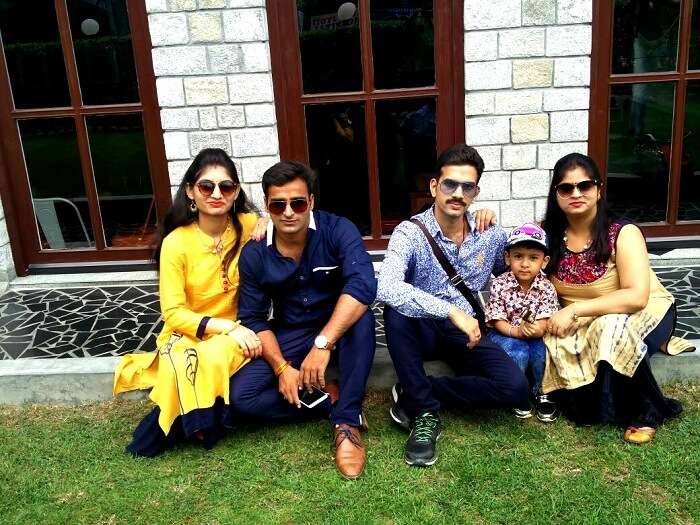 Claiming his trip to be a complete fortunate hit with no low points, Sachin Moyal talks about his pleasant and meritorious journey, that he took with his family along with his sister and brother in law, to the queen of hills, Himachal. He booked his package from TravelTriangle that included his meals, transfers, and sightseeing, all for a cost of INR 50,000.
I was on the lookout for a perfect family vacation to spend some quality time with my loved ones. But then, I was quite uncertain about the destination since I wanted a blend of a religious and adventurous tour. So, after a thorough research, Himachal Pradesh knocked my mind for it offered me unparalleled religious sites and exciting adventures. After sorting the destination out, it was now time to find a platform which could customize our trip accordingly.

I came across the mobile app of TravelTriangle, while searching for the best family packages, and was absolutely impressed by their multiple quotations structure and chose the best deal for us.
Day 1: A zesty road journey to Himachal

Suggested Read: 46 Best Places To Visit In Manali And Its Precincts
We decided to start our journey as early as possible, in the morning, so that we could bypass the rising temperature of Delhi. We packed our bags overnight and the agent's driver came at 5 AM to pick us up.
We reached Kangra in the evening around 4 PM and paid a visit to Jwalaji and then to Chintpurni temple since we all had a desire to start our trip with the blessings of the supreme devi.

Jwalamukhi is the most ancient temple which has its special mention in the Vedic scriptures as well. People claim to witness seven flames in the natural cave of this temple.
Although it was extremely crowded and buzzing with the devotees, the mandir was truly worth the wait for the peace and tranquility it brought to our souls.
We were stunned to see the miracle of the eternal flame that continued to burn. And now, having witnessed the miracle ourselves, we are questionless about the great importance this place holds in the Vedic texts.
Then, we proceeded to the Chintpurni Mata temple, which is also a famous pilgrimage site and we were glad to seek blessings from devi and were more than happy for our well-planned trip started off the way we wanted it to.
And then, we checked into the hotel in Kangra to have a comfortable overnight stay and a sound sleep, since it was equally important to recharge ourselves after a long road journey.
Day 2: Arrival in Manali followed by leisure time

Post the breakfast at the hotel, we got ready for our next destination- Manali, and reached our booked hotel within 6 hours.
The hotel was absolutely perfect for a family stay for it had a lot of options to explore, like the game parlor for kids and some other options for adults as well. It also had a bar and a disco for those who wanted an exciting and energetic night.

We spent our day enjoying innumerable games in the exotic hotel itself. Then, by the nightfall, we headed to explore the famous mall road. And, as usual, it was a busy road with all the hustle-bustle around and the place was well equipped with small shops, big showrooms, multi cuisine restaurants, and what not!
Witnessing the charisma of Mall road at night was one of the mesmerizing experiences of Manali.
Afterward, we returned to our hotel and satiated our hunger with a sumptuous dinner and called it a night only to wake up for another exciting day.
Day 3: Exploring Manali in close proximity

Suggested Read: 37 Awesome Things To Do In Manali For Solemn Joy
We had a sumptuous breakfast at the hotel and it was such a good treat to our taste buds. Thereafter, we left for a full day Manali city tour. We started off by visiting Hadimba temple first- an ancient wooden temple which is devoted to Hadimba Devi.
We were amazed by the miraculous architecture and the exclusivity of this temple since it did not contain any idol and rather footprints on the stone, which are believed to be of Hadimba, herself.
Later on, we spent our afternoon in the clubhouse for it offered both indoor and outdoor activities like table tennis, pool, and skating among others.

We engaged ourselves in a super exciting river trekking with water flashing all around us and it was certainly the most amazing experience of our trip. After a dubious battle, my brother in law and I, finally settled for a thrilling river rafting activity while rest others enjoyed a calming stay at the bank of the pristine river.
Initially, we were really apprehensive about the risky river rafting ride but the thrill that we had was one heck of an experience!
To put in simple words, the clubhouse turned out to be a perfect entertainment zone for us and it had something for everyone, be it kids or adults.

Afterward, we visited the calm and quiescent Vashisht village and this is where we could actually feel the vibes of old Manali. Upon reaching the village, we paid a visit to the Vashisht Mandir- famous for its ancient architecture. I was completely lost in the serene ambiance of this place and we stayed there for a while.
In the evening, we headed to Tibetan Monastery where we had a proper glimpse of the Tibetan culture. Also, we came across various Tibetan handicrafts and souvenirs. It was a different experience for us and we loved every bit of it.
After exploring the Manali city, we returned to our hotel, had dinner, and slept.
Day 4: An adventurous day with uplifting activities

Suggested Read: Trip To Manali: 'The Best Part Of Traveling Solo, Is That You Do Not Return Solo'
Post a delicious breakfast, we left for the Rohtang pass and finally we were in a pure white land where everything was covered up with snow. My son was more than excited to see and literally feel the snow in such a close proximity and it surely was lovely to see him playing around with the snow.
We all did ice skating and enjoyed all the activities at this adventurous place to the fullest. Watching everyone fall while ice-skating was, indeed very entertaining. We spent a few hours just chilling, eating, and playing with the snow.
Later on, we also indulged ourselves in an adrenaline-pumping scooter ride and everyone enjoyed it truly.
Subsequently, we went to the beautiful Solang valley to take thrill in the adventurous paragliding and immerse ourselves in the breath-taking panoramic views of the place.

Again, it was only my brother in law and I who opted for the paragliding adventure and I must say- it was a 'not to be missed' experience in Solang valley! But, we actually forgot to capture our fun moment in the camera. Nonetheless, I feel that it was the excitement and enjoyment in the moment that mattered to us.
We spent some more time in this lush greenery and serene environment and also took part in the local games over there. Also, we clicked several pictures in the valley since it was such a graceful scenic spot.
By bedtime, we returned to our hotel after spending our entire day enthusiastically and we just dozed off!
Day 5: A hearty adieu to Himachal Pradesh

Rejoicing all the fond memories, we left for Delhi in the morning itself around 9 AM, post the breakfast. We reached home the same day after a tiring but merry journey.
Our vacation ended on a happy note and we were glad to be able to pay a visit to the famous pilgrimage sites along with indulging ourselves in the adventurous activities. We experienced the best of Himachal and had a gala time vacationing with our family.

High points:
Most of the times people have an issue regarding the availability of good food during the trip but we were lucky to have delicious food throughout our trip.
The hotel staff in Manali was very cooperative and we were impressed by their amazing service.
Visiting religious sites was a great experience.
River trekking and rafting in the club house were very cheerful experiences for us.
Tip to the future travelers: Be ready to flex your muscles in the trip for it is full of adventure! Have a great time with your friends and family!
Experience the thrill of the hills with family! Book your family package to Himachal and indulge in nature like never before!