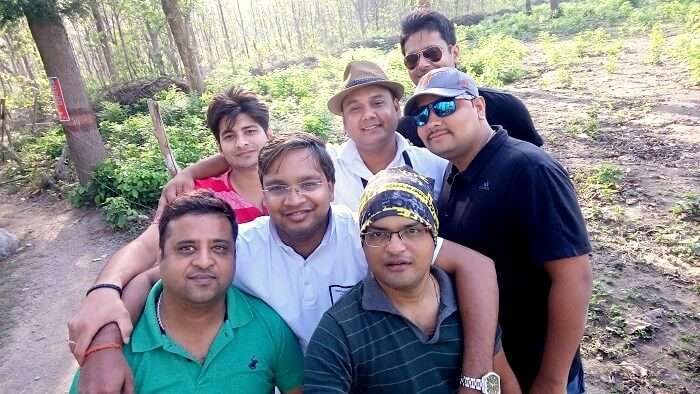 To relax in the midst of nature, wildlife, and luxury with best buddies is pretty much a scenario that we all crave for. On a 2 nights/3 days friends trip to Jim Corbett, Sandeep did just that when he embarked on a journey with his lifelong friends to the raw and untamed forests of the wildlife national park in Jim Corbett.
An up-close encounter with wildlife is something that had always fascinated me. The travel keeda inside of me always urged me to explore different destinations with new experiences that would leave a lasting impact on my mind.
Keeping that same fervor of travel and exploration in my mind, the idea of a friends trip to Jim Corbett came up with my best friends. All 6 of us were keen to take out a weekend for travel where we could all relax, get together, and have a great time in each other's company as we always do.
Top Things To Do In Jim Corbett With Family For A Refreshing Holiday Experience
Details of our friends trip to Jim Corbett
Trip Cost: INR 24,000
Trip Duration: 2 nights 3 days
Agent Name: Holidays Mentor
Inclusions: Accommodation, meals, jungle safari, and taxes
Exclusions: Transfers, toll tax, and additional expenses (if any)
For our group, I had taken the responsibility of finding a suitable package for a short and adventurous friends trip to Jim Corbett. After searching on Google for Jim Corbett Tour Packages, I saw the name TravelTriangle name pop up as the first result in the search query.
Although I ended up inquiring on multiple travel portals online, I found the best deal given to me via TravelTriangle. They were providing the option of a customized itinerary and backed up their holiday packages with travel stories of people who enjoyed their vacation taken through TravelTriangle.
Day 1: Soaked in the luxuries at Winsome Resort
After hiring a cab on our own, we started our friends trip to Jim Corbett with a night journey from our hometown Lucknow. The next morning, we reached the Winsome Resort in Ram Nagar at 6 am where we checked into our rooms.
To get rid of the overnight tiredness, all of us decided to stretch our legs a little bit and take a nap for a few hours. A couple of hours later, all of us gathered in the hotel lobby, visibly fresh and rejuvenated, to have breakfast. Since the first day of our friends trip to Jim Corbett was a leisure day, I couldn't help myself but jump into the pool for a soothing swim. Pretty soon, all of my buddies joined in as well, as we chilled in and around the pool under the crisp monsoon sun for a couple of hours.
 Best Things To Do On A Family Trip To Jim Corbett
The facilities in the resort were pretty impressive as some of us also used the gym and spa to spoil themselves of luxuries. Post lunch, all of us gathered on the resort lawn for a game of cricket. A game that has not only been a passion for us since our childhood but also has been an eternal link to our friendship.
In the evening, all of us proceeded to the market in Ram Nagar for some shopping. We found lots of different varieties of fruits like litchi, mango, and fresh apples. Afterwards, we returned back to the hotel for dinner and a rest for the night.
Day 2: The early morning safari experience was unforgettable!
So, for the first time in my life, I was about to experience an open-jeep wildlife safari. For this, we had to wake up pretty early as the safari began pretty early at sharp 5.30 am. I guess, to catch a glimpse of a tiger this was our best shot.
As the jeep meandered through the wild grasslands and bumpy terrains, we saw quite a few different animals going about their daily business. Although we just missed a tiger spotting, the experience of going out on a jeep on the lookout for wild animals had an unpredictability and thrill that was unmatched.
 A Stellar Natural Experience On A Family Trip To Jim Corbett
During our safari, the driver also took us to a waterfall and a temple inside the Jim Corbett forest area. After having a refreshing bath at the picturesque waterfall, all of us hopped back on the jeep for a ride back to the resort.
In the evening, we again headed out to the local market in Ram Nagar where we found some good shops that sell beautiful carpets and reasonable prices. We eventually felt tired and worn out as it had been a long day for us thanks to the safari adventure. Therefore, we headed back to the resort for the night where we enjoyed talking to each other over dinner and drinks.
Day 3: Pack up and head out home
On the final morning of our friends trip to Jim Corbett, we packed our stuff, had breakfast, and checked out from the Winsome Resort for our return journey to Lucknow.
At the end of this adventure, all of us agreed that this was an adventure that was perfectly timed thanks to the weather, duration, and ambiance of the destination.
A special note of thanks to TravelTriangle and Holiday Mentor travel agency who made sure that all of the things on our trip fell into place perfectly. Winsome Resort was a great recommendation by TravelTriangle as it had all the luxury amenities we could possibly need for a group trip to Jim Corbett.
 Family Safari Ride On A Weekend Trip To Jim Corbett
High point:
The best moment, clearly without a doubt, has to be the early morning jungle safari experience in Jim Corbett.
Tip For Travelers:
On a friends trip to Jim Corbett, take the earliest possible jungle safari to have the highest probability of seeing different kinds of animals in their natural habitat.
Get your gang going on this incredible adventure. Book your Jim Corbett tour package and enjoy a memorable weekend filled with adventure and luxury!
---
Long Weekend Trips Starting @ Rs 3299/-
Take a trip to spend the upcoming long weekend with your buddies.
✓ Stay at 4 star rating hotels with local sightseeing, meals and transfers.
✓ Travel in AC coach round trip (from Delhi).
✓ All Inclusive Deal– Camping, Jeep Safari & Trekking as per itinerary
✓ Sign up NOW to celebrate the long weekend out of town!
---