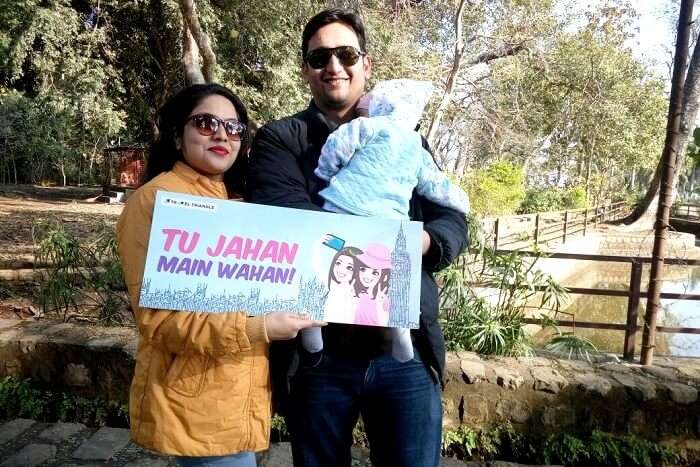 A jungle retreat that offered a perfect remedy for a weekend of relaxation and natural delight. Sona and her family ventured out on a 1 night/2 day weekend trip to Jim Corbett. They were greeted with the warm embrace of fellow travelers and picturesque views of captivating mountains.
Trip duration: 1 night/2 days
Trip cost: INR 3699 per person on quad sharing basis
Trip inclusions: bus ticket, accommodation, sightseeing, meals, and DJ party.
Month of travel: January
A perfectly timed call from TravelTriangle ignited us to plan a vacation on the Republic Day weekend.We were given a lot of exciting weekend trip options but we ultimately chose Jim Corbett.
 A Short Trip Exploring Best Places In And Near Jim Corbett
The Jim Corbett weekend package had a lot of inclusions and the price was very good. So, we went ahead with the booking process and had ourselves set for the Republic Day weekend. We were excited to go on yet another weekend trip with TravelTriangle, as our first adventure to Lansdowne was a great success. So our expectations with the trip were high and the anticipation was even more.
Day 0: Off we go to the mountains!
We arrived at the Akshardham Metro station to catch our bus for the trip to Jim Corbett. The journey began with 25 other fellow travelers at 11 pm. The bus ride began on a very friendly note as the TravelTriangle coordinators Sumit and Javed broke the ice between fellow travelers and soon we made some great friends along the way.
Day 1: Cascading crystals from a scenic waterfall!
We arrived at the Winsome Resort & Spa at 6 am. We checked into this modern and lavish resort located in the foothills of Himalayas, 15 mins from the Jim Corbett Tiger Reserve. The resort staff were friendly and welcoming upon our arrival. After a quick nap, we had breakfast.
 A Stress-Busting Thrill-Seeking Adventure Trip To Jim Corbett
Post that, the entire group assembled and got to mingle and enjoy the resort facilities. My husband, and I chose to walk around the property and breathe in some fresh air. After lunch at 1 pm, we departed for sightseeing in Jim Corbett. The first stop on our jeep ride was Corbett waterfall. I was amazed by the scenic beauty of the place. Not only because the place was picturesque, but also due to the lack of people visiting this scenic hideout on a tourist heavy weekend. I guess the credit went to TravelTriangle for digging out hidden gems for its travelers to enjoy on a trip to Jim Corbett.
Next up, from the places to visit in Jim Corbett was the Garjiya Devi Temple. After taking blessings from the almighty, we rode along side the Kosi river and stopped at one the places where the water flow was light to click some pictures and enjoy the scenery. With that, our sightseeing tour ended and by the time we arrived back at the resort, it was already dark.
We arrived at our room and got ready for the bonfire and DJ night party. The night began with nice music, tasty food and light banter among fellow travelers. It was great to see how quickly we all became friends and enjoyed a fine vacation in each other's company. The night, for us, ended with some dancing and a lovely dinner.
Day 2: Riding into the wild and untamed terrain
 Two Travelers On A Weekend Quest For Adventure: Sneh And Her Son Embark On A Trip To The Jungles Of Jim Corbett
The next day for us began early with a wake up call at 5 am by the hotel staff. We got ready for our jungle safari. We were taken to the Jim Corbett entry gate by bus from where we loaded onto our jeeps and began the safari at 6 am.
During the safari ride I was filled with nostalgia and adventure. For this was my second time, taking the jungle safari in Jim Corbett. It felt great to go on this adventure again after so many years. Being in touch with nature was always my comfort zone, and this time it was the same. The safari ended at 9 am and we headed back to the resort.
After having breakfast, we packed our bags and checked out of the resort. With that we finished our weekend trip to Jim Corbett, and boarded the bus back to New Delhi.
Yet another amazing experience with TravelTriangle came to an amiable end. Once again, they managed to exceed our expectations. We had a lovely stay at the resort, the food was delicious, and most of all everything was properly coordinated and executed. To have friendly and insightful travelers with us on this trip to Jim Corbett, was a privilege. I cannot help but starting dreaming about where we would go next with TravelTriangle.
High Points:
I loved staying at the Winsome Resort. Everything was perfect.
The fellow travelers were an amazing bunch of people.
Tips To Travelers:

Families visiting Jim Corbett should stay at the Winsome Resort.
The beautiful landscape of Jim Corbett and the foothills of Himalayas await your presence. Book your package now for a memorable experience.