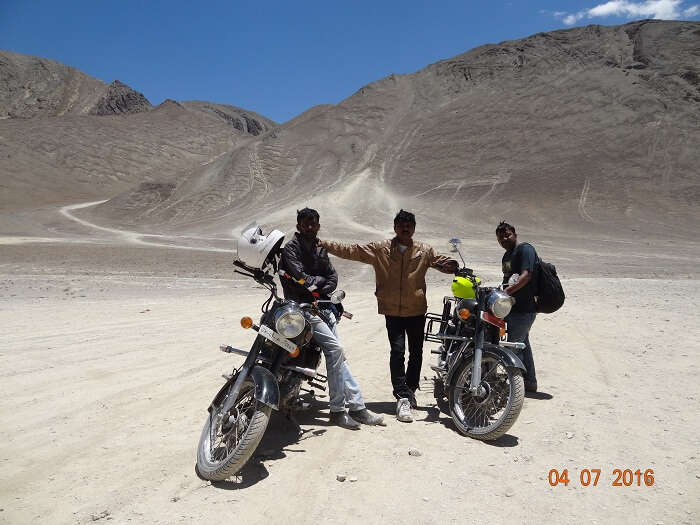 Read the enthralling tale of 3 friends of how they zoomed through the rugged and scenic terrain of Ladakh. They tested their limits, and got their due rewards of witnessing the best Ladakh has to offer. They booked a package via TravelTriangle for INR 107000 which included their breakfast, accommodation and transfers.
One of the things on my to-do list was to go on a bike trip from Manali to Leh with friends. Finally, three of us managed to chalk out a plan to get this adventure trip to Ladakh started. However, one of my friends got unwell just before we were set to depart even then with a slight alteration the three of us managed to keep the hopes of going to Ladakh alive by doing a half bike, half cab ride on the trip.
We searched for packages on the internet that could give us a trip to Ladakh with an option to customize the itinerary according to our needs. We arrived at the TravelTriangle website where they provided us with an option to chose packages from multiple agents who were giving different quotes. We found a competitively priced package for a 12-day trip to Ladakh and Srinagar from 'Shoes on Loose'.
The complications of customizing itineraries and making arrangements was all behind us. With four days on bikes and rest in a cab, we got just what we needed at that moment. It was time for us to live the adventure.
Day 1: Arrival in Delhi
Our trip began with a flight from our home-town Bengaluru to New Delhi. From the capital city we were supposed to travel via Volvo bus to Manali. Initially, we were a bit concerned about the duration of the bus trip, as long journeys in a bus can get very uncomfortable.
However, to our surprise everything went by smoothly, as most of the time we spent sleeping. The journey was comfortable as the bus had plenty of stops in between to give us a breather.
Day 2: Visiting Manali
It was a smooth ride and we arrived in Manali early morning. Upon our arrival, we were received by a representative from the tour agency who then took us to our hotel. We stayed in Hotel Phoenix, a property that is situated away from the mall road and atop a hill that gives a very good view. We checked-in and immediately went over to get our bikes.
We were glad to see that the rented bikes were in great condition. Among the many places we saw in Manali, the most notable were Hadimba Temple and Solang Valley. Afterwards we returned to the hotel, had dinner and got ourselves a well deserved night's sleep.
Day 3: Jispa Nature Camping
In the morning we had breakfast and checked-out of the hotel. We were packed and ready to go to Ladakh via cab. Our first stop was in Rohtang Pass, which is a very well-known tourist destination to view the snow-clad mountains and experience some adventure sports. We stayed there for two hours and moved on to our final stop for the day- Jispa.
Jispa is a camping retreat that is located approximately 140 km from Manali. We reached at our campsite in Jispa around 5pm. This was our first experience camping in the wild. It made for a very interesting overnight stay in the camps at Jispa because of the bonfire, sleeping in tents and river running besides our camp which culminated into making it an authentic camping experience.
Day 4: Arriving in Ladakh
Suggested Read: Trip To Ladakh: When In Ladakh, Always Expect The Unexpected!
After experiencing an amazing first-time camping experience in Jispa, we headed towards Leh. We started early in the morning, so as to reach Leh by sunset. The entire journey was supposed to take us 9 hours. On our way, we stopped by and had a glance at the Deepak Tal and Suraj Tal.
The entire drive to Ladakh was extremely scenic. We reached Ladakh in the evening at around 6pm where we checked-in the Katpa Residency. After a long and tiring day, we had dinner and retired for the night.
Day 5: Leh Sightseeing
The next day we woke up to a delicious breakfast. We were impressed with the services provided by the staff at the hotel- Katpa Residency. We again rented bikes to explore the places to visit in and around Leh. Our bike ride began with a visit to salute the brave Indian martyrs at Hall of Fame. Along the scenic highway that runs across Ladakh, we reached the Sangam of the two major rivers that exist in the Karakoram Range- Zanskar and Indus.
On our way back to the hotel, we also managed to see the Magnetic Hill and Pathar Sahib Gurudwara. All in all, it was an enjoyable day on two wheels exploring Leh.
Day 6: Riding to Khardung-La and Hundar
Suggested Read: 7 Secrets Of Ladakh That Only The Hills Whisper
One of the most challenging and adventurous days of our trip was upon us. We had planned to ride our bikes to the highest motorable road in the world at Khardung La Pass. I did some research before going to Ladakh and this was one of my main reasons of making this trip happen.
After having breakfast, we checked out from the hotel in Leh and started for Khardung La. The roads leading to Khardung La Pass were in poor condition. Despite all the logistical difficulties, there were many people lining up to go. Upon reaching, we could literally feel the altitude as our heads started getting a little heavy and breathing was a bit of an issue.
After staying at Khardung La Pass for 30 minutes, we moved on towards Nubra Valley. We stopped for lunch in Diskit where we also saw a magnificently constructed Buddha statue. We reached our next destination Hundar, early afternoon.
Hundar is famous for it's sand dunes and camels. It's a village that appears to you, while you're on the road, right in the middle of nowhere. Hundar is surrounded by mountains and the reason for it's existence is the rare patch of green vegetation in this otherwise arid cold desert. After taking a short camel ride, we checked into the hotel where we stayed in Hundar for the night.
Day 7: Hot Springs in Nubra Valley
After an early breakfast, we rode towards Panamik hot water springs. The Panamik sulphur springs are very close to the Siachen Glacier and it attracts people from all around the world. We took a quick dip and headed back to the hotel in Hundar. We checked out from Hundar and moved back towards Leh.
On our way back to Leh via Khardung La, we thought of trying some authentic Tibetan cuisine for the day. Our exploits into a different type of food were fruitful. We tried the traditional dumplings, thukpa and gravy chicken. Surprisingly, all three dishes were to our liking. We reached Leh late afternoon and immediately proceeded to return the bikes we hired. Our overnight stay was again scheduled in Katpa Residency.
Day 8: Pangong Lake
Suggested Read: 50 Places To Visit In Leh Ladakh For A Spell Binding Vacation In The Year 2022
Then came the exclamation mark of our adventure trip to Ladakh. An unforgettable journey to Lake Pangong Tso. I personally thought, the lake shown in the movie 3 Idiots must've been either digitally enhanced or the shooting done at the best few days of the year.
But all these myths were busted as soon as we arrived after a four-hour long cab ride. The first view of the lake that we got left us breathless. Eventually we reached lakeside and the view that was in front of us was difficult to describe and aesthetically pleasing to the eye. The different shades of blue that we saw in the water gave an impression of a painters pallette.
The panoramic view of lake surrounded by the rustic hills was simply magical. We walked around the lake area and stayed there for a few hours. We started back for Leh in the afternoon completely awestruck by the natural beauty Pangong Tso had on offer. We reached back to Leh and moved in the hotel for a well deserved night's sleep.
Day 9: Kargil
The next morning, we checked out early from Katpa Residency and started for Kargil via cab at 7am. On our way to Kargil, we saw many dry fruit farms. At one place we stopped and bought some farm fresh plucked apricot. We reached Kargil in the afternoon. Though many people consider it simply to be a warfront in the Indo-Pak war in 1999, Kargil is actually the second largest city in Ladakh after Leh. We checked into our hotel for the evening and retired for the night.
Day 10: Kargil War Memorial
We woke up next morning and checked out of our hotel. Next, we were scheduled to travel to Srinagar. On our way to Srinagar, we stopped at the Kargil War Memorial. Located near the Tiger Hill, where the main battle between India and Pakistan took place, the memorial is a very impressive place built in the memory of all the soldiers who died defending the country.
We crossed the rough arid deserts of Ladakh and moved into the lush green valleys of Kashmir via Dzozola Pass. However, a few hours from Srinagar our journey was unexpectedly interrupted as all the cars were denied entry to Srinagar due to some massive public unrest.
What we initially thought to be a small halt in our journey, became a big concern as afternoon turned into night and finally at midnight we were allowed to move to Srinagar.
Day 11: Srinagar Curfew
We reached Srinagar completely exhausted in the early morning hours around 2am. Our stay was booked in a boat house in Dal Lake. Our plan was to go to Gulmarg but due to the news coming in, that there have been violent clashes between the army and some disturbing elements of society, there was a curfew in place.
We were forced to spend the entire day in the boat house due to the curfew.
Day 12: Departure to New Delhi
Although our flight wasn't scheduled to leave until 5 in the evening, our driver advised that is better for us to leave for the airport as early as 5 am. We heeded his advice seriously as it was impossible to predict if the curfew would lift later on in the evening.
So, we completed the final 12 hours of our vacation stranded at the Srinagar airport along with many travelers. Although, once we boarded our flight, we were happy to wind up our vacation and head back home safely to our families.
A trip which initially began on such a high and moved on to an incredible level of adventure, ended on a low-key and disappointing note as we were unable to see Srinagar and Gulmarg. However, we were lucky that this trip had already given us enough memorable moments to remember this trip by. Ladakh is definitely a place that I would love to return to one day to revisit the magic and beauty of this surreal landscape.
High Points:
Visiting the Pangong Lake.
Bike ride to Khardung La was a major life achievement.
Camel ride in a place like Hundar was unbelievable.
Low Points:
The unrest in Srinagar didn't allow us to explore Srinagar and Gulmarg
Hotel in Leh gave non-veg food only 1 out of 4 days despite having mentioned the same to the agency in advance.
Tips to Travelers:
Don't take a direct taxi from Manali to Leh. Advisable to stop somewhere in between.
Should do an overnight stay at Pangong Lake and indulge in some stargazing.
Explore the daunting terrain of Ladakh with its everlasting beauty and robustness. Book your package to Ladakh now!