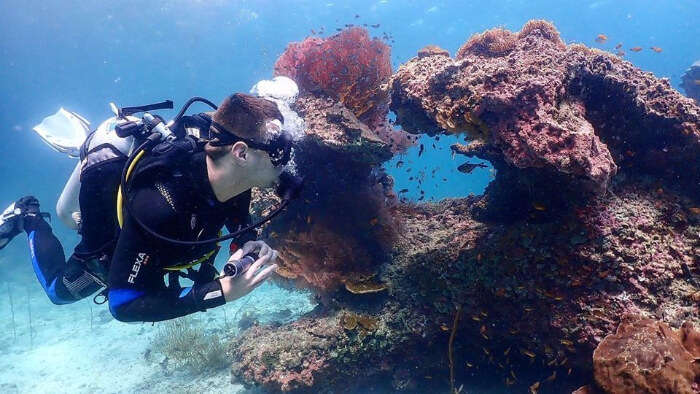 Located on the west coast in southern Thailand, Krabi is an epitome of nature's perfect creation boasting of idyllic beaches, limestone cliffs, tropical islands and mangrove forests. Ranked as one of the top ten diving destinations in the world, Krabi is truly a paradise for scuba divers. Scuba diving in Krabi draws diving enthusiasts from all over the world, seeking to explore the mysterious facets of the rich marine world.
Krabi is home to over 100 islands that offer some of the most magnificent diving sites to explore. The azure blue shores, soft white sandy beaches, spectacular rock formations and warm water are just a few reasons on why Krabi has emerged as the most popular diving destination.
Scuba Diving Guide For Krabi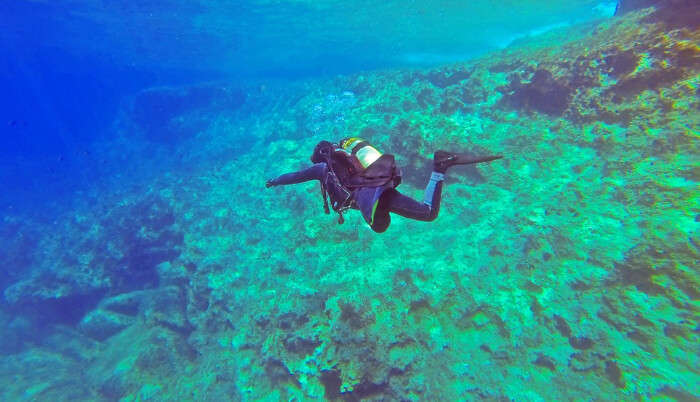 If you would like to go scuba diving in Krabi, Thailand, you definitely need to know how to prepare and the sites you need to visit for scuba diving. This extensive scuba diving guide in Krabi will provide you with all the details pertaining to how and where to learn scuba diving if you are a beginner, how to get certified, the costing and which are the best diving sites to explore the fascinating and mysterious marine life.
Can anyone learn scuba diving?
Yes, anyone can choose to learn scuba diving at any of the certified diving schools. In certain instances due to specific medical conditions, some may be prevented from scuba diving, but besides rare instances, anyone keen on learning can definitely pick up this activity.
Can a non-certified person go for scuba diving in Krabi?
Even if you are not certified, you can still go scuba diving with DSD (Discover Scuba Diving), a single day trip conducted at certain diving sites. For this single day diving, you will be accompanied by an instructor and maybe with a few more DSD students. Before diving, the instructor gives information regarding breathing, decompression and safety concerns. The instructor also ensures that you are not allowed to dive beyond a certain depth to ensure your safety.
Essential Information For Scuba Diving In Krabi
Scuba diving is truly an enthralling, unique and mesmerising activity promising an experience of a lifetime. The magical wonder of the underwater world is best captured when you dive into the depths of the sea to swim and discover schools of colourful and vibrant fish, coral reefs, sea turtles, stingrays etc. However, before going diving, you need to be aware of essential details such as:
General visibility: The visibility between the months of November and April hover around 10 m to 20 m.
Best time to dive: The best time to dive begins in November and continues till April.
General depth: The general depth of most dives range between 10 m to 35 m.
Certification Required: PADI or equivalent open water certification is needed for around 60% of dive sites.
Must Read: 10 Indian Restaurants In Krabi: Get The Taste Of Desi Zayaka In Thailand
Price Of Scuba Diving In Krabi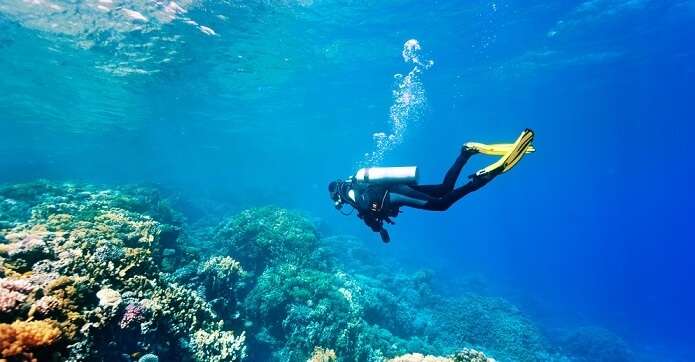 If you are a beginner, it is best to sign up with one of the schools of scuba diving. Most schools offer an opportunity to do a certified PADI beginner's course. PADI is the world's largest diving organization. Beginner's course can be as short as a one day course or it can even extend to the full Open Water Course of 3 to 4 days. After finishing the Open Water Course, you will be getting a certificate to dive up to 18 meters.
Advanced level or even licensed divers can improvise on their skills with the advance PADI diving courses including the instructor level course. The price can vary depending on the diving site and the number of dives. Primarily, the cost for two dives varies between 3200baht and 4200baht in Local Islands Marine National Park, Phi Phi Islands and Shark Point Marine Sanctuary.
Famous Spots For Scuba Diving In Krabi
Best scuba diving in Krabi can be found at a number of diving sites where some of them are ideal for beginners and some are perfect for advance-level divers. We have compiled a list of the top diving sites in Krabi and what is special about each of the diving sites. There are some sites that are shallow and ideal for beginners on a single day trip while some are more challenging and apt for adventurous scuba divers. Some of the famous beaches include:
1. Ao Nang Local Islands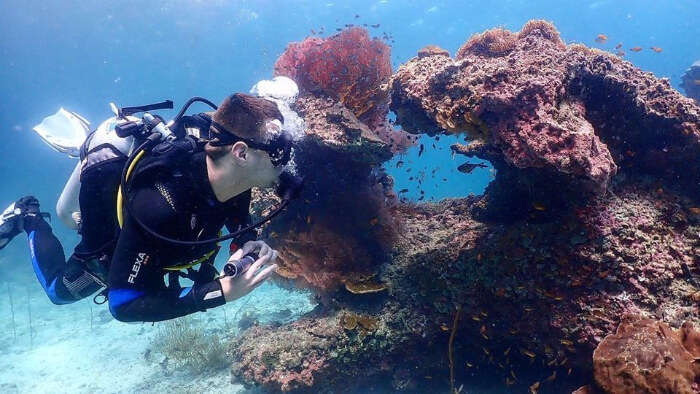 A variety of sea life can be easily found both by beginners and advanced level divers. It is quite easy to spot small sea life such as pipefish and seahorses as the shallow end of the island is ideal for first time divers. On the other hand, the experienced divers will surely come across banded sea snakes, lobsters and barracuda swimming through deep waters. In Koh Yawabon, experienced divers can swim through the island and discover a secret cave system underneath.
It takes only a short 10 minute ride to reach the various islands of Ao Nang Local Islands offering a plethora of diving sites. Quite a significant number of dive operators such as Sea Gypsy Divers, Railay Dive Centre and The Dive Ao Nang conduct frequent trips from Railay Beach and Ao Nang.
Best time: Although diving is possible all year round, maximum visibility of 5 to 10 meters can be found between February and May.
Cost: For 2 dives the cost can vary between THB2700 and THB3200
Tips: It is important to always dive with a certified dive school or shop
Suggested Read: The Best Oasis Of Thailand: 8 Best Beaches In Krabi One Should Explore
2. Koh Haa Yai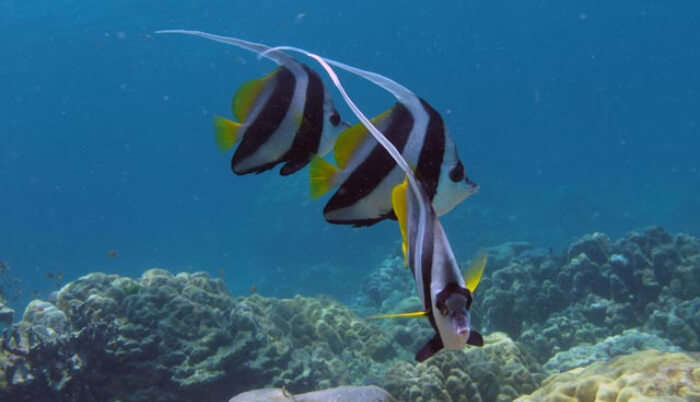 Situated close to Koh Lanta, the island of Koh Haa Yai is known for its underwater caves among which the biggest one is called the The Cathedral. Experienced divers will surely find it fascinating to dive in as the entrance is about 20 meters deep and after an exhilarating swim through, divers can come up inside the Cathedral and marvel at the exotic rock formations.
An adventure awaits divers as they get to swim along leopard sharks, groupers and hawksbill turtles. At times, divers have even spotted sharks in this area. So, you should be careful getting underwater in this region.
Cost: The fee for Marine Park is THB600. The cost for two dives is THB5600
Best time: The water is quite calm in February and March and the visibility is also quite high. There are chances of spotting Whale Shark in the month of April.
Tips:
Beginners who might get anxious underwater can always opt for snorkelling.
It takes 2.5 hour boat ride to reach Koh Haa Yai from Krabi. It is worthwhile to stay overnight at Koh Lanta rather than take this long boat trip from Ao Nang or Railay.
Suggested Read: You Must Try Krabi Snorkeling At These Places At Least Once Before You Die
3. Hin Daeng Hin Muang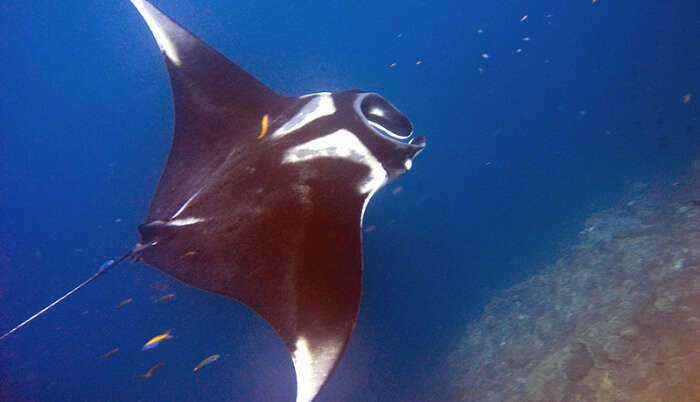 Scuba diving definitely gets challenging, exciting and adventurous at times especially for experienced divers. There are certain sites such as two isolated rocks within Mu Koh Lanta Marine Park that make for a great diving site. Hin Daeng or Red Rock is one site where you can truly dive deep into the sea and watch Manta Rays swim above you.
Hin Muang or Purple Rock is the other site where the current is much stronger and therefore it is a more challenging diving site. This challenging dive will reward you with sights of soft coral, grey reef sharks and leopard sharks.
Cost: The cost for two dives is around THB 3150
Best time: November to April is the best time to visit these diving sites.
Tip: Do ensure your travel insurance does cover scuba diving
Suggested Read: Shopping In Krabi: 10 Places To Stop By In This Lesser Known Paradise For Shopaholics
---
Planning your holiday in Thailand but confused about what to do? These Thailand travel stories help you find your best trip ever!
Real travel stories. Real stays. Handy tips to help you make the right choice.
---
4. Phi Phi Islands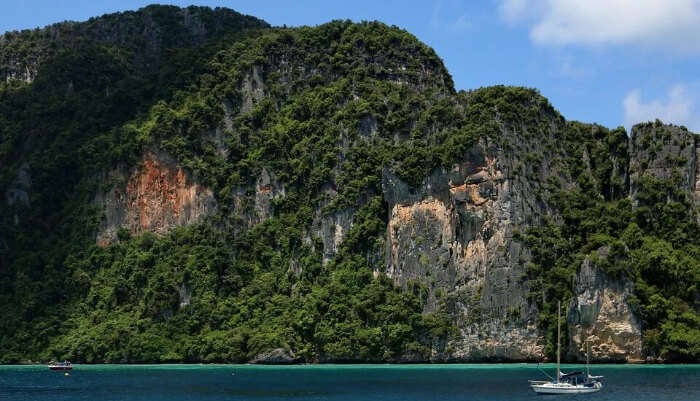 Phi Phi Islands is one of the most beautiful, scenic and idyllic islands and it has drawn travellers especially after being featured in the movie The Beach. The crystal clear water of these islands are teeming with a variety of fascinating underwater life. Designated as a marine park, divers can enjoy the unique privilege of swimming with leopard sharks at Shark Point. The King Cruiser site features a sunken wreck which is now home to various species of marine life. Divers of all levels can discover the thrill of wreck dive as it is situated in shallow waters.
Cost: Entry to the marine park is THB600 while two dives cost THB3500
Best time: This is a year round diving site, however, for maximum visibility it is between February and May.
Tip: The beaches of Phi Phi islands are truly magnificent and are regarded as some of the best beaches in southern Thailand. So after a day of dive relax by the beach.
Suggested Read: 45 Breathtaking Places To Visit In Krabi For A Relaxing Thai Vacation
5. Similan Islands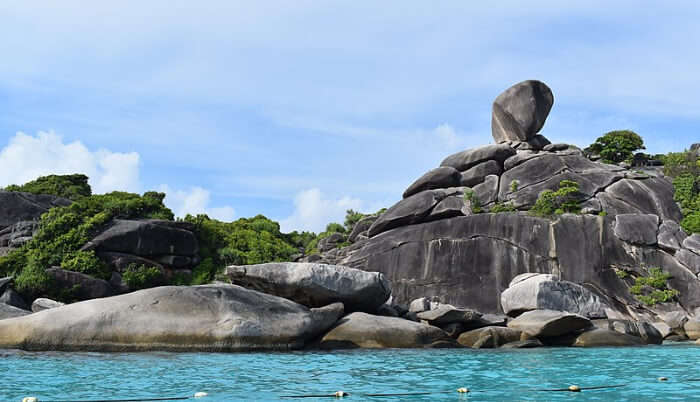 Ranked as one of the top destinations for scuba diving in Krabi, it may take days to discover the natural splendour and a treasure trove of marine life in Similan Islands. Imagine you wouldn't be in a hurry to go back and you can dive as much as you can when you decide to take the 4-day cruise that departs from Khao Lak. Once on-board you get to experience the joy of living on board and diving in some of the most sought after diving sites in Thailand.
A colourful array of underwater fauna, reefs, big and small fish will greet you on diving into the depths of clear azure sea waters. If you spend diving more than a day, your chances of spotting the majestic whale sharks surely increases.
Cost: The cost of the cruise with diving included starts from THB11,600 per diver
Best time: Liveaboards mostly run between November and May
Tip: Do ensure that you don't fly up to 18 hours after diving.
Further Read: Kayaking In Krabi
Scuba diving in Krabi is one of the most exhilarating experiences that you can have on your vacation in Thailand. For those who enjoy underwater thrill and like to witness colorful marine life should definitely keep a daty aside for scuba diving. Travelers from all across the world come specially to Krabi to learn the skill of scuba diving.
Frequently Asked Questions About Scuba Diving In Krabi
Where to go scuba diving in Thailand?
Krabi, Phuket, Phi Phi Islands, and Khao Lak are few places to go scuba diving in Thailand between the months of November and April.
How to reach Krabi from Phi Phi?
The distance between Krabi and Phi Phi is around 45km. Regular service of ferries and speedboats are the popular choice of traveling to Phi Phi and it takes 90 minutes to reach from Krabi.
Is Krabi better than Phuket?
Phuket is undoubtedly famous for its sandy beaches, however, that doesn't take away from the scenic beauty that Krabi has to offer. Whether it is the coral reefs, beautiful beaches or stunning limestone rocks – Krabi has its own fan following. For those who prefer a less touristy place, Krabi is a perfect choice. Travelers are often confused about what to choose between Krabi vs Phuket.
How many days are sufficient in Krabi?
3 to 4 days is sufficient to enjoy the beaches and go scuba diving in Krabi. You can spend your days island hopping and being mesmerized by the spectacular beauty of its idyllic beaches and shores.
How to go to Krabi from Phuket?
From Phuket, you can commute to Krabi via bus, ferry or even taxi. There are two companies that operate ferry service between Phuket and Krabi. The ferry ride takes between 3.5hours and 4 hours.
Is Krabi more affordable than Phuket?
Krabi is marginally more affordable than Phuket and since it is less touristy, therefore, the beaches are not that crowded. You can also visit other beautiful islands from Krabi at a much lesser cost.
When is the best time to visit Krabi?
The best time to visit Krabi is between the months of November and April. Between the months of June to October, Krabi receives heavy rainfall and therefore not a good time to visit.
Is December a good time to visit Krabi?
Yes, December is a good time to visit Krabi, as the weather is just perfect for scuba diving and basking under the sun.
Is Krabi worth visiting?
Yes, Krabi is definitely worth visiting even if it may be a temporary stop before heading to the gorgeous Phi Phi islands.
What to wear when in Krabi?
Since the weather remains quite hot and humid, it is best to wear light clothing such as cotton clothes. Other essentials that you must pack include sunglasses, sunscreen, beachwear, and flip-flops.
How to get to Krabi?
Most travelers prefer going to Bangkok and then take a connecting flight to Krabi. At Krabi Airport, air-conditioned shuttle buses are available to take you to most of the major resorts. Travelers can even choose to rent a car at Krabi Airport and drive down to the coastal resorts in Krabi Town and Ao Nang.
---
Looking To Book An International Holiday?
Book memorable holidays on TravelTriangle with 650+ verified travel agents for 65+ domestic and international destinations.
---
People Also Read:
Scuba Diving In Singapore Scuba Diving In Italy Scuba Diving In Andaman