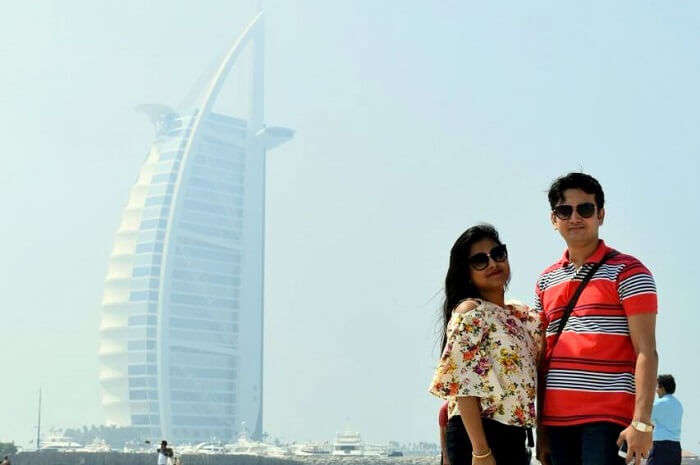 Shirin heard a lot about the glitz and glamour of Dubai- its record-breaking megastructures, larger than life entertainment parks, and charismatic aura of a city that is almost too good to be true. Hence, she decided to give the city of Gold a chance at her marriage anniversary to spend 6 nights 7 days on a romantic vacation in Dubai.
Having traveled to different places in Southeast Asia, my husband and I wanted to explore something new outside India. Something that redefined luxury, rejuvenation, and grandeur. All of these questions lead to just one answer- Dubai. If there was anything luxurious we wanted to spend money on in life, it could be all done in Dubai. Such was the reputation and respect in my mind for the 'City of Gold' that I couldn't help but plan for the same.
A friend of mine suggested that I try out the services of TravelTriangle. Their packages could be customized and modified down to every last detail to deliver just the kind of vacation I needed.
Best Things To Do On A Honeymoon In Dubai And Abu Dhabi
Details of our 6 nights 7 days romantic vacation in Dubai
Trip Duration: 6 nights 7 days
Agent Name: Timeless Trips Pvt Ltd
Inclusions: Transfers, sightseeing, entry tickets, visa fee, and taxes
Exclusions: Flights, hotels, and meals
After a lot of research, planning, and coordination the formalities for our romantic vacation in Dubai were finally complete. Celebrating yet another milestone with my husband at the most luxurious destination in the world is one dream where I had to pinch myself to believe its happening.
A brief itinerary of our romantic vacation in Dubai
Day 1: Flight from Kolkata- arrival in Dubai- check into hotel- Dhow Cruise dinner-return to hotel
Day 2: Breakfast- half-day sightseeing tour in Dubai- desert safari- return to hotel
Day 3: Breakfast- sightseeing- visit to Burj Khalifa, Underwater Zoo and Dubai aquarium- return to hotel
Day 4: Breakfast- Abu Dhabi city tour (Ferrari world, Sheik Zayed mosque, and date market)- return to hotel
Day 5: Breakfast- leisure day
Day 6: Breakfast- full day tour Ski Dubai and Mall of Emirates- return to hotel
Day 7: Breakfast- transfer to airport- return flight to Kolkata
The seven wonders of modern-age Dubai!
Thrilling Adventures On A 3 Day Friends Trip To Dubai
After spending a week on a romantic vacation in Dubai I realized that every place to visit in Dubai offered something the other didn't. Be its unique buildings, death-defying adventure sports, or a shimmering sea of gold; Dubai knows how to turn on the style and here are the 7 places we visited that did it the best.
1. A Romantic Dhow Cruise Dinner
On the first night of our romantic vacation in Dubai, we got an unexpected surprise in how charming, amorous, and lively a dinner at a boat in the Dubai harbor be. The boat diner offered world-class cuisine, live dance shows, and excellent guitar performance.
2. Sunset Desert Safari
At 3 pm on the second day, we were picked up by a muscular 4×4 SUV for a desert safari at sunset. The car cut through the huge sand dunes giving us an incredible adrenaline rush. 15 minutes before sunset, the SUV took us to a desert Bedouin camp where we were treated with some welcome drinks, snacks, and live dance performance. It couldn't really get any more authentic than that!
Witnessing The Best Of Dubai On An All Women Family Trip
3. Burj Khalifa- On top of the world!
Number 1 on our list of places to visit in Dubai, Burj Khalifa definitely lived up to the hype it has been built all these years. The building is so tall that at some points when I looked at it from the bottom it looked like an optical illusion. The view from the observatory at the 124th floor was breathtaking.
4. Ferrari World- How fast can you go!
A theme-park dedicated entirely to Ferrari is a dream for any car lover. After riding the world's fastest rollercoaster, my husband and felt like we were driving a Ferrari at full throttle. The theme park is a one-of-a-kind amusement park dedicated to the entire lifecycle of the brand Ferrari.
Awesome Things To Do On A 6-Day Family Trip To Dubai
5. Sheikh Zayed Mosque- A modern day Taj Mahal
Such was the beauty and grandeur of this huge mosque we experienced that it encapsulated the true essence divinity for me into marble, gold, and silver! After roaming around the mosque, I felt so mesmerized that I had entered the modern day Taj Mahal.
6. Ski Dubai- Winter forever
Yes, it felt very strange and amazing when my husband and I, on a romantic trip to Dubai, were sweating outside in 35 degrees, and moments later we were in sub-zero temperatures experiencing the Alpine chill blowing across our faces. An incredible snow-theme park where both of us spent a fun-filled day.
This Is Why Dubai Is The Perfect Honeymoon Destination
7. Gold Souk and Meena Bazaar
On many occasions during our romantic trip to Dubai, my husband and I visited the world-famous Gold Souk and Meena Bazaar. These were fabulously decorated markets that kept the old traditions of Dubai alive in this modern wave of transformation.
 In Dubai, I felt like a small infant who had just entered this world and was astonished by seeing so many never-before-seen things before his eyes.Not for one moment during our memorable 7-day romantic vacation in Dubai did we feel bored or exhausted by seeing something.
During all of this, the time my husband and I spent together was invaluable. If there was anything surreal in this world I would always want to see it with my husband and I'm glad I did just that in Dubai.
High points:
On-trip assistance was readily available every day from TravelTriangle's side which made our query solving very easy.
We were blown away by seeing the beauty and the grandeur of Sheikh Zayed Mosque.
Looking at the world from the 124th floor of the tallest building in world (Burj Khalifa) was one bucket list task checked I will always remember.
Our romantic vacation in Dubai got off to a perfect start with a charming dinner on the Dhow Cruise.
Low point:
The vouchers and visa were sent too close to the departure of the trip. Would have preferred to receive the documents a few days in advance.
The best in class for luxury, entertainment, and travel is here. Book your Dubai tour package and go on a vacation unlike any other before!
---
Looking To Book An International Holiday?
Book memorable holidays on TravelTriangle with 650+ verified travel agents for 65+ domestic and international destinations.
---