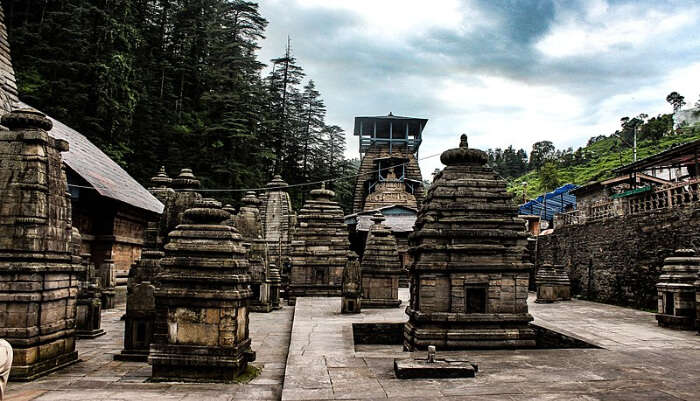 The place whose synonym is divinity, the abode and the very land of gods is what Uttarakhand. With beauty, serenity, and divinity as its holy trinity, Devbhoomi is home to many renowned and small temples across its region. Apart from the religion and cultural aspirations attached to the temples, they are equally crucial from historically and archeological point of view. This makes all of them not only the best temples in Uttarakhand but around the world as well.
6 Temples In Uttarakhand
So, let's explore this mystical land of gods. Here is the list of temples in Uttarakhand you mustn't miss out on.
1. Kedarnath Temple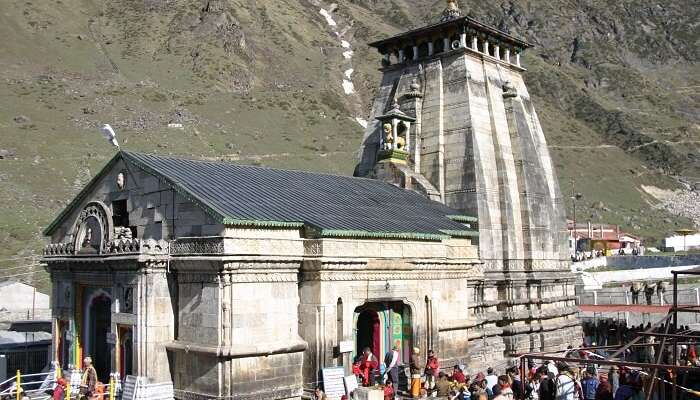 Deemed as one of the Jyotirlinga or cosmic light, this famous temple in Uttarakhand is of Lord Shiva is believed to be made by Adi Shankaracharya himself in the 8th century BC. It stands along the bank of Mandakini river, which still flows and has been perennial ever since.
Kedarnath is a popular site for devotees and one of the many historical temples in Uttarakhand that is seen as a significant shrine for the Shaiviks. The temple is situated at a height of about 3583 meters, and from the city of Rishikesh, it is 223 km away. As per the sources, the temple is 1000 years old.
The architecture of the temple is a marvel. On a large rectangular structure, there are huge stone slabs arranged, and the bespoken Garbhagirha and Mandapa are rightly boasted about the architectural finesse.
Timings: 4:00 am – 9:00 pm
Address: Kedarnath, Uttarakhand 246445
Must Read: 10 Best Places To Visit In Uttarakhand In December 2019 For A Refreshing Escape
2. Tungnath Temple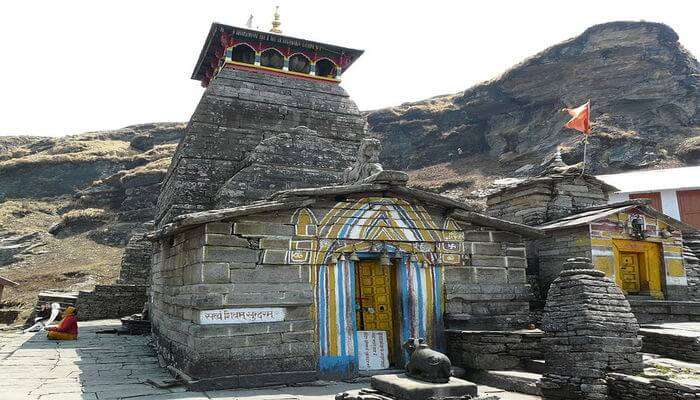 Nested in the chilly and snowy Chandranath Parvat, Tungnath temple is the highest temple of Lord Shiva amongst the other Shiva temples in Uttarakhand as well as in the world as well as the "highest Panch Kedar temple" of the Uttarakhand District.
There are five Kedars of Panch Kedars; amongst them, Tungnath is third in the order. When it comes to the height of this historical temple in Uttarakhand, it is at an elevation of 3680 above sea level and about or more than 1000 years old, just like Kedarnath temple.
Timings: 6:00 am- 7:00 pm
Address: Rudraprayag, Uttarakhand 246419
Suggested Read: 10 Things To Do In Uttarakhand For Adrenaline Rush & Soul-Stirring Thrills In 2020!
3. Baleshwar Temple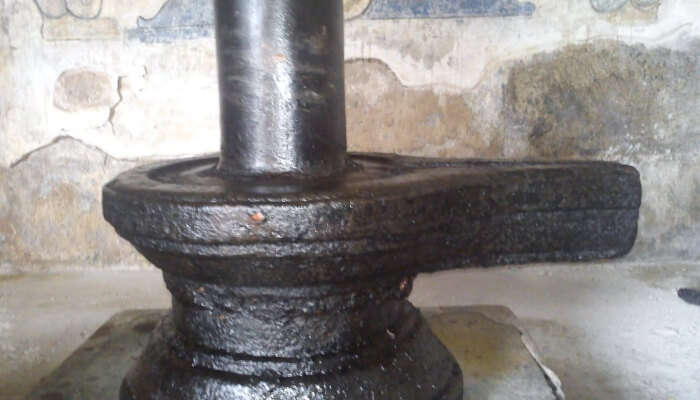 This temple in Uttarakhand is situated inside the city of Champawat, known by the name Baleshwar. This historical temple is a living memory of the Chand Dynasty, which is built to become an emblem of a temple made out of stone carving.
No written records are proving the exact time and century, but the belief is that the temple was built somewhere between 10-12 century A.D.
Timings: 9 AM to 11.30 AM and 5 PM to 8.30 PM.
Address: NH 125, Lohaghat Range, Champawat, Uttarakhand 262523
Suggested Read: 12 Places To Visit In Haldwani On Your 2020 Trip To This Gem In Uttarakhand
4. Katarmal Sun Temple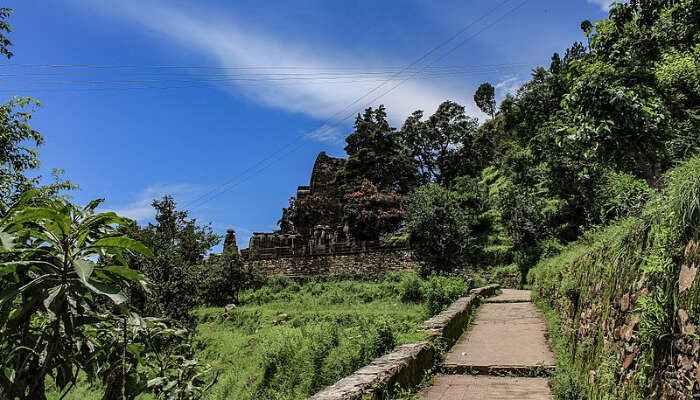 A 9th-century marvel, Katarmal Sun temple in Uttarakhand, is believed to be built by a Katyuri King. This famous temple in Uttarakhand will surely leave you in awe with such a fine of architectural design that has been made by the artisans of that time. Situated at an elevation of 2,116 meters above sea level, you can reach this temple easily from Almora.
Carving is one form of ancient style architecture that you almost tend to find in every temple of this region, and in this temple as well, such designs are intricately carved on the wooden panels and doors. After Konark Sun temple, this is ranked the second most beautiful temple.
Timings: 6 am-12 pm and 3 am-7 pm
Address: Adheli Sunar, Uttarakhand 263643
Suggested Read: 15 Places To Visit In Uttarakhand This Winter 2020
5. Mahasu Devta Temple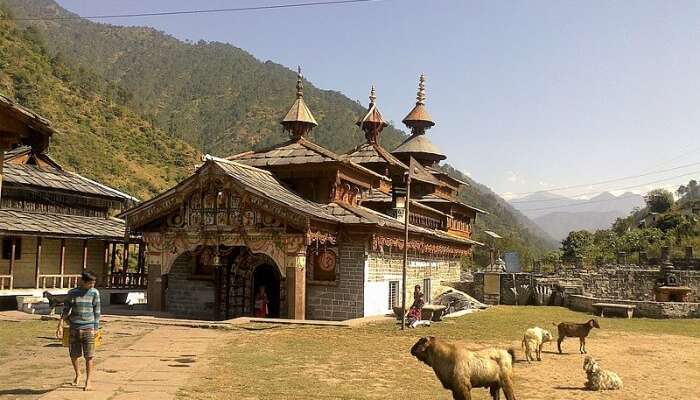 Mahasu Devta Temple is situated in a famous village called Hanol that is settled on the banks of the Tons river in the Chakrata region. Unique as this name sounds, the question would be there around it. So, the temple is believed to be named after Brahmin Huna Bhatt.
The village, apart from the temple, can be visited for the scenic beauty and touristy vibe it creates.
Timings: 6:00 AM – 8:00 PM
Address: Hanol, Uttarakhand 248199
Suggested Read: 10 Best Cottages In Uttarakhand Ideal For Your Next Vacay In Mountains!
6. Lakhamandal Temple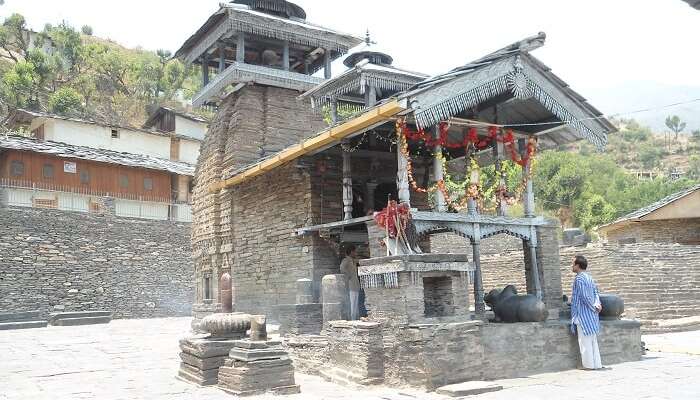 The Lakhamandal temple in Uttarakhand is in the Chakrata region. Like other temples of Devbhoomi, this temple is also of Lord Shiva. Remnants of many other Shiva temples, believed to be small, are present in the premises of this temple.
The Shivling, deity that is worshiped in this temple, is made up of graphite. As the water is poured down on it by the devotees as a part of the ritual, the Shivling shines.
Timings: 5 am – 9 pm
Address: Lakha Mandal, Uttarakhand 248124
Further Read: 8 Exotic Villas In Uttarakhand Are Perfect For Your Next Mountain Getaway
When it comes to history, architecture, and culture, you will find the best temples in Uttarakhand that will amaze you and leave you with a sense of calm each time you visit them. Make sure to add these temples to your itinerary list while planning a trip to Uttarakhand.
Frequently Asked Questions About Temples In Uttarakhand
Q. Which time of the year is the best to visit Uttarakhand?
A. Uttarakhand is a hilly area; hence, if you're planning some winter sports activities, then March-April and September-October are the best months to visit. If it is a family vacation or romantic getaway, then you must opt for the summer season.
Q. What all to bring along for my first trip to Uttarakhand?
A. Being a hilly area, you must be ready with all your winter essentials, and if you are prone to motion sickness, then your medical kit should have it any cost without fail.
Q. What places can be explored near Uttarakhand?
A. There is a list of places you should visit like
1. Rishikesh
2. Nainital
3. Haridwar
4. Lansdowne
5. Jim Corbett
6. Mussoorie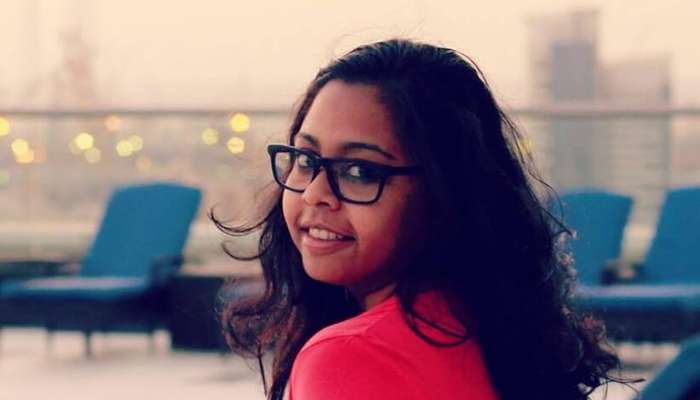 Comments
comments