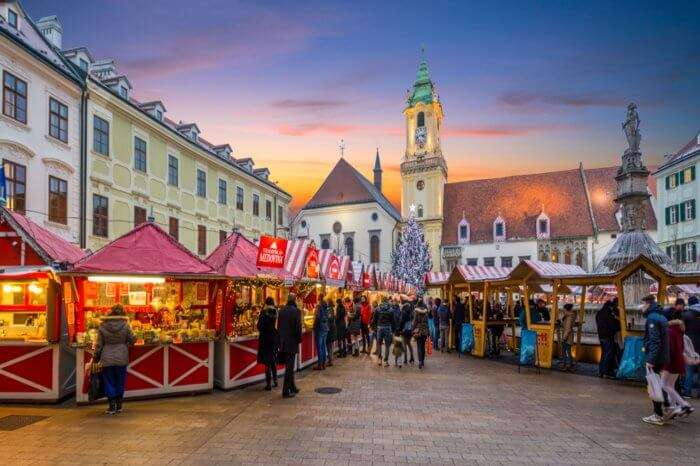 Bratislava is the capital of Slovakia and it is set right along the Danube river. The city borders with Hungary and Austria and is a place which is surrounded by luscious vineyards and the towering Little Carpathian mountains. These mountains allow for forested hiking and there are also cycling trails for the visitor's enjoyment. There is also a Bratislava castle on top of a hill which overlooks the old town as well as the powerful river Danube. But there are tonnes more which the place offers in terms of more civilized pursuits like shopping. So, if you are searching for spots for shopping in Bratislava, then check out these top places.
13 Best Places For Shopping In Bratislava
In Bratislava, you can get it all in these Bratislava shopping outlets listed below. Take a look and add them to your itinerary for your next trip!
1. Textile House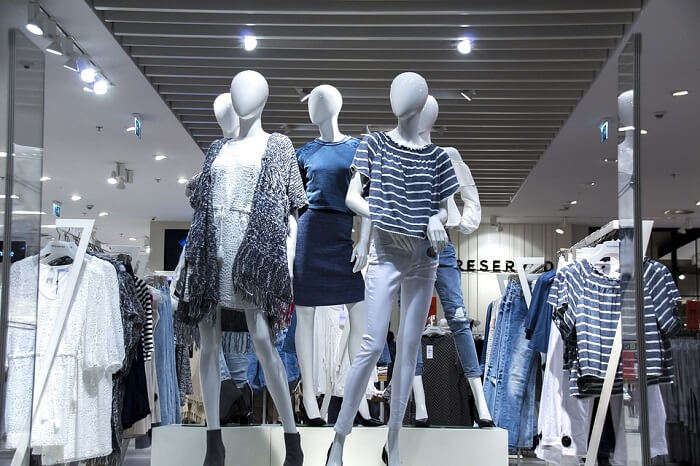 Shopping in Bratislava is incomplete without visiting in here, but it should be kept in mind that there are more than eight such textile houses in the city. Yet this is a place which has become a daily destination for women to come shopping too since there's always new arrivals at some fantastic prices. An opportunity which many don't want to miss. This is a great place to visit if you want to find a gift for someone or maybe if you just want to see some amazing or crazy pieces while traveling. One thing's for sure, it's all worth the money spent. However, if you are really lucky then you can get one of those special offers when everything is for sale for just 50 cents.
Location: Štefanovičova 7028/7, 811 04 Bratislava, Slovakia
What To Buy: Branded clothes at cheap prices.
Must Read: 10 Cafes In Malta Where You Can Satiate Your Caffeine Cravings In A European Way
---
Europe Holiday Packages On TravelTriangle
Explore the most beautiful places to visit in Europe, from Paris to the Venice canals and from the Greek islands to the Swiss alps. Book customized packages by expert agents on TravelTriangle. Inclusive of airport transfers, cab, resort, sightseeing and meals. Best holiday experience Guaranteed. Book Now
---
2. Aupark Shopping Center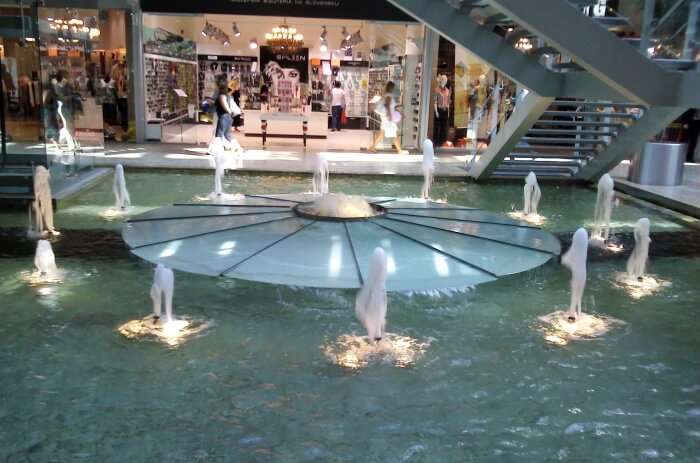 Aupark is definitely the biggest and most famous shopping venues in Slovakia. It is very strategically situated right between the city center and between the most densely populated borough in Bratislava- Petržalka. So naturally it is bound to be the best place for shopping. When you visit make sure to check out all the famous brands such as Mango, H&M, Peek&Cloppenburg, Peak Performance, Zara, C&A, Mexx, Tommy Hilfiger, Esprit, Gant, Lacoste, Quicksilver and more so. But apart from clothing stores, there are also grocery stores, cinemas, bowling spot and restaurants for the enjoyment of its visitors.
Location: Aupark Shopping Center, Einsteinova 18, Bratislava
What To Buy: Branded clothing.
3. Eurovea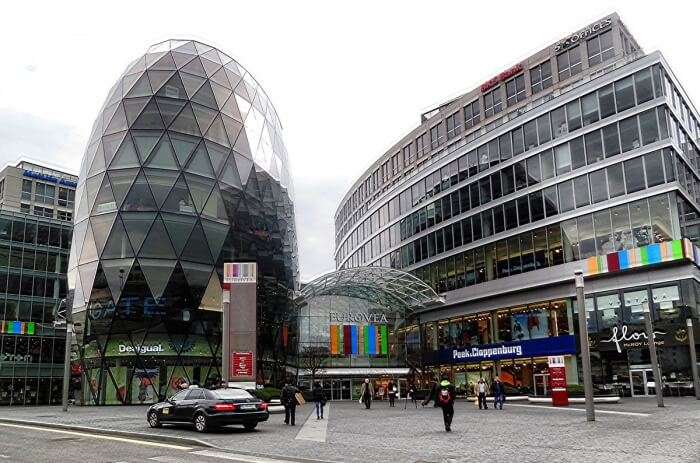 Eurovea shopping center in Bratislava is a must-visit venue. This venue is a little classy since it is one of the newest shopping venues over in Bratislava. But even if you think this place is a little too pricey, but a visit here is a must because of the beautiful architecture and the interesting promenade right on the Danube shore. Also, you can definitely enjoy a very beautiful view from here to the other bank of the river. Apart from being a shopping complex, there is a playground for kids on the outside and there is also another one for adults. There is also a cinema, classy cafes, restaurants and shops with all kinds of things as well. This is truly a shopping palace in Bratislava and it is also a great place to visit during summers.
Location: Eurovea, Pribinova 8, Bratislava
What To Buy: Clothes and accessories.
Suggested Read: 14 Places To Visit In Czechia On Your Europe Backpacking Trip
4. Kompot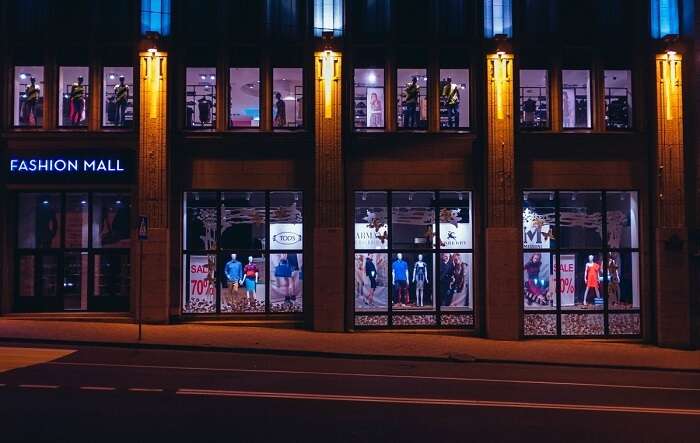 This is a very small shop which specializes in selling very original Slovak design pieces. Its mission statement is to Make Laugh, Not War and its designs are such that some of it will definitely make you laugh. But apart from that, if you are here for shopping then you will find their products which are inspired by the traditional values pertaining to Slovak folk art very interesting. If you want to take something unique back home then this place has t-shirts, bags, undergarments, and more, all of which are original and they are made by Slovak designers. The place opens from Monday to Thursday at 10:30 am to 7 pm. On Fridays, it stays open till 8 pm.
5. Miletička

If fresh products are what you want then this market will definitely interest you. This market is full of fruits, vegetables, clothes, and cheese for very cheap prices as well. There are also local restaurants and many fast food locations in here. During lunchtime, you will find workers over here who come for having a hearty meal at little cost. The most popular dish, if you want to try one, is definitely the Segedínsky guláš, which is meat in a cabbage soup with dumplings. After that try out the fresh juice made from Sauerkraut to wash it down. The market opens early from 6 am and if you like to wake up early then come here to buy some fresh fruits and groceries from here.
Location: Miletička, Miletičová, Bratislava
Suggested Read: 14 Popular Denmark Festivals To Make You Feel Warmly Welcomed To Europe
6. Artforum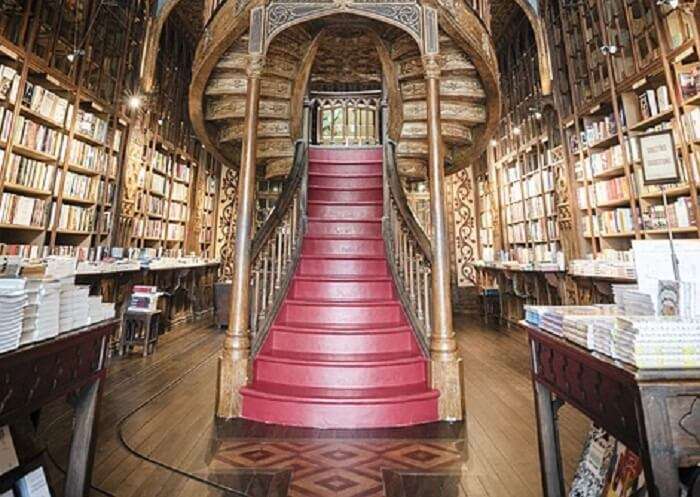 Art forum is the definitive bookshop in town and here you will find shelves full of some amazing books from various genres. But Artforum isn't just a bookshop, they also publish a few books per year which they like. If you want to enjoy some solitary time to dedicate to your intellectual pursuits, then here you can find newspapers, books and many other interesting events which run throughout the year as well. If you like to enjoy some coffee with your book, then there is also a small cafe inside which will allow you to enjoy your heart's pleasures. It is open from Monday to Friday from 10 am to 8 pm. On Saturdays, it is open from 9 am to 2 pm.
Location: Artforum, Kozia 20, Bratislava
What To Buy: Books
Suggested Read: Scuba Diving In Greece: 8 Places To Explore European Marine Life To The Fullest
7. Stará Tržnica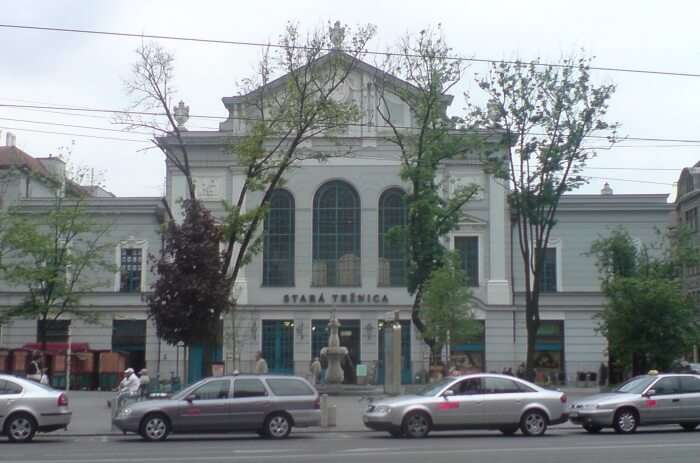 Shopping in Bratislava old town doesn't get any better than this. Stará tržnica means Old Market and its name rings true because the building where it is housed was abandoned and unused for a long time. But a group of activities took care of it and from then it very quickly became a place where good food was a norm, history was in its nook and corner and its textile design was unparalleled. Here you will also find many exhibitions and musical events taking place. Come to the main market and get some amazing local good along with local Slovak drinks. There is also a little cafe and many small shops to satisfy the shopaholic in you.
Location: Stará tržnica, Námestie SNP, 811 06 Bratislava, Slovensko
What To Buy: Clothes, textiles, food, accessories and more.
8. Dunaj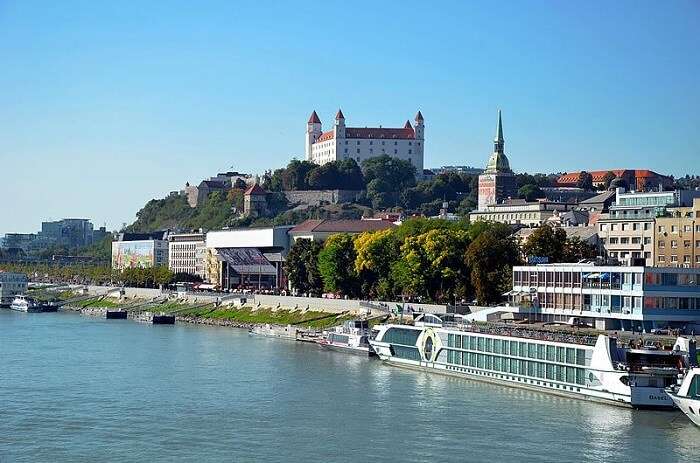 Dunaj is the cultural center of Bratislava. This is a venue which attracts a lot of alternative and artistic crowds. All kinds of events are held here like movie nights, art presentations, concerts, literature events, vernissages, theatre plays and more so. You can find it all on the 4th floor of the building. There is also a very amazing bar there with a terrace which gives out scenic views. Some special event is held there every week and every two weeks you can come here to taste some special beer from local Slovakian breweries.
Location: Dunaj, Nedbalova 3, Bratislava
What To Buy: Clothes, accessories, textiles, food, and beer.
Suggested Read: 10 Must Things To Do In Luxembourg And Explore The Best Of This Medieval European City!
9. Antikvariát Steiner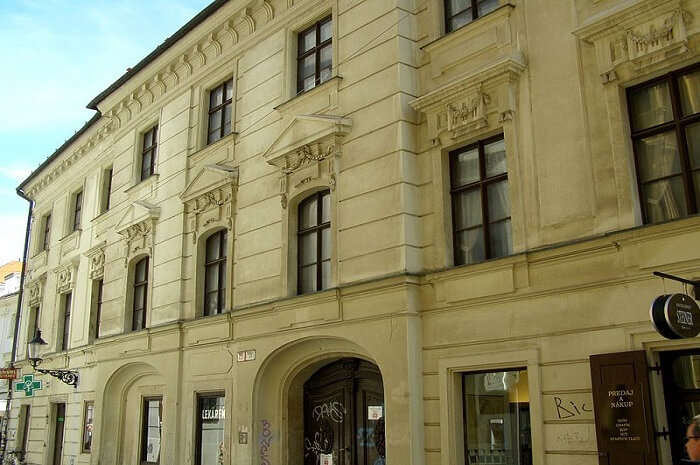 Come here if you want to look for a place where undiscovered books live and breathe. A secondhand book store, the Steiner was founded in 1848 and renovated in 1991. This venue is an integral part of the students who pass by this venue on the way to the university library which is located just across the street. No need to fret which one you should read, as there will always be someone there with a must-read advise. Come here to spend time with old maps, books, pictures, and postcards so as to feel the ages.
Location: Antikvariát Steiner, Ventúrska 280/22, 811 01 Bratislava- Staré Mesto, Slovakia
10. Trhovisko Žilinská

This is a great place to get some fresh vegetables and fruits. The market is very old fashioned and the busiest time is definitely during Saturday mornings because this is when everyone from professional vendors to the home gardeners being their goods. Apart from just fresh vegetables and fruits, there you can find bread, cut flowers, pickled goods, cheese, and dairy products as well. There are also small shops which sell stationary, cheap clothing and wine nearby.
Location: Trhovisko Žilinská, Žilinská 3, Bratislava
What To Buy: Clothes, food, fruits, vegetables, wine and more.
11. Úľuv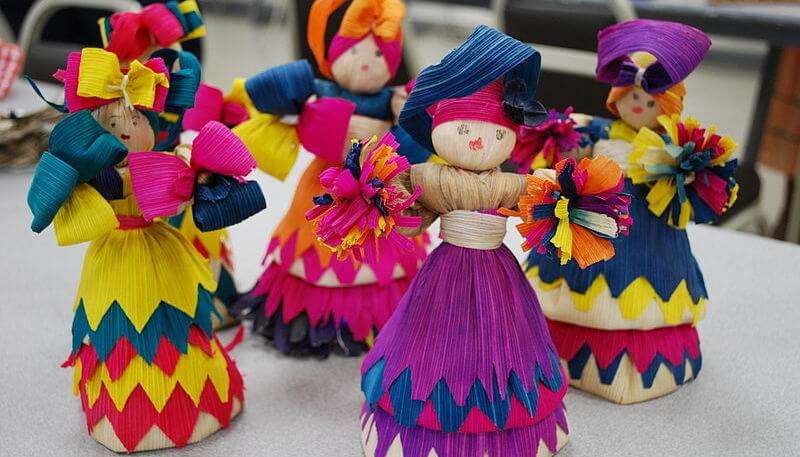 Uluv is only focused on showcasing traditional handicrafts, folk art crafts, and rare collections of Slovak. If you are planning for shopping in Bratislava Slovakia then this is a place not to be missed as there is a wide variety of traditional crafts. Moreover, one can also participate in the workshops that they organize for interested people.
Location: Úl'uv, Obchodná 64, Bratislava
Timings: 10 am – 6 pm (Weekdays), 10 am – 2 pm (Saturday)
What to buy: Wooden doll (matryoshka)
Suggested Read: Bratislava Nightlife: Top 10 Exciting Clubs & Bars In The Slovak Capital
12. Artattack Shop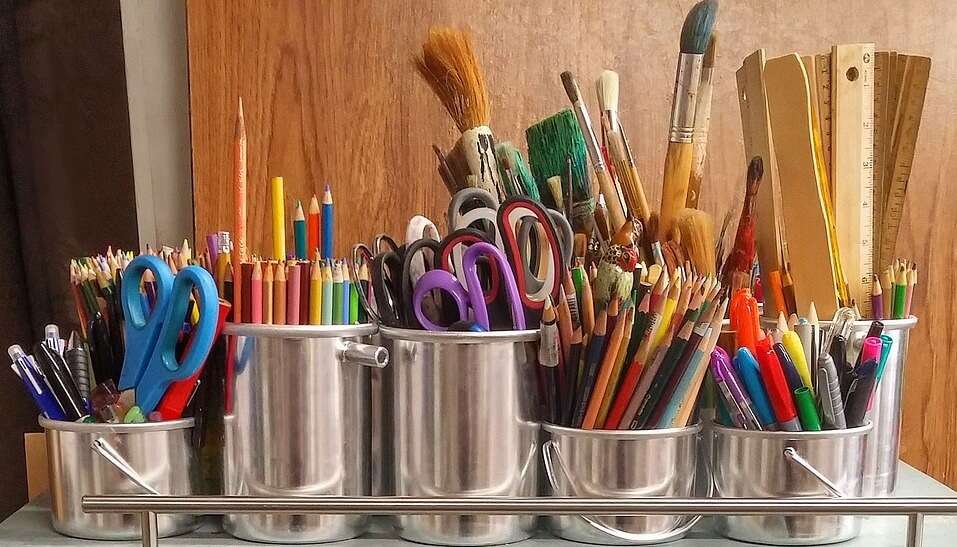 From handmade accessories to books, one can find a chock full of varieties of different things to shop. Apart from this, you will also find Slovak art that includes prints and illustrations. They do not hoard art items randomly and have selected but mesmerizing craftworks that you can't resist to buy. Do not skip this place as you might end up doing cheap shopping in Bratislava.
Location: Račianska 1575/78, 831 02 Bratislava, Slovakia
Timings: 12 pm – 6 or 7 pm (Closed on weekends)
What to buy: Creative art items and accessories.
Suggested Read: Top 10 Exciting Things To Do In Bratislava To Explore The Slovak Capital
13. Avion Shopping Park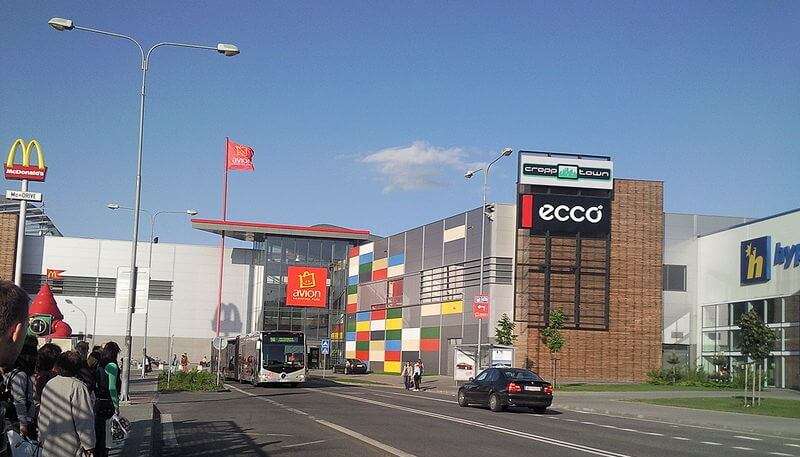 With around 160 shops for the customers to explore, the Avion Shopping Park is a must-try shopping place in Bratislava. The place offers a variety of games and things, including an ice rink, for family and friends. If you have some time to kill after you have landed at the airport then you must visit this shopping place as it is very close to the airport.
Location: Ivanská cesta 16, 821 04 Bratislava, Slovakia
Timings: 10 am – 9 pm (Weekdays), 9 am – 9 pm (Weekends)
What to buy: A variety of things are available in the centre.
Further Read: 10 Castles In Bruges Which Reflects The Heritage And Grand Architecture Of This European Country!
Bratislava is a great place which is full of various small stores to big malls which offer great shopping opportunities for its visitors. Make sure to visit them all, to take home something authentic and unique. So, plan a trip to Europe, visit Bratislava and shop till you drop there!
Frequently Asked Questions
Q. Are shops open on Sunday in Bratislava?
A. Yes, almost all shopping centres and shops are open on Sunday in Bratislava, at least till lunch.
Q. What is the famous thing to buy in Slovakia?
A. Corn Husk Dolls is one of the most popular souvenirs that one can buy from Slovakia.
People Also Read:
Shopping In Austin Shopping In Tel Aviv Shopping In Texas
---
Looking To Book An International Holiday?
Book memorable holidays on TravelTriangle with 650+ verified travel agents for 65+ domestic and international destinations.
---