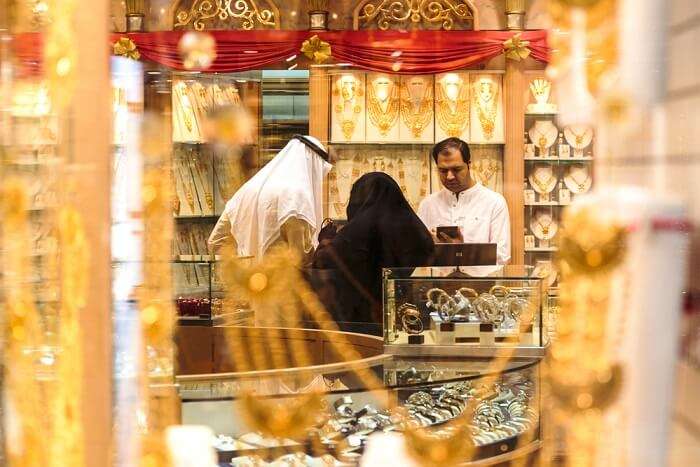 It's pretty hard to beat Sharjah when it comes to shopping. After museums and monuments, the Arab city's fashion boutiques and shopping centers alone attract millions of visitors every year. From apparels and electronics to jewelry and perfumes, these stores carry the most diverse array of luxury items and affordable goods to offer a great experience of shopping in Sharjah. With surplus possibilities, there's just one problem – where to begin? Relax, we've got you covered. Whatever your budget is, there's something for everyone here! Check out our super useful guide for high-end and affordable shopping in this amazing city.
5 Must-Visit Souks For Shopping In Sharjah
Worried about what to buy in Sharjah without overspending? Head to these 5 divine souks for shopping in Sharjah experience that will leave you spellbound:
1. Al Arsah Souk

If you're looking to get your money's worth, then Al Arsah souk is definitely among the best souks for shopping in Sharjah. It is the place for cheapest shopping in Sharjah. You should ideally visit it on the weekdays if you want to avoid huge crowds. One of the best things about this souk is its accessibility.
Location: Heritage Area, Heart of Sharjah, Sharjah
Timings: 9 AM – 9 PM
What to buy: Traditional handmade jewelry, antiques, medicinal herbs
10 Top Things To Do In Sharjah That'll Help You Unravel The Mysteries Of UAE
2. Al Jubail Souk

Al Jubail is a 2 dirham shop in Sharjah houses several markets ranging from meat stalls, fish stalls, dates stores etc. The shops specialise in particular meats like beef, lamb, and offal. If you thrive on non vegetarian dishes, this is the place to be at. We suggest the vegetarians to give this place a miss since the culinary options for them are very limited.
Location: Corniche Street, Sharjah
Timings: 6:30 AM – 10:30 PM
What to buy: Meat, fish
3. Central Souk

If you're good at haggling and you love cosmetics, then Central souk is a must-visit place for Sharjah shopping. The souk specializes in a wholesale provision, so you'll get a better deal if you decide to buy several items.
Location: King Faisal Road, Sharjah
Timings: 10 AM – 10:30 PM
What to buy: Perfumes, clothes, cosmetics
10 Places To Visit In Sharjah That'll Leave You Wonderstruck
4. Al Juma Souk

A list of the best souks in Sharjah wouldn't be complete without this ultra-modern marketplace of rare antiques. The environment inside Al Juma souk is pristine and impressive. Don't forget to sample the street food here, it's supposedly exquisite!
Location: Al Dhaid Masafi road, Sharjah
Timings: 10 AM – 10:30 PM
What to buy: Carpets, antiques, souvenirs
5. Saqr Souk

For a truly authentic shopping experience, we suggest venturing into the labyrinth of markets in Saqr souk. The souk tends to have bumper sales going on all the time. Due to this, it can be a rather crowded place to navigate, but don't let this deter you. No matter where you end up, you'll find yourself in a vibrant maze of hand-woven carpets, flavorful spices, and intricate ceramics, among other things.
Location: King Faisal Road, Sharjah
Timings: 9 AM – 9 PM
What to buy: Spices, art
37 Best Places To Visit In Dubai At Night For A Vacation In Starry Landscapes!
Top 5 Malls For Luxury Shopping In Sharjah
Splurge on international brands to your heart's content at these 5 opulent malls in Sharjah that offer a shopping experience of a lifetime:
6. Mega Mall

Mega Mall in Sharjah is one of the best shopping malls in the world, with many visitors spending entire weekends here in order to stock up on designer bags. It is far easier to navigate and less crowded than the malls surrounding it, and there are plenty of chic cafes in which to take a break from the chaos of the Arab city.
Location: Istiqlal Street, Al Bu Daniq, Near Immigration Office, Sharjah
Timings: 10 AM – 11 PM
What to buy: Designer clothes and bags
Website
7. Sahara Center

You can do plenty of things apart from shopping for home decor or electronics at Sahara Center in Sharjah. The mall features the city's most upscale cinema, multi-cuisine restaurants, and incredible boutique spas. It's also worth coming here just to gape at the stunning architecture.
Location: Al Nahda Street, Near Ramada Sharjah, Sharjah
Timings: 10 AM – 11 PM
What to buy: Home decor, furnishing, electronics
Website
36 Places To Visit In UAE For A Lavish Vacation
8. Safeer Mall

Premium fashion and international brands are on display at Safeer Mall, with plenty of celebrities and high rollers frequenting the place. The place offers an enormous selection of furniture, prints, paintings, and kitchen goods.
Location: Dubai-Sharjah Highway, Al Ittihad Road, Industrial Area 7, Sharjah
Timings: 10 AM – 11 PM
What to buy: Gadgets, home decor
Website
8 Pristine Beaches In United Arab Emirates Presenting The Best Of Coastal Gulf
9. City Center Mall

If Mega Mall in Sharjah is a boon for fashion connoisseurs, then City Center Mall is more likely to put a smile on the faces of cosmetic lovers. We've featured this place in our Sharjah shopping mall guide simply because it is touted to be a paradise for makeup enthusiasts.
Location: Al Wahda Road, Industrial Area 1, Sharjah
Timings: 10 AM – 10 PM
What to buy: Cosmetics, electronics
Website
7 Most Recommended Things to Do In UAE For A Wholesome Experience
10. Ansar Mall

Ansar Mall is the best shopping mall in Sharjah to let off steam while shopping, especially if you have children with you. From banks and hairdressing salons to gourmet dining venues and the latest fashion, Ansar Mall has something for everybody.
Location: Dubai-Sharjah Highway, Al Ittihad Road, Al Nahda, Sharjah
Timings: 10 AM – 12 AM
What to buy: Kids wear, designer apparels
Website
5 Best Sharjah Beaches For A Lavish Vacation In The Heart Of A Desert Paradise!
Don't just take our word for this. Book a trip to the Dubai and experience the country in its magnificent splendor yourself. There's absolutely nothing that can beat Sharjah shopping, so make sure you indulge in some retail therapy on the side without burning a hole in your pocket. If you are done exploring the above mentioned places, then there are more like the Rolla Sharjah market. What are you waiting for? Go ahead and treat yourself, guilt-free!
For our editorial codes of conduct and copyright disclaimer, please click here.
People Also Read
Shopping In Singapore Shopping In Maldives Shopping In Bali
---
Looking To Book An International Holiday?
---