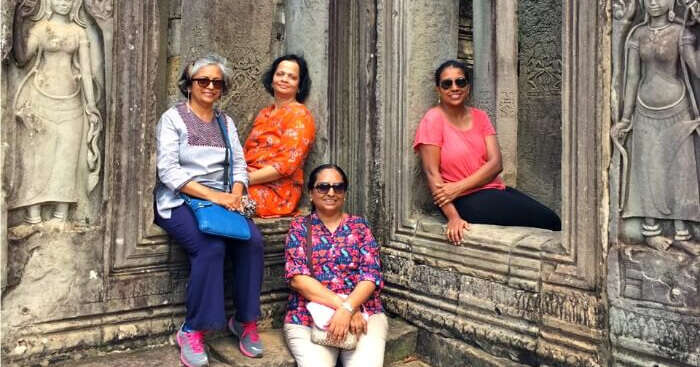 Shruthi gives an account of the fabulous trip to Cambodia and Vietnam that she took with her family of 6. She had booked a 10 nights 11 days Vietnam & Cambodia tour package from TravelTriangle that included their accommodation, meals, sightseeing, and internal flights.
Trip type: A group adventure!
Duration: 10 nights 11 days
Budget: INR 1,19,865/- (including internal flights!)
Destination: Vietnam and Cambodia
Inclusions: Accommodation, meals, sightseeing, private transfers, & internal flights.
I had always been fascinated with the landscapes and architectural wonders of Cambodia. It had been my lifelong dream to wander in those ancient ruins in Angkor Wat. And when my family got together the other day, we finally decided to pursue this dream. While looking for packages online, I came across TravelTriangle and was immediately attracted to this promising domain. After I sent a trip request, I immediately got a call back and in no time at all I was checking out packages proposed by different tour agents.
I decided to go ahead with Vigoti Travels Ltd since they offered me a comfortable itinerary well within my budget. I talked to Mr Mike from Vigoti Travels on the phone, and he excellently explained everything. His honest, courteous expositions made whatever teensy doubts I had about the trip vanish into thin air!
Mr Mike was always quick with responses and with swiftly applying those hundreds of customisations we demanded even at odd times! In fact, when we accidently booked our trip for 11 days instead of 10, he delightedly included tour to Trang An without a fuss!
Vietnam & Cambodia will give one a mix of everything: natural beauty, adventure, ancient architecture and ruins, peace and tranquility, all packaged with a vivid nightlife (in Ho Chi Minh) and a gorgeous shopping scene. If one wishes to experience all this and more, they must plan a trip to Cambodia and Vietnam.
Day 1 | Hanoi: Vietnam welcomes us with open arms!

We boarded our flight from Bangalore and landed in Hanoi, the 1,000 year old capital of Vietnam, at around 11 in the morning, post which we met our guide waiting for us outside. Our driver cum guide first took us to Art Vietnam Gallery, where we saw local people making lacquer items and selling them to visitors. It was quite interesting watching them create those beautiful artifacts. On our way to the hotel, our guide showed us a few other things as well. Once we had checked-in we freshened up in our rooms and had lunch. In the evening, he took us around, familiarised us with the local areas, and then took us to an Indian restaurant where we had a delicious meal to end the day. We returned to our hotel for an overnight stay.
Day 2 | Hanoi: An enlightening city tour and the amusing Water Puppet Show

10 Exhilarating Things To Do In Vietnam For An Awe-Inspiring Vacation
We started the day early since we were supposed to indulge in an extensive city tour of Hanoi and we didn't want to miss out on anything in this fabulous city. We began our city tour with the Ho Chi Minh Complex which is a beautiful expanse housing botanical gardens, pagodas, monuments, and memorials.

Our guide first took us to the Ho Chi Minh Mausoleum, then to President Ho Chi Minh's Stilt House, before moving on to the One Pillar Pagoda and the Tran Quoc Pagoda, while also explaining about these stunning establishments as we proceeded. By this time, the elders in our group were tired from constantly walking, so we decided to have lunch and rest a little before continuing on the tour.

Not realising we were vegetarians, the guide took us for a traditional Vietnamese lunch at a fine restaurant. The restaurant made all kinds of efforts to get us the best vegetarian food possible, after which we ended up having fresh fruits for lunch! Though the meal wasn't as we expected, we still had a good time and were overwhelmed by the staff's efforts to ensure we were fed. Post lunch we resumed our tour and went for the Water Puppet Show, a creative puppet show showcasing Vietnamese history and culture.

It was a complementary inclusion in our package after my mother had requested Mr Mike to include it in the tour! It was one of the most brilliant things we had seen and it's a must for everyone visiting Vietnam to indulge in this. Our hotel was very near to all the prime places of interest like the market, the lake, and some tourist attractions, which was a massive advantage as we could easily walk to all these places, especially the market. So, after indulging in some heart-warming sights at the Water Puppet Show, all six of us walked back to our hotel.
Day 3 | Hanoi: The mind blowing Trang An tour & the enjoyable walk back to the hotel through buoyant market streets

After a sumptuous breakfast in the hotel, we proceeded for the Trang An eco–tour, which is Vietnam's most recent nature reserve and a marvelous World Heritage Site. This tour was included only after our itinerary got extended with one more day, and true to its promise, it was the best experience I had in Vietnam! In the complex, we engaged in a short visit to Bai Dinh, the biggest and most fascinating pagoda of Vietnam, where the Vesak Day (Buddha Day) was celebrated in 2014. Then again at lunch, the restaurant went overboard in trying to find us something to eat and refused to let us leave empty stomach. The food wasn't satisfactory, but we appreciated their dedication. After lunch we googled up Indian restaurants in Vietnam and made a list so that we wouldn't face such troubles again.

Later, we indulged in a relaxing boat trip to numerous caves: the Sang Cave, Toi Cave, Ba Giot Cave, Nau Ruou, wherein we rowed over underground rivers that are said to link 31 lakes of Trang An. The charming boat ride offered scintillating views of landscapes laden with natural beauty, right from mysterious woods and caves to mighty mountains and rivers. Since Old Town was closed that day and not much of public or private transport was available, we thought we'd have trouble getting to a place to eat. But our driver came to our rescue and courteously took us around to different Indian restaurants even though they were all a long way off, and gave us directions for the hotel before taking off.

We took a stroll in the Night Market after dinner, while also figuring out our way home. Though it was quite dark, we saw people from all walks of life joyously going about their business in the market, and when we asked for directions, they offered to accompany us to the hotel itself. Against our expectations, people in Hanoi turned out to be generous and hospitable.
Day 4 | Halong Bay: Kayaking and cruising through wondrous limestone formations & green landscapes

52 Stunning Places To Visit In Vietnam In 2022 For A Natural And Historic Retreat
Post breakfast, our guide for Halong Bay picked us all up in a shuttle bus and drove us to the bay via the Red River Delta, the beautiful countryside where we witnessed various villages and the local farming life. We made a small stopover for refreshments and resumed our journey. Upon arrival at Halong, we boarded the deluxe cruise where we were supposed to have lunch onboard while the cruise took us around. While we dined, the cruise sailed through hundreds of wondrous limestone formations rising out of the emerald green water below, an outstanding sight to behold! Post lunch we engaged in kayaking and we came across even more of those gorgeous limestone structures. It was a mind blowing experience witnessing Nature putting its best show before us. After having dinner on the cruise, we went off to our rooms and retired for the night.
Day 5 | Hanoi: Dwelling in incredible limestone caves and discovering gleaming little pearls in oysters

We woke up to a beautiful morning on the cruise in Halong Bay. While we sat down to have breakfast, the chef put up a brilliant show of decorating dishes with flowers made out of fruits, roots and vegetables while the cruise made it's way back to the harbour. After breakfast and this traditional culinary demonstration we went forward to the Sung Sot caves. We explored these enthralling limestone caves dotting the bay while our guide entertained us with his witty sense of humour and provided an insight into the place and its formation.

After lunch we were taken to Pearl Farm, an enchanting experience guaranteed to delight both the young and old. We were made aware of the Vietnamese tradition of harvesting oysters for their pearls, an abundant natural resource here, and how these tiny blessings of Mother Nature were then converted into precious jewelry. We spent some time at the farm and then boarded our shuttle to get back to Hanoi. Once we reached Hanoi, we went away for shopping and some leisurely strolls in the Night Market, post which we returned to our hotel to have dinner and sleep.
Day 6 | Ho Chi Minh: Visiting spectacular attractions and witnessing breathtaking performances in a grand Opera House

We boarded our flight to Ho Chi Minh early in morning and landed in this noisy, yet beautiful city two hours later. We found our guide patiently waiting for us at the airport and he turned out to be a very pleasant gentleman. As soon as we got out, my mother realised she had left her phone on the aircraft. Our guide got in touch with the airport authorities and went to great lengths to finally get her phone back. What we encountered on exiting the airport changed our concepts about 'traffic jams' forever! Ho Chi Minh experiences one of the most extensive traffic congestions in the world. Since the obstructions on the road were holding us up, we decided to start with the sightseeing tour first and check-in to our hotel later.

We visited the Notre Dame Cathedral first, and then went over to the Reunification Palace. While the former stands as one of the only remaining symbol of Catholicism in this largely Buddhist state, the latter is said to hide mysteries in its eerie corridors and extravagant architecture! We went over to the Saigon Central Post Office next, which boasts three different types of architecture, the French, the Renaissance and Gothic. Our guide took us over to Ganh Palace restaurant for buffet lunch. Though the restaurant was a stunner in terms of ambience, space, and variety of cuisine, it was a let down for us vegetarians. Though the vegetarian food they provided us wasn't satisfactory, we were quite amazed with their generosity and hospitable treatment.

After lunch, we proceeded to the Cu Chi tunnels. We were first shown a short video presentation demonstrating the history of these tunnels, post which we were taken around the actual tunnels. To say it was a nice experience, is an understatement. Once inside, we realised how much pain those soldiers must have gone through. Post this informative and rather soulful tour, we went ahead to watch the popular AO Show. Combining skillful contemporary dance, acrobatics, unique stage visuals and live folk music to display urban and rural life in Vietnam, this show has taken theatre to the next level! After this entertaining display of dance, music and art, we had dinner and returned to our hotel.
Day 7 | Ho Chi Minh: Sailing amidst floating houses in Mekong Delta & watching tiny bee farms dripping oodles of delicious, golden honey!

We indulged in a hearty breakfast at the hotel and proceeded to Mekong Delta which was a mere 2 hours drive from our hotel. We reached My Tho city at around 11 am, boarded our motorboat, and went cruising on the Mekong River, passing by pretty floating houses. Our guide told us that the houses were built in a way so that it allowed these people to farm fish from below it, while we witnessed the same from our boat.

We reached Con Thoi Son, or Unicorn Island as these people call it, and rode a horse cart all the way to a place where we witnessed the folk dance of Southern Vietnam. Then we got on a traditional cruise boat in My Thon and sailed on the river while numerous coconut trees overhead formed a lovely archway for us!

While being taken for lunch, we were shown around the bee-keeping farm where we enjoyed a steaming cup of some delicious honey tea. After lunch, we got onboard our boat again and headed back to our bus, post an absolutely enlightening and refreshing experience in Mekong Delta! Because of the traffic, returning to Ho Chi Minh city took us longer than it did to get here. We decided to head to an Indian restaurant that served really awesome parathas, according to a friendly Punjabi family we had met on our tour today. But we couldn't get there as my phone got snatched on the way and we spent the remaining day lodging a complaint in a nearby police station.
Day 8 | Siem Reap: Stepping into an unbelievably gorgeous city & witnessing an engaging Apsara Dance performance

10 Cambodia Beaches & Islands For A Laid-back Retreat
We packed up and checked out of our hotel. We were supposed to visit a church before our flight to Siem Reap but we discovered that the church was closed. So we headed straight for the airport and spent the afternoon in the airport itself. Once we landed at the adorably tiny, yet well-maintained airport of Siem Reap, our driver cum guide picked us up and took us straight for an Apsara Dance performance. Once out in that gorgeous city, I immediately fell in love with it! Post an engaging performance, we enjoyed a lavish buffet dinner and rode off to our hotel, where we swiftly completed their check-in formalities and retired for the night in our rooms.
Day 9 | Siem Reap: Checking out impressive temples and their intricate, eye warming architecture

After a delicious breakfast at the hotel, accompanied by the staff's most hospitable and courteous treatment, we began our packed, yet exciting tour of Siem Reap. Our driver took us around to the intricately carved and well preserved temple of Banteay Srei temple first, followed by the charming village of Preah Dark and the Banteay Samre Temple adorned with impressive relief work depicting scenes from the legends of Lord Vishnu and Lord Krishna. In the afternoon, we explored the jungle covered temple of Ta Prohm which is famed for the movie Lara Croft: Tomb Raider. Covered with enormous fig trees and huge creepers the size of buildings, this remarkable stone structure truly gave the impression of man's creation being reclaimed by the forces of Nature.

We also saw some other temples like Preah Khan, Kravan, Neak Pean and Krol Ko in the Grand Circuit before the elders in my group were completely exhausted to go any further. Our guide, we must say, was very cooperative and considerate, putting up with such slow travelers as us and constantly providing us water. He was undoubtedly the best and most knowledgeable guide we had on our vacation in Cambodia & Vietnam! Once the sun was down, our guide took us to a brilliant place for dinner where we had some delicious barbecued cuisine. In comparison with Vietnam, we found unending variety of vegetarian food in Cambodia, which was in fact better than what we get back in Bangalore.
Day 10 | Siem Reap: Visiting more of those attractive temples & witnessing the jaw-dropping architecture and ruins of Angkor Wat

34 Places To Visit In Cambodia In 2022 – The Erstwhile Khmer Empire
We woke up really early and went to see the sunrise in Angkor Wat, which is considered one of the most divine and auspicious phenomenon in Siem Reap. It wasn't exactly a very colourful event but it still was quite fascinating and very soothing. Post this vivid show in the horizon, we returned to our hotel where a fresh spread of breakfast awaited us. We had our meal and rested for a while before stepping out to explore the enigmatic temples and pristine ancient ruins of Angkor. We started with the South Gate of Angkor Thom, which is famous for its series of stone carvings of colossal human faces, before moving on to the impressive Bayon Temple, the Royal Enclosure, the Elephant Terrace, and then strolled through the massive, yet beautiful ruins of Angkor Wat.

All day long, we wandered through that magical expanse that looked like an entirely different world altogether before succumbing to the heat. Our hearts wanted to continue exploring these wonders that stood the test of time, but since we were all extremely tired, we had no choice but to skip those remaining few sites in Angkor. After a blissful day amidst the temples, ruins and mind blowing architecture of Angkor, we rode a Tuk Tuk to a famous market in the city. On the way we encountered various interesting sights of daily life rituals in Siem Reap town. After spending some time in the market we returned to our hotel to sleep.
Day 11: Sailing to the adorable floating market of Tonle Sap & bidding farewell to Cambodia

We packed our bags and had some breakfast. Our guide then took us to Tonle Sap, the last attraction we were to visit on our holiday in Cambodia and Vietnam. This huge floating village is a treat to the eyes. We sailed over the lake in a huge private steamer (relishing the importance and privacy being awarded to us) and witnessed various beautiful elements of the village over water like temples, churches, and even a market, which was the most delightful of all! When our steamer got to the floating market, a lot of vendors came about in their cute little boats, trying to sell us stuff like fruits and vegetables. It was a very pleasant encounter. Our driver then dropped us to the airport, from where we boarded our flight back to Bangalore after an absolutely thrilling time we had on our trip to Cambodia and Vietnam.

We had always wanted to see this part of the world, and it turned out to be better than how we had imagined it to be. Highly impressed with how smoothly this trip was arranged, we're already planning our second trip with TravelTriangle.
Our awesome experiences on the trip: There were many! The commendable arrangement and execution of the trip plan by Mr Mike of Vigoti Travels, the Water Puppet Show, AO Show, the Trang An eco-tour, kayaking amidst limestone formations in Halong Bay, the Pearl Farm, Cu Chi Tunnels, the floating village of Tonle Sap, walking amidst the ruins & temples of Siem Reap, and the friendly, hospitable people of Cambodia!
Our not-so-awesome moments on the trip: Problems with getting vegetarian food in Vietnam (except the first two days), my phone getting stolen in Ho Chi Minh city and the irresponsibility of the Vietnam police over it.
Tips for future travelers: Do your research and find out good Indian restaurants in all the cities you plan to visit well before the commencement of the trip; be careful with your belongings in Ho Chi Minh city, especially on the road.
Wanna take your family on a glorious vacation to Cambodia and Vietnam? Why wait? Check out TravelTriangle's expertly crafted packages for these destinations, book yourself a fabulous holiday, and go have some fun!