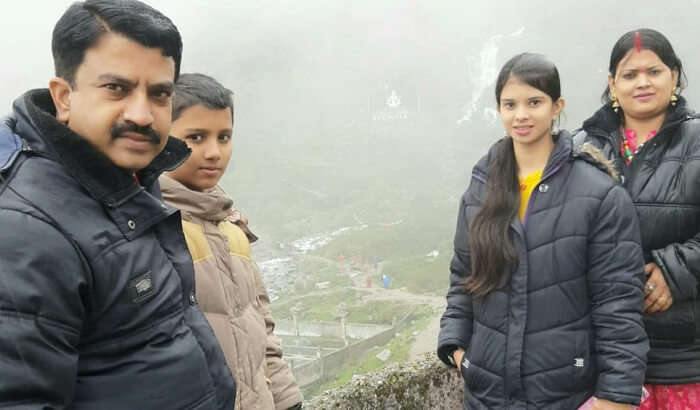 We wanted to take a trip for a very long time and were trying to figure out which destination would be prefect. It was the peak of summers and monsoon were on their way. We were hoping to go to a place where the weather is absolutely bliss and it has the best of both the seasons and where we could enjoy without being affected by the weather. Hence we decided to go to Sikkim. I contacted the TravelTriangle team and they soon gave me a perfect Sikkim itinerary for 6 days. The day of our travel came soon and we had a trip of a lifetime.
A Look At Our Holiday Package
Cost: INR 39500
Duration: 6 Days and 5 Nights
No. Of People: 4 Adults
Inclusions: Breakfast, Non AC and Normal Transportation, Parking, GST
Exclusions: Lunch, Dinner, Luxury and AC Vehicles, Insurance Laundry, Entree Fees, Guide Charges, Room Heater
Travel Agent From TravelTriangle: Leisure Loop Trip
6 Days In Sikkim Itinerary
Day 1: Arrival, Mall road and market at Darjeeling
Day 2: Tiger hill and Batasia loop
Day 3: MG road at Gangtok
Day 4: Baktang waterfall and Ganesh tok
Day 5: Tsangu lake and Nathula pass
Day 6: Departure
18 Best Places To Visit In Sikkim In December 2021: Find Exciting Experiences
Sikkim Weather In Summer
The weather during our trip was absolutely fantastic, as I had expected. It was neither cold nor hot. It was pleasant which made us enjoy our trip even more.
Details Of Our 6 Days In Sikkim
Our Sikkim itinerary of 6 days took us to various amazing spots that really added to the amazing experience and made the trip memorable.
1. Tiger Hill
Going to the Tiger Hill was one of the most beautiful experiences that we could ask for. It was enlightening and stunningly beautiful. Tiger Hill is very famous among people to give a breath-taking view of the sunrise. If that is what you wish to do then start your trek to Tiger Hill as early as 3:30 AM so that you reach timely for the sunrise. Tiger Hill is the highest point in Darjeeling Hills and we really loved our time there.
2. Batasia Loop
Another stunning place which is a must-visit in Darjeeling in Batasia Loop. It is one of the most visited places in Darjeeling hence even we did not want to miss it. You can either ride the toy train or take a cab and sit in the beautiful garden which is a part of the loop and see a magnificent 360-degree view of Darjeeling that consists of the hill town, Kanchenjunga ranges and the snow-clad eastern Himalayas.
Shopping In Sikkim – Top 5 Places To Shop For Handicrafts & Souvenirs In Sikkim
3. MG Road, Gangtok
We did a lot of research on the places that we wanted to visit in Gangtok and came across MG Road. MG our trip to Darjeeling is actually incomplete without it. This market place is lines with with amazing cafes, shops, bars, restaurants and more. People can sit right on the road side and watch the activities on the road. The entire place is vehicle, smoke and litter free and is pedestrian only.
4. Baktang Waterfall
These waterfalls are really pretty and a good stop for the ones who are travelling to or from Tashi View POint. One can stop in their and enjoy the great view that is absolutely serene. We really enjoyed this great view and the water.
5. Tsomgo Lake
One of the main highlights of our trip was our visit to Tsomgo Lake. We cannot forget how beautiful the place was. It was surreal. It takes about 2 hours to reach the lake from Gangtok and upon reaching, you would be spell bounded. It is an oval shaped lake surrounded by mountains and if you visit in summer, the entire place would be covered with Primula flowers and other Alpine vegetation around the lake. But if you go in winter the lake would be completely frozen.
6. Nathula Pass
Famous for being a part of the Silk Route, Nathula Pass was another fun experience for us. One can visit the Indo Chinese border and see the friendly soldiers on both sides of the border. This place has the second highest golf course in the world. There are memorials dedicated to many lives that have been lost here protecting the land.
On Our Trip To Sikkim With Family, We Explored The True Charms!
Our Hotels In Sikkim
During our vacation, we stayed in multiple places like hotels.
1. Pal Bheu
We really enjoyed our stay in Pal Bheu. The rooms were nice and comfortable and it was located is a great place. We were offered every amenity to make the stay comfortable.
2. Delight Norling Retreat
Delight Norling Retreat was another great hotel where we stayed. The property was well-maintained and nice with good food that we thoroughly enjoyed. The staff was very helpful and assisted us from time to time.
3. Aurora Gangtok
Aurora Gangtok was a nice stay and was a little away from the main market. It is perfect for people who want a little hush-hush environment during their stay.
How To Reach Sikkim
We travelled to Silliguri from our own vehicle. Upon reaching Siliguri, we parked our vehicle and then met the cab driver arranged by the team and started on the journey.
Our Budget For The Trip
Our budget was INR 35000 per person apart from the package. It strictly consisted of all the personal expenses like shopping, eating and other miscellaneous things.
Shopping In Gangtok
We really enjoyed shopping during our trip. We bought a lot of items like jackets,Rain coats, shoes, Umbrella, cosmetics,many varieties of Tea, cloths etc. Buying Tea is a must when here.
Paragliding In Gangtok: Witness The Breathtaking Sikkimese Beauty From A Bird's Eye View!
Sikkim Food
We enjoy our dinner from outside that we bought usually from MG Road. There were many restaurants that offered delicious food. When in Sikkim, people must try Thukpa, momos, Sinki and Sha Phaley.
What To Pack For Sikkim Trip
Inner thermals are a must-pack
Windcheaters to save yourself from the cold winds
Comfortable walking shoes
Basic medication is also a must
Sikkim Travel Tips
Plan your trip when the weather is good
Pack warm as well as summer clothes for Sikkim along with first aid and other essentials
Get border permits well in advance if you are planning to visit them
Respect the culture and traditions when in Sikkim
Our Experience With TravelTriangle
Our experience with TravelTriangle was absolutely amazing. The team made sure to provide us with an itinerary that was per our needs and requirements. We got leisure days, exploring and shopping during the trip. The team really put a lot of effort in making the trip comfortable for us. They constantly asked us questing, our likes and dislikes before presenting us with this wonderful itinerary.
Trekking In Sikkim: 9 Trails That Will Prove You've Entered The Paradise In 2022!
Our Sikkim Itinerary of 6 days was absolutely amazing. It was wonderful and we saw every major destination that is to be seen in the place. The whole vacation was well planned and executed. Our needs were taken care of. We cannot thank the TravelTriangle team enough for planning a vacation for us that we will surely remember throughout our lives. If you too want a similar kind of experience then plan your holiday with TravelTriangle to Sikkim and have a great time.
Common Queries You May Have About Sikkim
Is there snow in Sikkim in October?
The snowfall can only be seen in peak December in some of the most popular spots. Very few places in Sikkim may or may not have snow in October.
Is Sikkim better or Shillong?
Both the places are known for its surreal landscape and beauty that will mesmerize all. So it would not be fair to say which is better.
Which part of Sikkim is most beautiful?
North Sikkim is considered to be the most beautiful as compared to the other parts of Sikkim.
How can I plan 5 days in Sikkim?
Even though Sikkim looks small on the map, the area is big and there are a lot of places to see in Sikkim. But is always advisable that you zero down places that can add value to your trip and something that you are genuinely interested in visiting over the years.
How many days are enough for a trip to Sikkim?
A week is sufficient for a trip to Sikkim where one can tick off all the famous destinations.