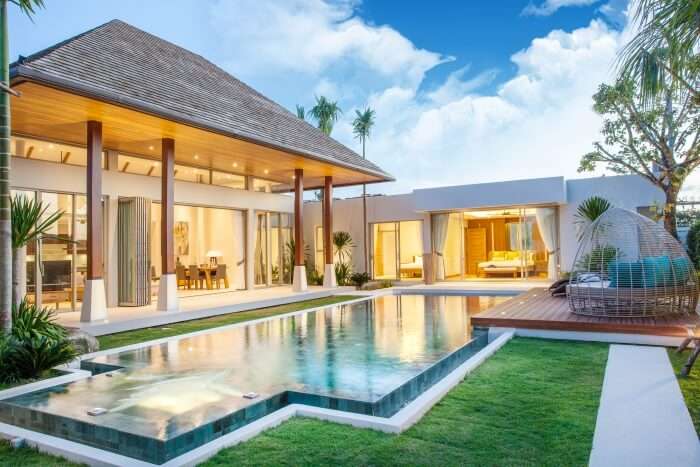 Are you looking for the best villas to stay in Galle? Galle provides you with a large choice of villas that provide you a cozy and comfortable stay. In villas, travelers can cook, lounge, relax, and explore the surrounding. Villas in Galle are the best choice of accommodation if luxury and privacy are what you crave. The place is a UNESCO World Heritage Site and is best explored on the foot. It is an old exotic trading port that is filled with old Dutch colonial buildings. You will also find artsy cafes, quirky boutiques, and multiple restored hotels.
Top 10 Villas In Galle
If you are looking forward to knowing more about the villas in Galle, here are a collection of the best ten villas that you can book to make the most out of your tropical vacation.
1. Ambassadors House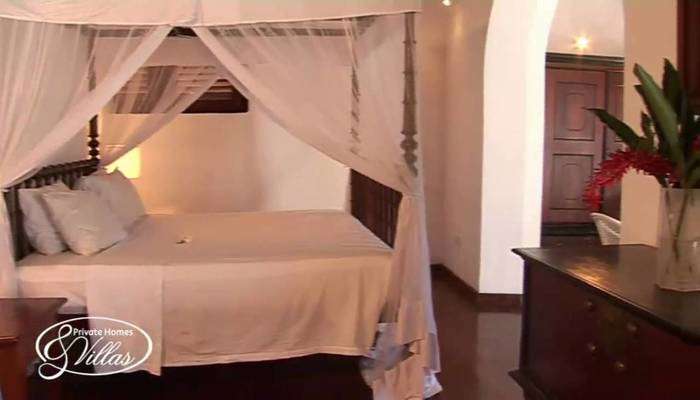 Those looking for luxury villas in Galle will be delighted to know that they can get a grand colonial mansion to stay in Galle. For those who wanted to live close to the famous Galle Fort would be impressed to know that this eighteenth-century villa is located right inside the UNESCO-certified Galle Fort. This is one of the villas in Galle Fort which allows you to experience the place in all its glory. Built during the Dutch colonial period, this building has high ceilings, thick coral walls, and a calming rooftop garden. There are so many rooms to explore that you may feel like you are getting lost. The old mansion has been restored and it now features modern d-cor. Moreover, the villa also comes with a private pool where you can spend time splashing or just cooling down. The villa also provides spa services to its guests. You get a welcome drink and a fruit basket on arrival, a chef to make your food, as well as housekeepers and butlers at your service.
Must Read: 10 Restaurants In Galle To Taste Mouth-Watering Delicacies
---
Sri Lanka Holiday Packages On TravelTriangle
Book your Sri Lanka trip from TravelTriangle: Inclusive of Hotels, Sightseeing, Transfers, & Meals. Best Prices Guaranteed. Get Customizable Package & Free Guidance From Destination Experts. Book Now!
---
2. JH Villa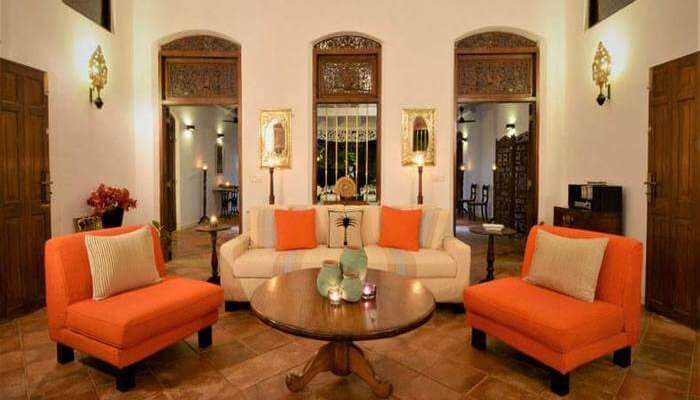 The JH villa is one of the best luxury beach villas in Galle. It is only five minutes away from the beach and has the 15-meter pool that is surrounded by lush gardens. The property, which was a colonial Portuguese building, is now converted into a villa with five-bedrooms. Even after the modernization, the old colonial aesthetics are still intact. You can reach the beach by simply walking for five minutes. Furthermore, you will also have access to a private beach house. The JH villa provides you with the ultimate Sri Lankan experience. The villa is just 10 kilometers away from the UNESCO protected Galle Fort. Each room also comes with a safe that you will have access to.
3. South Point Villa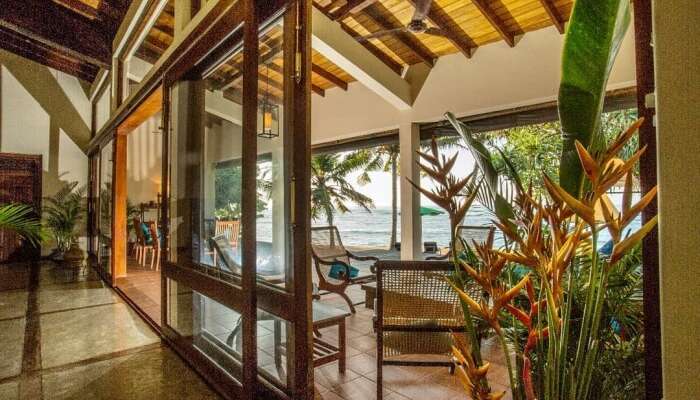 Image Source
Another great beach villa in Galle is the South Point Villa, located on a secluded beach and thus, offers complete privacy. The villa is located along the southern coastline and gives you picture perfect moments with your family. You can spend your holiday enjoying the sun and the sand. The villa sports and authentic Sri-Lankan design too. You have breezy verandas that offer views of the beach along with the palm trees that line the beach. The South Point villa is a part of a three-villa estate the South Point Ocean and the South Point Abbey. For larger groups, the three villas can be booked together and they can accommodate a total of fifteen people.
Suggested Read: Galle Face Green- An Urban Park In Sri Lanka's Colombo With a Historical Past
4. Amara Villa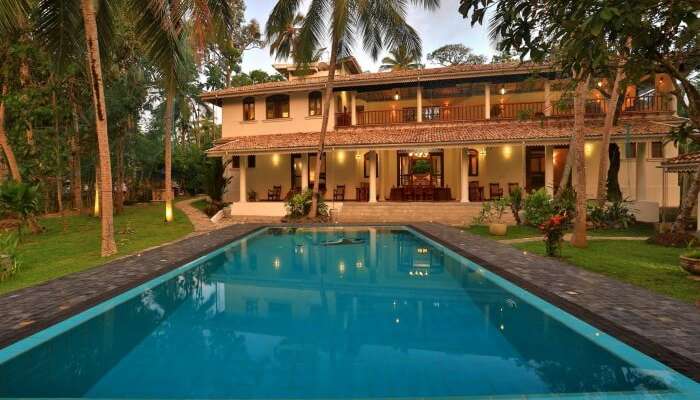 Image Source
If you are looking for the best budget villas in Galle, then the Amara Villa will is perfect for your needs. With reasonable pricing, the Amara villa has everything you will need. You get a continental breakfast every morning. The terrace provides a spectacular view of the surroundings. The Galle International Cricket stadium is 18 kilometers away from the villa and so is the Galle Fort.
The Amara villa has been rated by many as one of the most economical options in Galle. Those who really want to experience how it is like to stay in a villa but do not want to burn a hole in their pocket can surely book the Amara Villa. The villa comes with a swimming pool, there is free Wi-Fi, and even parking is free of cost. If you want, the villa can also arrange for pickup and drop-off at the airport.
5. Villa Republic Galle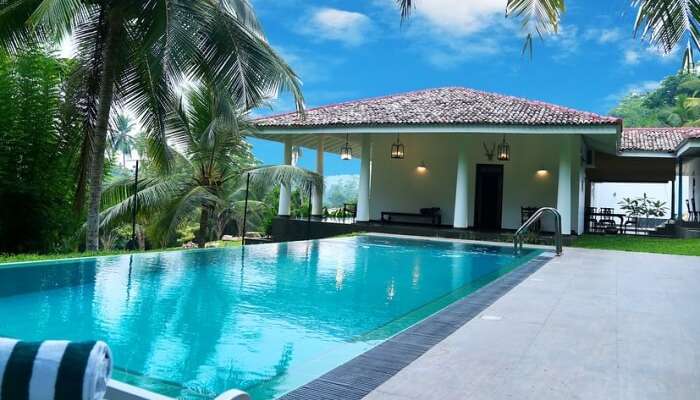 Image Source
Villa Republic Galle is one of the best-rated villas in Sri Lanka. It is located at a convenient location from where you can easily access the beach as well as other locations in Galle. The rooms come completely furnished and have everything that you will ever need during your stay refrigerators, televisions, air conditioning, and even a kettle is provided. You will be provided with all the amenities, small and big. The villa is a beach-front property. So, guests can enjoy the beach from the villa itself. There is an outdoor pool, you can enjoy free Wi-Fi, and free parking too. The villa also provides special rooms for larger families.
Guests are free to take a stroll in the garden. If they want, they can even go cycling. The Dutch church is just 9 kilometers away and the international cricket stadium is at a distance of 8 kilometers.
Suggested Read: Galle Fort: A Complete Guide To Know Everything About This Historical Gem In Sri Lanka
6. Thambili House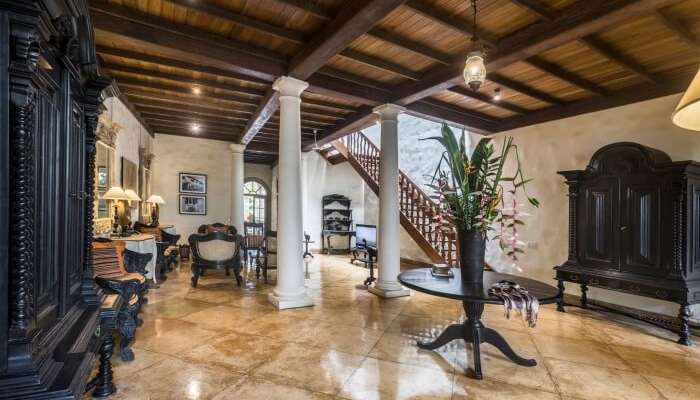 Image Source
Villas in GalleThe Thambili house is a modern villa by Edwards Collection that has a long history, going back to around 300 years. Even though it has been renovated, it still preserves the old Dutch colonial aesthetics. The interiors are decorated with pretty local contemporary art. Located in the Galle district, the Thambili house is just 300 meters away from the church. The Gale Fort is only 400 meters away from the villa. It is also close to the lighthouse. Some of the units come with their own dining space and balcony.
The villa comes with its restaurant. There is also a shared lounge area. Thambili House is knon for its pool and the terrace. The villa is located right by the beach and is popular for snorkeling and windsurfing. Diving is also popular amongst the guests. They are also free to go out cycling and explore the nearby locations. The villa offers free parking, free wi-fi and also airport shuttle services.
7. The Well House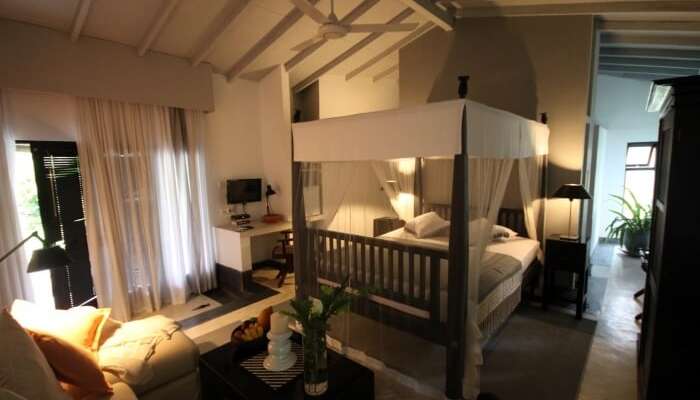 The Well House is a hidden gem. It is a small and reasonably priced villa that offers everything a villa has to offer. This cheap villa in Galle is a great option for people on a budget who want to be close to the beaches and spend time in the grand colonial buildings. The design of the Well House reflects the colors of the old colonial buildings in the area. The bright white walls are complemented with the vibrant blue pool. The villa is only a minutes walk from the beach. The bedrooms are beautifully decorated. It is the perfect family villa that has a safe and swimmable beach close by. The Well House is a small cozy villa that can only accommodate six adults. This makes it ideal for couples or smaller groups.
Suggested Read: 10 Best Beaches In Galle To Have Fun, Food And Beautiful Views
8. Boundary House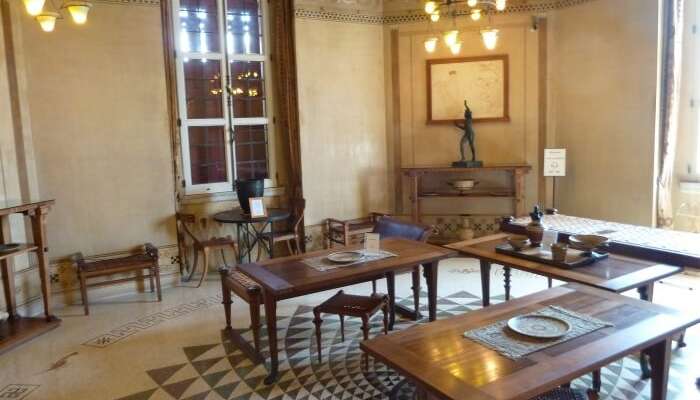 Image Source
The Boundary House is a peaceful and secluded villa that is located by the paddy fields of Galle. This four bedroom villa is quite small but does not lack any amenities. This is ideal for couples and families. You can also get private yoga lessons beside the swimming pool. The house is decorated in the classic Sri Lankan d-cor. There are ample verandas with lovely views of the outdoors. You have access to spa services too.
You get air-conditioned bedrooms as well as kitchens. There is a private pool and the rooms come with satellite television and free access to Wi-Fi.
9. Villa Sepalika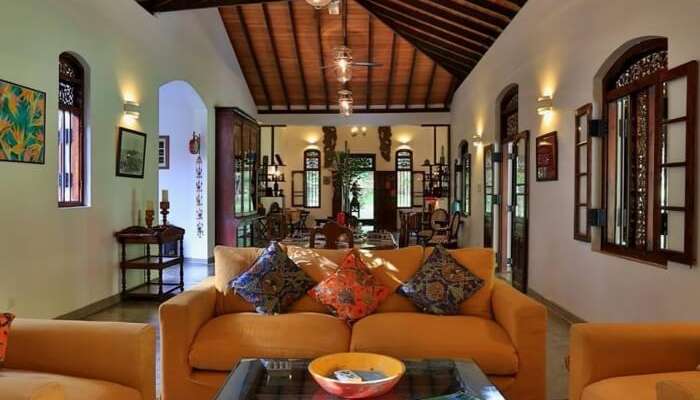 Image Source
Sepalika is one of the best villas in Galle for the budget conscious tourists. The villa has classic colonial decoration and is surrounded with the flora and fauna of the region. The three-bedroom villa is surrounded on all sides by lush greenery. The villa provides an ideal break from reality with its massive pool flanked by the sun loungers. It is the authentic island home with the perfect design and amenities. The villa has its own private pool. You get air-conditioned bedrooms with satellite TV, DVD player, and free access to Wi-Fi.
Suggested Read: Sri Lanka In January: Places To Visit And Things To Do
10. Sisindu Tea Estate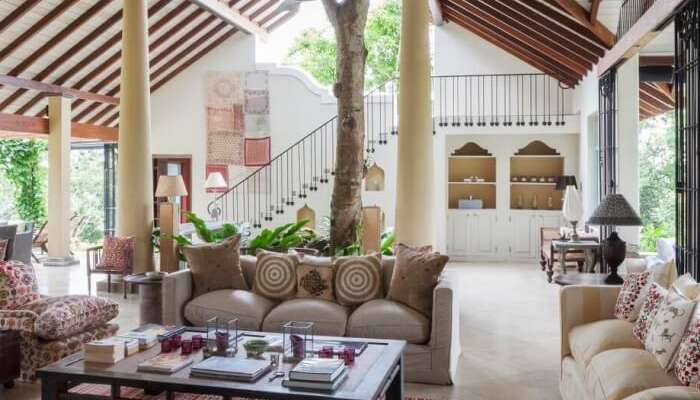 Image Source
The perfect place for a tropical holiday the Sisindu Tea Estate is filled with the aroma of tea plantation and gives you a mesmerizing view of the sea. It also offers an exquisite view of the jungle. This is a heavenly location to just sit and relax. You can unwind with friends and family. The villa also comes with its own infinity pool and a large place dedicated to yoga. The place is designed with attention to details. It has a rustic d-cor that when coupled with the fragrant tea plantation makes you feel at home.
The villa has two air-conditioned bedrooms, private pools, satellite TV, DVD players, free access to Wi-Fi, and more. You will also get your own chef, housekeeper, butler, and security guards in the villa.
Further Read: Arugam Bay In Sri Lanka: A Guide To The Mesmerizing Beach On The Coast Of Sri Lanka
Most villas in Galle come with air-conditioned bedrooms, a private pool, kitchen, access to Wi-Fi, TV and more. In others, the premium ones, you will also have your own chef, butler, and housekeepers, and security guards. How cool is that? So, make sure you book one of these villas when visiting Galle on your trip to Sri Lanka. Their opulence, privacy, and services will leave you gobsmacked.
---
Looking To Book An International Holiday?
Book memorable holidays on TravelTriangle with 650+ verified travel agents for 65+ domestic and international destinations.
---
Comments
comments