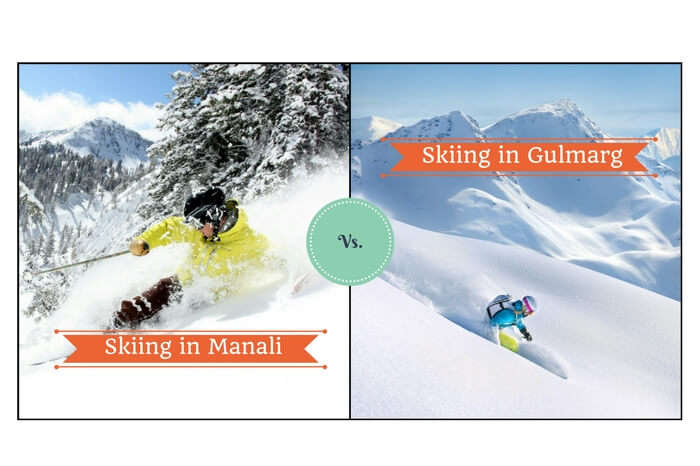 Adventure enthusiasts, listen up! Planning to try something a little different this winter?
Tired of being bundled up inside with heaps of sweaters and the thermostats at full? This year, why not go skiing? Skiing in Manali or Skiing in Gulmarg, the choice is yours since these are two of the best skiing destinations in India and both have their own highs and lows. Take a look at what both these destinations have in store for you.
1. Skiing Trails: Long Trails Vs Short Ones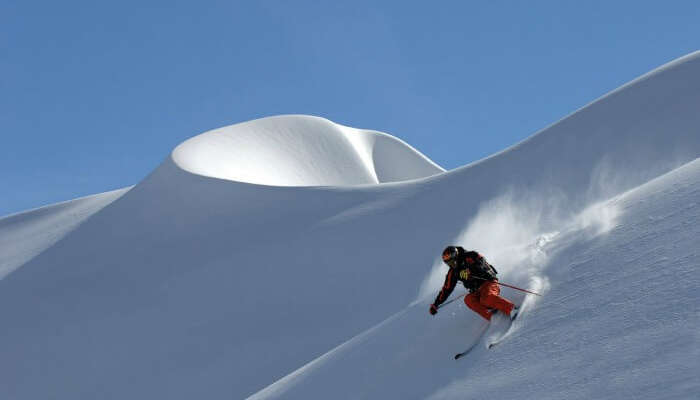 Manali: Opt for the short skiing trail, estimated at around 7 km, or the long skiing option, which is around 14 km of untouched, pristine snow.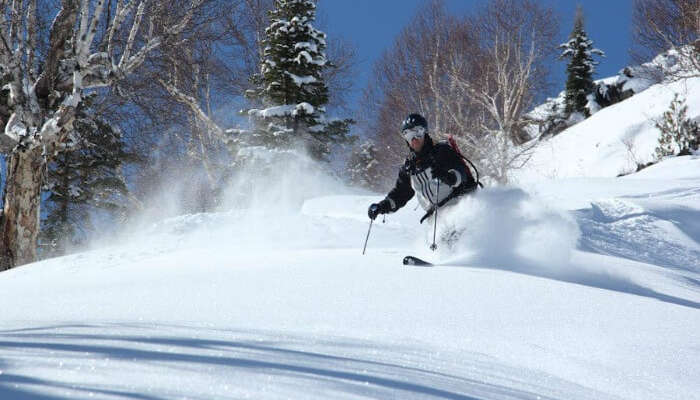 Gulmarg: Smooth gradients in Gulmarg are perfect for equally smooth ski runs, starting from 450 m to 4 km. There are two separate phases here, Phase 1 and Phase 2, based on skill levels. If you are snow skiing in Gulmarg, then gauge your own level and choose accordingly.
---
Himachal Holiday Packages On TravelTriangle
Head to Himachal to witness lush valleys surrounded by snow-capped hills. Indulge in skiing, paragliding, and other adventure sports. Book holiday packages inclusive of airport transfers, cab, resort, sightseeing, and meals to Shimla, Manali, Kasol, Dharamshala, and more.
---
2. What will it cost you: Full Day Pass Vs One Time Trips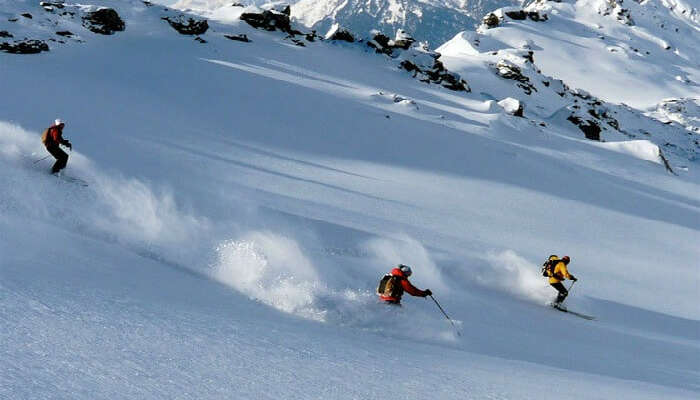 Manali: For a one time trip and the perfect ski expedition, you might have to shell out anything between INR 300 to INR 1,500.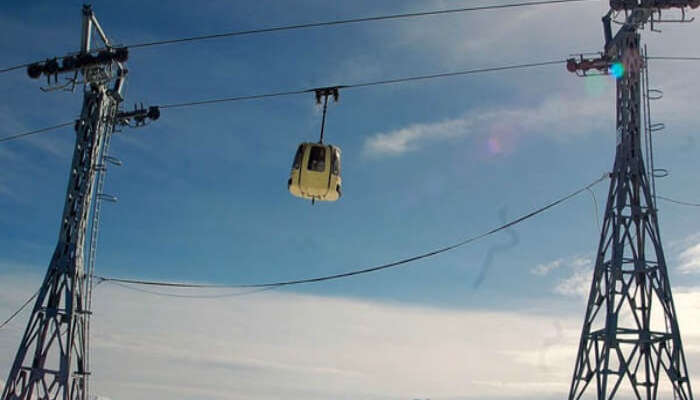 Gulmarg: You can get a one-time pass for 300 INR. Or pay INR 700 for a whole day pass at Phase 1, pay INR 450 for a one time pass for Phase 2 and INR 1150 for a whole day pass. This also includes the gondola rides.
3. Schedule your ski holiday: Peak of winter Vs Early Spring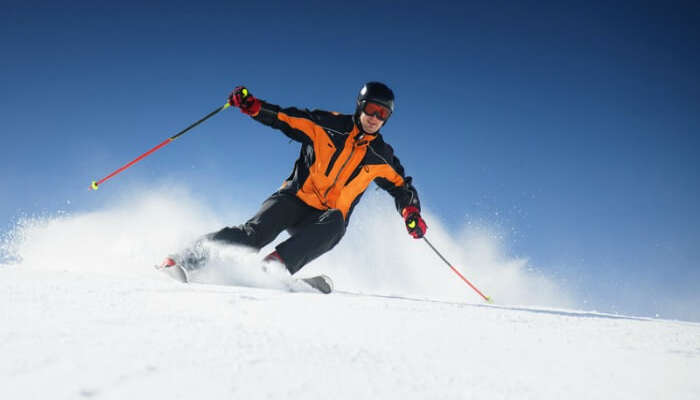 Manali: Snow skiing in Manali begins in February and extends to mid-April.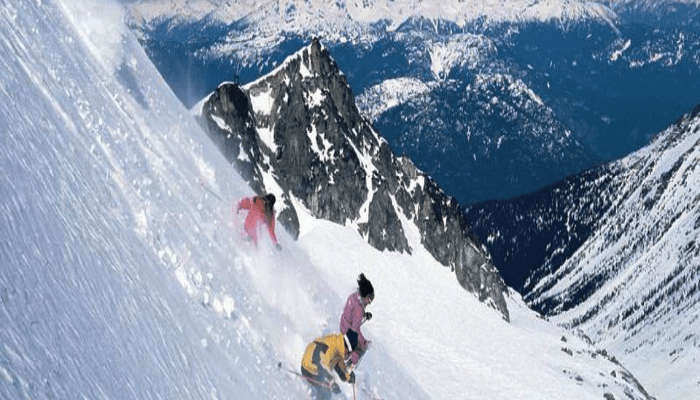 Gulmarg: November to February is considered the best time to indulge in Skiing activities.
4. Renting a Ski kit: Less than 500 INR Vs Nearly 3500 INR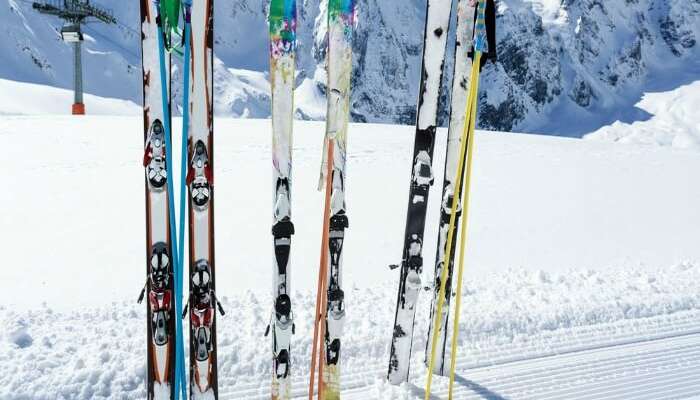 Suggested Read: Snowboarding And Skiing In India: Top 12 Destinations
Manali: There are several vendors on the Manali-Rohtang Pass highway that offer ski kits for hire for snow skiing in Manali. Although there are fixed rates by the government, starting from INR 350 to INR 500 with a guide for a simple ski kit, be ready to negotiate since most vendors ignore the fixed rates.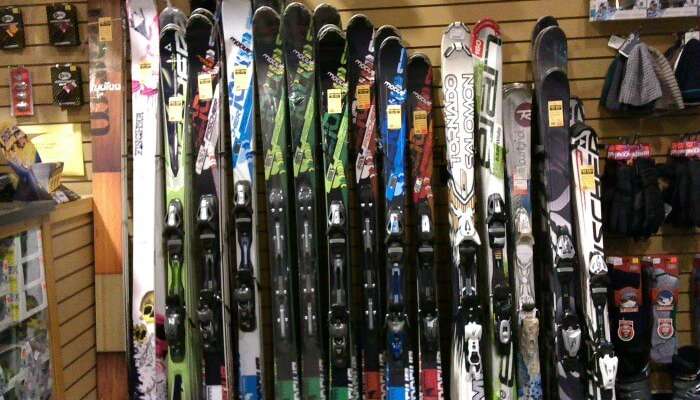 Gulmarg: There are a few rental shops at Gulmarg that offer complete ski kits for hire, starting from 1000 INR to 3500 INR, so skiing in Gulmarg will never be an issue.
5. Beginners or experts: Gentle slopes Vs Heli Skiing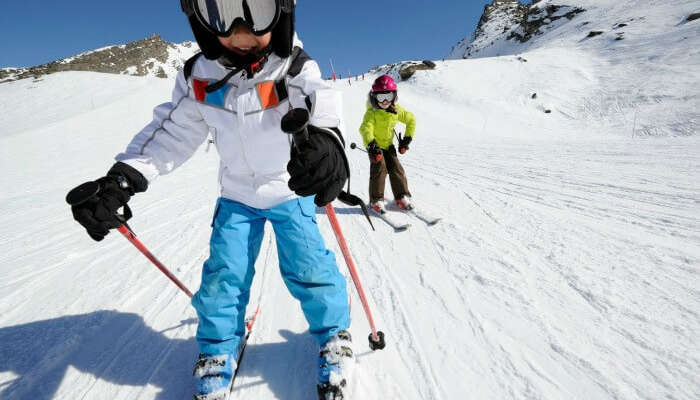 Manali: For beginners, Rohtang Pass and Solang Valley offer a few easy runs. Novice skiers can also hire instructors or take a course from the Directorate of Mountaineering and Allied Sports.
For the expert skiers, heli-skiing is a great option, wherein skiers will be dropped off via helicopter on some of the highest slopes.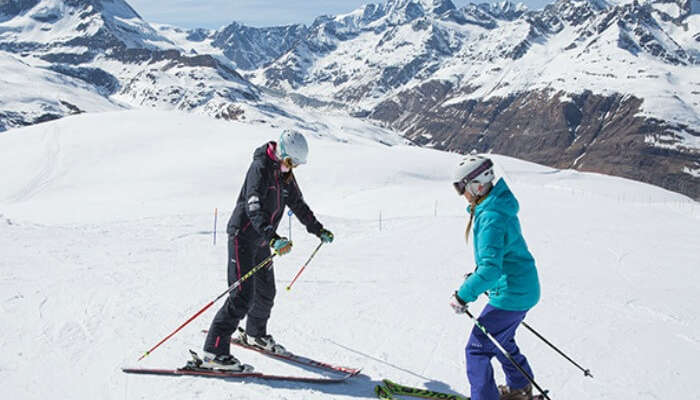 Gulmarg:For beginners, inbound skiing is a good option, characterized by gentle slopes and runs. Ski lessons by expert guides are available easily, for kids and novice skiers.
For experts, outbound skiing is perfect. Untouched powder snow and endless stretches of skiable slopes, with varying gradients, make this the best place for experts to polish their skiing skills.
6. Nearby attractions: Rafting Vs Frozen Lake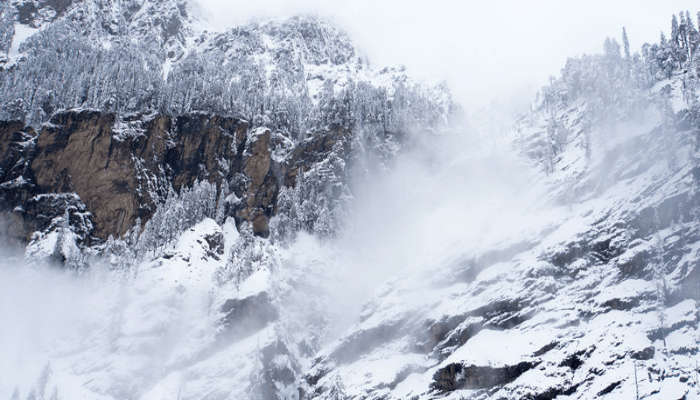 Manali: When you are done for the day with snow skiing in Manali, check out a couple of other nearby attractions to Rohtang Pass. Opt for a thrilling rafting expedition down Beas River, spend a restful hour or two at the Gulaba picnic spot, or marvel at the beauty of Rahala Falls.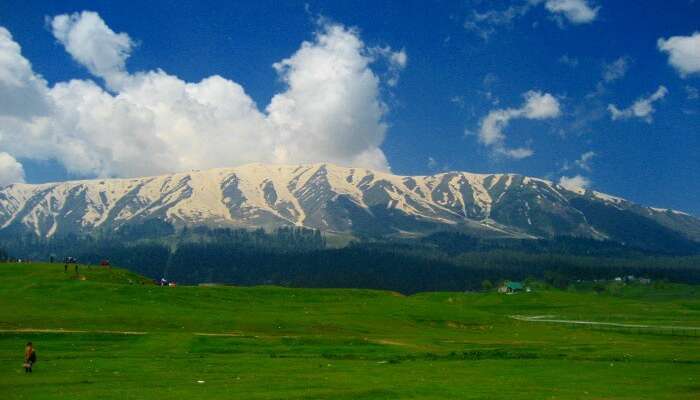 Must Read: 10 Things To Do During Snowfall In Gulmarg
Gulmarg: Take some time away from snow skiing in Gulmarg. If not skiing the day away at Gulmarg, opt to spend a couple of hours at some of the nearby attractions such as the Gulmarg Golf Course, the frozen Alpather Lake or the heavenly beautiful Lien Marg.
7. Post-skiing hunger: Maggi, no contest there!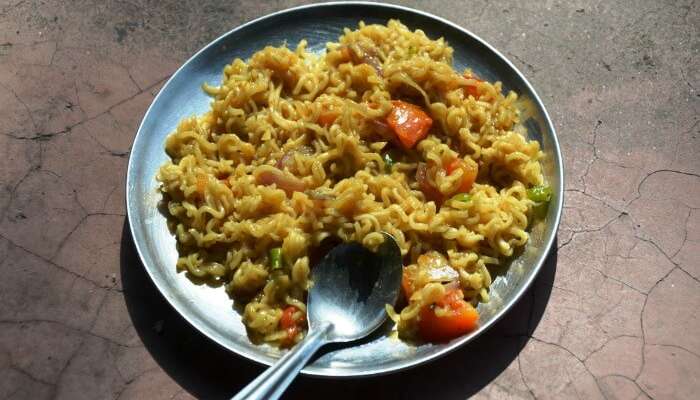 Manali: After an exhausting day spent skiing the slopes of Rohtang Pass, you are sure to have worked up an appetite for a warm, hearty meal. The humble food joints nearby can offer you the best Maggi, coupled with fresh tea and coffee to revive your senses.
Gulmarg: Much more similar to each other than you thought possible, the food joints near Gulmarg ski slopes are also famous for their version of Maggi¸ coupled with a soul-warming cup of Kahwa, the herbal sweet tea that Kashmiris swear by.
8. How to get there: Essential Local Vehicles Vs Your Choice of Cars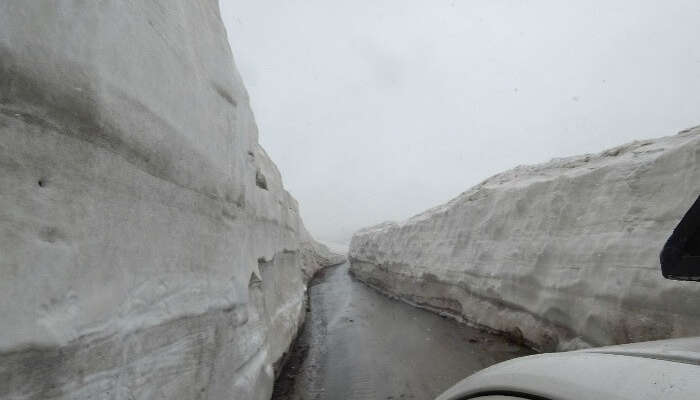 Manali: To get to Rohtang Pass, be ready to hire a local vehicle, even if you brought your own car since non-Himachal Pradesh registered vehicles are not allowed on the Manali-Rohtang highway. Shared vehicles are also available, for INR 50 onwards, but expect a very crowded ride if going for these.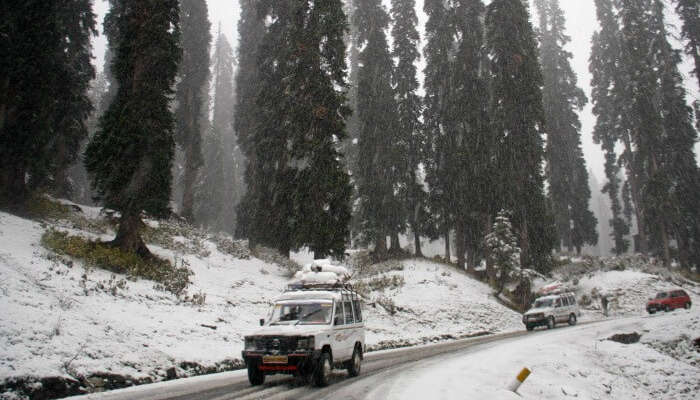 Must Read: Snowfall In India: 15 Best Snow Places In India For The Bewitching Sceneries
Gulmarg: Gulmarg is not very far from Srinagar, but the winding tricky roads, especially during winters mean that it will take nearly 3 hours to get to the ski slopes. Taxis are available easily, private as well as shared ones. Make sure that the taxis you book carry chains for traversing the tricky snow-laden roads.
So, in this battle between skiing in Manali vs. skiing in Gulmarg, which one do you think is perfect for you? Skiing and snowboarding in Gulmarg or skiing in Manali? Or do you have some other ski destination in India in mind? Share your thoughts in the comments section below!
---
Looking To Book A Holiday Package?
Book memorable holidays on TravelTriangle with 650+ verified travel agents for 65+ domestic and international destinations.
---
Comments
comments