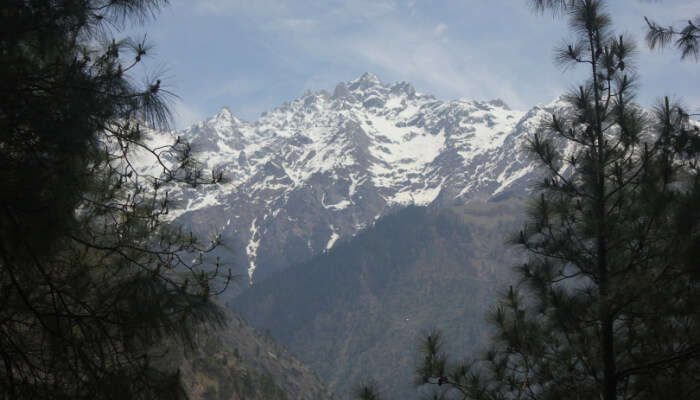 Nestled amidst the mighty Himalayas, spreading its harmonious vibes, establishing a mesmerizing ambience, the small hamlet of Kasol is set along the banks of Parvati River. It has seen a sudden surge from the last few years where tourists keep flocking. This place has fit itself in everybody's checklist, especially those who are looking for the chilly winds and the snow-white fancy during wintertime tours. Snowfall in Kasol will make you never want to leave this place, as it will accede you closer to Nature.
Best Time For Snowfall In Kasol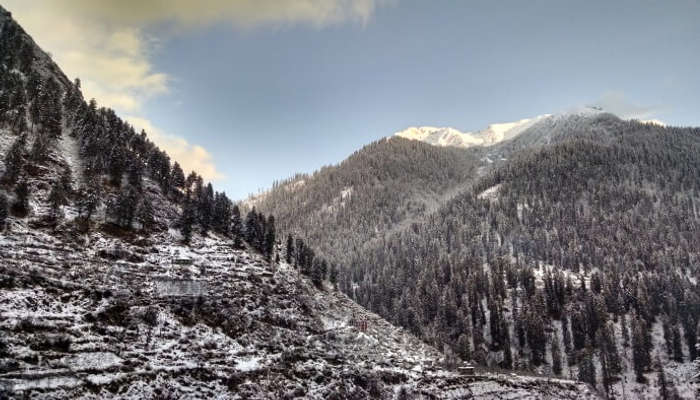 If you are looking forward to witness the enchanting and fresh snowfall in Kasol, then don't hesitate to visit this place in December, January and until February. Kasol arrests all the adventure geeks and backpackers, who come here to experience the most awe-inspiring snowfall. This majestically diverse place will transport you to a whole new world.
Places To Visit During Snowfall In Kasol
Some of the places in and around Kasol look extraordinarily beautiful during the winter season. A handful of them are listed below!
1. Kheerganga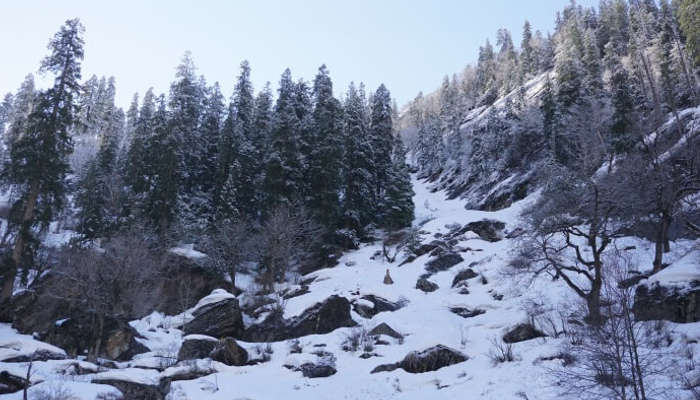 Kheerganga is the crown jewel in the whole of Kasol. It is the most popular trekking destination and a perfect place for all the adventure chunks. Located at a height of approximately 13000 ft., the base of the trek lies at Barshani. Kheerganga Trek, during the winter season experiences chilly cold winds and frequent snowfall, covers all the mountain peaks that allow all tourists and trekkers to capture nature's explicit and pre-eminent shots.
It is a holy place too with hot water springs and a temple of Lord Shiva attracting tourists from distant places. Kheerganga makes an exceptional amalgamation for any tourist to enjoy trekking as well as its extravagant nature.
Distance from Kasol: Kheerganga is located at a distance of 22 km via Bersheni Road.
Must Read: Kasol New Year Party: 10 Famous Festivals & Events To Step Into 2021 On A High Note!
2. Tosh Village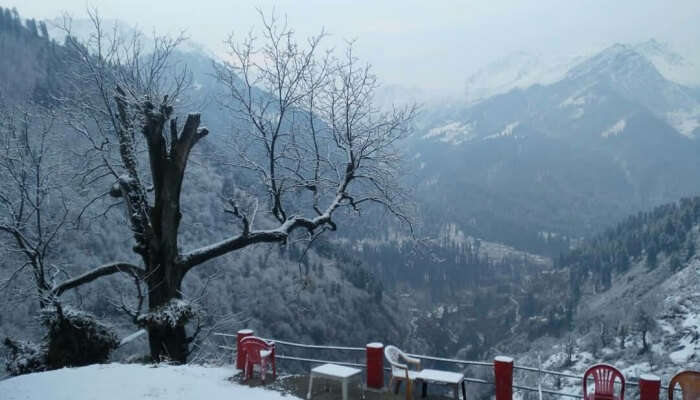 Tosh Village has become a hub for the backpackers who visit here in interest of ample snowfall and rich culture. Its snow-capped peaks and lush green landscapes have marked it to be the most visited place in Kasol. Visiting Tosh in the winter season delves you to experience beautiful snowfall transforming the whole place into heaven. Tosh is still untouched by modernization, thus gives you a simple and uncomplicated look.
The best way to get to this village is by trekking up the hill and enjoying the wonderful amaze of this small town. Trekking expedition offers you to enjoy the River Parvati flowing along with you. Its top view and mesmerizing trekking will definitely delight your day. The hippy culture of Tosh Village and its extraordinary ambience will surely take you to another world to feel and enjoy.
Distance from Kasol: It is at about 20 Km Distance from Kasol.
Suggested Read: 8 Places To Visit In Kasol And Around It That Are A Treat To The Eyes And Soul
3. Malana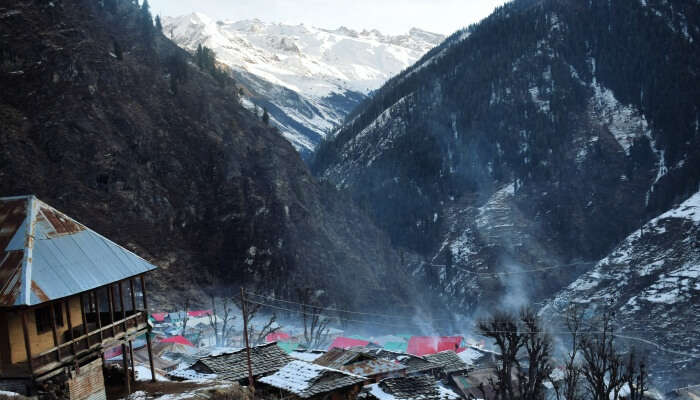 Malana, the most fascinating paradise of Kasol is one of the best places to admire snowfall. If you have come to experience snowfall in Kasol, then Malana should be mandatorily added to your itinerary. This village manifests a very slow yet peaceful lifestyle. You will be overwhelmed with the attributes of its people. Moreover, perfect scenic beauty and enchanting nature will astonish you.
December to January is the best time to visit for snowfall in Kasol, especially in Malana. It is believed that the natives of this village are the descendants of the soldiers of the army of Greek Emperor Alexander.
Distance from Kasol: Malana is at about 20 km from Kasol
Suggested Read: Kasol In Winter: A Winter Journey In 2020-21!
4. Manikaran Sahib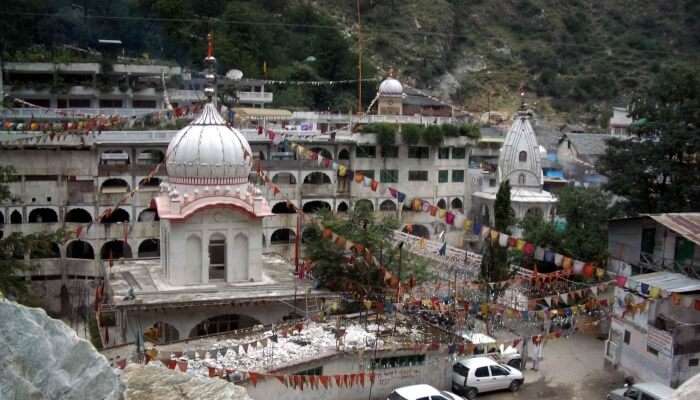 Manikaran is situated at the height of 1760 m, hence it is much colder than Kasol. If visiting Manikaran in winters, then you will encounter heavy snowfall there. Temperature might drop down to 0 degrees Celsius or less. Usually, Manikaran receives snowfall in December to February.
You will find heavy crowd in this season as it is the best place to experience heavy snowfall in the chilling winds. The famous Gurudwara Manikaran Sahib attracts worldwide tourists due to its history and astonishing hot water springs. Hot sulfur springs are not only helpful in boiling rice for the Langar, it also helps to treat diseases of nasal tracts like bronchitis and rheumatism.
Distance from Kasol: It is at about 5 km from Kasol
Suggested Read: 10 Cafes In Kasol That Have Everything You Need For An Ultimate Food High!
Things To Do During Snowfall In Kasol
Some of the things that you can indulge yourself in while its snowing in Kasol have been mentioned below!
1. Capture The Incredible Snowfall Shots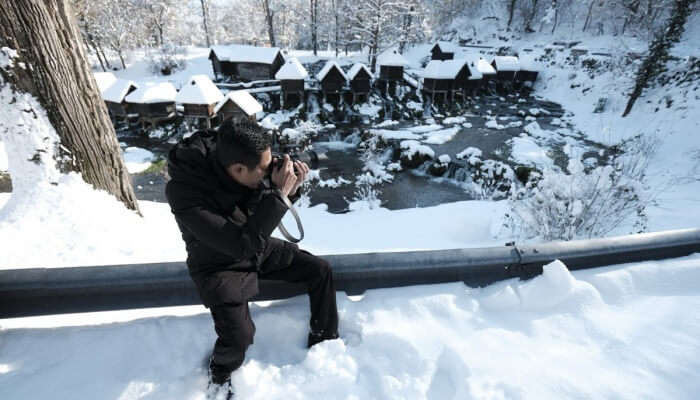 Photography geeks who are always willing to take candid shots of nature and its beauty must gear up for Kasol because it is the only place where you can get real beauty. Trees wearing a veil of snow and the surrounding mountains covered with the thick layers of snow along with hailing snow create a perfect picture for your frame. Winter season is the best time to admire fresh snowfall in Kasol. This delightful and captivating place fetching lush green landscapes and eye-catching nature is a perfect picturesque for those who really want to capture the shots of snowfall in Kasol and want to preserve as memories.
Best Time to Visit for Photography: December to February.
Suggested Read: 8 Homestays In Kasol That Will Take You A Step Closer To Nature
2. Stroll Around In Parvati Valley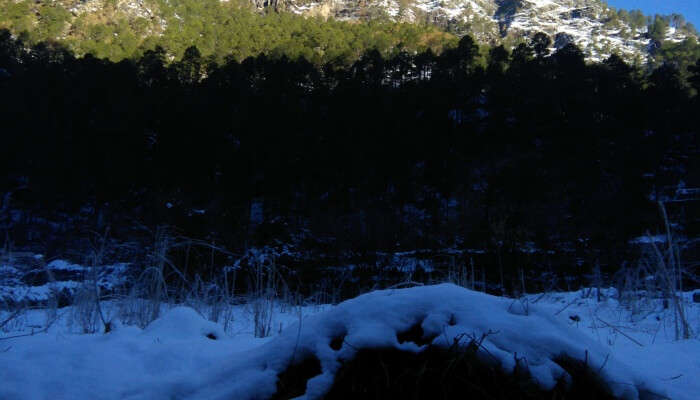 The famous Parvati Valley known to be a paradise on earth features the dense pinewood covered forests along with the small villages. During the month of December though, while it is a time to administer first snowfall in Kasol, Parvati Valley transforms into a snow-white fairy wearing pearl white gown of snow, dolled up with the snow-capped mountains and lush green trees. Parvati Valley creates the picture-perfect panoramas during the time of snowfall in Kasol thus becomes a captivating scene.
Distance from Kasol: About 2.4 km via Kasol Road
Suggested Read: 10 Treks Near Kasol: Tread The Best Of Himalayan Trails In 2021
3. Enjoy The Winter Delicacies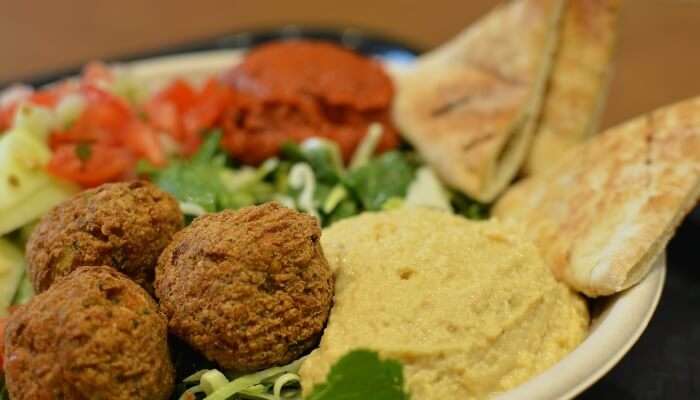 Every tour remains incomplete without delicious food. Enjoying the thrilling weather and enchanting snowfall with some mouthwatering delicacy adds some more quint. You will get many famous foods in Kasol amongst which Israeli food is the most famous one. Kasol is known as the 'Mini Israel' because many Israelis are residing here for a long time. Italian and Chinese food also adds some more spunk to the taste. Make sure to try Pizza, spinach, cheese, falafel, tabbouleh and local noodles along with the delicious coffee when you are enjoying snowfall time in Kasol.
Suggested Read: Why Kasol Is Not An Ideal Weekend Getaway
4. Take Part In Recreational Activities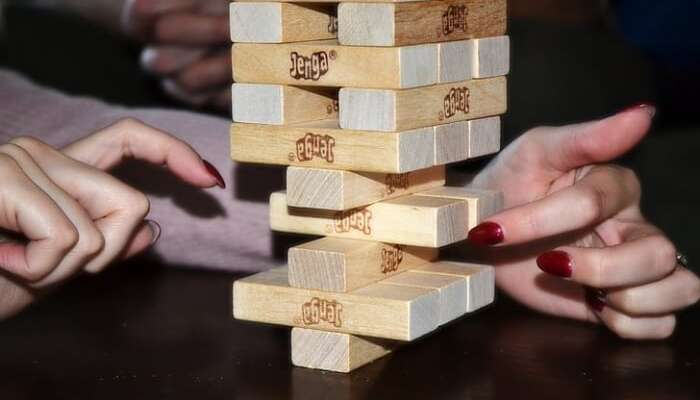 Sometimes you feel like indulging into some recreational activities while it is snowing outside. Playing games and that too when the weather outside turns awesome is like icing on the cake. Most of the cafeterias in Kasol are set up with the concept of engaging their customers in many activities. Pool Tables, Jenga and many board games are offered for the visitors to enjoy. If you are enjoying your first snowfall in Kasol, then don't hesitate to set up a bonfire in and around the village as it will create a delightful and everlasting moment.
Suggested Read: New Year Party In Himachal: 9 Exciting Events To Welcome 2021 In The Mountains
5. Shop At The Markets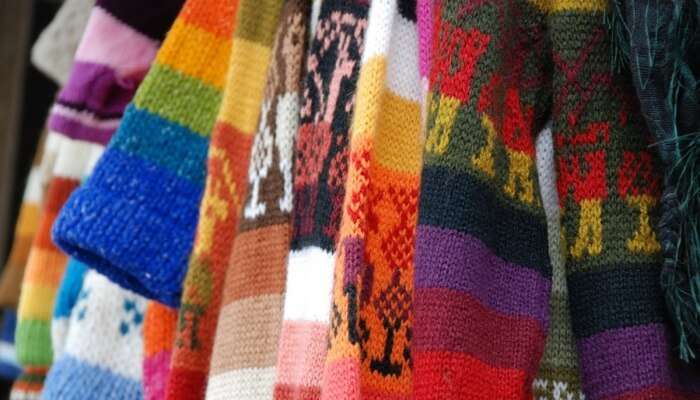 Last but not least you shouldn't forget exploring the markets of Kasol during your wintertime visit. In winters, when you face heavy snow, the need for woollen clothes is on the topmost priority. Snowfall in Kasol is a gateway to the chilling winds and cold weather. This place sets a base for shopping woollens like ponchos, shawls and traditional jackets. Rudraksha bracelets and bands are also famous here.
Further Read: 8 Best Places To Visit In Himachal In January For A Blissful Retreat
So, if you are willing to witness the mesmerizing snowfall that may leave imprints on your heart, mind and soul, head to Kasol and enjoy till your heart's content! Keeping the guide handy for your Himachal trip will ensure you don't come across any hassle and make the most of your time during snowfall in Kasol!
Frequently Asked Questions About Snowfall In Kasol
Q. During which months can we see snowfall in Kasol?
A. December and January are the best months to experience Snowfall.
Q. How much would be the cost of Israeli Food In Kasol?
A. It's not that much expensive. For two persons, it might cost you from INR. 300 to 1000.
Q. How many days are required to visit Kasol?
A. Around 3-4 days are enough to visit Kasol.
Q. What is Tosh famous for?
A. It is a famous trekking place and offers you the most beautiful trail for trekking.
Q. How far is Tosh from Kasol?
A. Tosh is located at a distance of 21 km.
Q. Which is the most difficult trek in Kasol?
A. Kheerganga Trek is the most challenging trek in Kasol.
---
Looking To Book A Holiday Package?
---
Comments
comments