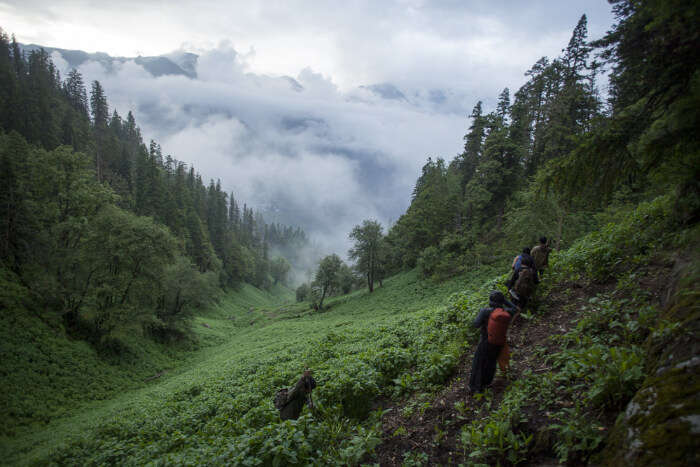 For some souls, the hunger of pine and walking the lofty terrains is an undying affair. To tend to the cravings of these wanderlusts, God created Parvati Valley in Himachal and blessed us with verdant alpine, tricky trails, and mystic alleys waiting to be explored. The beautiful treks near Kasol have fascinated and tempted many mountain lovers in the past. Of late, they have gained popularity among youngsters and thus see a number of trekkers every season.
From Malana, Chalal, Rasol, Buddhaban, to Kheerganga and Sar Pass, the treks near Kasol lure travelers, comfort them with the enchanting views, and humble them with their majestic appearance. Spanning from a few hours to a few days, treks in the Parvati Valley take you on a roller-coaster journey across the Himalayan alpine. Subsequently, these treks look appropriate for a rookie to a veteran traveler in the mountains.
Short and easy treks near Kasol
Some of the treks near Kasol make for a perfect detour as you are taking a bigger course. While if you are planning trekking in Kasol like Kheerganga or Sar Pass, the trail moves past the jungles and valleys of Kasol and leads to far fetched places. Starting with easy treks from Kasol.
1. Tosh – The picture-postcard hippie town near Kasol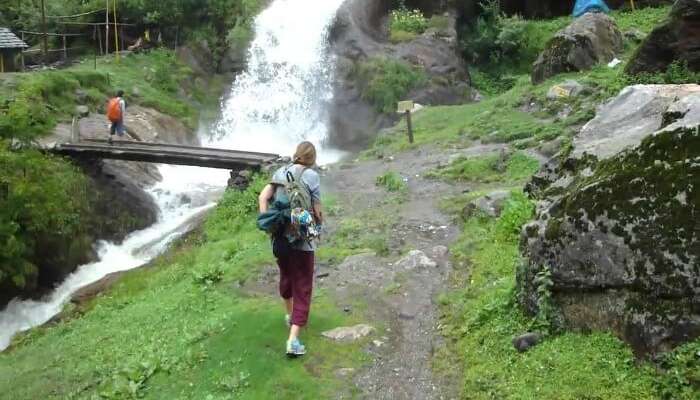 Tosh is a sleepy village in the Parvati Valley where nature flourishes its best. Some 22 km from Kasol, the Kasol to Tosh trek can be taken up from Barshaini – a beautiful hamlet which is also a trekker favorite located in the midst of Kasol and Tosh. The beautiful surroundings of Tosh are perfectly placed in the lap of the valley with streams, and lush meadows around.
Scantily populated as it is, Tosh brims with travelers from across the world. Be assured of good food and comfortable stay options here.
Trek distance: 7.5 km
Trekking time: 4-5 hours
Ideal for: Beginners
Route & how to reach: Take a bus to Barshaini from Kasol. From Barshaini trek all the way to Pulga and further to Tosh.
---
Himachal Holiday Packages On TravelTriangle
Head to Himachal to witness lush valleys surrounded by snow-capped hills. Indulge in skiing, paragliding, and other adventure sports. Book holiday packages inclusive of airport transfers, cab, resort, sightseeing, and meals to Shimla, Manali, Kasol, Dharamshala, and more.
---
Stay options in Tosh: Guest houses are scattered all over the village
2. Chalal – A hamlet of peace and tranquility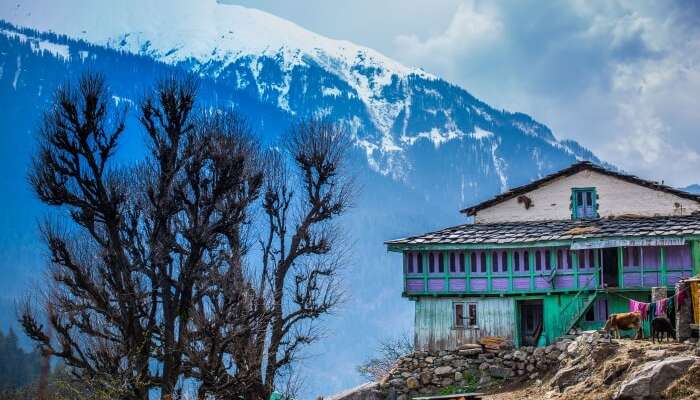 Connected by a narrow cable bridge from Kasol, Chalal is rather a quiet destination mostly preferred by nature lovers. At, 7800 feet above sea level, this quaint village tucked in the mountains near Kasol makes for one of the scenic treks near Kasol.
Guarded by tall pines, and happening cafes, this place is also known for its finest produce of hashish. Potheads, you are going to love this place!
Trek distance: 2.5 km
Trekking time: 30-45 minutes
Ideal for: Beginners
Route & how to reach: Can be reached on foot by a cable bridge
Stay options in Chalal: Antara Bhava Guest House ( INR 500 per night), The Himalayan Village, and Hotel Anupam are a few recommended options for a stay in Chalal.
Must Read: 15 Best Himalayan Treks Under 10K That You Must Include In Your Bucket List!
3. Rasol – A rather quiet escape from Kasol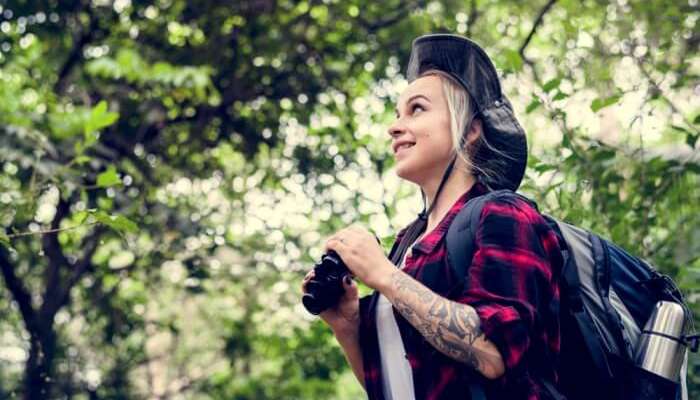 3-4 hours of a hike from Kasol takes you to Rasol – another charming village in the heart of Parvati Valley. 30 minutes from Kasol lies Chalal, which also acts as the base for Rasol. Embrace the greenery around and the experience a memorable trek as you walk across the pine-fringed path.
Steep as it is in nature, the trail fits the list of rigorous treks in the Himalayas. Temple of Jamdagni Rishi is an attraction that mustn't be missed in Rashol.
Trek distance: 8 km
Trekking time: 4.5 hours approximately
Ideal for: Beginners
Route & how to reach: Rasol uphill trek from Chalal, which can be reached on foot from Kasol after crossing the suspension bridge.
Stay options in Rasol: Guest house ranging from INR 200 to INR 500
4. Malana – The quaint village tucked at 9000 feet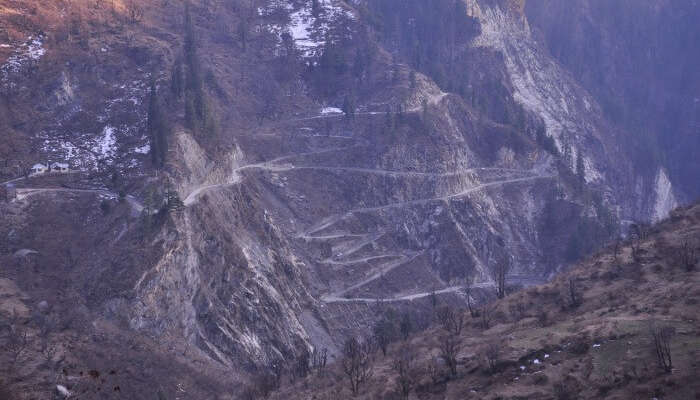 An uphill trek through the difficult terrains leads to the mountaintop where Malana Village is located. With a population of around 500 people and basic facilities available in the village, Malana is a wonderful trek and an amazing place to explore.
Trek distance: 4.5 km
Trekking time: 6 hours approximately
Ideal for: Beginners
Route & how to reach: Travel from Kasol to Jari (8 km in 15 minutes) in a private car. From Jari to Malana taxi stand(16 km in 45 min) which acts as the base of the Malana Trek. The Time taken to reach Malana from Kasol is 1 hour.
Alternatively, you can take up a 2 day of rigorous Kasol to Malana trek via Chalal-Rasol Pass. This one needs an experienced guide who knows in and out of the Parvati Valley.
Stay options in Malana: Stay inside the village is prohibited for the outsiders now.
The village laws have been changed for the travelers. It is therefore recommended to speak with someone in Zari before proceeding further to the village.
Suggested Read: 10 Lesser Known Secrets That Malana Has Been Keeping To Itself
5. Buddhaban – Beyond the scenic villages of Tosh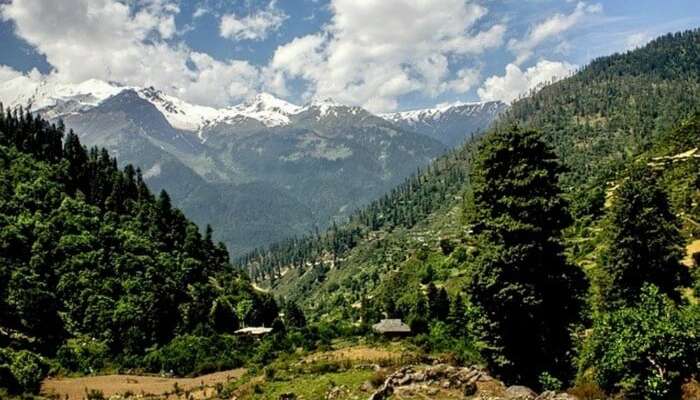 Tosh acts as the center point from where some of the most exciting Kasol trekking trip start. Buddhaban in one such place located further to the north of the Tosh Village. Apart from the 1 km steep ascent near Kutla Village, the trail mostly easy and even.
Apple orchard, the scenic Kutla Village, Tosh River, and a wonderful looking Buddhaban campsite make the highlights of this short trek from Tosh Village near kasol.
Trek distance: 4 km
Trekking time: 3 hours
Ideal for: Beginners
Route & how to reach: Reach Tosh from Kasol via Barshaini, Pulna. There are government buses and private taxis operating in tandem from Kasol to Pulna. It takes close to 2 hours to reach Pulna from Kasol.
Stay options in Buddhaban: Tents/camps
6. Grahan – An untouched village in the valley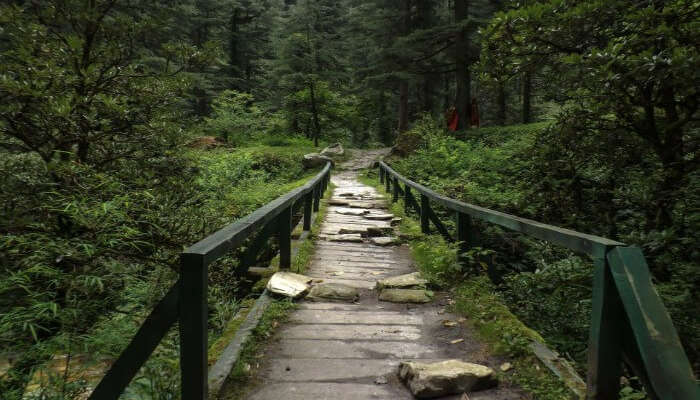 At 7700 feet, Grahan is an ideal weekend slip from New Delhi and Chandigarh. 10 km from Kasol, Garhan is the place where you can camp and lose yourself to nature's tranquility. A challenging trek makes way for the ultimate destination in the Parvati Valley that has a scenic campsite and welcoming locals.
Grahan is a rather quiet slip as compared to Kasol and Tosh. Be assured that you won't have complete non-interference of the mobile network. No ATM, no roads either! Wonderful times await you in the lap of nature in this village also known for its honey gatherers.
Trek distance: 10 km
Trekking time: 5 hours
Intermediate level trekkers
Route & how to reach: Walk across the forest from Kasol towards Grahan as you cross the Grahan Naala.
Stay options in Grahan: Wooden guest houses and locally run homestays in the village and camping ground
Please note that consumption of alcohol in the Grahan Village is strictly prohibited and defying the orders can attract a heavy fine.
Suggested Read: Kasol In Winter: A Winter Journey In 2019-20!
7. Kutla Glacier – A wonderful slip to the north of Tosh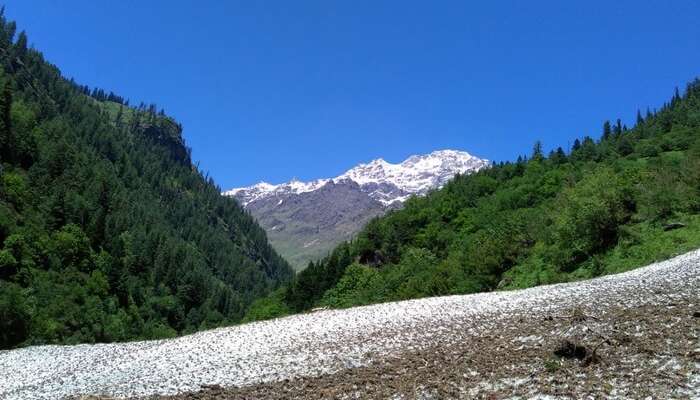 Surrounded by breathtaking greenery, Kutla Glacier is rather a comfortable walk of 8 km to the north of Tosh. Crossing the village area and some forest-like stretches, you reach the Kutla Glacier, which is not a great sight for a glacier. It's the scenery en route and from the glacier that takes away all the weariness.
There's nothing much to do there, so make sure you go with friends and have fun during the trek. There are a few shops on the way where you can stop for tea, Maggi, and chips.
Trek distance: 8 km
Trekking time: 4 hours
Ideal for: Beginners
Route & how to reach: Reach Tosh from Kasol and start the trek from there onwards.
Stay options at Kutla Glacier: None
Suggested Read: 13 Stupefying Winter Treks In Himalayas
Long & mature treks near Kasol
These treks are of the intermediate level and require higher efficiency level to complete the trail. Spanning from 1 day to 5 days, these treks also command a bit of trekking experience from you.
8. Rudranag – Beautiful pit-stop en route Kheerganga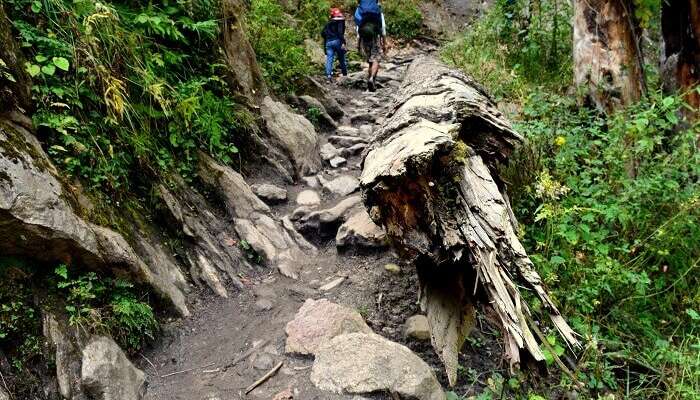 The Rudranag Falls lies en route Kheerganga. The trail cuts through rocky terrain and highly uneven pathways that make Rudranag one of the most challenging treks near Kasol. The Rudranag Falls is sharp and steep and makes for the most enchanting attraction near Kasol.
A trek to Rudranag is rightly indeed the mix of challenging trail and verdant vistas. You can start the trek from Pulga, which happens to be the starting point of Kheerganga Trek.
Trek distance: 13 km
Trekking time: 5 hours
Ideal for: Intermediate level trekkers
Route & how to reach: Starting at Kasol, you can reach Pulga from Barshaini. That's the place from where you begin the trek
Stay options in Rudranag: Camping, guest house in Barshaini, homestays/guest houses in Pulga
Suggested Read: 8 Homestays In Kasol That Will Take You A Step Closer To Nature
9. Kheerganga – The most popular escape from Kasol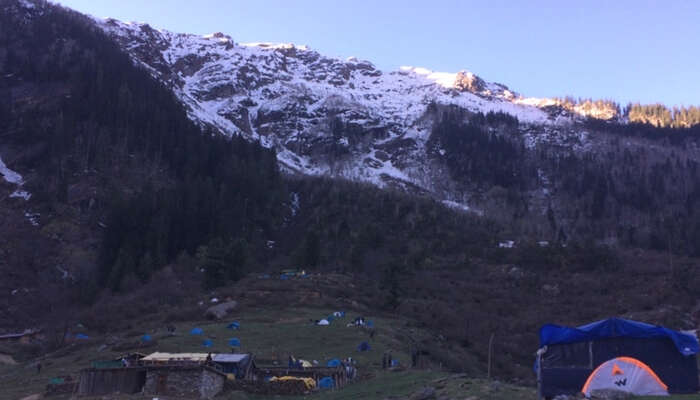 One of the most daunting treks in the Himalayan region Kheerganga is believed to be the magical land where Lord Shiva meditated for thousands of years. The trek to Kheerganga – the incredible Himalayan hideout stationed at 9700 feet, can be taken through two routes – Rurdanag and Kalga – Pulga. Both these routes divert from Barshaini.
After walking through the dense pine, crossing numerous streams, and soaking in nature's awesomeness you manage to ascend the path. Be informed that Rudranag route is exciting and difficult while Kalga route is more flat, without trees, and more cafes, and resting places.
Trek distance: 14 km
Trekking time: 6 hours
Ideal for: Intermediate level trekkers
Route & how to reach: Take a bus from Kasol bus stand to Barsaini. Further taxis are available from Barshaini to Pulga from where the trek commences.
Stay options at Kheerganga: Tents and camping option available at Kheerganga. You can book a stay for as low as INR 200 to INR 500 for a bed. Also, you can bring your own tent from Kasol and make your tent in Kheerganga.
Suggested Read: Check out Pranav's Delhi to Kheerganga Trip
10. Sar Pass Trek – The most challenging trek from Kasol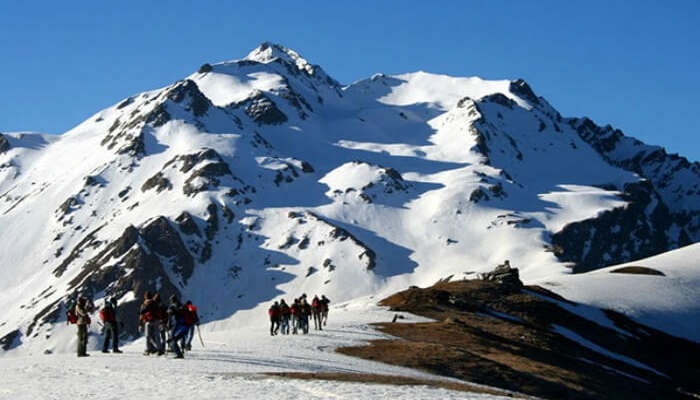 Image Source
A popular Himalayan snow trek, Sar Pass is one of the most challenging treks you would ever take. Starting from Kasol, this trail takes to the wonderful environs of the Parvati Valley and leads to the extensive route of the terrains beyond the valley before culminating in Barshaini.
The trek is a challenging proposition for every avid traveler who loves to backpack and is ready for the extreme terrains. Perfectly made up of different kinds of terrain, the Sar Pass opens up lush green valleys to snow covered trails.
Trek distance: 49 km
Trekking time: 5 days
Ideal for: Experts
Route & how to reach: Kasol – Grahan – Min Thach – Nagaru – Sar Pass – Biskeri Thach – Barshaini. The trek can be commenced directly from Kasol heading towards Garhan Village.
Stay options for Sar Pass Trek: Camps, homestays and pocket-friendly guest houses are available
Further Read: A First-Timer's Guide To Kasol: Things To Explore, Eat, And Experience
Kasol is the nexus of popular treks in the Parvati Valley! plan a trip to Kasol without wasting a moment and make the best memories of your life. Mountains are calling out to you, are you ready to take walk the daunting trails?
Frequently Asked Questions About Treks Near Kasol
Q. Where can I go from Kasol?
A. There are many places that you can go to from Kasol. Gurudwara Manikaran Sahib, Hot water spring and Choj Bridge are some of those places. You can also take some treks near Kasol to places like Tosh, Rasol and Malana.
Q. What is Kasol famous for?
A. Kasol is known for many things but the best thing about the destination is that you can chill or indulge in adventure at the same time. You can chill besides the river or can take a trek to discover a hidden and unexplored waterfall.
Q. How many days should I spend in Kasol?
A. Ideally you should 4 to 5 days in Kasol as that amount of time is enough to explore and enjoy to the fullest.
Q. Is Manali better than Kasol?
A. Manali and Kasol are two very different destinations and not really comparable. Manali is more about picturesque views and great weather whereas Kasol is more about adventure and chill.
Q. Why is Kasol known as 'Mini Israel'?
A. Kasol is known as 'Mini Israel' because many Israelis have inhabited the destination. It also attracts many tourists from Israel.
Q. What should I wear in Kasol?
A. Loose shorts, shoes, cotton t-shirts, comfortable shoes and pyjamas are what you can wear in Kasol. You should also keep a jacket handy because the weather can be really unpredictable.
Q. Is Kasol a safe destination?
A. Yes, Kasol is a safe destination. Be it couples, a group of friends or a solo traveler, Kasol is safe for everyone.
Q. Does Kasol experience snowfall?
A. Yes, Kasol experiences snowfall during winter months which is from October to February which makes it slightly difficult for tourists to explore the destination.
---
Looking To Book A Holiday Package?
Book memorable holidays on TravelTriangle with 650+ verified travel agents for 65+ domestic and international destinations.
---
People Also Read
Trekking Near Dehradun Trekking Near Bangalore Trekking Near Mumbai & Pune
Comments
comments