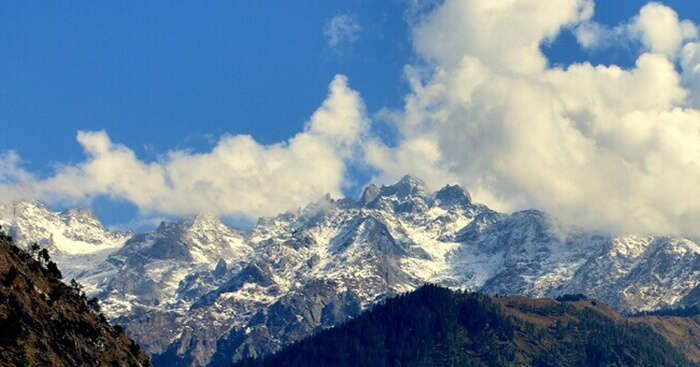 Fancy a plate of white sauce pasta, a bowl of sweet corn soup and a free jacuzzi – all at a height of 3000 metres. Add to it a climb through the charismatic grey-green mountains along with the thunderous Parvati river. Reach the top and find yourself in the abode of Shiva. Yes, I am talking about the infamous hash land and a land full of mesmerising passages to  behold – Kheer Ganga trek. In my attempt to explore the infamy and the glory, I went on a date with these hills and let my camera talk. Scroll down while I spill the whispers.
Best Time For Kheer Ganga Trek

Image Credit: Slopetrotter for Wikimedia Commons
While planning to go for Kheer Ganga trek, you must be wondering what is the best time to opt for this trek. Well, trekking is not considered suitable in extreme summer, monsoon or winter. So, it is recommended to find time in the transition weather. Keeping this in mind, the best time fo Kheer Ganga trek is from May to June and September to October when the temperatures are moderate. Neither it is too hot for trekking nor it is too cold. Moreover, as it is the post-monsoon season, you will not witness any slipperiness that you might otherwise have encountered in the monsoon season. 
Suggested Read:Don't Miss Out On These 12 Awesome Things To Do In Kasol On Your 2020 Getaway To Himachal Pradesh!
3 Trekking Routes To Kheer Ganga
Kheer Ganga is around 9-10 kilometers from Barshaini which can be covered in three different ways. Here are the routes and ways from which you can opt for the most suitable one.
1. Via Nakthan Village

Image Credit: Jan J George for Wikimedia Commons
The best and the easiest route to reach Kheer Ganga is to reach Barshaini and take the left turn from the bridge which goes to the Nakthan Village. This is the most preferred route as it is the shortest one and takes only 3-4 hours to reach Kheer Ganga on average trekking speed. While on this route, you will get to witness the pristine Parvati River on the left side of the trek. As this is the most popular route, one can never get lost here as most of the trekkers opt for this trek. 
2. Via Kalga Village

Image Credit: Kiran Rawat for Wikimedia Commons
After reaching Barshaini, walk to the bridge and take a right turn to reach the most famous Kalga Village. As the route goes through dense forests, it might be difficult to keep on track so it is advisable to take a person or a guide who is already familiar with the route. Several people are not aware of this route but if you want to avoid the crowds then this serves as the best option. Moreover, the route joins the original route after a few kilometers. 
Suggested Read:Kasol In Winter: A Winter Journey In 2020!
3. Via Tosh Village 

Image Credit: Sanchit Garg for Wikimedia Commons
Another path goes from the popular Tosh Village which joins the original route near Nakthan Village. This route is mostly opted by people who are staying in Tosh for the night and want to go for trekking in the morning. You will get to witness the Tosh river here that ultimately meets the Parvati River. 
Things To Do In Kheer Ganga
Are you looking for some adventure activities while on a trip to Himachal Pradesh? You can plan for the Kheer Ganga trek and enjoy a relaxed walk on a beautiful trail while enjoying the views of colour villages on the entire trail.

Image Credit: Photos Worldwide for Wikimedia Commons
Disclaimer: The image is for representation purposes only.
1. Plan For A Hiking Trip
If you are passionate about exploring adventure, you can indulge in the fun of hiking on the first day of your trip. Waking on the beautiful trails will make you refresh and energetic. There are places to visit near Kheer Ganga but if don't want to take out much fun from discovering these spots, you can plan for a relaxed walk on these easy trails.
2. Get The Pleasure Of Stay In Homestays
A stay in a hotel will always give you comfort and provide all required as well as luxury amenities, however during your trip to Kheer Ganga, a stay in the homestays will be another level of worldly experience. Kheer Ganga trek has many small villages which offer different homestay options to its tourists. The most popular homestays among all of them are Tosh and Barshaini. You will get these homestays at an affordable price if you have a limited budget for this trip.
3. Give Your Legs Some Rest While On A Trek In Kheer Ganga
Undoubtedly the views of the eye-catching and colourful villages will mesmerize you while you will be on your trekking trails. While you will be trekking, you can stop at Naktan and relax for an hour or so and enjoy the views of this pit stop. There are two reasons for which you can take a halt in this spot. Firstly, Naktan is located exactly in the middle of your trek and if you are tired of walking you can take some rest for some time and this spot is popular for watermelon juice and noodles.
4. Explore The Charm Of The Pine Forest
A few steps ahead of Rudranag Temple, the trekkers will be welcomed by a dense pine forest that lets these trekkers explore the charm of silence amidst the forest.
5. Rejuvenate Yourself In The Natural Hot Spring Of Kheer Ganga
Kheer Ganga is all about enchanting views of the hills and natural hot springs. While going on the trek the travellers can relax and take a bath in the hot springs to relax the sored muscles due to continuous walk.
Kheer Ganga Trek – Planning And Route

Although tourism in Himachal is properly organized but reaching Kheer Ganga is not so easy and that's precisely why it needs proper planning and iteration which can be calculated by following the Kheerganga trek map. The entire journey can be broken into two phases:
Reaching Bhuntar: Nearest railhead, Pathankot is 150 km. We suggest Delhi-Chandigarh-Mandi-Bhuntar by road. Regular bus services run from Delhi post 6 pm.
Reaching Barshaini: Though accessible by local bus from Bhuntar, private taxi costing INR 900 – 1,000, is also an option. If you have time, avoid a cab. Take a bus from Bhuntar to Manikaran (36 km in 90) and from Manikaran to Barshani (18 km in 40 minutes). Last bus from Barshaini to Bhuntar is at 5:00 pm. A shared cab from Manikaran can be helpful if you are tight on schedule. They usually charge INR 75 – INR 100 per person.
From Barshaini – the base to Rudra Nag, Kalga and Pulga, opt from two routes:
Rudra Nag (13 km): It's a steep climb, laced with stunning views; perfect for photography enthusiasts and easier to descend.
Kalga (17 km): Easy climb with longer descends, suited for occasional trekkers and those low on stamina. Not a good option for photographers looking for breathtaking landscapes.
I took the Kalga route to save the best for the last.
Suggested Read:20 Best Hill Stations In Himachal To Experience Pure Bliss
Enroute Kalga To Kheer Ganga

A 15-minute climb leads to Kalga – a small village full of stunning serenity amidst apple orchards. Here, there are a dozen, amazingly hospitable, home stays available at throw-away cost.
Charging INR 100 to 500 per day, these homestays with the delicious food they serve, can give any normal city hotel a run for their money. From refreshing teas and Chinese  platters to Israeli to local Himachali cuisine, the chef, who is usually the owner, serves like a sophisticated waiter. The local version of rajma and rice with desi ghee is a delight.
Dining Areas And Rooms Are Pre-Installed With 'Tandoor'

…and sealed windows for warmth. The spellbinding views from these glass panes and serenity inside the room guarantee the much-needed break from the tiring journey and climb. One can spend a night and relish the home cooked food.
Suggested Read:Gokyo Ri Trek: A Pocket Guide To This Majestic Peak In Nepal
There Are Galleries, Windows, And Chairs…

…and if you wield your pen, the moments here can help you create master pieces.
THE ASCENT
The Beginning From Rocky And Curvy Paths…

With bridges made from fallen trees and stones, the trek to Kheer Ganga via Kalga took us through one of the most untouched mountains… treks in Himachal.
Through Bridges That Have Been There To Behold.

With Some Sadness And Warnings,

The Show Had To Go On

While The Roads Cautioned!

Suggested Read: The Ultimate List of Adventure Holidays In India For Summer 2020
The Rustic Charm And The Scenic Vistas Were Luring…

And So Were The Joys Of Being Close To Nature!

Amidst Everything, River Parvati Did Conspire To Keep Us Going;

And The Charm Didn't Cease

Even Through The Tricky Passages –

'Coz There 'Were' Promises To Keep!

Kheer Ganga – The Hilltop

Amidst This Heaven At Kheer Ganga, Are Several Cafes, A Dharamshala And A Natural Hot Water Spring – Parvati Kund.

Stay Options At Kheer Ganga

On the top, there are several lodging and food options at pretty reasonable prices. The cafes offer stay in tents and large halls with inbuilt 'tandoors'. The cost per bed varies from INR 100 to INR 200 depending upon the season.
---
Planning your holiday but confused about where to go? These travel stories help you find your best trip ever!
---
Interestingly, The Kheer Ganga Committee Runs And Maintains A 'Dharamshala' Here…

With Private Rooms And Meals, At INR 100 Per Person!

Plus, There Is Pool Bliss; Of A Different Kind.

Spend a couple of hours in the hot water pool, float under the scenic beauties of hill tops and you are as fresh as any other morning at home.
And As The Sun Sets Behind The Heights, It's Time For That Walk To Remember,

Followed By An Open-Eyed Dream At Night, While Staring At The Star-Studded Sky.

Wake up to a magical morning that stays with you forever. Pack up, and prepare for…
THE DESCENT

Through The Thunderous Roars Of Violent Parvati River

To Rudra Nag, Finally.

The Tea At Cafe Here Will Soothe You Down

To Let You Carry Your Journey Through The Mountains

While Some Clouds May Await You When You Reach the base, Barshaini!

This Kheer Ganga Trek Ends And Will Leave You With Memories To Cherish And A Lot To Ponder On.

Things To Carry To Kheer Ganga Trek

Image Source
When going for Kheer Ganga trek, keep a down jacket or a woolen sweater for the night, a cotton t-shirt and waterproof trousers for the day, and also a poncho or a raincoat to save yourself from frequent downpours. You should also carry enough sunscreen, a torch, socks, and a cap with you.
Things To Keep In Mind

Keep following things in mind if you want to have an amazing trek to Kheer Ganga and avoid all the unnecessary hassle:
There are no ATMs after Kasol. So, dispense cash before you begin the trek. There is a possibility that ATMs in Kasol may be out of cash. make sure you have a back-up.
Do not forget to check the weather in Kheer Ganga before beginning your trip. The trail of Kheer Ganga is prone to landslides. So, avoid being there during heavy rainfalls.
The trek starts from Bharshaini which can be reached by bus or a shred cab. However, it would be dofficult for you to find any early in the morning.
Suggested Read: 21 Enthralling Trails For Backpacking In India That Will Instantly Get You Going In 2020!
Tips For Trekking

Image Credit: Orna Wachman for Pixabay
Here are a few tips for trekking that will help you plan a butter-smooth trek. Check them out and keep them in mind.
It is always better to start a bit of walking before going for a trek. If you do not have a habit of walking then it might get difficult for you to cover the Kheerganga trek distance as you will be out of habit. 
It is important to choose the correct footwear as the trek is going to be long and uncomfortable shoes might create some problems, especially if you are planning a Kheerganga trek in December.  

Keep a walking pole with you as it helps in climbing on the high terrain regions. It also gives you support on narrow paths. 

Keep enough water to hydrate yourself during the trekking experience. Sweat might lead to dehydration which is why it is always advised to sip water now and then while trekking. 

Keep energy bars, snacks, and other food that are high in nutrients so as to provide you enough energy while trekking. 

Pack important supplies and required medicines in your backpack. Make sure that your backpack is not heavy otherwise it will be difficult to trek for long. 
Suggested Read: 9 Things To Do In Tosh That Will Satisfy Both Your Heart And Soul In 2020
How To Reach Kheer Ganga

Image Credit: Jade for Pixabay
There are three different ways to reach Kheer Ganga but the most preferred one is by train or by road. 
By Road: There two ways to go by road – by your own car or by private bus. Tosh is around 515 kilometers away from Delhi and it takes about 10-12 hours to reach the destination, depending on the number of pitstops you take. On the other hand, you can take a private bus to Bhuntar from where you can take a local bus to Barshaini which is the nearest place to Kheer Ganga trek route. 
By Rail: The best way to reach Kheergang via rail is by reaching the Pathankot Railway Station from where you can hire a taxi or take a bus to Barshaini.
By Air: The closest airport is located at about 235 kilometers away from Kheer Ganga and that is Pantnagar Airport. From there, you can hire a direct taxi to Barshaini. 
Further Read: Two Girls On A Trip To Kasol And Kheerganga
All set for an adventurous Kheer Ganga trek? Want to embark on something similar? Pack your bags, boot-up and plan a trip to Kasol and leave right for an amusing vacation to relax amidst nature!
*All images used in the blog have been clicked by the author, Pushkar Ranjan.
For our editorial codes of conduct and copyright disclaimer, please click here. 
Frequently Asked Questions About Kheer Ganga
Is Kheer Ganga Trek free?

For Kheer Ganga Trek no guide is required and this trek is crowded in any season. A camp will cost around INR 500 for four people.

Is it good for the beginners to go for Kheer Ganga Trek?

If you are experiencing trekking for the first time or you are a backpacker and looking for hike inHimalayas, a trip to Kheer Ganga trek would be a perfect choice for you.

When is the best time for Kheerganga Trek?

April to November is the best time to trek to Kheerganga since the weather is pleasant. However, you should avoid the monsoon months as the trail becomes slippery and dangerous. It is not accessible once the snowfall begins.

How is the network connectivity at Kheerganga?

Kheerganga is located in a remote region where getting network connectivity is impossible. However, if you have BSNL or Airtel connection, you may get some connectivity along the way.

How much time does it take to reach Kheerganga?

The total trekking distance is 10-12 km. Depending upon your strength and experience, it may take from 4-5 hours to get to the top.

Are there any food stall en route Kheerganga?

Yes, you will find a lot of food stalls and tea halts throughout the trail. The surprising part is there are a number of hippie cafes even at the top. If you wish, you may carry tidbits with you to munch on while trekking.

What kind of shoes should I wear?

You should have proper trekking shoes to have a comfortable trekking experience. Sports shoes have a chance of slipping.
---
People Also Read: