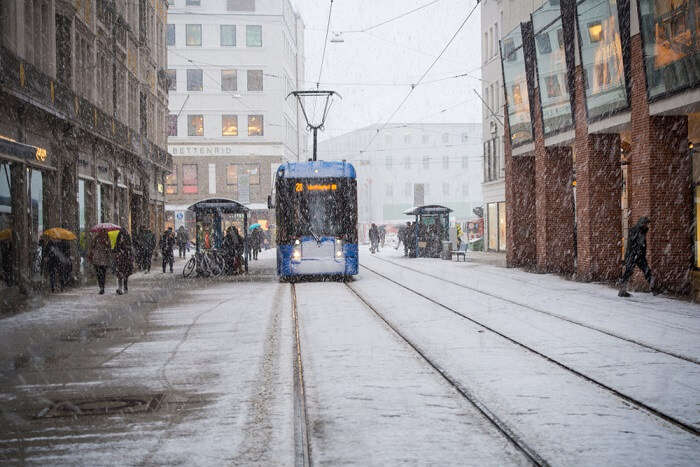 Munich attracts a lot of tourists during summer and spring. However, during the winter, Munich celebrates quite a lot of festivals and arranges for numerous activities. September sees tourists flooding in from all across the world for the Oktoberfest while early summer is famous for surfing in the little river of Munich as well as for the lively beer gardens. However, a snow-covered Munich has a completely different feel. It transforms into a perfect fairy tale city with red-roofed buildings covered and white snow everywhere that you generally read about in storybooks. Snowfall in Munich is not very heavy and can be quite enjoyable. So, if you arrived in Munich in December of January, here is a guide to make the best out of your trip.
Quicklinks To Navigate The Guide
Best Time For Snowfall In Munich
Ideal Duration Of Staying In Munich
Snowfall In Munich: Things To Do
What To Pack For Munich
Best Time For Snowfall In Munich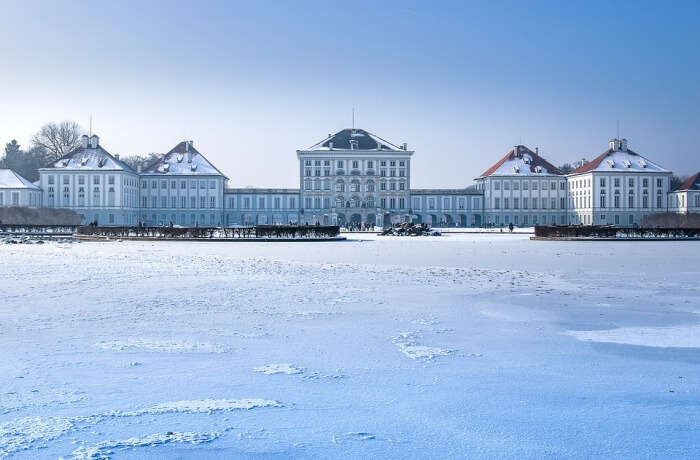 The ideal time to witness snowfall in Munich is during December. Does it snow in Munich in January? Yes, it does. On average, 13 out of 31 days in Munch are snowy days. However, the snow does not last for very long since the daytime temperatures are quite high. The minimum temperature usually falls a few degrees below freezing allowing it to snow. Does it snow in Munich in February? Not much. February onwards, average snowfall in Munich, Germany decreases. Heavy snowfall in Munich is quite rare.
Must Read: Munich Nightlife: A Handy Guide For Party Animals To Explore This Bavarian Capital
Ideal Duration Of Staying In Munich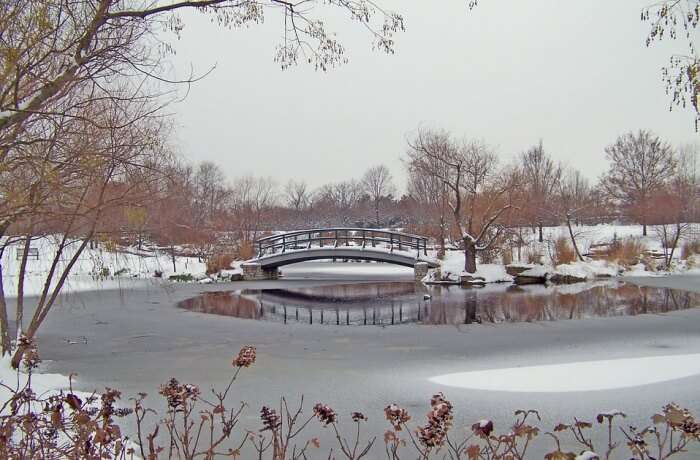 A week or two is ideal for experiencing snowfall in Munich. However, the amount of snow varies from year to year. Munich in winter can provide you with a lot of adventures surrounding the snow, and it can also give you quiet and cozy evenings at a café. Munich has something for everyone to enjoy during their winter break.
Snowfall In Munich: Things To Do
Witnessing snowfall in this charming land of Munich is surely an experience worth waiting for. But why wait, when you can see it for yourself. Scroll down to know what's in store for you!
1. St. Peter's Church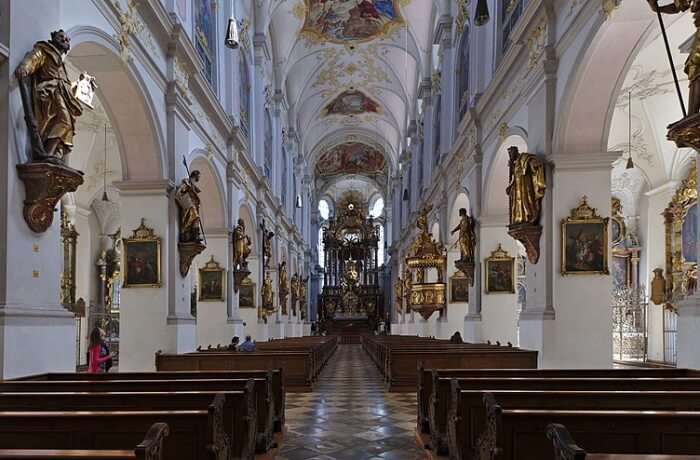 Munich looks beautiful when it is covered in soft white snowflakes. Since there are a very few skyscrapers, most of the city looks like a classic European town. The red roofs of the buildings get covered with snow and the view is just mesmerizing. You can see the whole of the city from St. Peter's Church that is located right at the heart of Munich in Marienplatz. With only 3 euros, you can access the top tower through the long zigzagged staircase. It does not stay crowded, so you can spend a while to take that perfect photo.
Suggested Read: 15 Best Things To Do In Munich For Treating The Culture Vulture In You
2. Sled Ride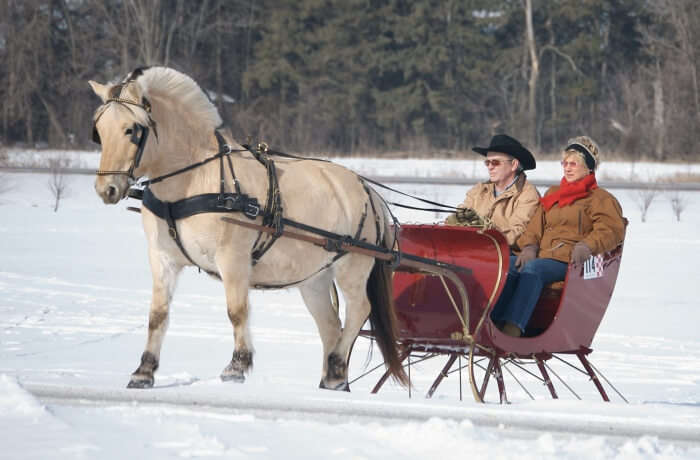 Munich is a city where you can go sledding right in the center of the city. There are three sledding hells. The Englischer Garten or the English Garden is a famous garden in the city that is known for its rolling landscapes. It offers perfect sledding opportunities. Then there is Luitpoldhügel and Olympiaberg. The latter has a tube where you can sled down. You can buy a sled at a very low cost at any sports store. If you are visiting Munich for a short while, make sure that you give the sled to a family instead of just throwing it away. For some extreme sledding, you can go to the Alps. It's just a day's trip. However, you need to be well equipped to handle the cold. The rides last seven to ten minutes.
3. Ice Skating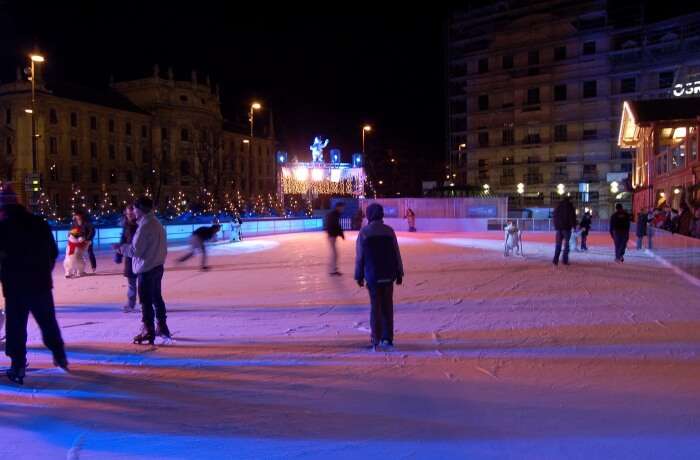 The Munich city center is transformed into an ice staking rink from November. It stays up to January. You can rent stakes and during allotted sessions, you can go skating. At night, the rink is illuminated with neon lights and it turns into a party zone. Piping hot snacks are also sold nearby in case you get hungry.
Suggested Read: 12 Tourist Places In Munich You Should Not Miss
4. Christmas Markets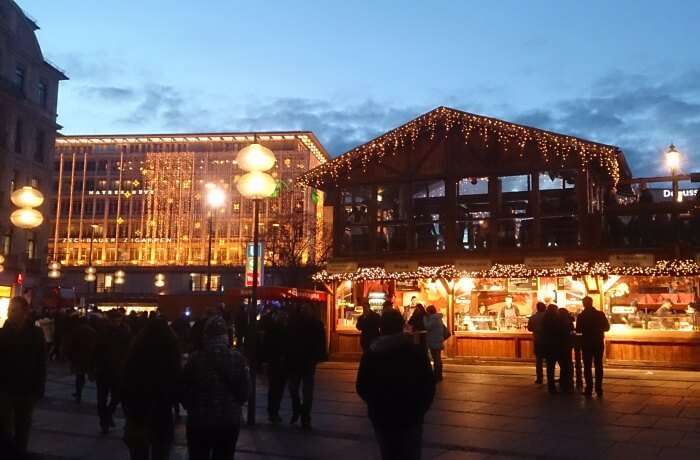 No trip to Munich is complete without shopping. The Christmas Markets in Munich are open from November and stays open till the end of January. You can shop for local products, eat würst and drink Glühwein. There are traditional as well as modern markets and even medieval markets. There is something for everyone in Munich's Christmas markets
5. Christmas Tram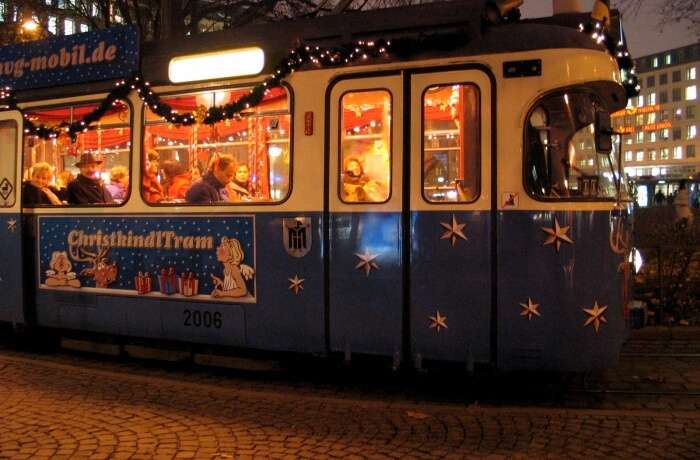 Munich has a tiny Christmas tram that is decorated using Christmas decorations. It runs across the city and serves Glühwein. However, it can also be quite crowded. Even if you do not take a ride in the tram, you must see the decorations. It starts from the Sendlinger Tor Tram stop, all decked up in Christmas lights. Have your camera ready for that perfect shot.
Suggested Read: 7 Villas In Germany For A Luxurious Holiday In Europe You've Always Dreamed Of
6. Zugspitze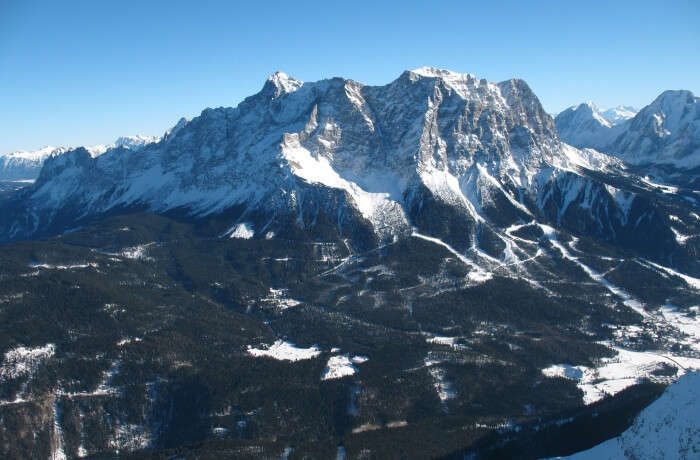 If you are an adventurous soul, you can go to the Zugspitze – the highest peak in the German Alps. You do not have to be a snowboarder or skier. There is a cogwheel train that takes you up a peak. A traditional Bavarian restaurant serves the food. You can walk around and explore on foot. You can even walk the German-Austrian border when you are exploring.
Suggested Read: 10 Day Trips From Munich That Are Worth Taking Once
7. Thermal Bath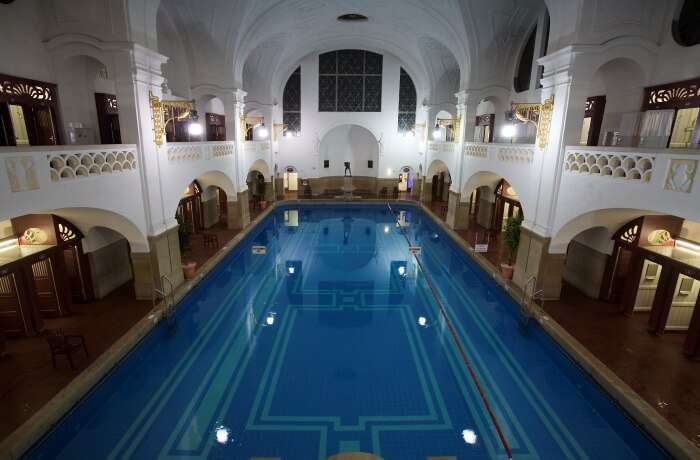 Munich has a bunch of thermal baths as well as saunas that offer a modern spa experience. If it gets too cold for you, you can always hop in for a warm bath. There are spas, water slides, and swimming pools too.
Suggested Read: Oktoberfest Germany: Bottoms Up Your Mugs At The World's Largest Beer Fest
What To Pack For Munich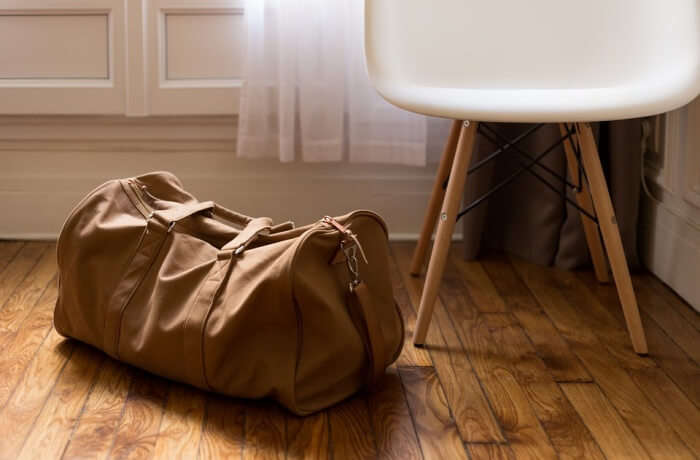 Munich's winter weather can be quite unpredictable. It can be warm during the daytime while freezing at night. Moreover, you can even experience rain along with snow. So, besides packing warm clothes, you need to pack your rain jacket and your umbrella too. Make sure that you have the right shoes to keep your foot warm and dry. Bring gloves and caps to ensure that you stay warm. Moreover, pack medicines in case you catch a cold.
Further Read: 5 Waterfalls In Germany To Witness The Charismatic Beauty Of Nature
During the cold, the phone your camera batteries can also drain quite fast. So, make sure that you carry extra batteries or portable chargers. What are you waiting for? Plan your trip to Europe for a relaxing holiday experience with your loved ones like never before! Make sure you carry a few extra clothes, in case you extend your vacation!
Frequently Asked Questions About Beaches In Montenegro
Q. How cold does it get in Munich?
A. It gets very cold in Munich. Snowfall in Munich is common.
Q. What is the best time of year to visit Munich?
A. March to May is the best time to visit Munich.
Q. How much does it rain in Munich?
A. It rains quite good in Munich.
---